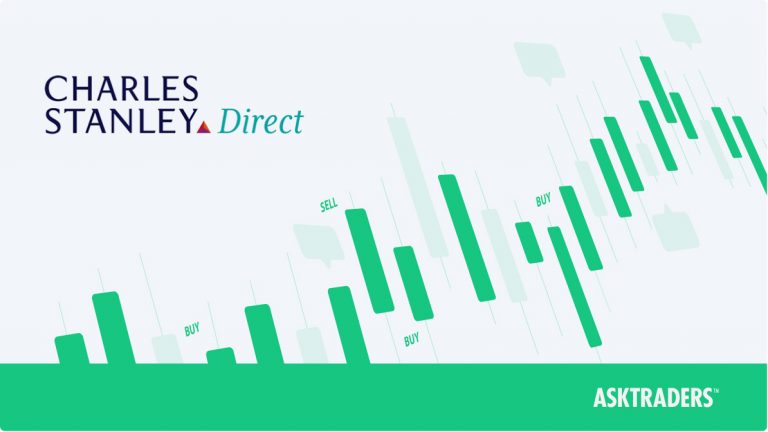 Charles Stanley Direct is a stockbroker based in the UK, who have been in operation since 1985. It is well-regulated and under the watchful eye of the FCA.
Their parent company, Charles Stanley & Co. Limited has been working in the banking industry since 1792, so they have an incredible amount of experience. With that experience comes reputation, and the company has a long history of providing a quality service to its clients as well as winning several awards for their work.
The company is currently listed on the FTSE 100 and has around £2 billion worth of assets under their control. Those assets are evenly split between mutual funds and shares.
In 2002 the company bought Edinburgh based broker Torrie & Co. They then rebranded the company under the new name of Charles Stanley.
In this review, we will look into the positives and negatives of the company and how they could improve, hopefully providing you with the knowledge of whether they are the right for you.
Charles Stanley Direct Review Navigation
#

Stocks
| | | | |
| --- | --- | --- | --- |
| Min Deposit | App Support | Max Leverage | Trading Fees |
| £50 | Mid | 1:1 | Low |
The company only offers investments into UK based stocks, ETFs, and mutual funds. However, international corporate and government bonds and investment trusts can be traded offline. So if you are looking for currency pairs, commodities, cryptocurrencies, options, or futures, then this isn't the broker for you.
As a result, you are limited in the types of financial products you can trade if compared with similar companies in the industry.
As mentioned above, you can only trade stocks listed on the London Stock Exchange.
#1

ETFs
| | | | |
| --- | --- | --- | --- |
| Min Deposit | App Support | Max Leverage | Trading Fees |
| £50 | 3000 | 1:1 | Low |
When it comes to ETFs, there is a similar situation. You can also only trade ETFs that are listed on the London Stock Exchange as well.
However, some international ETFs are available to trade via the phone.
The company offers thousands of ETFs to trade, and the majority of these have either zero or extremely low commissions, making it ideal for traders.
Generally, the fees for trading ETFs at Charles Stanley Direct are reasonable, especially when compared with regular stock trading.
What did our traders think after reviewing the key criteria?
Fees
The company generally charges an average fee when you trade ETFs compared to its competitors.
When trading stock, you will be paying £11.50 as a base for every trade, as well as platform charges. The platform charges are 0.35% of the total value of the trade, with the minimum set at £24 and the maximum £240.
When it comes to trading funds, these fees are low. There is no commission charged when you open or close a position with a mutual fund. There is an annual fee in place, which is based on your trading volume per year. You cannot trade on margin, so financing rates are not of concern.
In general, the non-trading fees are quite low. There is no fee for making a withdrawal, and there is also no inactivity fee.
Account Types
To sign-up, there is a minimum deposit of £20 for debit cards and £50 for bank transfers. However, if you open an ISA or SIPP account, you will need to deposit a minimum of £100.
There are a few different types available for you to choose from. However, these accounts can only be opened by residents of the UK, and when signing up, you will have to provide proof of your residence.
Some of the types are, the Investment Account, which is your basic type, a Stocks and Shares ISA, a Self-Invested Personal Pension, a Junior Stocks and Shares ISA and a Junior Self-Invested Personal Pension account.
You can sign-up in a matter of ten minutes or so. In rare circumstances, you will need to submit a physical application form to sign-up with the broker.
Platforms
The desktop trading platform at Charles Stanley Direct is simple and straightforward to use. It is easy on the eye, but the navigation system is not always intuitive. Unfortunately, there are no options for customising the trading platform to your own specific preferences. Even the search box does not have an automatic suggestion feature.
There are market and limit order types open to you, but you cannot set time limits. The process of placing an order is very straightforward. There is the ability to enact price alerts, and the account portfolio interface is an excellent and neat way to quickly see the current makeup and performance of your portfolio.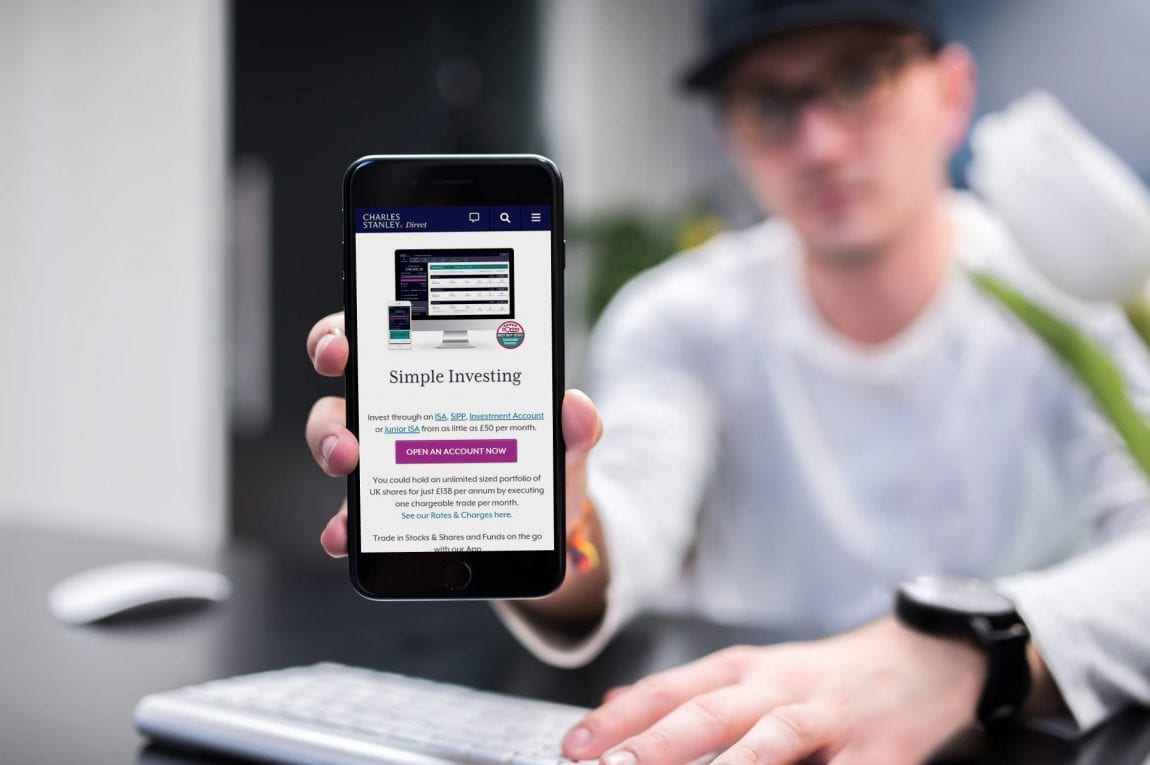 In total, there are only about 15 technical analysis indicators available for you to use. However, on a positive note, there is a comparison feature that allows you to compare multiple charts against one another.
The mobile trading platform is also excellently designed, and there is a decent crossover of features from the desktop version.
Usability
The entire website has a classic, professional look and feel to it. There are no frills attached, what you see is what you get. Some of the menu items are a bit obscure in terms of identifying the exact pages you are looking for. However, you are not inundated with too many menu options, so the process of elimination will usually get you to where you need to be.
The colour scheme is also a safe and clear selection to make sure everyone using the website is kept happy.
Customer Support
You can contact the company via:
If you are experiencing an issue or have a question concerning the Charles Stanley Direct offers, your first port of call will be to navigate to the 'Help' page. Here you will find commonly asked questions, and hopefully, they should provide you with the answers you need. You can select categories specific to your problem to quickly narrow down the potential solutions.
If your issue is not resolved through the FAQ section, you can then get in touch with a member of the customer support team. The phone lines are open from Monday until Friday from 7:30 AM until 5:00 PM. This is an excellent option as the staff are well-trained, friendly and extremely helpful.
There is also an email address you can use to contact them, and you can expect a response within 24 hours.
You can also send free post correspondence to the listed mailing address.
The company does mention a live chat function on their website. However, the link doesn't work, and so we can only assume it has not been set up just yet.
Payment Methods
The process of adding and withdrawing funds from your Charles Stanley Direct account is pretty straightforward. There are no fees associated with making these transactions. As the site only caters for UK residents, the only currency option on offer is pounds sterling.
You can use debit or credit cards to add funds, or you can also use a bank transfer. However, there are currently no e-wallet options open to users.
Generally, it will take a few days for a bank transfer to process, whereas the card deposits process almost instantly. When withdrawing via debit card, it can take up to 48 hours for you to receive your funds.
Best Offers
The research on offer from the platform is considered average in comparison to others in the industry. They have an insights section, but new articles are not frequent, and the depth of research in these articles is sometimes lacking.
While beginner investors may be okay with the research on offer, the more advanced investors will likely look elsewhere to conduct their research.
In terms of education, there is nothing on offer at all. The broker does not seem overly interested in educating its base of investors. Instead, it likes to push its range of financial advisory services, which may be a reason for this glaring exclusion.
There is currently no demo account available, which will be disappointing for some. A lot of people like to use a demo to try out a new platform or to test out different types of strategies without having to put real money on the line. It is also an excellent way for beginner traders and investors to learn how to navigate the markets and build up experience.
While some brokers offer bonuses when you first sign-up or deposit a certain amount of money, this is not the case with Charles Stanley Direct. It is an old school company in every sense of the word, and they do not have any offers to try and entice new clients. Instead, it sticks to the fundamentals.
Regulation & Deposit Protection
As well as being regulated by the FCA, the company has a listing on the London Stock Exchange. This means that it is under all sorts of scrutiny in terms of oversight, making it very hard for the company to step out of line.
Investor funds are kept protected as a result of the regulation put in place by the FCA. This means that investor funds, up to £85,000, is protected.
As it is a publicly-listed company, there are regular financial statement releases, meaning that everything within the firm is kept transparent.
In terms of the security of the platform, the latest 128-bit encryption technology is used to ensure that your private data is kept secure when you share it with their platform. The broker places a big emphasis on protecting its customers, particularly in this digital age where data privacy is such an important issue.
Awards
Over the years, Charles Stanley Direct has won several industry awards for its platform. These include being chosen as the best direct platform service and having a top-quality level of customer service.
Some of the more recent awards that have been won include:
Boring Money Best Buy 2019 – Online Investments
Best Stocks & Shares Junior ISA 2018 – Moneywise Children's Savings Awards
Best Direct Platform for Customer Service 2018 – Platforum
Boring Money Best Buy 2017 – Online Investments
As you have probably realised, the company is an extremely reliable broker for UK investors and traders, and they meet all of the regulatory requirements. We have no issues in recommending them if you are looking for a place to buy and sell stocks.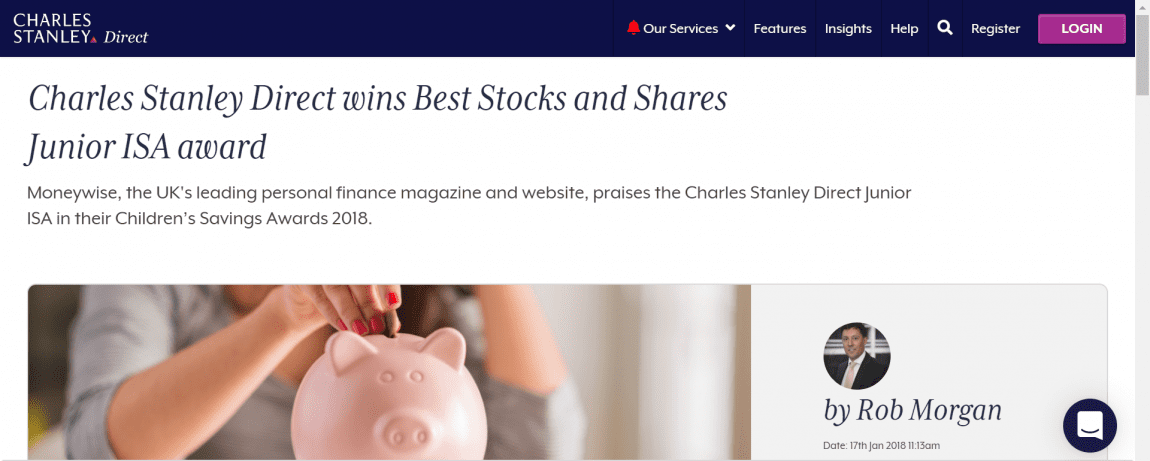 PEOPLE WHO READ THIS ALSO VIEWED: