Coinmama is an online cryptocurrency broker that was first set up in 2013, and now has over a million clients in more than 190 countries. The company has its headquarters in Israel, while officially being registered in Slovakia.
Unlike Binance or Coinbase, the company is not an exchange and is instead a brokerage. In our review, we will take you through the positive and negative aspects of the platform to give you a clearer understanding of whether they are right for you.
Coinmama Review Navigation
#

Coinmama Crypto Review
| | | | |
| --- | --- | --- | --- |
| Min Deposit | App Support | Max Leverage | Trading Fees |
| $8 | Regular | 1:30 | High |
What did our traders think after reviewing the key criteria?
Fees
As you are buying digital coins through a brokerage service and not an exchange, your fees will be increased. Coinmama still does its best to keep these costs as low as possible, but compared to its competitors, we still consider them to be high.
One of those increased charges is the service fee, which is set at 5.9%. However, the upside is that the prices displayed on the platform will already be factored into the fee charged. Therefore, there will not be any further charges when you make your trade.
There is an additional charge of 5% in place if you are buying the digital token via debit or credit card.
Account Types
The company only offers one type of trading account. The process of getting started is straightforward. All you need to do is enter some of your personal information, and verify your identity by providing some form of government-issued photo ID.
You can deposit funds via credit or debit card, but please be aware of the fees (mentioned above). Normally approval will come inside of an hour, often only taking about 15 minutes. There is no minimum deposit in place, which is a positive as many other similar platforms do enforce a minimum deposit amount.
Coinmama does have different verification levels for their accounts, depending on the amount of personal information you provide. The higher your verification level, the larger your buying and selling limits will be.
As mentioned previously, there is no wallet provided when you sign-up, so you will need to have your own digital wallet and then link it to the platform.
There is a minimum trade size of $60 in place, but this can change as the value of different cryptocurrencies changes over time.
Platforms
The trading platform options are minimal. The company only has a web-based platform for its clients to use, and there is no downloadable software available.
While you can get access to the website and trading platform through your mobile, there is no specific mobile app for you to use.
All you need to do when placing a trade is enter how much of a given token you want to buy when you confirm the order.
It's as simple as that. Its aim as a platform is to be as easy to use as possible so that even complete beginners will intuitively know how to make trades. The company doesn't consider themselves a trading platform, they are considered merely to be a platform to buy and sell digital currencies.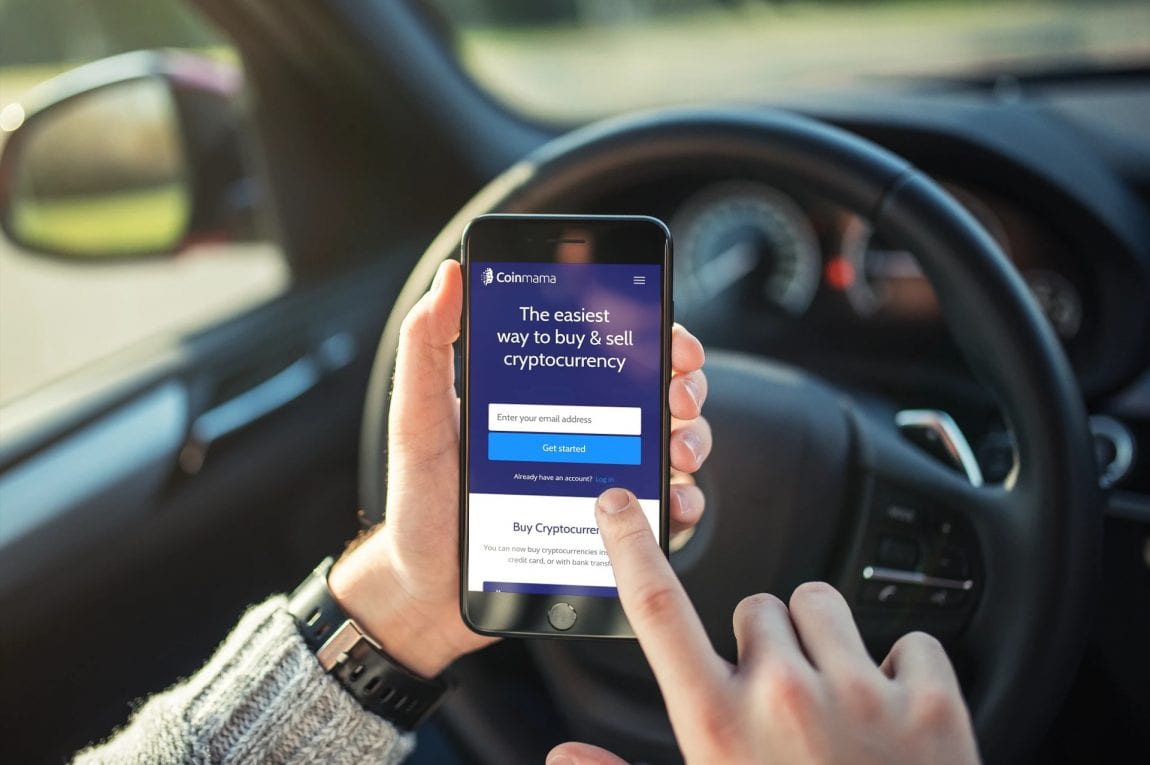 Usability
While the trading options are minimal, the upside is that the platform is straightforward to use. This means that all you need to do is enter how much of a given token you want to buy at the outlined price and you will have your order filled. You do not have to worry about slippage or anything else being factored in.
The website is very well organised, with the options not being overwhelming. Every significant section is well labelled. The process of using the platform is laid out in a simple to read steps. They help to walk you through the process of setting up an account and getting started placing orders. The blue and white colour scheme really makes everything stand out.
What's more, is that the platform is responsive, so you do not have to deal with slow processing times.
Customer Support
If you are having trouble with a part of the platform, then your first destination should be the 'Help' section. This is a very detailed section, with many articles dedicated to key and common issues customers have come across. This will often resolve a problem you may be having, walking you through the solution in a step by step fashion. If you need advice on how to use the platform, they also have a guide available.
If you still want to get in touch with a member of the customer support team, they are contactable 24/7. You can send them an email through the website's email form which you can find by clicking the link at the top of the help page. Coinmama calls its customer support teams' Happiness Heroes', and they seem to do their job well as they quickly respond to email queries.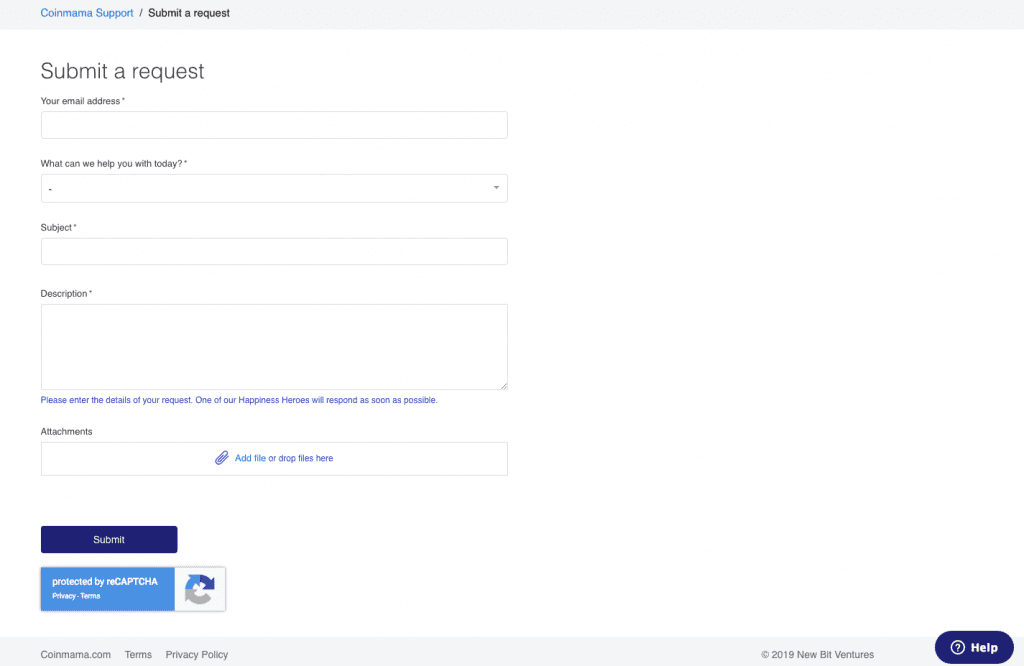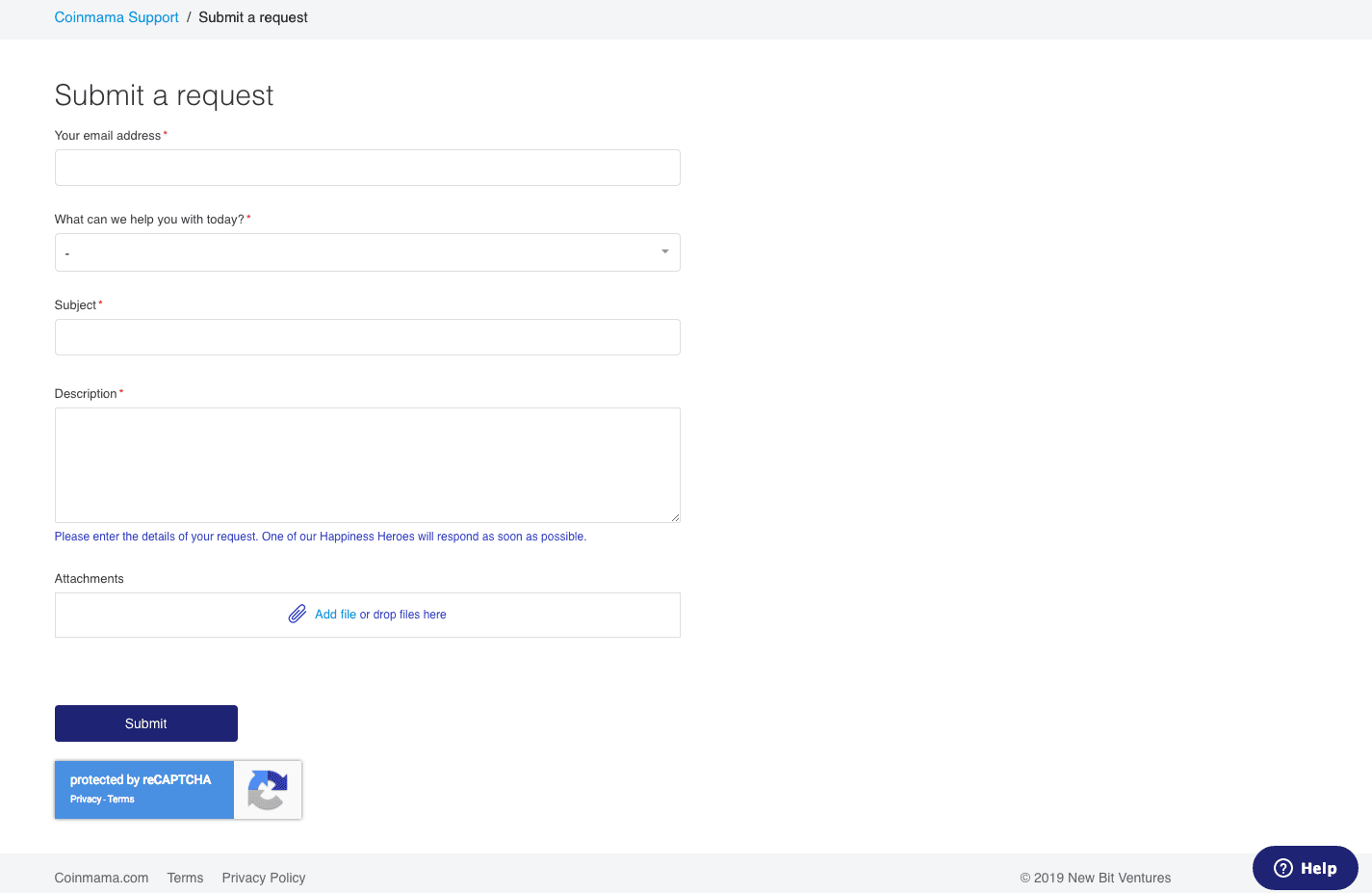 While the website does look like it offers a live chat option (there is a 'Help' bubble at the bottom of the site) this in fact just directs you to the FAQ section.
One of the downsides of customer support is that there is no telephone line for you to ring. Therefore, while you can get quick responses to your emails, you cannot speak with the support team directly either through a live chat or over the phone.
We consider limited customer support options to be a negative aspect of a brokers platform.
Payment Methods
When adding funds to your Coinmama account, you have a couple of different options available.
There is the option to use a reputable debit or credit card (MasterCard or Visa). To deposit via this method all you need to do is choose what cryptocurrency you want to buy, click the buy button, enter the wallet address you wish to send these tokens to and then select debit/credit card as your payment method.
You will then be directed to a payment form to fill out before clicking on the Pay Now button. The payment process usually takes about ten minutes to complete. As mentioned in the fees section, there is a charge of 5% in place when buying tokens using a debit or credit card. This is in addition to any fees that may be levied by your bank or card provider.
There is also an option for you to use a bank transfer to buy your preferred tokens. The process is the same as using a credit or debit card, but there is a minimum purchase amount of $200 using this method. After entering in your wallet address, you will be given a couple of different bank transfer options, depending on your country.
Bank transfers will often contain some sort of charge that you will need to consider when making your decision. After placing the order, you will receive an email with the details. It can often take a few days to process this transaction depending on which of the bank transfer methods you select.
As mentioned in the earlier, there are different buying and selling limits based on the level of verification your account holds, so it is essential to be aware of these when making transactions.
If you are selling cryptocurrencies, the funds should reach you within three business days. If they do not, then you should get in touch with the customer support team.
Best Offers
Sometimes Coinmama will offer different types of discounts and incentives to promote the platform.
One that is continuously running is the referral program where you can earn up to 15% on purchases that are made by a customer you refer.
The education side of things is almost non-existent. They do provide guides that teach you briefly how to use the platform and the different payment methods, but no info will help you to become a better trader or to become more informed about the industry.
The research they post is also minimal, with no news or analysis sections to utilise. The site's news section solely caters for news specific to their platform. The only tool you really have access to is a calculator allowing you to compare the different prices of fiat and digital currencies.
Regulation & Deposit Protection
With the industry being such a new sector, there is not much in the way of regulation. This is the reason for a lot of uncertainty from investors about putting their money in unknown exchanges. In most countries, there is no need for a specific license to operate an exchange or brokerage for digital currencies. It is usually up to the platforms themselves to self-regulate and ensure that everything is above board.
Coinmama have said that they put a lot of time and effort into protecting its clients. All data and transactions are encrypted. As your account is not pre-funded, there is no need for deposit protection, as no funds are kept on the platform. You will pay directly for any tokens when you place your order.
The tokens are also controlled by you, as you need to store them on a wallet separate to the Coinmama platform, meaning they are kept safe in case of an attack on the company's platform.
Awards
Due to it being in its infancy, there are no recognised awards in the cryptocurrency sector. Therefore, the company has not received any recognition for their achievements.
The company gets a lot of positive feedback from users across forums and social media, which is a good indicator of their reputation and reliability.
While we feel the platform offers many positives and can be trusted, there is a belief that other digital currency platforms may offer slightly more to their customers.