Core Spreads Review
Open Account
5 minutes read
/
Updated: 10 February 2020
Core Spreads is an Online Contract for Difference (CFDs) and spread betting brokerage company both run and owned by the UK-based Finsa Group Ltd. Finsa Group was formerly operated under the name the Trader Management Company Limited.
They have their headquarters in London and are also under the United Kingdom's Financial Conduct Authority.
Core Spreads don't just offer industry-leading tight, fixed spreads as a modern-day broker, but they also provide their clients with access to 1000s of markets via its two dynamic trading platforms: spread betting or the trading of CFD contracts. Either of these types of instruments can be utilized in order to trade a wide range of shares, market indices, commodities, and currencies.
Core Spreads accepts clients from all over the globe excluding some countries with strict regulations such as the US, Canada, Belgium, Russia, Iran, and Israel.
They are a brokerage company with excellent and competitive pricing for their traders with the objective of executing simple tasks well. One of their major focus is reliability which they achieve by providing excellent customer services and an efficient speed at which these services are provided. This makes the trading platform reliable and quick.
Strengths
Competitive fees.
Its major focus is on providing reliable brokerage services to their traders.
They are regulated by the FCA; hence, investments of their traders are secured.
Good choice of trading platforms.
Wide range of assets
Weaknesses
They provide only two types of accounts for their traders.
They do not provide educational offerings.
No CySec regulation.
What can you trade?
Open Forex Account
Core Spreads Forex Review
At Core Spreads, you can trade Forex on both their platforms, but in different formats: its CoreTrader platform is for spread betting (currently exempt from Capital Gains Tax*), whilst its MT4 platform is for CFDs. Secondly, you need to decide which currency pair you want to trade. At Core Spreads, they have over 30 pairs available on both platforms.
Open CFD Account
Core Spreads Spread betting and CFD review
Spread betting is a financial product traded by Core Spreads that allows their traders to move thousands of different financial markets all from one account. Spread betting with Core Spreads offer traders the opportunity to run their trades on their trading platform.
They have a variety of commodity instruments, for example, in the oil and metals market, while they have a wide range of stocks and indices to invest in, totaling 1550 different options at the time of writing.
The spreads for trading vary by the particular financial instruments being traded and the platform for trading.
With as low as £1, trades can be executed by a trader based on the account type held by a trader and a couple of factors that determine the margin size, but a margin as high as 0.05 can be used when trading currencies.
CFDs allow traders to speculate on the price of assets without actually owning them in their accounts. Core Spreads provides trading in indices, shares, forex, and commodities.
Account Types
Trading with core Spreads opportune a trader to own either one of their two different account types that have similar properties.
Irrespective of the account owned by a trader, the same financial instruments are available on all the account Types.
Depending on the platform they are using – Core Trader or MT4 – traders have access to markets in forex, indices (cash, futures, and differentials), shares, commodities, bonds, and cryptocurrencies.
Meta trader 4 account
There's no minimum deposit in place for this account, but in order to be able to cover the smallest trade's minimum margin at least a deposit of $10 is needed. The leverage for this account is 30:1.
This account is strictly for CFDs trade.
CoreTrader Account
CoreTrader is its web-based and app-based spread betting platform. A beautifully simple, rock-solid platform offering industry-leading tight fixed spreads.
Just like the meta trader 4 account, there's no minimum deposit required to open this account but in order to cover the smallest trade's minimum margin, a deposit of at least $10 is needed.
The core trader account only permits the trade of spread bets.
Unlike the meta trader 4 account, the maximum leverage for this account type is 30:1
To open an account and begin the sign-up process, intending traders are requested to fill in their name, email, phone number, a username, and password as suited.
To open an account for UK residents and Nationals their employment experience, financial status and National Insurance Number are required.
Demo Accounts
Core Spreads offer a practice demo account with $10000 so that you can practice, learn, and familarise yourself with the platforms and broker.
The demo accounts don't expire but are restricted to 500 concurrent open transactions.
Platforms
Core Spreads betting have trading platforms that are supported by iOS and Android devices. One of these platforms is the custom Core trading platform and the meta trader 4 platform which is the industry's general platform.
The core trader platform with its comprehensive analysis tools, such as the advanced technical analysis tools, enables the efficient execution of trades, conduction of comprehensive research and also takes advantage of the many risk management tools provided on the platform. This platform can be accessed via a web browser and there's no need to download the software.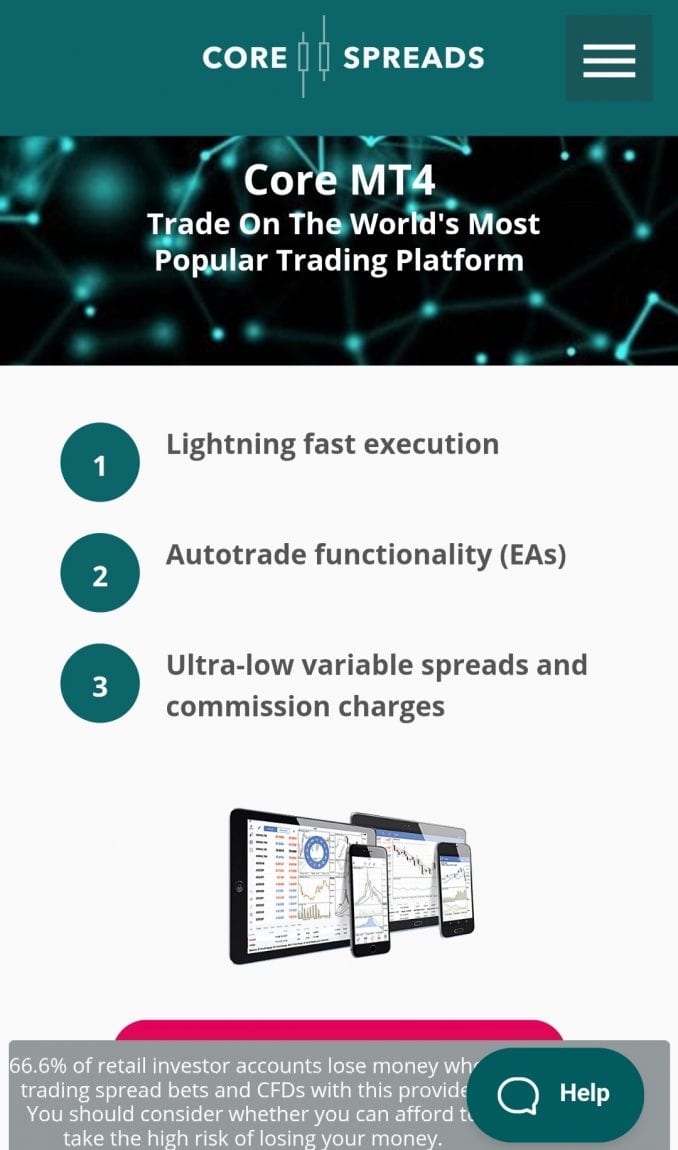 The meta trade 4 platform is used by a large number of brokers, therefore, it's well known across the industry.
Core Spreads doesn't offer any educational materials on its website.
Usability
Core spreads website is designed for easy navigation to find the information that you are looking for. This is because it is straightforward and elementary. No unnecessary information is laid out on the website, the interface makes sense and the site's blue and white theme is presented in an unassuming way, thereby giving every component value.
Their aim is to have a website and trading platform that provides reliability coupled with quick ease of use and speed which they have been able to achieve so far.
Their website is designed to meet the needs of all its customers. You won't have to travel around on the website for a long time to find out about costs and spreads because everything is well advertised.
This is not surprising because most brokers tend to have good websites.
Because the financial instruments they sell to traders, as well as the trading platforms, are the most important aspects of being a broker, there is then no need for highly specialized sites.
Customer support
Core Spread offers a comprehensive customer support service where you can get in touch with a member of the customer support team on a 24/5 basis from 10 pm on a Sunday to 10 pm on a Friday. This customer support team has a lot of experience in dealing with issues or problems that may have arisen and is currently based out of London. They also support several different languages.
Different options to get in touch with the team includes through the mail, phone calls, or live chat.
Support can be accessed via their mail at [email protected].
Calls for support are made to a toll-free number in the UK at 0800-862-0780 and international calls on +44 203 475 4830.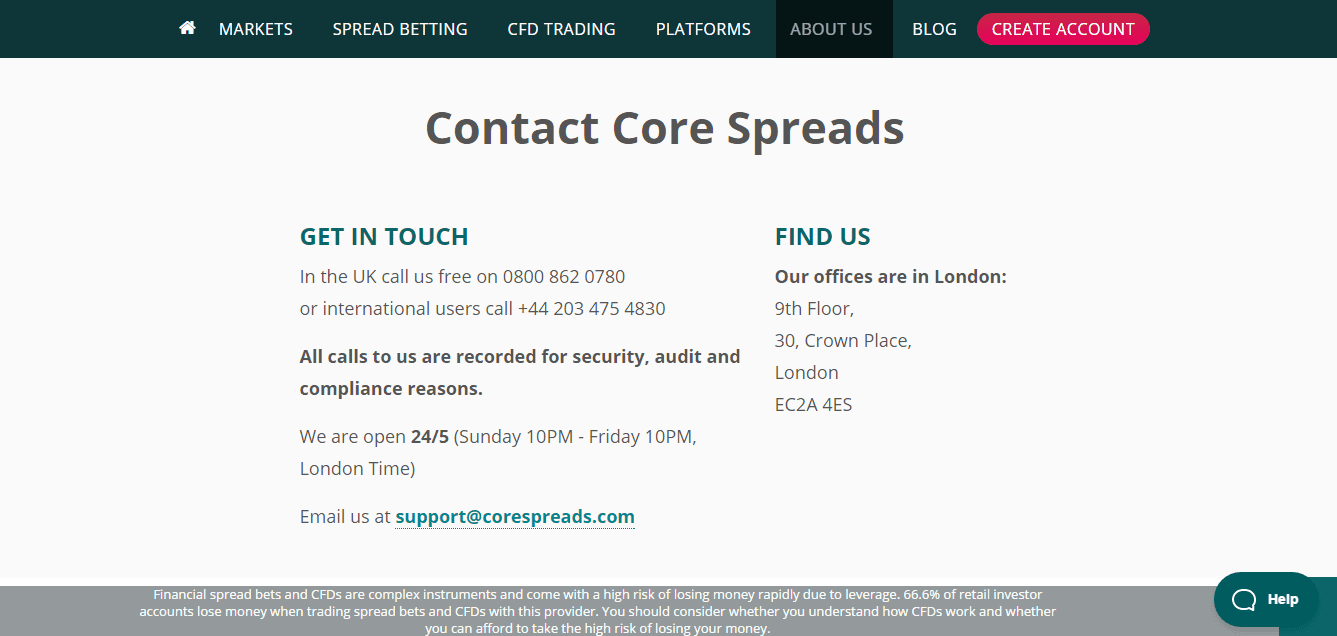 It is worthy to note that calls made to Core Spreads are recorded for quality assurance purposes.
For immediate response to resolving issues by the Customer Support Team, the best bet is to approach via their live chat. They also hold a presence on social media platforms, which is also a means to access Customer Support Services.
Payment methods
Major methods such as MasterCard, Visa, wire transfer, and popular e-wallets such as Neteller, Payoneer, and Skrill are all supported for transactions on a Core Spreads account.
Strong security protocols are put in place to ensure the safety and security of transactions.
Priority is placed on keeping the personal data and financial info of their customers safe and sound.
They are also regulated by the UK's Financial Conduct Authority, one of the best regulatory authorities in Europe.
They charge no fees for either withdrawal or deposit, and generally, the processing time for payments is good.
E-wallets: This is the fastest means for depositing or withdrawing funds, processing of funds can take up to 24 hours and Core Spreads support popular e-wallets such as Neteller, Payoneer, and Skrill.
Debit/Credit Cards
Credit and debit cards can be used for making deposits or withdrawals. Their transactions, however, are not instant and can take a day or two to be processed.
Bank Wire Transfers
They may take up to 5 days to be processed but can be used for both withdrawal and depositing funds.
Best Offers
As a customer with Core Spreads, all that will be offered would be of benefit to you. There is a demo account available that allow traders to practice their trading strategies without having to risk their real money.
This is ideal for traders new to trading as they can develop simulated trading plans; this enables them to get familiarized with how a trading platform works. Other experienced traders can use it to try out new trading techniques. Traders receive $10,000 in virtual trading funds with demo accounts.
Core Spreads also regularly provide bonuses and promotional offers for its customers.
New customers will benefit from a 50% discount on their spreads in the first month when they open a new account, which is only available on the CoreTrader Platform at £2500.
Also, there's a loyalty program available on the Core Trader Platform which allows us to build up points while trading which can be redeemed to gain a spread of up to 20% in the next month of trading.
Regulations, Deposits, and Protections
They are currently regulated by the FCA in the United Kingdom which is one of the leading financial regulatory groups across the globe and is also one of the strictest in Europe, and their registration number is 525164.
When it comes to enforcing their rules and regulations, the CFA has a lot of bite, hence, traders with Core Spreads do not have to doubt the reliability of the broker as they are being monitored by the FCA.
Because they strictly obey the rules of the FCA, they hold a solid reputation in the broking industry and have received no negative attention from their inception in 2014 till present.
Clients' funds are kept separately from the platform's operational funds in Barclays Bank, a notable bank in the UK.
This guarantees that customer funds are not affected in the event of the Company's insolvency.
Customers can receive up to £50000 claim if they are qualified in the event that things go wrong with the platform. This is because Core Spreads is a part of the Financial Services Compensation Scheme.
Awards
Core Spreads won the award for the Best Value Broker in 2017 at the UK Forex Awards. This is a notable feat for a young broking company that started in 2014 because the Brokerage Industry is a competitive one.
They also have the potential for more awards and are a company to look out for in the broking industry.
CFDs are complex instruments and come with a high risk of losing money rapidly due to leverage. 75% of retail investor accounts lose money when trading CFDs with this provider. You should consider whether you understand how CFDs work, and whether you can afford to take the high risk of losing your money.