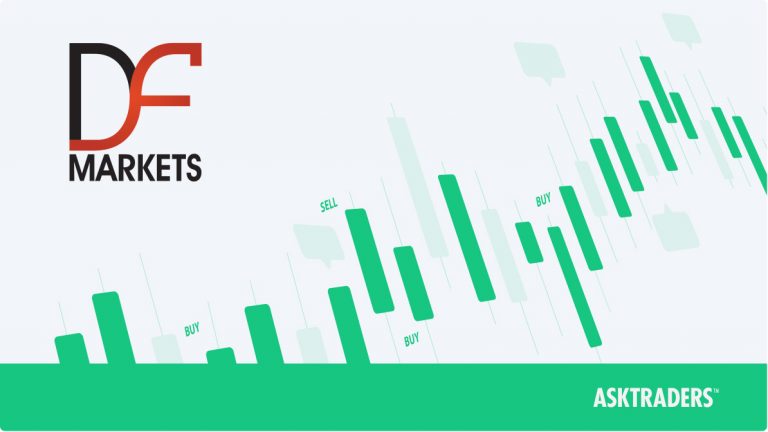 DF Markets is an online broker that allows investors and traders to get access to a range of financial instruments. The list of investment types includes the likes of cryptocurrencies, ETFs and commodities. You always have access to thousands of options.
This broker is regulated by the well-respected Financial Conduct Authority (FCA) in the UK and has been working in the industry since 2010. The broker is committed to delivering a quality all-round offering to its clients.
This DF Markets review looks into the different aspects of this offering, showcasing where this broker stands out from the crowd and where it can improve.
DF Markets Review Navigation
#

DF Markets Forex Review
| | | | |
| --- | --- | --- | --- |
| Min Deposit | App Support | Max Leverage | Trading Fees |
| £50 | Mid | 1:30 | Mid |
There are more than 60 currency pairs available for you to trade through the DF Markets offering. There are differing amounts of margin available to you depending on how much you are trading and if you have a professional client account or just a retail client account. There is a nice diverse selection of pairs and the spreads are clearly outlined in a table format beside the options.
#1

DF Markets CFDs Review
| | | | |
| --- | --- | --- | --- |
| Min Deposit | App Support | Max Leverage | Trading Fees |
| £50 | Mid | 1:30 | Mid |
You can trade CFDs across shares, indices, forex, commodities, cryptocurrencies and ETFs thanks to DF Markets. In total, there are more than 1,100 financial instruments you can trade in this format. On the DF Markets platform, you can quickly see the main market movers for the given day you are trading.
The indices on offer come from seven different markets. These are the United States, United Kingdom, Switzerland, Japan, Hong Kong, Europe and Australia. The shares are from 13 separate countries, giving you plenty of choices to diversify your holdings. The spreads for CFDs differ from product to product.
#2

DF Markets ETFs Review
| | | | |
| --- | --- | --- | --- |
| Min Deposit | App Support | Max Leverage | Trading Fees |
| £50 | 23 | 1:10 | Mid |
There are 23 different ETFs on offer through DF Markets. These mainly come from European, Swedish and US markets. You can get a margin of up to 1:20 but do note that it is always a risky strategy when you utilise margin when trading.
#3

DF Markets Futures Review
| | | | |
| --- | --- | --- | --- |
| Min Deposit | App Support | Max Leverage | Trading Fees |
| £50 | Good | 1:10 | Mid |
With DF Markets, there are futures contracts open for you to trade. This is not something you will see with a lot of online brokers today. This allows you to sell a certain asset class for a predetermined price at a specific date in the future.
These markets are used to hedge positions or to speculate on the future price of an asset. There is a range of futures markets on DF Markets, covering the energy, metal, agricultural and financial spaces. You can get margin of up to 1:10 on these futures contracts.
#4

DF Markets Crypto Review
| | | | |
| --- | --- | --- | --- |
| Min Deposit | App Support | Max Leverage | Trading Fees |
| £50 | Few | 1:2 | Mid |
The cryptocurrencies trading options on offer include Ethereum, Bitcoin, Litecoin, Ripple, Zcash and Dash. As time goes on, it looks likely that more options will be added to the offering.
#5

DF Markets Spread Betting Review
| | | | |
| --- | --- | --- | --- |
| Min Deposit | App Support | Max Leverage | Trading Fees |
| £50 | Mid | 1:30 | Low |
There is a spread betting open to you when it comes to major stocks. There is even leverage of up to 1:20 open for you to use if you wish to do so. The stocks vary from across markets in 13 different nations, including the likes of the UK and the UK.
What did our traders think after reviewing the key criteria?
DF Markets Fees
While there is no actual commission charged when making trades on DF Markets, there is a spread included in the trades. The size of the spread varies depending on the given financial instrument you are looking to trade. Normally, this spread will start a slow as £0.20 and go as high as £20.
For spread betting, there is no commission charged and the minimum bet size is £1 per point. The spread for EUR/USD, for example, begins at 0.6, this rises to 0.8 pips for the USD/JPY pair.
There is a 0.25 FTSE spread and there are mini contracts open for you to trade. The max leverage variable for DF Markets retail clients is 1:30. Naturally, trading with leverage is something that you should be very careful about, as there is the potential for disastrous results if things do not go the right way.
Overall, the fee structure is pretty standard at DF Markets.
Account Types
There are a few different account types to choose from with the DF Markets offering. The main options are choosing between a retail account for individuals and a corporate account for the likes of businesses and hedge funds.
For individuals, the different options are the mini account, the standard account, the premium account and the pro account. For those signing up for the mini account, the minimum required deposit is £50, with the max leverage sitting at 1:30 and the max trade size being 0.02 lots. This is an ideal option for more beginner traders.
There is a minimum required deposit in place of the standard account of £750, with the leverage limit being set at £300. This is ideal for those who have experience trading but would not be deemed to be experts. For the premium account, the minimum deposit is £2,500 and there is a 1 lot minimum trade size. Pro accounts are for those who have a lot of experience and very skilled when it comes to trading. The minimum required deposit is £5,000.
Platforms
In total, there is a selection of three different trading platforms through DF Markets. These are all solid options and are built using proprietary software. The DF Trader is a desktop trading platform that you are able to download for optimal performance. You will find the likes of extensive trading statistics and a pro charting package in this client.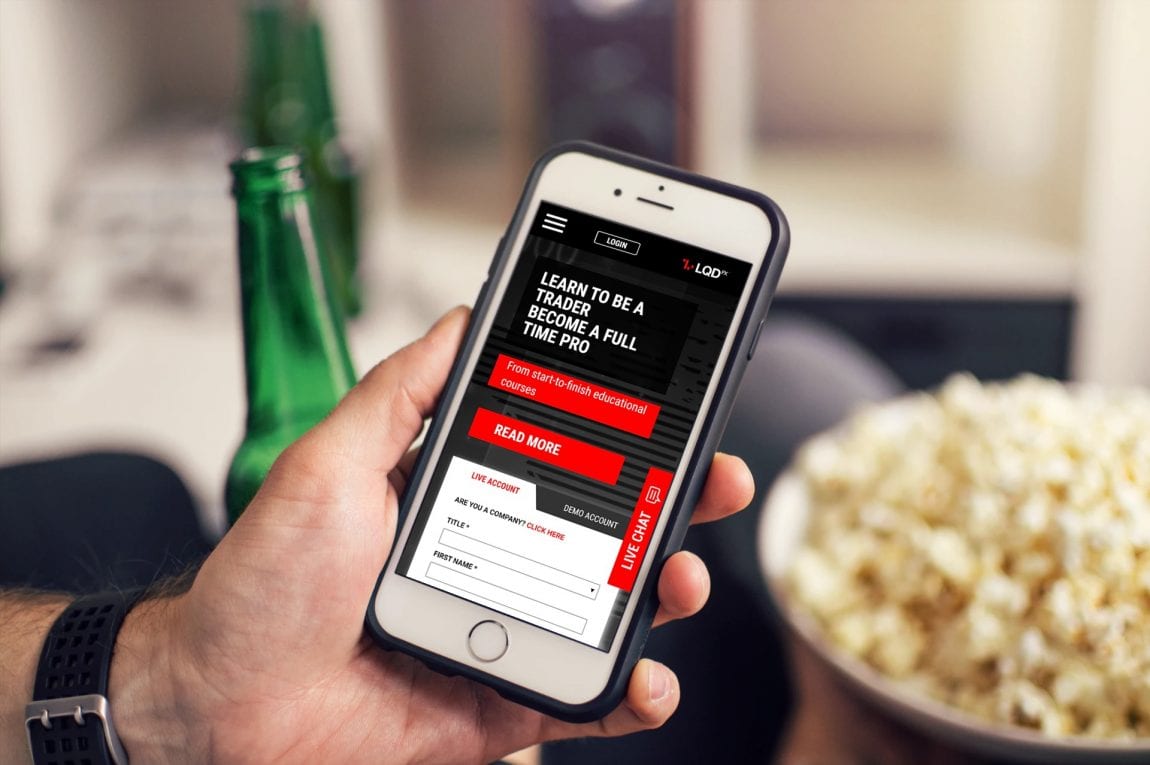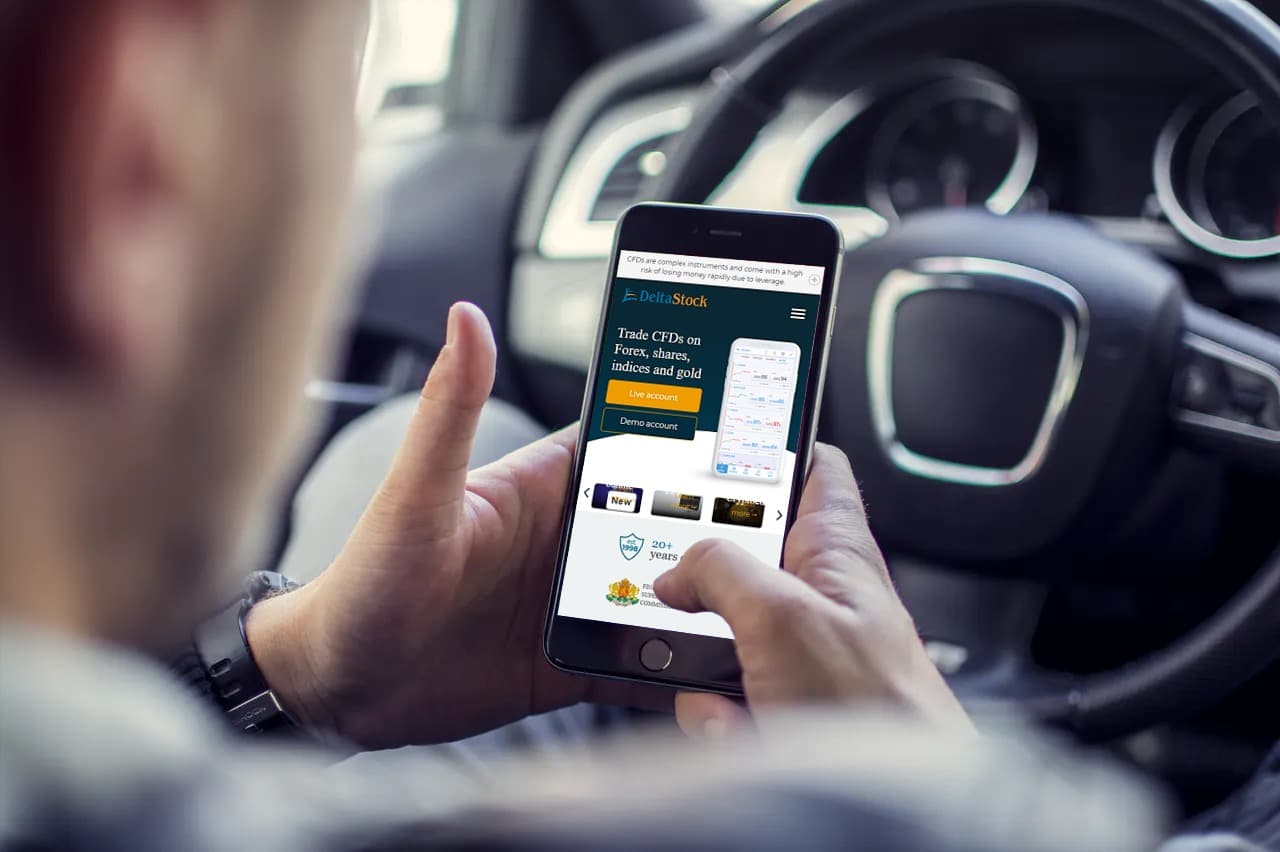 You can also use the WebTrader platform on your desktop and this can be used through your browser instead of having to download a client. Most browsers will be compatible with this platform. You have pro charting features, as well as more than 40 different technical indicators and you have many trading options, including setting conditional orders.
Finally, for mobile traders, there is the DF Mobile offering. You can quickly place trades no matter where you may be through this offering. It can be used with Windows, Android and iOS devices. You can quickly manage your account just using your mobile device.
Usability
The trading platforms and DF Markets website are very easy to use. The slick colour scheme makes the text properly pop out from the page. DF Markets tries to make the website as simple to follow as possible. It lays out key information in an easy to read table rather than having piles and piles of text.
With the menu, you will quickly find the types of markets on offer, as well as the fees associated with trading these assets. If you are struggling to find a given section, you can use the search function or go to the website footer. Most of the key pages that you will be looking for can easily be found in the footer.
Customer Support
There is a variety of options open to you if you need to contact the customer support team at DF Markets. Many people will want to speak with a person directly, so the phone option will be your first port of call if this is the case. Unfortunately, this phone support line only opens from Monday to Friday.
If you have a complex issue and you don't want to give the support team a call, you can send them an email instead. Usually, you can expect a response within a few hours during the week, but there will normally not be a response if you send an email over the weekend until Monday.
DF Markets recently added in a live chat feature that allows you to almost instantly get your basic issues resolved. For those people who still send faxes or sending letters by post, you can send correspondence to the DF Markets headquarters in London.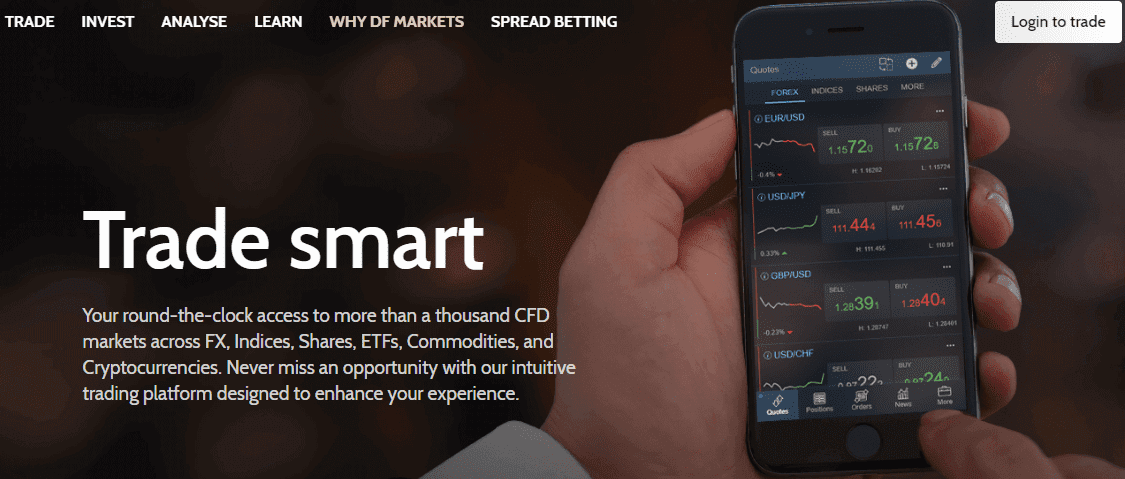 Payment Methods
When it comes time for you to add funds to your DF Markets account, the only option that you have open to you is through using Visa and MasterCard debit and credit cards. There is no fee charged by DF Markets for making this transaction, but there may be third-party fees attached.
There is a minimum required deposit when starting off an account, with this figure varying depending on what type of account you have opened. When you have made your first deposit already, then you are able to add as little as £10 at a time to your DF Markets account.
When you add funds to your account for the first time, this payment will not process instantly. This is because DF Markets will have to verify your identity before doing so. This means that you have to send a copy of a recent card statement or a picture of the front of the given card to the support team at DF Markets. This includes showcasing the last four digits of the card number, as well as the full name on the card.
If you fail to provide this proof, then the funds will not be processed. You also have the option of sending a bank wire transfer, which will have fees attached to it depending on your given bank.
Best Offers
In terms of the education offering at DF Markets, there are a number of different courses you are able to take. These range from beginner courses to more advanced offerings. There are also quick guides, tutorial videos and FAQs that you can check out, allowing you to constantly upgrade your knowledge when it comes to trading.
When you roll and take one of the trading courses at DF Markets, you will then be able to open a demo account with £10,000 worth of funds. Within this education offering is everything you need as a beginner especially to get started trading and learning the ins and outs of the platform. This is one of the best educational offerings you will find in the broker world these days.
When it comes to conducting research for your trades, there is also a comprehensive section covering these various tools at DF Markets. You can check out everything from economic calendars, currency converters, correlation tools, interest rate info, market stats and all sorts of different economic and technical indicators.
There are no bonuses or welcome packages on offer through DF Markets. Therefore, you will need to build up your funds the old fashioned way in order to get ahead.
Regulation & Deposit Protection
DF Markets is regulated by the FCA in the UK, with the company being registered in Wales and England. In terms of the security of the site itself, there is secure 256-bit encryption technology used. This will help to keep your private data safe and sound.
Verification checks are undertaken when you make your deposit to ensure that you are old enough to use the platform. There are certain nations that are restricted from making account with DF Markets including Belgium and the United States.
In terms of the deposit protection, this is set at £50,000 currently for retail clients at DF Markets. This means that all cash deposits in your DF Markets account will be guaranteed. All of the client money is also kept segregated in separate bank accounts, all of the banks being top-tier institutions. This means that in the case of default for DF Markets, the client funds will be kept safe and will not be accessible by the company's liquidators.
Awards
DF Markets is one of those traders that does not highlight awards it wins on its website. While there have been numerous awards handed out to DF Markets over the years, it prefers to take a more muted approach. If you search through the popular review platforms, you will usually be able to form an impression of the DF Markets offering.
You can also find news about the awards it has own or is nominated for when you conduct an internet search. For example, DF Markets was up for the 'Best Mobile Trading Platform' award by ADVFN in 2019.