Evestor Review
Open Account
5 minutes read
/
Updated: 10 February 2020

Evestor is an online broker that deals with trading and investments of capital and is based in Manchester, England. It was founded in 2017 by Anthony Morrow and Duncan Cameron. It is registered in England and Wales under the Company Registration Number 09407280; its registered address is WeWork St. Peter's Square, 1 St. Peter's Square, Manchester, M2 3DE.
The company, Evestor, is a trading style of OpenMoney Adviser Services Ltd, which is authorized and regulated by the Financial Conduct Authority. The company is with FCA number 676331.
In November 2019, in a bid to expand the base of the company's reach on both digital and physical front, OpenMoney acquired employee benefits platform Jargonfree Benefits (JFB). It must also be noted that a year before 2018, there had been a prediction of insolvency of the company by Company Check LTD.
OpenMoney Ltd was established in 2014 and had at different times been managed by various directors. Finally, the company had partnered with Iress to create new advice service for prospective homeowners, a new branch of service which will kick-start in 2020. The true worth of Evestor cannot be truly tracked due to its affiliation with OpenMoney.
Strengths
A friendly online interface that allows customers to interact with the company efficiently
Minimal investment risks and well-outlined distribution of income
Diversified business plan and wide investments
The flexibility of services.
Authorization by the Financial Conduct Authority (FCA).
Weaknesses
No social media presence
The limited reach of the company to specific countries.
Censoring of payments and registration.
What can you trade?
Evestor is not a forex trading brokerage service. They instead invest in real estate, hold shares with companies, and run independent financial assistance for their customers.
What did our traders think after reviewing the critical criteria?
Evestor Fee
On each of their investment packages, there is a total sum fee of 0.53%, which is deducted from the accounts.
Account Types
There are three defined types of accounts open to customers to fulfill his or her financial investment. The customer's income is distributed into four units of Cash, Equities, Property, and Fixed Interest.
Under portfolio one, cash at hand is staked at 22%, Equities at 24% Property at 0%, while Fixed Interest is at 54%.
Portfolio two saw an increase in equities which rose to 61%. While cash is at 6%, the property rises to 5%, while fixed interests drop to 28%.
In portfolio 3, equity becomes 89%, cash drops to 3%, the property stays at 5%, and fixed interests becomes 3%. The account every customer chooses is determined by how much risk they are willing to take in order to build an income stream. As well known, holdings money cash is nearly risk-free, but equities are total risks. The customer's choice will there and then be subject to its implications with or without the contribution of the company.
Evestor Platforms
The platforms used by the company include the webpage and the app. The website is efficient and straightforward to operate.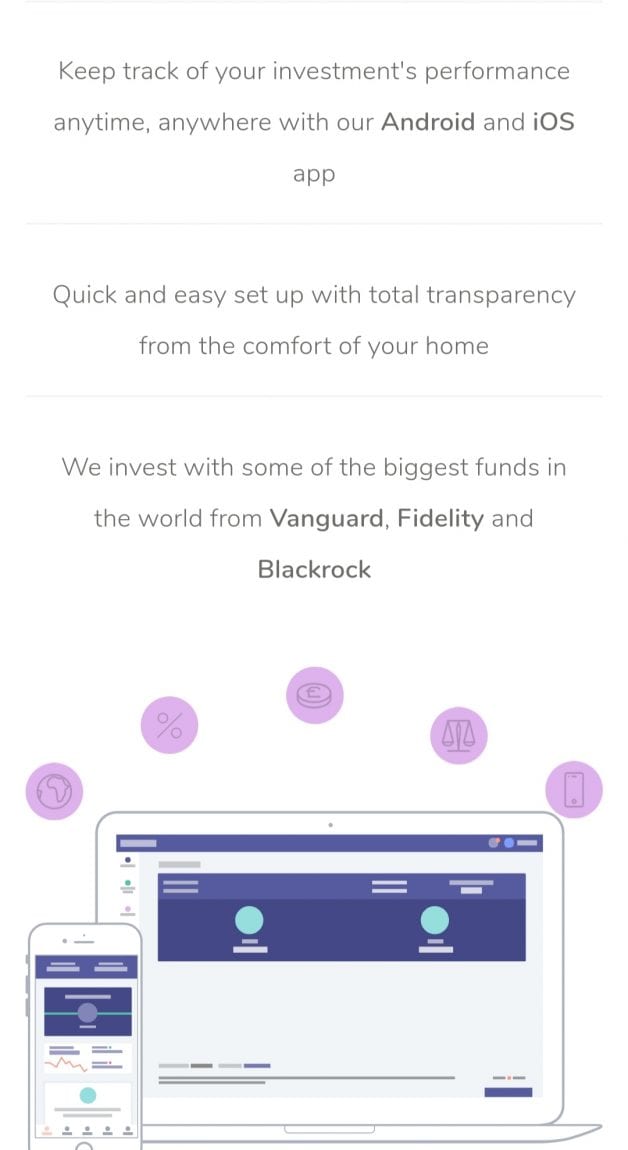 Although on Google Play, Evestor App is not available for download for all people. The basic features of the app can be improved upon to broaden the base of the company and give it a footing among many other similar investment companies struggling for dominance in the human market.
Usability
The company's products are relatively easy to use.
Customer Support
Evestor's customer service rendering is commendable. There is a provision of both complaints and questions inbox as well as an interface for one on one communication with correspondents using webchats. The complaints inbox is available between 9 am to 8 pm from Monday to Friday.
Besides this, there is a Gmail address where customers can forward their grievances.  The company presently has a number of customers across the world and much more ready to join the train.
Evestor makes use of OpenMoney Ltd office in Manchester, making it an extension of the latter; however, this would be problematic as not everyone is virtually aligned. We expect this to change soon, especially because of the new acquisition of employees from Jargonfree Benefits (JFB). For a better reach, offices should be built in various locations to cater to the needs of customers in those places. The company cannot guarantee the smooth running of the website and the Evestor App, which makes the system susceptible to change and or breakdown.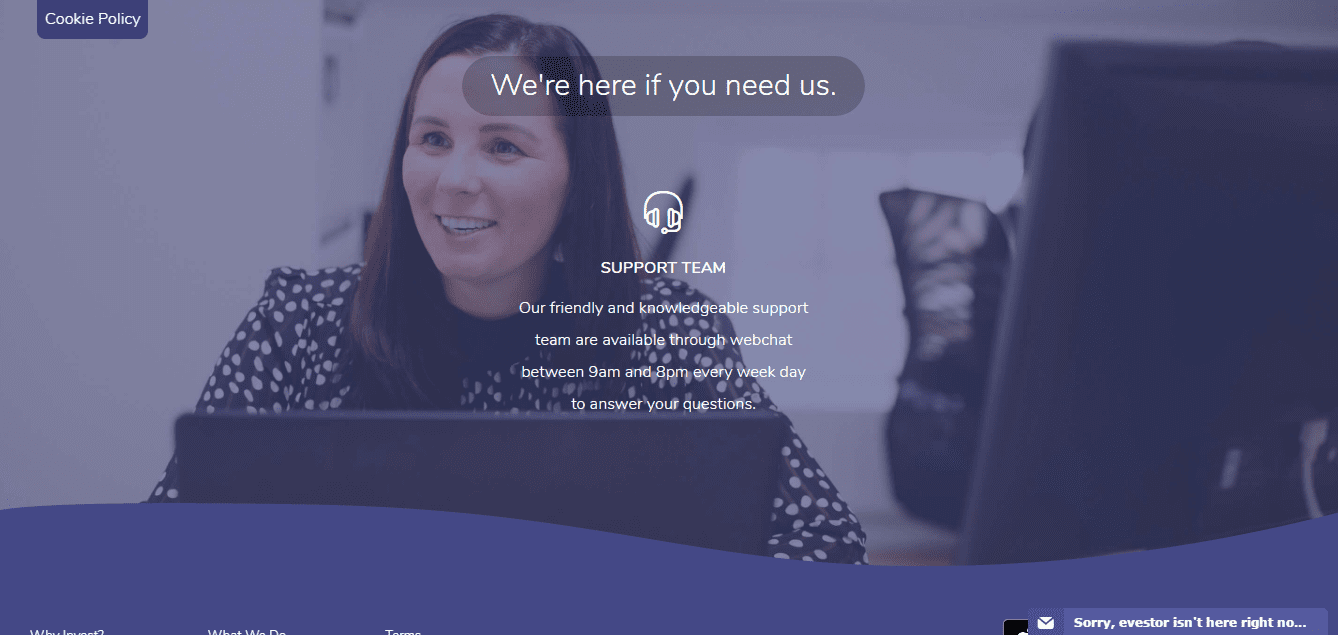 Payments Method
Payments can be made to Evestor through four basic means.
Transfer from a provider: this is the most trusted means of payment into Evestor. The product, which is: the money to be invested, would be sent into the account needing funding by an already registered member. It is very effective. However, there is the problem of finding an already existing investor who would send in the product. Also, this works mostly for people with the ISA and GIA accounts, as those with SIPP can not make use of their investment until the agreed time.
2: Debit card payment: The payment can also be made using debit cards. This is much more flexible for the users.
Direct bank debit: The investor might make a direct transfer from his or her bank to the Evestor account. However, such transactions can only be effected in a UK Bank or Building Society account.
Payments cannot be made with credit cards or made outside the recognized banks. All payments are made in Pounds Sterling; no other currency is accepted. Also, cash and cheques are not usable for Evestor.
For a SIPP account, only the registered individual can make payments.
Mode of Operation
The Evestor website is the most viable tool of operation, interaction with customers, and maintenance and security of information. It is very simple to operate for the average person. There are no unnecessary catalogs that hinder the flow of information and transactions. The company can only hamper the transactions in a bid to avert suspected anomalies. The agreement of investment and terms of trade are stipulated and are effective after registration.
The company does not render professional advice to customers. They only present agreements, which acknowledged comes into full swing immediately. The company also does not hold the client's money. All funds are held with Barclays Bank until an investment is to be made. Trust and free will is the key pushing factor in the operating system of Evestor.
Other than the rather frowning agreements of trade, (consider this as a magnet drawing people to read more on FAQS, Terms, and conditions before registering for anything), the company is one to be with. Evestor is a good broking services company that has many promises for its customers; these include low charges, secured network, diversified investment and shareholding, choice of portfolios, good trading environment, among others. The company can, however, improve on customer service and protection, means of making payments, amongst other things.
Also, the eligibility should be checked to encompass many more people into the company; censorship of citizenship and residence is not a good indicator for the company.
Regulations, Deposits, and Protections
Protection of the customers is discussed in two parts: the first of which is the financial stability of the company, the tendency of the business to fold up over time and the fate of the customers in such a case. The second part is the security of the customer's information from intrusion from third parties, and the possible financial implications of such leakage.
Financial Stability: Every company is set up to achieve specific goals that are made possible by well-planned out financial plans. Evestor is a company that operates, not with a single stream of income, but in a diversified way. The investment company has shares and holdings in more than 2500 companies in as much as 75 countries of the world. The investment of the customers is not hinged on a loose bolt in this regard. The risk of losing out on investments is greatly reduced using this basic economic approach to investing.
Information security: The information of the customers is secured using a high standard end to end encryption tools. This, specifically, the 256-bit TLS, which is efficient. The security of the customers is prioritized.
Awards
Relatively new in the business of private limited financial companies, Evestor had been able to make a name for itself. The company, however, at present, has no awards.
CFDs are complex instruments and come with a high risk of losing money rapidly due to leverage. 75% of retail investor accounts lose money when trading CFDs with this provider. You should consider whether you understand how CFDs work, and whether you can afford to take the high risk of losing your money.