Fortrade started operating in 2013 and since then has built a solid reputation as a professional, trustworthy broker. They offer CFD trading on hundreds of asset classes, including currencies, indices, stocks and commodities. With headquarters in the UK and licensed by the Financial Conduct Authority (FCA) funds are fully protected in accordance with the strictest rules and regulations. Their education tools (webinars, training videos and ebooks)  are one of the most extensive of any brokerage and they offer a free, no strings attached demo account which is a great way for new traders to get started. Technical analysis from Trading Central is free of charge and their daily market updates and reviews are newbie-friendly. Its intuitive, accessible Fortrader platform is perfectly designed for new traders and for more advanced traders they support Meta Trader 4. This review takes a deep look at the offering to help you understand if Fortrade is the right broker for you.
Fortrade Review Navigation
#1

Fortrade Forex Review
| | | | |
| --- | --- | --- | --- |
| Min Deposit | App Support | Max Leverage | Trading Fees |
| £100 | Bad | 1:30 | High |
Fortrade offers 70 currency pairs to trade including majors, minors and exotics. The currency trading system is very easy to use and there is full transparency of all of the spreads for the given pairs that you are trading. There is no commission attached to these trades.
Most of the currency pairs on offer allow you to use leverage of up to 1:30, which is the highest leverage you will generally get when using a broker in the UK. Selecting a comfortable leverage level obviously depends on a trader's experience and risk tolerance.New traders should remain conservative as they build experience.
#2

Fortrade CFD Review
| | | | |
| --- | --- | --- | --- |
| Min Deposit | App Support | Max Leverage | Trading Fees |
| £100 | Bad | 1:30 | High |
Fortrade offers CFDs on hundreds of tradable instruments, including: currencies, indices, stocks and commodities. Due to the simplicity of the platform the offering feels accessible, newbie-friendly and easy to identify good opportunities to make profit.
Fortrade does not withhold when it comes to providing leverage on its financial assets, for instance, CFDs are available on over 70 currency pairs with leverage ranging from up to 1:20 to 1:30. Traders can also easily buy and sell the world's leading indices using a high leverage of up to 1:20. Other popular CFDs available to trade include over 20 of the world's leading commodities with a leverage of up to 1:10 and more than 140 EU Stock CFDs and over 50 US Stock CFDs both with leverages of up to 1:5.
A small offering of the most popular digital currency pairs are available, including Bitcoin,Dash, Ethereum and LiteCoin. Leverage is naturally low at 1:2 – 1:1 due to cryptocurrency market volatility. Similarly, only low leverage levels are available on DMA cash equity stocks. Traders also have access to ETFs with leverage of up to 1:5 and Leading US Treasury CFDs with leverage of up to 1:10.
The wide range of tradable instruments offers the opportunity for a diversified trader portfolio to seek out positions that show the most potential for profit.
#3

Fortrade ETFs Review
| | | | |
| --- | --- | --- | --- |
| Min Deposit | App Support | Max Leverage | Trading Fees |
| £100 | 3 | 1:10 | High |
Fortrade have ETFs available but the selection is limited compared to other brokers. There are just three ETFs on offer, These are the SQQQ, TQQQ and USO ETFs. The average spreads for the first two of the ETFs is 0.14 and 0.03 for the latter. 
#4

Fortrade Crypto Review
| | | | |
| --- | --- | --- | --- |
| Min Deposit | App Support | Max Leverage | Trading Fees |
| £100 | Few | 1:2 | High |
Crypto trading is available on Fortrade although the selection is small compared to other brokers. Popular cryptocurrencies available to trade are Bitcoin, Dash, Ethereum and Liltecoin, all of these are paired with the USD. Spreads are high and we found execution a little slow but this is commonplace when trading crypto due to low volumes and high volatility. In general we found the crypto offering comparable with other brokers.
What did our traders think after reviewing the key criteria?
Fees
Fortrade takes its fee based on the spread – the difference between the buy and sell price and is generally comparable to other popular brokers.
The best spreads available in the Forex market are reserved for the most liquid currency pairs. Fortrade offers EUR/USD, USD/JPY and GBP/USD at a competitive average spread of 2 pips. For less commonly traded pairs it is normal to see higher spreads.
Spreads will vary due to liquidity and volatility. Cryptocurrency has been historically quite volatile which is why spreads here tend to be at their widest and highest. For instance, Bitcoin average spread is 120$ currently with smaller cryptos having spreads around $6 – $7.
We found the spreads for indices and commodities generally in line with the markets.
European stocks are 0.1 pips over the market, rising to 0.2 pips over the market for US shares which again is comparable to the wider market.
There is a dormancy fee in place if you have not made a trade within 180 days of making a deposit. This is a £10 fee that is charged monthly until a trade is made or the account balance reaches £0.
Account Types
At the moment, there is only one type of account that you can open with this broker. While some other brokers also have only one trading account option, most will have multiple account types that will be tailored to a particular type of trader.
To get started with the Fortrade account, you will need to deposit at least £250. With this account, you will have to place trades with a size of at least 0.01 and the max leverage of any of the investment types will be 1:30. You do have the ability to create an account on the demo platform. This is a good way for you to test out the trading platforms or learn the ropes of trading if you are a beginner without having to put any real money on the line. Starting off, you will get an account balance of £10,000 for your demo account.
Platforms
While there may be a lack of account types with this broker, there are no shortage of trading platforms, and 3 of these are unique to Fortrade. The Web Fortrader platform can be used through your desktop browser. There is a nice selection of different tools you can use when trading, with the system and interface being very clear and smooth. You have plenty of customization options, with the platform being a good fit for all levels of experience.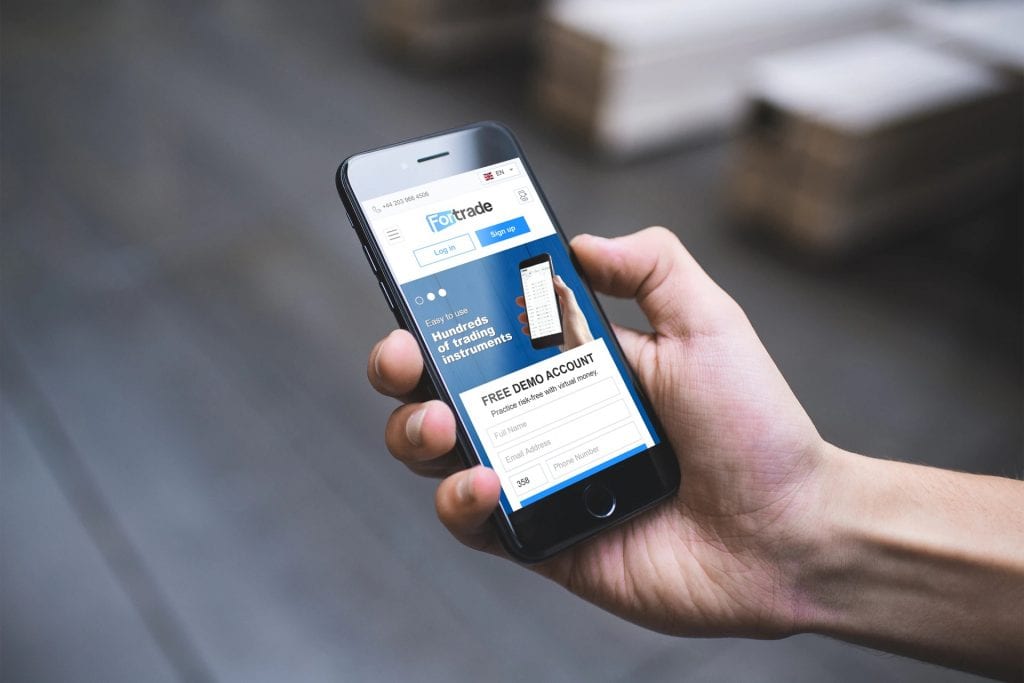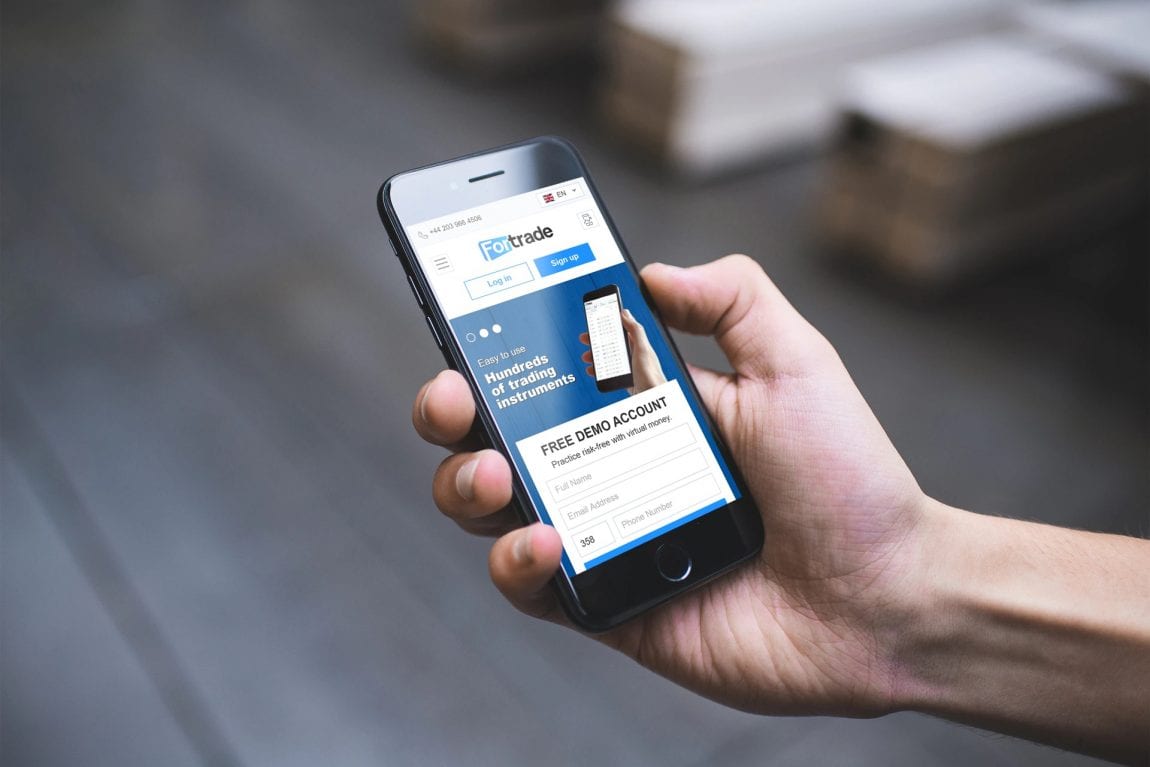 The desktop platform is the downloadable client. This can be used on Windows and Mac computers and it will usually run a bit smoother than the web browser version. Finally, the mobile platform can be downloaded on iOS and Android devices. You will not miss out on any features when using the mobile version, something which cannot be said for other mobile trading platforms.
For those people who prefer using a trading platform that is more familiar to them, there is also the ability to use the MetaTrader 4 trading platform. This is very popular across the industry so traders who have used other brokers will likely have used this platform before in the past. The MetaTrader 4 mobile app is also available as part of this offering.
Usability
Fortrade focuses on delivering the exact content that people are looking for and no more. There is no waffle or endless paragraphs filled with jargon. All of the important info is clearly laid out. You can instantly see the different assets on offer and the fees associated with trading them. The white and blue color scheme makes the text easy to read and creates an overall clean effect for the platform.
There are nearly a dozen languages catered for, showcasing how much of a global platform Fortrade actually is. The signup process is simple and only takes a short amount of time to complete. Overall, this is the ideal website for traders who don't want to be overloaded with excessive information.
Customer Support
At Fortrade, there is a commitment to getting any issues a client may be experiencing resolved quickly. We found one of the most comprehensive FAQ section around, providing you with the answers to a lot of questions you may have. You can also check out the glossary section in order to clear up any confusion you may be experiencing with regards to certain terms.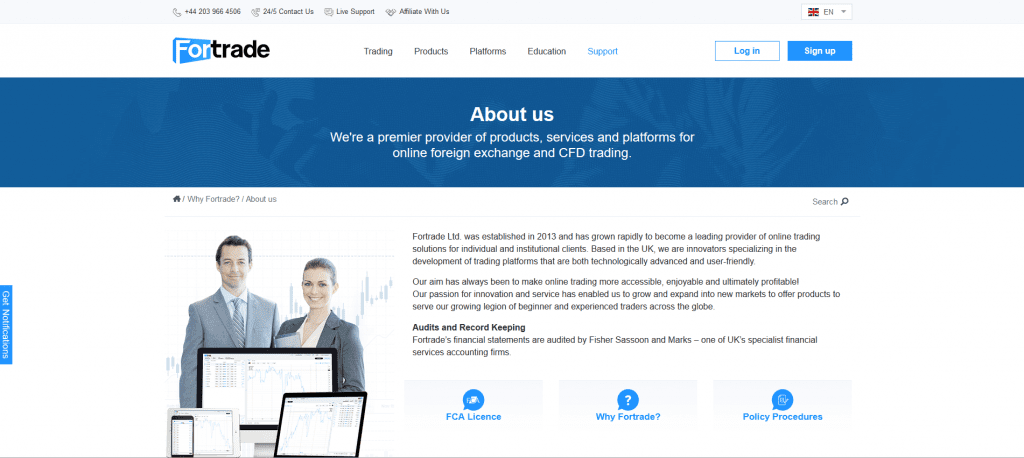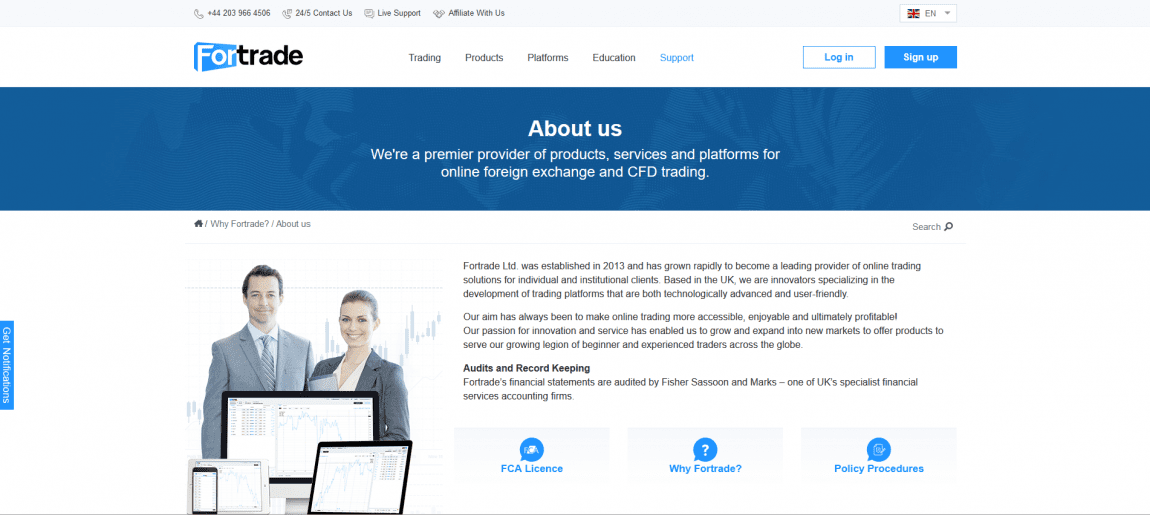 If you want to talk directly with the support team, you have the ability to send them an email, give them a phone call or to communicate via the live chat function on the site. This support team can be contactable 24 hours per day during the week, but they are not reachable over the course of the weekend. The live chat is perfect for simple questions that you need to be instantly resolved. In all, the support team can cater for a dozen languages, which provides you with great flexibility if English is not your first language.
Payment Methods
All of the popular payment methods for depositing funds to online brokers are open for you to use with Fortrade. This includes major credit and debit cards, bank transfers and e-wallets such as Skrill and Neteller. There is a recommendation that you deposit at least £500 your first time, but it is only mandatory to deposit at least £250. Most of the payment methods will see your funds credited to your account almost instantly. The bank transfer option will usually take a couple of business days to process.
For making withdrawals, the same payment methods are on offer. The e-wallets will see your funds withdrawn the quickest, followed then by debit and credit cards and finally by bank transfer. Brand will not charge any fees when you make a transaction. However, there is a dormancy fee in place if you have not made a trade from your account 180 days following the deposit. This fee is £10.
Best Offers
At Fortrade, there is a wide-spanning section for education. This is a complete online academy for traders who are looking to upskill. The trading courses range from total beginners to advanced trading techniques. There is a range of different ebooks, videos and seminars for you also to use to educate yourself further.
There is also an extensive research offering. This provides you with access to daily, weekly and monthly market analysis. There are also many tools and resources that will help you with your research, such as economic calendars and different calculators.
As mentioned previously, there is a demo account that you can try out. When starting off with a demo account, you will have a virtual balance of £10,000 to trade with.
From time to time, there are bonuses on offer. This is usually in the form of a deposit bonus on your first transaction.
Regulation & Deposit Protection
Fortrade is licensed by the FCA, which is one of the leading regulators in Europe. This means that every move they make will be scrutinized to ensure that everything is being done above board.
All of the client funds are kept segregated from the accounts. This means that if the broker falls into financial trouble and creditors look to claim assets, the funds of clients cannot be touched by these creditors. This is an extra shield of safety for your funds. If the company goes into insolvency, there is deposit protection for you up to a total of £50,000.
For the website, there is SSL encryption used to keep your data protected. The privacy of data is constantly becoming more and more important to people, and it is something that brand takes very seriously.
Awards
While a lot of brokers will display prominently on their website each of the industry awards they have received as a result of the success of their platforms, other brokers do not like to prominently display these awards. At Fortrade, there is no sign of them receiving any industry awards to date. However, if you do a search for Fortrade, there is no bad press that pops up, which is always reassuring. Pair this with the broker being licensed by the FCA and you should not have too many concerns once you have carried out your due diligence on the platform.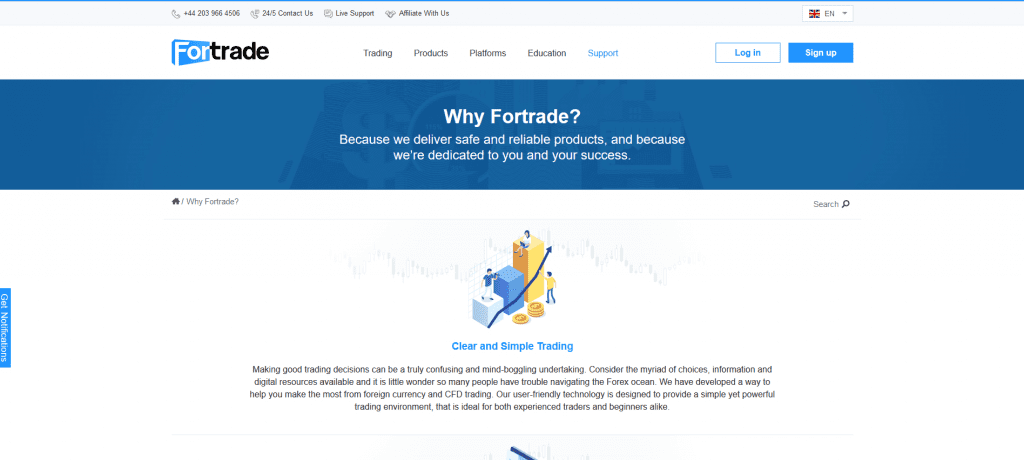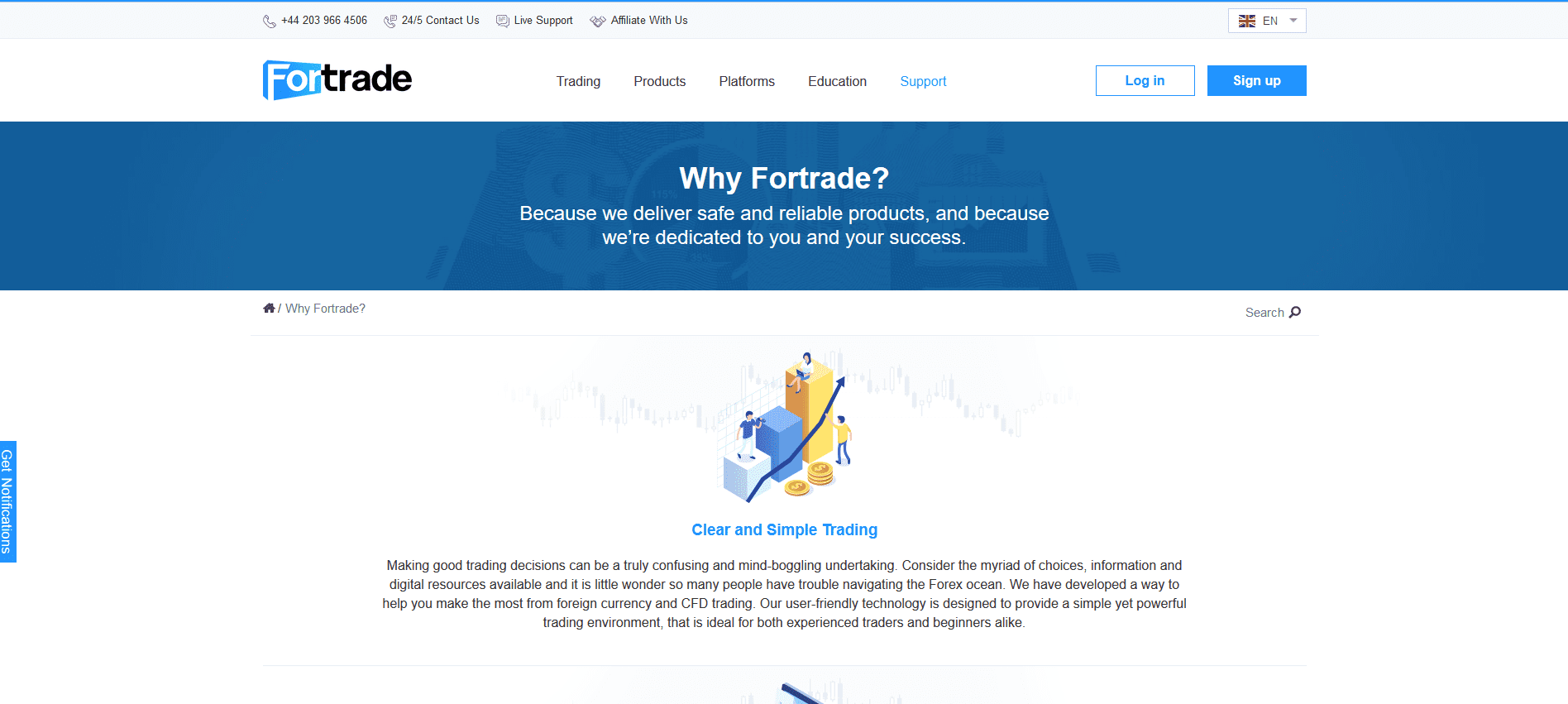 Fortrade FAQs
If you wish to close your trading account, first ensure that you exit all your open trades. Next, withdraw your funds by logging in to the Fortrade client area. Once the withdrawal is complete, it is as good as closing your Fortarde account. You may also want to check with Fortrade if they have an account closure form, although it is not an obligation.