GetStocks is an online brokerage firm that provides its numerous customers with a platform to trade in the financial markets. It provides a user-friendly interface website, an excellent mobile platform with the sole objective of providing solutions to any difficulties or challenges you might encounter during online trading. GetStocks intends to make stock trading very simple for everyone.
GetStocks was established in 2013 as stox, with its headquarters located in Cyprus. Established in less than a decade, GetStocks has faced a lot of turbulence from the local stock regulators.
The company hasn't won any award globally, it has only existed for less than a decade, but it has many prospects for winning numerous awards in the nearest future.
Did you know that GetStocks has customer support, with helpline agents that are always ready to listen to any problems you might be facing on GetStocks stock trading platform and provide solutions to you?
GetStocks Review Navigation
#

Stocks
| | | | |
| --- | --- | --- | --- |
| Min Deposit | App Support | Max Leverage | Trading Fees |
| £75 | Mid | 1:30 | Mid |
There are numerous shares listed on the London Stock Exchange (LSE) and other stock exchange platforms.
#1

ETFs
| | | |
| --- | --- | --- |
| Min Deposit | Max Leverage | Trading Fees |
| £75 | 1:30 | High |
Exchange-Traded Funds are investments that are traded on the stock exchange market. ETFs are managed and operated using an arbitrage mechanism, which is solely designed to keep trading to the initial value of trading, rather than trading to incur losses, although there are occasional deviations.
Account
GetStocks offers you flexibility, accessibility to the global financial market, all these for a fee. GetStocks charges a flat rate on all trades, which is a favorable option for new and old traders. GetStocks charges $7.50 for a US dollar operated account, £9 for a British pound sterling operated account, lastly €12 for euro dominated account. These fees are fixed irrespective of the numbers of trades or the amount involved in the transactions. This makes trading easier, cheaper for the big traders.
Platform
Convenience is one of the most essential factors to look out for in any trading platform. The world is evolving technologically, where most trading operations can be done using mobiles and smart devices. Even without leaving your closet, you can trade with someone as far as Asia, South-America, or just anywhere in the world.
This is why there is always a need to upgrade these platforms and applications so as to make trading hitch-free and easy for all their customers. The type of trading platform offered by GetStocks is a very important factor to consider in the review of GetStocks.
GetStocks offer mobile and web trading where you can get access to some of the most renowned world markets.
Mobile Apps
The most unique and fascinating thing about GetStocks trading platform is the concept of social trading, which can be compared to none.
Did you know that the GetStocks trading platform is the first-ever social trading platform for stocks?
Before GetStocks, trading online as a new trader can be very difficult and scary especially when you don't know the in and out of the market. But with the new GetStocks trading platform, you don't have to worry about trading online again.
With the GetStocks trading platform, all traders both new and old have access to the most popular global markets which includes the New York Stock Exchange or the London Stock Exchange
Usability
GetStocks company website is user-friendly and easy to navigate. Most financial websites usually have a complex website, as regards the display of the companies' information and the services they offer, making it difficult for users to navigate through the websites.
The company's website design is very intriguing and innovative which is very catchy and attractive to young and new traders who like new, fresh and innovative ideas.
There numerous tabs with legible fonts on the homepage of whatever service or information you need to access.
There is a section that contains all you need to know about the terms and conditions of the business, customer agreement, legal information, conflict of interest policy, privacy and refund policy, etc. The website also has crystal clear, catchy pictures and designs to give you a welcoming approach each time you log on.
Support
GetStocks has an ever-ready help center that is always ready and willing to listen to all their customer's queries. There is also a FAQ section which is divided into different categories, with each category comprising of most likely questions new users are likely to ask or want to know more about. Unlike many other websites, GetStocks FAQ section is very comprehensive and organized with all the answers to the questions clearly explained so you can clear your doubts.
The help center also provides a glossary, which is very essential for new traders who needs to know and understand the trading language. There are some language and terms which might be a little bit complicated for new users who just started online trading, but the glossary is very helpful in explaining all these terms. There is also a 'Trading Guide' for users who may likely want to learn and study comprehensively about trading before getting started.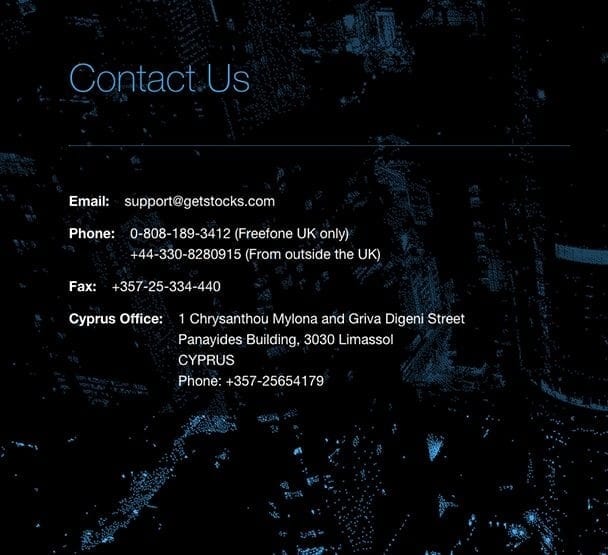 The amazing thing about GetStocks is that there is a helpline that you can always reach out to whenever you are not clear about a particular thing as regards trading on it.
Payment Method
Note that GetStocks does not accept cash payments or payments made through a third-party account. The only valid payment method is a payment from the account name that was used in opening the GetStocks account.
Card Types: Payments can be made by the use of a debit card or credit card. Although payments made through the use of credit card, debit card, may incur additional charges from the credit card processing company. Payments made from third party payment platforms are invalid, third parties such as Neteller, skrill, or PayPal.
Whenever you want to make payments using your credit or debit card, you will need the last four digits of the card. MasterCard and Visa cards are the only cards accepted for both deposits and withdrawal. Although withdrawal with debit MasterCard can be a little strenuous as you will be required to provide a valid I.D before the process can be executed.
You should also know that it takes two to five days to access or trade with the funds in your trading account. Withdrawal takes less than 24 hours to be executed, and it sometimes may take longer, depending on your bank.
Bank wire Transfer:  you can credit or withdraw from your account without being charged additional fees for executing either transaction. Although it takes three working days for any transaction executed using the wire transfer to be reflected.
Check Deposit: GetStocks accepts cheque deposits as a means of funding a Getstoks account. It takes a minimum of five working days for it to be reflected. GetStocks doesn't charge additional fees for cheque deposits.
Offers
GetStocks stands out from other trading platforms because of the 'piggybank' approach it operates, which simply means you can save your money with a reputable trader on the platform and keep watch on how your money is been traded and see how it grows.
What this simply means is that new traders, traders can subscribe to reputable and successful traders with a good track record, which gives them an edge in the highly porous and competitive financial market. New traders can check out reputable traders from the trader's page using the tools provided on the website.
Then you can view the trader's statistics and if it fits your investment and financial goals, then you can subscribe to their trading status.
You should also know that you don't have to stay online 24/7 to monitor any trade executed on your behalf, but you will always get a notification for every trade executed.
The monthly subscription is charged each month to the trading account. Note that GetStocks doesn't charge any fee; all subscription fee is paid to the successful trader to whom you subscribed to. You can also decide to stay or change to another trader each month, and these totally depend on you.
Regulation
We now live in a global world, where everything has now been digitalized, where transactions involving millions and billions are done daily, without having to carry physical cash about. It is therefore advisable to scrutinize carefully any company you want to entrust your investment with, no matter how big or small the investment might be.
GetStocks is owned by GS Sharestocks LTD, which is based in Cyprus. GetStocks is regulated by the Cyprus Securities Exchange Commission (CySec) with the license number 262/14. The company is renowned for its amazing social trading platform, which came to limelight after two years of working tirelessly in setting up the platform.
Although the social trading concept is a new concept to financial trading, GetStocks has proven the monetary benefits attached to these concepts because of the trust and security embedded in these concepts.
All trades executed are monitored and regulated by CySec. These give assurance to all traders on the platform that their money is secured with a third-party financial institution with restricted access. The traders are also protected by the Investor Compensation Fund (ICF) if peradventure GetStocks fails to fulfill its contractual obligations to all its numerous traders.
Awards
The company is less than 10 years old, it was established in 2013, and its yet to have any international recognition globally for the services it renders. In the financial world, it takes several years or decades to gain a special recognition, because you have to keep building trust with traders on its platform and also amongst fellow competitors as well.
As the saying goes, trust can only be earned and not bought. To get people to trust you with their little peanuts and huge capital can be very hard. Trust can take years to build and can be lost in a matter of seconds.
After much analysis and research concerning GetStocks it can be said that the company will soon be a household name that will be talked about in the trading and brokerage account world.
New companies always come with amazing concepts and new innovation, with the aim of making day to day trading easy and hitch-free for their numerous customers.