CFDS ARE COMPLEX INSTRUMENTS AND COME WITH A HIGH RISK OF LOSING MONEY RAPIDLY DUE TO LEVERAGE. 78.24% OF RETAIL INVESTOR ACCOUNTS LOSE MONEY WHEN TRADING CFDS WITH THIS PROVIDER.
InstaForex.eu is a well-known broker founded in 2007 and with seven million clients, it is firmly established. It offers more than 100 foreign exchange pairs, but the asset class range doesn't stop there – with CFDs, indices, commodities and more all being available. Traders are also likely to be pleased with the firm's excellent customer service offer, optimised for use on lesser-known services like Telegram and the more standard ones like email.
Social trading is possible at this broker by using the "ForexCopy" service, which is available across asset classes and instruments despite the name. MetaTrader 4 is provided by this broker, although some may be disappointed to see that the latest version – MetaTrader 5 – is not offered. The broker also offers more well-known, industry-standard platforms such as MetaTrader 4.
One of the significant advantages of using this broker is that InstaForex.eu has an enormous variety of choice regarding account types. There is an account to suit all dealing needs, including fixed spread fees and floating ones – and, unusually, commission-based account structures. The recently launched VIP account is perfect for committed investors.
Overall, the site is useable and accessible and comes with functions like language and translation toggles and more, all designed to make the user experience as positive as possible. And with lots of payment methods (like bank transfer and e-wallets) to choose from, this is a broker that treats its users well.
InstaForex.eu Review Navigation
#1

Forex
| | | | |
| --- | --- | --- | --- |
| Min Deposit | App Support | Max Leverage | Trading Fees |
| £100 | Good | 1:30 | Mid |
Overall, the trading conditions for foreign exchange traders at this broker are very good. There are 110 currency pairs available to trade, covering both the major pairs and a variety of less recognised pairs. This surpasses the offer at many other brokers and gives traders a degree of choice.
However, it is worth mentioning that Instaforex's forex offer does differ in one significant way from other providers. Most brokers consider one "lot", in forex trading terms, to be equal to 100,000 units of the currency. But in Instaforex's case, it is equal only to 10,000. While this may not pose significant problems for traders, they need to be aware to make accurate decisions informed by accurate information.
#2

CFD
| | | | |
| --- | --- | --- | --- |
| Min Deposit | App Support | Max Leverage | Trading Fees |
| £100 | Good | 1:20 | Mid |
Contracts for difference (CFDs) are the main type of financial instrument available for trading on InstaForex.eu. This type of instrument is known for being powered by leverage, which allows for expanded deposits and potential gains, and higher potential losses. CFDs are available for stock indices, cryptocurrencies and more. They are derivatives and track the value of the underlying share or currency rather than actually buying into it.
#3

Stocks
| | | | |
| --- | --- | --- | --- |
| Min Deposit | App Support | Max Leverage | Trading Fees |
| £100 | Good | 1:5 | Mid |
Just under 90 stock derivatives are available to trade at InstaForex.eu. Many of the stocks available are listed on some of the most well-recognised exchanges. As outlined above, these are available as contracts for difference rather than actual stocks, so no ownership of the actual share is transferred.
#4

Social Trading
| | | | |
| --- | --- | --- | --- |
| Min Deposit | App Support | Max Leverage | Trading Fees |
| £100 | Good | 1:30 | Mid |
This broker offers traders the chance to use the so-called "ForexCopy" service. Despite its name, this stretches across all the instruments on the broker's platform and is therefore not restricted to foreign exchange. Traders can select from one of two positions in this regard. Firstly, they could choose to copy others' trades on the platform. That is the option to go for if time savings are required, or if expert knowledge is considered desirable by the trader. The other option is to set up as an expert and open up personal trading patterns for others to borrow.
#5

Crypto
| | | | |
| --- | --- | --- | --- |
| Min Deposit | App Support | Max Leverage | Trading Fees |
| £100 | Regular | 1:2 | Mid |
As is the case with the other assets available on this particular trader's books, cryptocurrencies can be traded – although the list is relatively restricted. There are only five CFD versions of cryptocurrencies that can be traded with this broker, which – while decent enough – is far fewer than at some of the sector's more popular brokers. Traders who want to have a wide range of cryptocurrency choice are advised to look elsewhere.
What did our traders think after reviewing the main criteria?
InstaForex.eu Fees
Like the vast majority of modern brokers, this broker has chosen the spread model as their primary way of making money. The "spread" is simply a term for the range between the amount at which an instrument was bought and the price it was sold for – and spreads at this broker can either be fixed or floating. Fixed spreads don't change even if the wider market does. On the other hand, floating spreads change regularly – perhaps due to dynamic market conditions.
The sort of spread that a trader is likely to find varies based mainly on the account type, as does its value. Those who opt for the Insta Standard account will receive fixed spreads, although these can be more expensive – and have been seen in the range of 2 to 7, which for many foreign exchange currencies is relatively costly. However, such an account holder would have the advantage of certainty about the price.
Those with an ECN account, meanwhile, will receive floating spreads on forex. The minimum is around 1.2, while the same goes for the ECN Pro account – although the minimum is 0.8. It's also possible to choose a scalping account for those who wish to use this training mode as a strategy. (It entails making a high volume of trades on the assumption that several small profits will add up over time.) This account also offers floating spreads and the minimum is the same as the ECN account – 1.2.
Interestingly, this broker also offers an alternative to the spread based model. Those who sign up to the Insta Eurica account will not be charged spread fees but will instead be charged an outright fee per trade. That can vary from 0.02% to 0.07% but depending on the precise trading arrangement it may well make financial sense. This is a particular advantage of the Instaforex offer because it means that the trader can make their mind up about how best they want to pay for the broker's services. Not all brokers offer this selection of fixed, variable or non-spread based payment – so for those traders who value the right to pick, Instaforex could be a good move.
The final account type on offer is the VIP account, which is designed for intense investment trading. The minimum spread is 0.5 pips. The minimum fees, however, rest at 0%.
This broker does not charge deposit fees, although withdrawal fees are in place. These vary based on the withdrawal method.
Account types
As outlined above, this broker offers lots of different account types. Aside from the financial implications, however, the choice of account can have other effects on the trading experience. Traders are advised to assess the various pieces of information about account types carefully so that they can make the right decision. Overall, the presence of so much choice is one of the broker's prime advantages.
The Insta Standard account and the Insta Eurica account, for example, both permit three different currencies to be used to make deposits – the US dollar, the British pound and the single European currency. The pound option does vanish for the ECN, ECN Pro and scalping accounts. There's no maximum deposit amount in place on any of the accounts and no minimum on the Insta Standard and Insta Eurica ones. Although the ECN and scalping accounts have minimum deposits of 100 euros, and maximum deposits of 1,000 euros.
The new VIP account, meanwhile, requires minimum deposits of 20,000 euros – although it comes with lots of benefits including a personal account manager.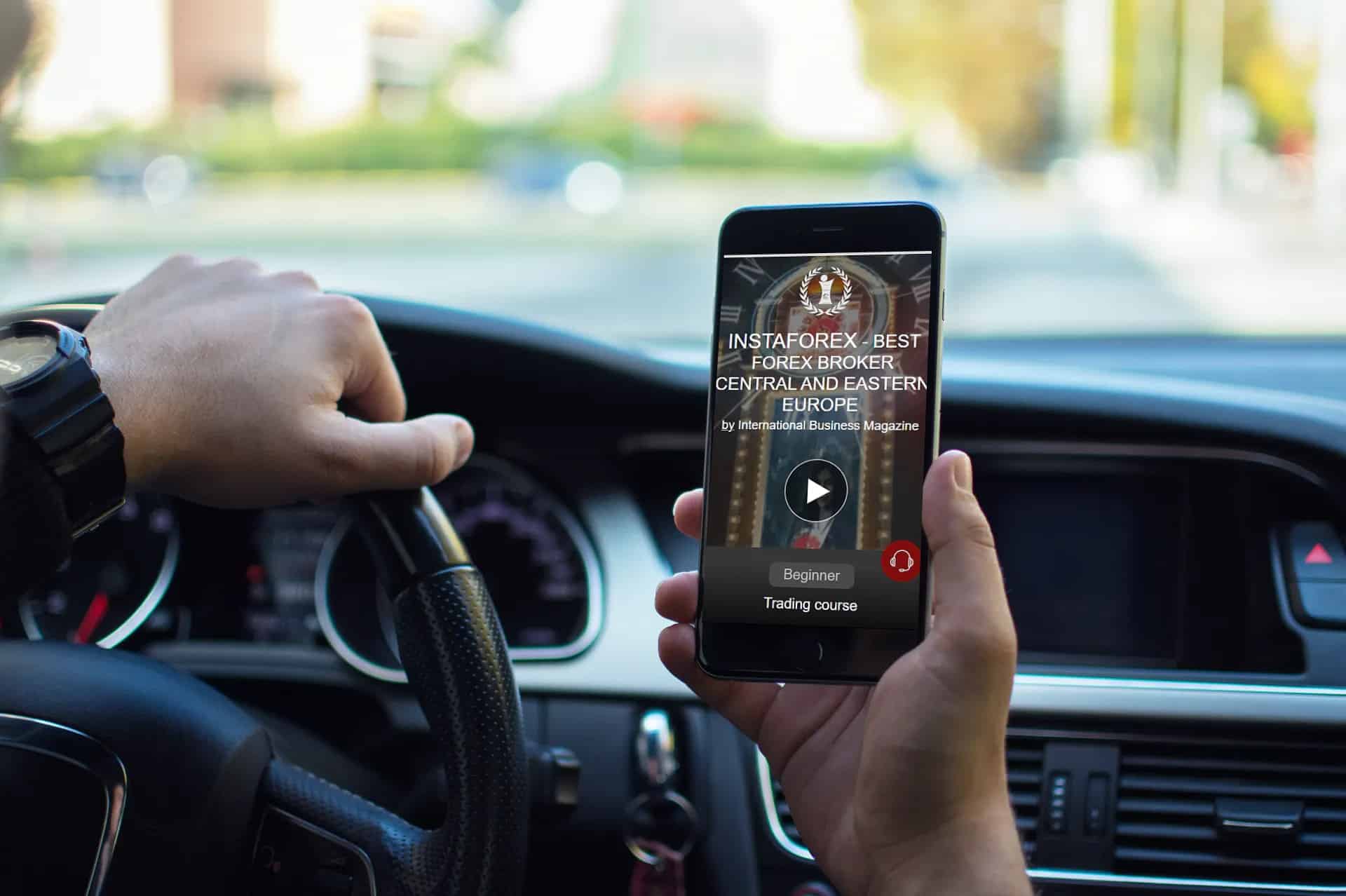 There are some similarities across the account types. Minimal trade levels are 0.01 lots in every instance, and maximal trade levels are 10,000 lots across the board – although as outlined earlier in this InstaForex.eu review, the definition of a "lot" at this broker is quite different to that at most brokers. Margin call rates rest at 100% across accounts, too.
Platforms
The platform on offer at this broker is MetaTrader 4, a standard offering for a broker of this size and scope. There's no doubting that MetaTrader 4 brings with it an extensive range of advantages, including a choice of three different interface modes. The broker has also opted to offer both the mobile version of MetaTrader 4 as well as the computer-based versions. However, some brokers may find themselves disappointed to see that there is no offer of MetaTrader 5.
Usability
The broker's website is user-friendly. For example, it has several language choices. They include major European languages like Italian and French and others, including Russian. Some traders may find the internal navigation system to be a little off-putting at first. When the site is viewed in a non-full-size window, some of the words in the top menu bar hyperlinks are replaced with symbols, and not all of them have clear meanings. But, on the whole, this is an easy-to-use website.
Customer Support
Traders will be relieved to know that there is an extensive array of options for traders who require some support or assistance. Clicking on the headset icon in the top menu bar opens up a list of options, such as "Request call-back" for those who want to arrange a time to speak with an expert customer service advisor.
It is also possible to open a live chat box or send an email. In an unusual move that once again expands the trader's range of choice, the broker's customer service offer is also available through a series of other prominent messaging apps. These include big names like WhatsApp and Facebook Messenger and messaging services known for their commitment to privacy, such as Telegram.
The broker provides a postal address, which also doubles up as its head office address. It is in the city of Limassol in Cyprus and is listed as Spetson 23A, Leda Court, Block B, Office B203, 4000 Mesa.

The broker offers support services around the clock during the foreign exchange trading week, so support services are not available at weekends. The time zone in which the broker operates its customer service function is two hours ahead of UTC.
In some cases, it may be that the trader's question can be answered without any interaction with a customer service operative. If that is the case, the "frequently asked questions" sub-section of this menu might be useful, as it contains a range of answers.
Payment methods
In terms of choice of payment method, this broker has plenty on the books. Perhaps the most user-friendly option is to pay via bank card with many major types accepted.
One of the main plus points of InstaForex.eu from a deposit making point of view is that there is a wide range of e-wallets available from which to choose. Some of the biggest names in the sector, such as Neteller and Skrill, are on hand to use. It's also possible to make a deposit using Bitcoin, although this needs to be routed via the e-wallet Skrill.
Bank transfers can also be performed, which is useful for those who don't have access to the above services.
Best Offers
It appears that InstaForex.eu does not currently have many offers in place, although traders are advised to check back in the future to see if any have been added.
Regulation and Deposit Protection
InstaForex.eu is a highly regulated business, meaning that traders may find they can trust this broker more than they might trust some competitors.
For traders based in the European Union, the company routes its business through an entity called Instant Trading EU Ltd. Instant Trading EU Ltd is overseen by a body called the Cyprus Securities and Exchange Commission, which is also known by its initials CySEC. It has a licence number for tracking purposes, 266/15.
In terms of deposit protection, some customers who trade at InstaForex.eu are covered by the Investor Compensation Fund. If a customer falls into that category of coverage, they may be able to claim back cash to cover deposits of 20,000 euros if InstaForex.eu cannot pay out.
Even though the broker is regulated by reputable organisations, it is still vital for both potential and current customers of InstaForex.eu to initiate a research process to find out more about the broker. Ultimately, the responsibility is on the trader to ensure that due diligence has been performed.
Awards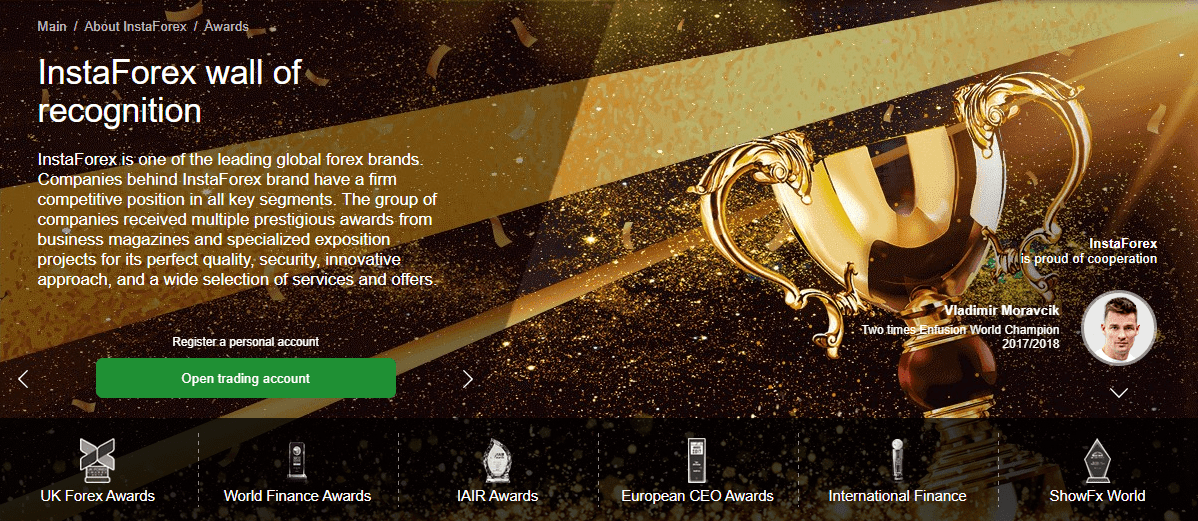 InstaForex.eu has won more than 30 awards in total. Many of these awards were international.
For example, it was named the Best Forex Broker for Central and Eastern Europe in 2020, by International Business Magazine. And last year it was also named the Most Active Broker in Asia, this time by AtoZ Markets Forex Awards.