#1

Forex
| | | | |
| --- | --- | --- | --- |
| Min Deposit | App Support | Max Leverage | Trading Fees |
| $100 | Good | 1:30 | Mid |
Any forex review will likely highlight that this type of asset is the main focus for trading via the broker.
InstaForex offers a truly impressive 110 forex pairs, including majors, minors, and exotics. As such, it is incredibly likely that those who review pairs will find the one that they are looking for. Clients will appreciate the broker clearly outlines the spreads and swap rates for each asset on its Specifications page. Keep in mind that there are separate sections listing the rates for various accounts.
So this review can provide an idea of the rates, considering that the spread for EUR/USD is 3 with an Insta.Standard account. For an Insta.Eurica account, it drops to 0 but there is then a commission. The rates found are fairly high for the Insta.Standard account although they are on the low side of average for the Insta.Eurica account.
#2

CFD
| | | | |
| --- | --- | --- | --- |
| Min Deposit | App Support | Max Leverage | Trading Fees |
| $100 | Mid | 1:30 | Mid |
The other area in which the broker offers numerous assets is CFDs, which leads to an expansive CFD review. There are CFDs for shares, metal, futures, indices, and cryptocurrencies.
Broker offers three main metal CFDs, including Spot Gold, Spot Silver, and Gold Spot (500 ounce). There are no fees associated with trading these assets, but the spreads are high enough to encourage caution, at 60, 40, and 60 respectively.
This InstaForex review finds it interesting that in addition to those metals, the broker lists Platinum and Palladium CFDs in the same spot as its indices and futures. This is also where you will find seven energy commodities, eight agriculture commodities, and six goods commodities.
This CFD review would also like to mention that the broker offers seven index CFDs. This includes the most popular indices, such as the FTSE 100, NASDAQ Composite, DAX 30, and S&P 500 Index.
#3

Stocks
| | | | |
| --- | --- | --- | --- |
| Min Deposit | App Support | Max Leverage | Trading Fees |
| $100 | Mid | 1:5 | Mid |
Stocks make up part of the InstaForex, with a fair variety of offerings.
Traders should keep in mind that the stocks mentioned all have spreads in addition to fees of 0.1 per cent. There are nearly 90 share CFDs available from the broker, offering a nice variety that includes all of the major companies found on the United States stock market. Those in search of share CFDs from other markets will have to look elsewhere, as will traders who want direct access to stocks instead of via CFDs.
#4

Futures
| | | | |
| --- | --- | --- | --- |
| Min Deposit | App Support | Max Leverage | Trading Fees |
| $100 | Mid | 1:10 | Mid |
Those who are interested in trading futures will not find what they want in an InstaForex review. The broker only offers a handful, and all are metals.
The only available futures are Copper, Gold, and Silver. These all have a tick cost of $10 and the tick sizes are 0.001, 0.5, and 0.01 respectively.
#5

Crypto
| | | | |
| --- | --- | --- | --- |
| Min Deposit | App Support | Max Leverage | Trading Fees |
| $100 | Regular | 1:2 | Mid |
This cryptocurrency review lets potential traders know that the broker only offers cryptocurrencies via CFDs. As such, clients do not need to own a cryptocurrency wallet to invest in the digital currencies.
There are five instruments, including Bitcoin Cash, Bitcoin, Ethereum, Litecoin, and Ripple. As with some of the other assets offered by the broker, cautions potential clients that there are fees in addition to spreads. All cryptocurrencies have a 0.1 per cent fee. Spreads are 200 for Bitcoin Cash, 12,000 for Bitcoin, 200 for Ethereum, 70 for Litecoin, and 50 for Ripple.
Fees
Trader Rating
Broker's fees are relatively high. To some extent, the fees will depend on the account type you select as well as the instrument in question. Spreads on Insta.Standard and Cent.Standard accounts are usually between 3 and 7 with zero fees while Insta.Eurica and Cent.Eurica accounts usually have zero spreads and 0.03 to 0.07 per cent fees. As such, it is possible for traders to find assets with low fees from InstaForex. In general, however, most of the broker's fees are high when compared to those offered by competitors.
Account Types
Trader Rating
This InstaForex review appreciates the variety in account types from the broker, as there are two main categories of accounts, both also offered in micro versions.
Insta.Standard accounts do not charge fees on forex, instead making a profit via spreads. This type of account allows Micro Forex trading (with $1-$10 minimum deposit), Mini Forex trading (with $100 minimum deposit), and Standard Forex trading (with $1,000 minimum deposit).
Insta.Eurica accounts may not pay spreads depending on the asset in question, instead paying a commission. It can be helpful for beginners, as they do not have to account for spreads when calculating profits and trades.
There are also Cent.Standard and Cent.Eurica accounts available. Broker suggests these accounts for beginner traders who are still learning or who want to test trading strategies. This account type offers Micro Forex with 0.0001 lot volumes.
All account types offer USD or EUR base currencies and minimum deposits of 1 USD. Regardless of account type, InstaForex offers leverage of up to 1:1,000, a 25 per cent margin lock, a 30 per cent margin call, a 10 per cent stop-out, instant execution, and a 5 per cent interest rate.
Demo accounts are also available with MetaTrader 4.
Platforms
Trader Rating
This InstaForex UK review feels that the platform options from the broker are slightly lacklustre but provide enough for most traders.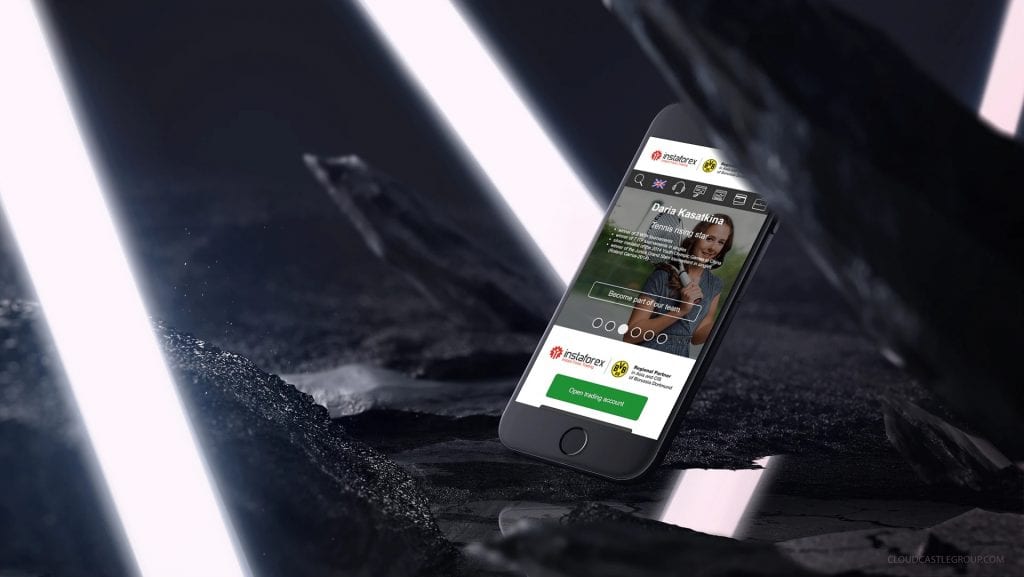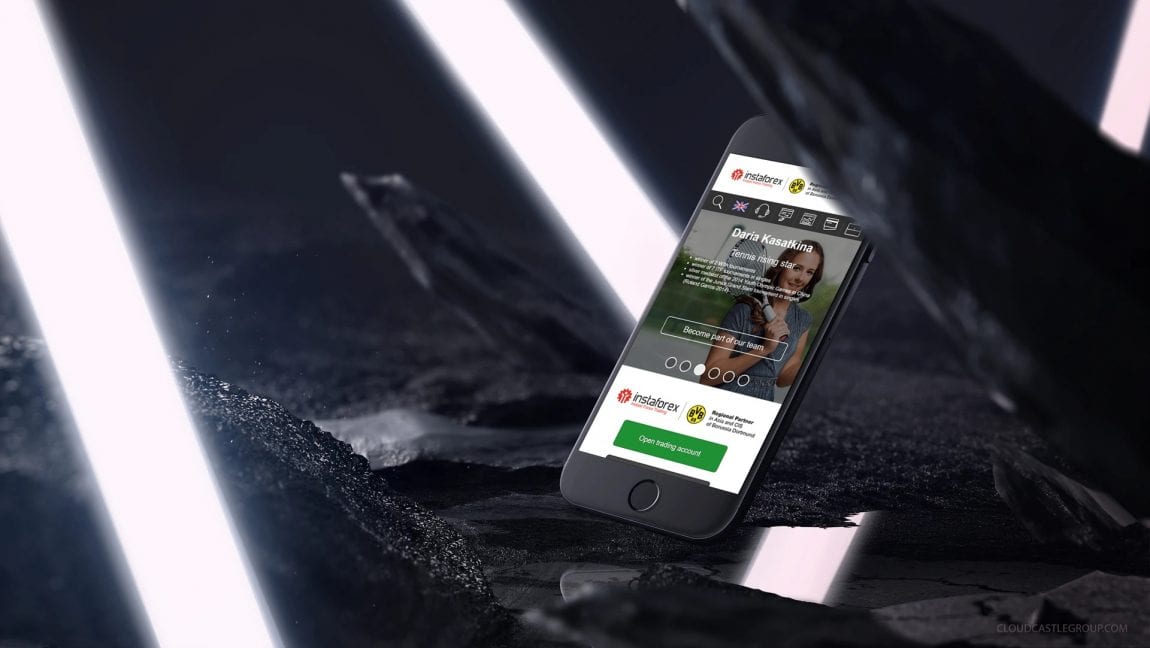 Most of the trading clients do will be via MetaTrader 4. This is the most popular platform in the world for trading forex and CFDs, thanks to its intuitive use and the plethora of tutorials and guides available. MetaTrader 4 is available as a download for Windows, Linux, Mac OS, iOS, and Android.
This platform offers technical analysis tools, the ability to use and create Expert Advisors, built-in technical indicators as well as plotting tools, online analytics, and trading instrument quotes, automated trading, trading signal support, nine time frames, the ability to use 10 interactive charts at once, a forex newsfeed, and one-click trading.
Additionally, lets clients know that the broker has its own platform for binary options trading. This is the InstaBinary web platform that the broker made just for that specific purpose. It features 6-digit quotes and large-scale web solutions and charts.
Also developed WebIFX, which provides access to trading CFDs on indices, futures, and metals as well as currency pairs. It also allows for analysis and trading. It features the choice of three work interfaces and includes balance charts to allow for trade analysis.
Usability
Trader Rating
Broker's website is fairly easy to navigate. The main navigation menu is set up in a slightly unique way, as it is divided based on the category of the website visitor (such as traders or beginners), yet the intuitive arrangement means visitors should easily find the information they want.
The layout and colour scheme of the website are reasonably professional although they give the website a less serious tone than some competitors have. This is mainly a result of the use of images of key people related to InstaForex, such as spokespeople.
Customer Support
Trader Rating
Broker's Official Support Section is a set of websites with a completely different design. This page is incredibly dated in appearance and does not even fill the entire screen on the computer. While the appearance of the page is lacklustre, the content includes all of the FAQs you are likely to need, as well as a link to a live chat.
There is also a separate FAQ section that appears more modern and covers much of the same material. Additionally, clicking Support at the top of the page will show you options to contact customer support, including via requesting a call back, emailing, using the live chat, and visiting the contact page. There are also options to contact support via WhatsApp, Telegram, Skype, Viber, and Twitter in addition to a phone number to call.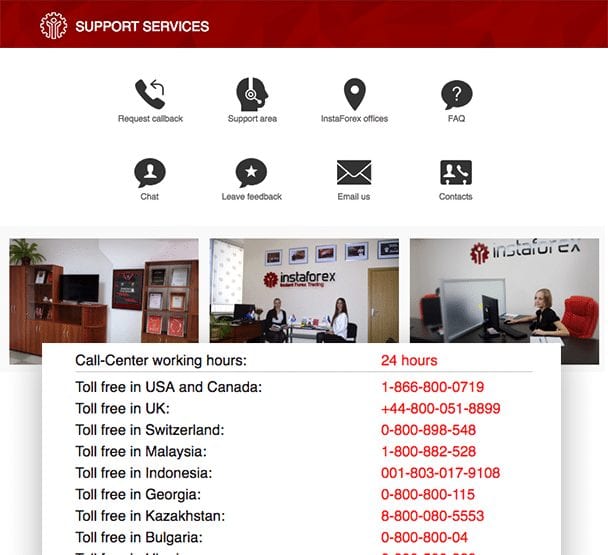 Payment Methods
Trader Rating
If you review InstaForex payment methods, you are likely to find one that works for your needs.
Card payments
Your credit card system will likely charge a fee for using this deposit method. Processing occurs within 24 hours. Supported bank cards include Visa, MasterCard, Diners Club International, JCB Card, American Express, Union Card, and STB. There is also support for Maestro without fees in the UK. 
Bank wire transfer
Bank wires are typically processed within two to four working days. There will likely be a bank fee involved. There is no fee associated with Sofort Banking or Skrill Direct from Rapid.
E-wallets
Instant deposits without fees are available via PayCo, WeChat, AliPay, and Neteller. Deposits via Skrill do not have fees and are processed within 24 hours. There are also other location-specific options, such as CartaSi for Italian debit cards. Finally, broker supports deposits in the form of Bitcoin and Litecoin without fees and with processing within three hours.
Best Offers
Trader Rating
Broker appreciates the range of tools and educational resources available to clients. Analysis includes a forex forecast, popular analytics, forecasts, the economic calendar, pattern Graphix, forex news, and InstaForex TV.
There is also access to charts, including tick forex charts and forex charts. InstaForex TV has a range of videos, including looks at the trader's calendar and more. Beginners will appreciate the video tutorials, training, and an FAQ section.
Regulation & Deposit Protection
Trader Rating