Interactive Investor is a successful online stockbroker and investment company that was founded in 1995. Interactive Investor is an award-winning investment platform located in Leeds, UK and also a registered member of the London Stock Exchange. It has become by far one of the most reputable investment channels in the UK and across the world, with over 40,000 global stocks to choose from within a wide range of 17 stock exchanges. The company boasts of about £36 billion worth of assets under their administration – belonging to over 300,000 engaged investors spread all over the world.
They offer a wide assortment of services to different traders, which include direct investment in – shares, ETFs, funds, investment trusts, bonds, gifts, and many more.
Interactive Investor is franchised and regulated by FCA with full FSCS protection. Hence, traders can be assured of safe investments and protection which guarantees transparency and legal backings by the FCA. Interactive Investor does not provide a demo account for practice. However, their mobile app is free and easy to download.
Here are valid reasons why you should open an investment account with this stockbroker in the near future if you ever choose to:
Interactive Investor Review Navigation
#

Stocks
| | | | |
| --- | --- | --- | --- |
| Min Deposit | App Support | Max Leverage | Trading Fees |
| £1 | Mid | 1:1 | High |
There is a wide range of shares of companies listed for trading on the London Stock Exchange (LSE) and other exchanges across Europe and America.
What did our traders think after reviewing the key criteria?
Interactive Investor Fee
Similar to a lot of other brokers in the UK, Interactive Investor offers a fee structure that varies on all the number of accounts on the platform.
Investor Plan: £9.99 a month, with UK trades at £7.99 and one FREE trade every month. This is Interactive Investor's core service plan and it's ideal for investors looking for optimal choice and market insight.
Funds Plan: £13.99 a month, with UK share trades at £7.99, as well as fund and investment trust trades at £3.99. Additionally, this plan includes two free fund/investment trades per month.  The funds plan is for investors that wish to build a portfolio, which is helped by Interactive Investor's independent select lists and analysis tools.
Super Investor Plan: £19.99 a month, with UK trades at £3.99 and US trades at £4.99. This plan includes two free trades per month. The super investor plan is for experienced/frequent investors, with market leading trade commissions.
Interactive Investor offers a monthly fair fee for Investors at £9.99, covering all their trading accounts, including ISA and SIPP. If you already have a Trading account, ISA or SIPP with them you can add a JISA to your ii account for no extra charge.
As mentioned, the Super Investor monthly fee is £19.99, and Funds Fan monthly fee is £13.99.
The fees per trade (both UK shares and funds) for Investors, Fund fans, and Super Investors vary as follows: £7.99 both shares and funds, £7.99 for shares, 3.99 for funds, and £3.99 for both shares and funds. Interactive Investor boasts of maintaining a flat rate fee per month despite an increase in the investment return of their traders.
Using this flat rate, Interactive Investor helps their traders to save about £30,000 or more than their competitors.
Interactive Investor is now changing to a flat fee of £40 for trades over £100,000.
Urgent cash withdrawals will decrease from £25 to £15 for sums over £100,000 and all non-urgent withdrawals will be free.
Account Types
Interactive Investor has four different account types that are designed to suit the client's needs and goals. These account types are:
Trading Account: This type of account can only be opened and operated by a person above the age of 18. It has no limit on its savings for a year. It gives the chance for traders to invest in a full range of trusts, funds, shares, bonds, and gifts. This account is usually subject to capital gain tax. Funds can be accessed at any time.
Individual Savings Account (ISA): This type of account has a maximum annual savings of £20,000 with free tax savings.  A trader can invest in a full range of funds, shares, bonds, and investment trust. A flat-rate fee of £9.99 per month is required for all traders wishing to open this account. Interactive Investor also gives commission rates of £7.99 for all UK and US trades. Also, a free £7.99 credit is given back every month to help traders buy and sell any investment.
Self-Invested Personal Pension (SIPP): This can be opened by anyone over 18yrs, especially people who are planning for their retirements. Pay in up to £40,000 per tax year and get tax relief. You can choose whether to pay into your SIPP account monthly or in one large sum. If you are not currently working, you can still contribute up to £2,880 each year, and the Government will increase that up to £3,600 through tax relief.
Once you have started receiving a taxable income from your SIPP, you can make contributions of up to £4,000 each year that qualify for tax relief. Funds cannot be touched until the age of 55, which would increase to 57 by the year 2028. Exceptions are, however, made in cases of ill health.
Junior ISA: JISAs can only be opened by a child's parent or guardian, but anyone can fund it afterward. The money in the JISA is owned by the child, who can have access to the account when they are 16 – but not the money.
On their 18th birthday, the JISA will be converted into a standard ISA, and they will be able to access the funds or keep them invested. Just like a standard ISA, there is an annual limit for how much you can invest. For the 2019-20 tax year, the JISA allowance is £4,368. The account comes with no extra charges.
Platforms
They have an excellent online presence with mobile apps for iOs and Android devices, including a user-friendly website to an extent. Interactive Investor is one of the best trading platforms.
Mobile apps are enhanced for secure messaging, trade research, face and touch ID for strong account security, and up-to-date newsfeeds to stay abreast of every information. The lack of a demo account might be the only grey area in their bid to make their platform user-friendly.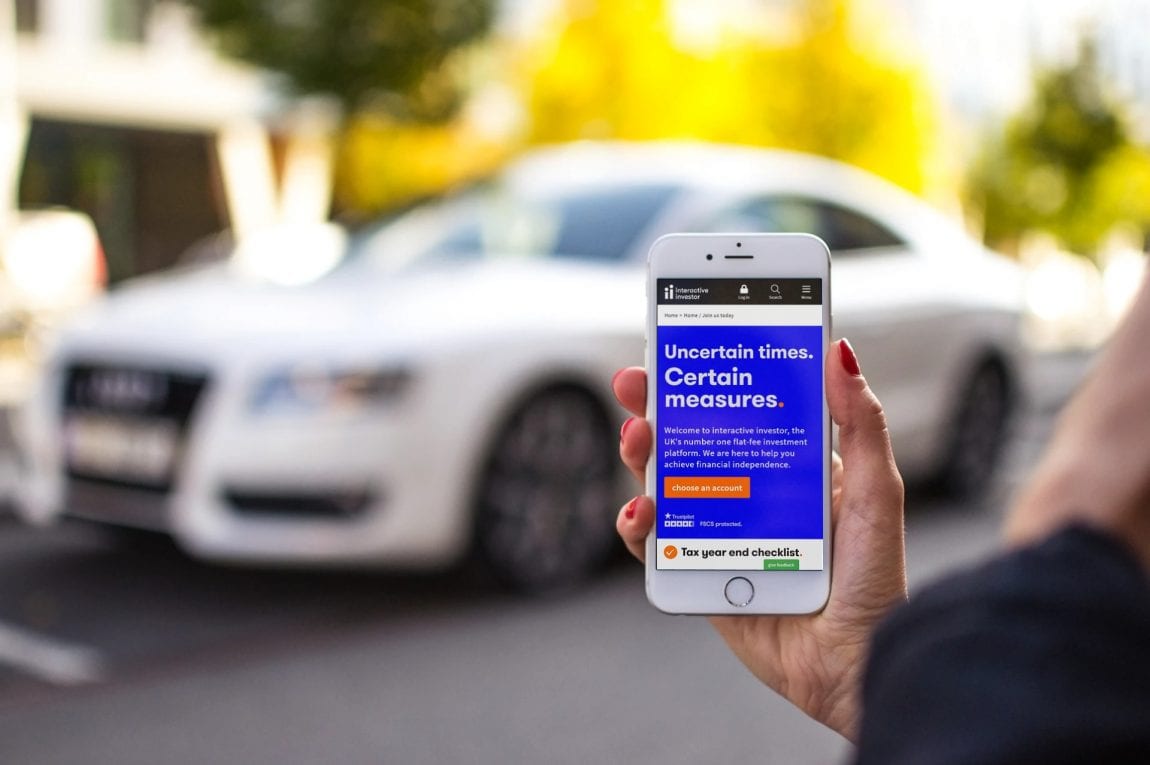 Usability
The Interactive Investor platform is easy to use and accessible to everyone across the globe. The website is well designed, colourful, and simple in every way possible. You can access every information from how to open a trading account, types of trading accounts to every tidbit of information you need to know. I found it quite easy to navigate through, most of the important information can be accessed by scrolling down to the list of materials available on the website or by clicking on the Menu option to get a wide range of pointers to what you need.
Customer Support
Interactive Investor has two major contact routes for customer support. First, by writing to them using their address (Interactive Investor, Exchange Court, Duncombe Street, Leeds, LS14AX), and secondly, by calling their UK lines or International lines respectively; 0345 607 6001 or +44 113 246 2309.
They are opened to calls in the UK from Mondays – Fridays 07:45 – 17:30 GMT/BST and international calls from Mondays – Fridays; 17:30 – 21:00 GMT/BST
Payment Method
Interactive Investor uses a wide range of payment methods which include: cheques, debit cards, internal transfers, bank transfer across their trading accounts. They usually require verifications to allow the security of payment and prevent financial errors. 
Debit Cards: Interactive Investor confirms that the fastest way of funding your account is through Credit/Debit cards because the transactions are secured and reflect in your account after a business day. A call-back verification procedure may as well follow for security reasons. The transaction limit is £99,999 in one transaction for all their traders.
Bank wire Transfer: This method can be used for both deposits and withdrawals. It is also a reliable way of getting your account funded.
Cheque Deposit: All cheques are to be forwarded to Interactive Investor Services Limited, but they implore their traders to use debit cards or bank transfers and also preferably internal transfer.
Internal Transfer: Traders can also transfer within the platform from one account to the other. It allows for a robust financial exchange between traders and traders using multiple accounts.
Best Offers
Interactive Investor does not provide a demo account for practice purposes. However, their mobile apps are user-friendly and filled with exciting ways of getting your investments done. They guarantee a monthly credit of £7.99 for all their traders to purchase and sell funds. They have an interactive customer service for all complaints via calls during their service hours. They help you save up to £30,000 as a result of their fair flat-rate fee on their account openings across all boards. A research tool to keep you abreast of every information available for traders globally. It has an all-easy access to your funds wherever and whenever you like and over 40,000 UK and global stocks to choose from.
They also have other special offers worth considering. These include:
If someone opens an ISA, Trading Account or SIPP with Interactive Investor, they will give them £100 of free trades to buy or sell any investment (this applies to new customers only).
£100 cashback if someone transfers any ISA worth £20,000 or more.
Their SIPP offer is changing slightly, and now if you open a SIPP, you won't pay a SIPP fee for 6 months, saving you £60.
Regulations, Deposits, and Protections
Interactive Investor Limited (Company number 04752535) is owned privately. It owns and directs a number of different companies, which include – Interactive Investor Services Limited.
The investment services are provided by Interactive Investor Services Limited, which is authorised and monitored by the Financial Conduct Authority (FCA). Your funds are in a legal agreement with the organization, and your investments are registered in the name of Interactive Investor Nominee Services Limited. The Interactive Investor group is 100% equity funded with zero debt. They have a huge net asset of over £100 million, by far one of the largest retail brokers in the UK, with approximately £12 million of capital invested and investments in 49 banks and financial companies across 16 countries of the world.
Awards
Interactive Investors are quite a big force to reckon with in the financial industry. They have amassed some great awards but to mention a few in the UK and globally:
ADVFN – Best Low-Cost Stockbroker 2018
ADVFN – Best SIPP Provider 2018
ADVFN – Best Stockbroker for International Dealing 2018
Investors Chronicle & Financial Times Investment and Wealth Management awards 2018 – Best Mobile Share-dealing
Shares Awards 2018 – Best International Share-Dealing Service
Shares Awards 2018 – Best Execution-Only Broker
City of London Wealth Management Awards 2018 – Best Market Newsletter.