Just2trade is a globally renowned online securities trader that best describes itself as a deep discount brokerage house. The brokerage was launched in 2006 in Washington DC by Success Trade Securities. Currently employs over 1200 employees and maintains offices in over eight countries including the United States, China, and the United Kingdom. In this broker review, we vet its reliability and look at how trimmed trading costs have affected this deep discount broker's effectiveness and competitiveness.
The US brokerage employs a market maker straight-through processing (STP) broker model. It supports the trade of mutual funds, stocks and bonds, ETFs, futures and futures options. On its website, claims to have integrated modern technologies into its wide range of brokerage services to bring about a low priced as well as "fresh and native" trading experience.
In this broker US review, we will be vetting the truthfulness of these claims, analyze the brokerage products and detail the nature of its services. This should help you form an opinion on the reliability of the online broker and aid your decision on whether to trust them with your cash.
#1

Just2Trade Stocks review
| | | | |
| --- | --- | --- | --- |
| Min Deposit | App Support | Max Leverage | Trading Fees |
| $2500 | Mid | 1:1 | Mid |
According to its website, gives clients access to over 30,000 preferred stocks and class shares. These are drawn from over 20 markets across the country and internationally from stocks registered for trade on US over-the-counter exchanges. These can be traded via a margin account that treats the investor to leverages of up to 20:1. Stock traders are also free to open their trades on both the broker's proprietary and third-party trading platforms.
Our review indicates that the brokerage and its trading platforms feature a host of market analysis tools to trade. There also are a host of educational, research, and news resources to help both beginner and expert traders understand and navigate the stock markets.
Just2Trade mutual funds review 
Also makes it possible for its clients to invest and trade more than 3,000 mutual funds listed on its platforms. Like stocks, these too can be traded on both their proprietary and third-party trading securities trading platforms. Our review is nonetheless alive to the fact that its platform doesn't have an integrated mutual funds screener.
#2

Just2Trade ETFs review
| | | | |
| --- | --- | --- | --- |
| Min Deposit | App Support | Max Leverage | Trading Fees |
| $2500 | 1000 | 1:1 | Mid |
Our review further indicates that you can also trade and invest in ETFs that are currently trading on the US exchanges. These can only be traded on the broker's proprietary trading platforms where Just2Trade Pro charges $2.50 per trade but are commission-free on the Just2Trade lite platform.
There, however, are no ETF trade screeners on the platform. The discount broker further provides limited ETF-related educational and research reports.
#3

Just2Trade futures and futures options review
| | | | |
| --- | --- | --- | --- |
| Min Deposit | App Support | Max Leverage | Trading Fees |
| $2500 | Mid | 1:1 | Mid |
Our review indicates that traders on the platform can trade up to 90,000 futures and futures options instruments. These are drawn from virtually every market within the finance and securities industry including stocks, indices, currencies, and commodities. Unlike most other trading products listed here, futures and futures options trading are lightly covered in the broker's educational resources and research reports.
These can be traded on both the proprietary and third-party trading platforms and their fees are commission-based.
What did our traders think after reviewing the key criteria?
fees
Our review indicates that any Just2trader client falls within one of three trading fee plans maintained by the New York-based broker. These include:
Commission-free plan:
Like the name suggests, commission-free plan subscribers are allowed to trade several securities free of charge. These include stocks, exchange-traded funds, and American depository receipts (ADRs). This commission-free plan isn't available for options and other order type traders or those engaged in the ECN extended hours market. The plan is however only open to individuals using the Just2Trade Lite trading platform. You also need a minimum initial deposit of $2,500 and a minimum operating balance of $2,000. You will also have to foot the additional fees charged by such regulatory authorities as SEC, OCC and the NFA.
Per trade plan:
The per-trader plan is specially designed for the active day traders subscribed to the platform. As the name suggests, trading costs on this plan are based on every trade starting from as low as $2.50 for stocks, futures, ETFs, ARDs, and every other instrument supported here safe for mutual funds that are priced at $12.50. Options incur an additional $0.50 fee per contract while international stocks carry a $75.00 foreign stock transaction fee. You need a minimum deposit of $2,500 to enjoy the low trading fees that shoot to $4.00 per trade for accounts with operating balances of between $2,000 and $2,499. Plus this is the basic fee and doesn't include the non-trading fees charged by regulators.
Per-share plan:
The per-share trading cost plan is specially designed to serve high-volume traders operating margin accounts. The trading costs are volume-based where stock trades of less than 1 million per month are charged $0.0025 per share, $0.0015 per share for trades involving 1-5 million shares, and $0.001 for trade volumes of above 5 million shares. If you traded less than 100k contracts in a month, you will be charged $0.75 per contract, $0.50 if you trade 100-200k contracts a month, and $0.35 if you trade more than 300k contracts a month. Traders wishing to join this program will need a minimum account balance of $25,000 and the minimum trading fee shouldn't fall below $250 lest the broker debits you with the difference.
Note: All these trading fee plans feature the broker-assisted trading feature that attracts a uniform charge of $20 per trade.
Account types
Broker maintains up to 14 different types of user accounts on its platform. The most popular though is the individual trader account. Others include both joint accounts in common and others with rights of survivorship as well as the tax-deductible accounts that include IRAs, business accounts, and goal-oriented accounts like education savings.
Trader platforms
In our review, we learn that the broker hosts four proprietary trading platforms and four third party trading platforms. The in-house platforms include the Just2Trade+, Just2Trade pro, the commission-free Just2Trade Lite, and Just2Trade mobile apps. Some of their shared features include real-time access to the US exchange markets, access to real-time quotes, customizable interfaces, and the fact that they host several technical indicators. They differ in such ways as the depth of their market analysis, access to sophisticated indicators, and platform-based trading costs.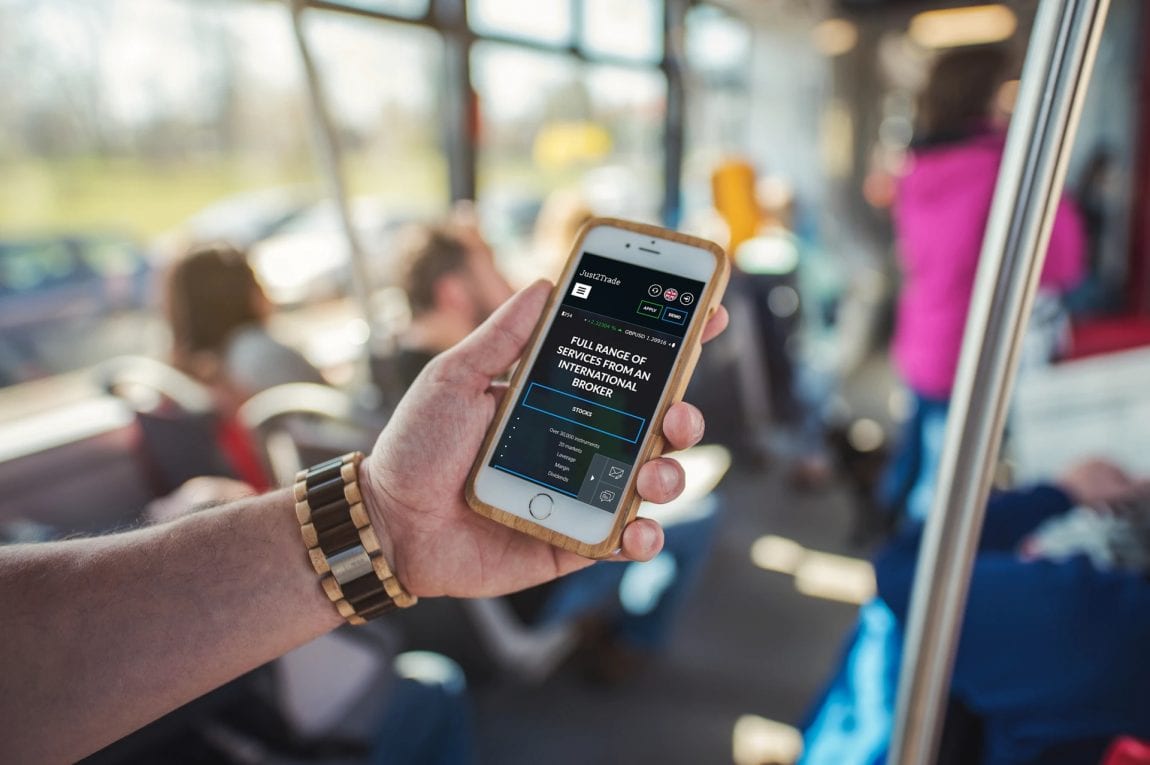 Third-party trading platforms include Sterling Trader Pro that features an advanced trader and robust options tools, the OEC Trader that hosts advanced charting and custom layouts, the CQG Trader with a multi-language and customizable interface as well as iBroker Mobile Application with fractional quotes support and twitter integration features.
Usability
Our analysis and numerous other reviewers have found the website quite beginner-friendly and easy to use. On the home page, you will only find four-page options namely: Services, Pricing, Platforms, and FAQ. These are complemented by drop-down menus that welcome you to every aspect of that broker feature. Our review found the site easy to navigate and with fast load speeds.
Customer support
Broker offers professional customer support around the clock. The broker's customer support service starts with a hugely comprehensive FAQ section that tries to answer most of the common platform user queries. Most of the queries on the page touch on the different services offered by the broker, especially the ones that touch on fees, margin trading, and trader platforms.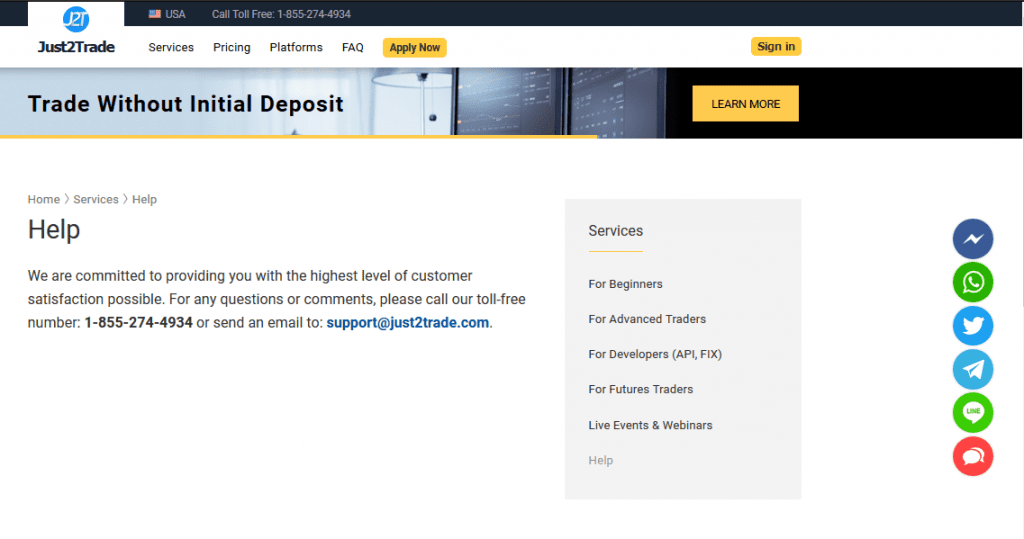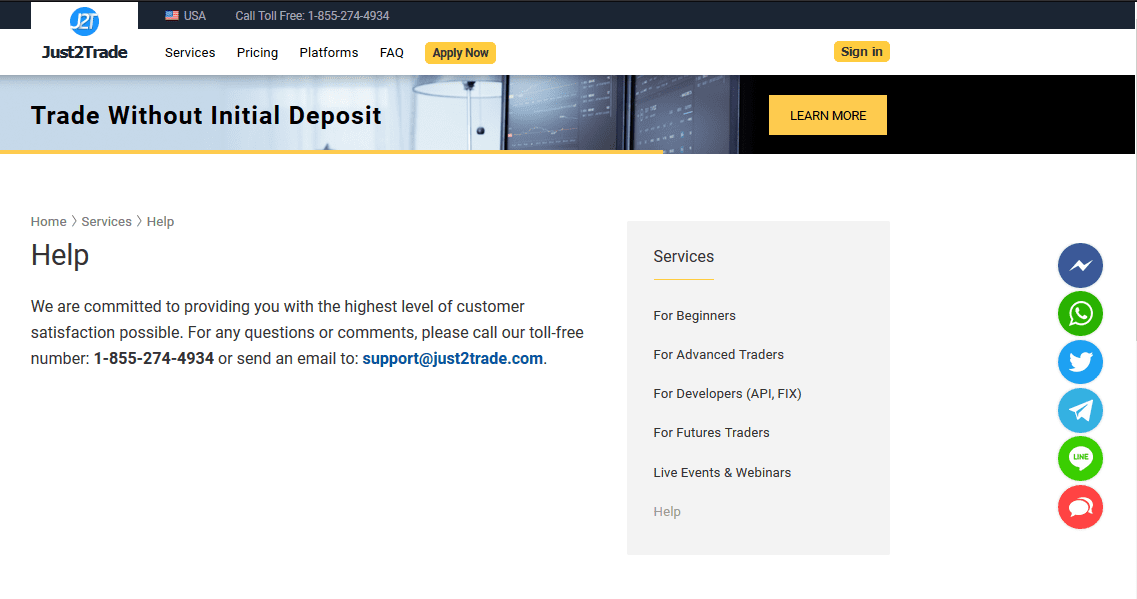 You can also access this new York-based broker's customer support team by contacting them directly via their different social media handles, email or through the toll-free number on the website. New York residents can also walk into the broker's offices at One Penn Plaza in New York.
Payment methods
Broker accepts three primary payment methods. These include:
ACH:
Automated clearing houses deposits are free and so are withdrawals. The daily deposit limit is set at $100,000 and withdrawals capped at $25,000. These amounts can take up to 7 business days to reflect in your Just2Trade account and can only be withdrawn via ACH 10 days after the date of deposit or 60 days via check or bank transfer.
Bank wire transfers:
There are no minimum deposit or withdrawal limits for bank wire transfers. Deposits are processed within one business day while withdrawals can take up to 3 days. Withdrawals cost $35.00.
Account transfers:
Transfers in from one account – say the IRA – to the account are free. Transfers out, however, attract a $50 facilitation fee.
Best offers
Demo account: In our review further reveals that each of the trading platforms hosted on this broker's platform supports the creation of a risk-free demo account.
Risk-free trading: The broker reviewers also observed that Just2Trade is currently running a promotional program targeted at skilled traders. The Try2BFunded program tests the skills of different traders by giving them a chance to prove themselves in the live trade environment and providing the most skilled with free investment capital on a profit-sharing scheme with the brokerage.
Regulation and deposit protection
In the United States is licensed and regulated by both the Commodity Futures Trading Commission and National Futures Association(NFA). The discount broker is also a member of the Securities Investor Protection Corporation (SIPC) that insures the investor funds deposited with Just2Trade for up to $500,000.
Internationally, Just2Trade operated under the CySEC license granted in Cyprus, Europe, where the broker maintains its international operations. It is also licensed, regulated, and subscribed to other client's deposit protection schemes across the world – like Europe's ESMA. And it is this strict regulation by formidable financial regulatory agencies across the world plus its solid reputation throughout a decade of active presence in the world that gives it credibility in the face of different reviewers.
Awards
Just2Trader, the deep discount broker, has throughout the years been awarded and recognized for its contributions to the online brokerage industry. Most of these recognitions primarily touch on the affordability of its brokerage services, revolutionary features like the integration of innovative analytic tools and features as well as best of service awards like best for stock traders.
Just2trade FAQs
Yes, Just2Trade is safe when it comes to depositing your funds with the broker. Here are some of the reasons:
Incorporated in 2006, Just2Trade is an online brokerage launched by Success Trade Securities. The broker offers a complete gamut of financial services that include FX, stocks, bonds, futures and options. Besides providing direct market access (DMA), low commissions, the multi-regulated brokerage provides a modern high-speed infrastructure for instant trade execution. Just2Trade has over 155,000 clients from over 130 countries.