Moneta Markets Fees
Trader Rating
One downside of using Moneta Markets is that there is no immediately obvious centralised view of the fees levied. This information is available across the broker's website, but it is stored in different places. The good news is that there are no deposit fees to be paid, and the broker does make this clear. However, it reveals on its share CFDs page, for example, that it charges per trade for many transactions – a model that may not suit all traders.
Account types
Trader Rating
According to its sign-up screen, Moneta Markets only offers one standard account type. This may be a downside for traders, many of whom like the option of switching between accounts with different benefits such as more generous leverage levels. There is, however, a demo account option – so a trader can use the platform to practice before committing in full to a paid-for account.
Platforms
Trader Rating
When it comes to platforms, the Moneta Markets offer is something of a mixed bag. It is anchored around the Moneta Markets WebTrader platform, which is an in-house service that comes with a number of decent features, including easy access to risk management tools such as 'take profit' orders. In addition, withdrawals and deposits can be made with ease – and there is also a useful calculation function that demonstrates trading volume in terms of both dollar value and in pip format.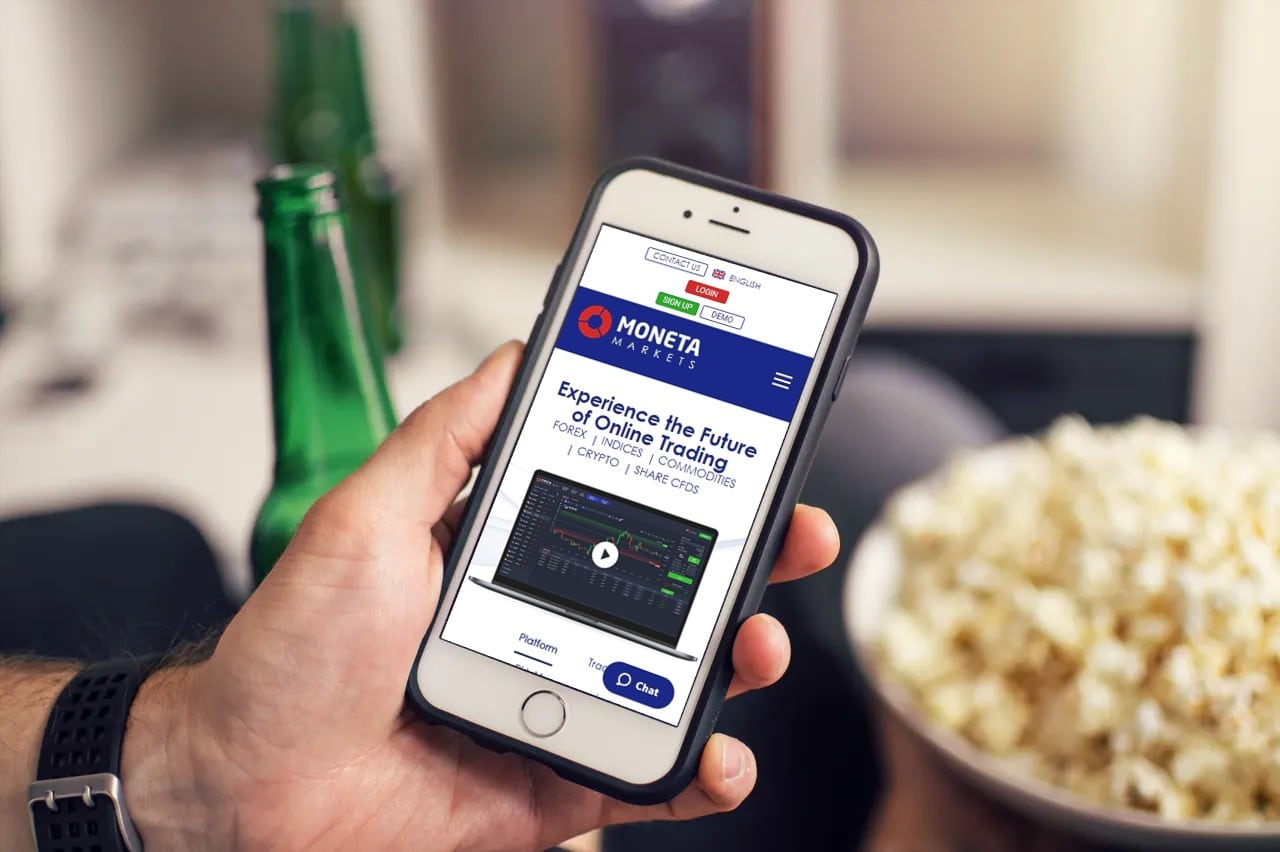 In terms of mobile applications, meanwhile, the broker offers a mobile app that has again been developed in-house. This mobile application can be downloaded for both Android and for iOS.
Usability
Trader Rating
This Moneta Markets CFD review will now explore the usability of the Moneta Markets platform. This is important to any potential trader, especially given that clarity can make all the difference when it comes to trading decisions.
The colour scheme of the platform is laid out in a distinctive way, with a dark background being complemented by bold and bright colours, such as greens and reds, for individual elements. One particular usability-related advantage of the platform is that it comes with over 45 technical indicators integrated into the system, which is actually more than some competitors: MetaTrader 4, for example, only has 30 built-in indicators. However, traders can also use MetaTrader 4 and 5 at Moneta Markets.
Customer Support
Trader Rating
According to the Moneta Markets website, there are several ways to get in touch with the company if you need some support. It is possible to get in touch via a dedicated support email address, while there is also a live chat function for potentially more instant communication. There is also a telephone number. According to the broker, it offers its customer service provision 24 hours a day, five days a week.
The broker offers its website in a wide variety of languages, including Japanese, French and Spanish, which increases its accessibility for customers from all sorts of different backgrounds.
In addition, this broker also provides a clear risk disclaimer that assists traders looking to get some information about the inherent risk of speculating on assets like these. The risk disclaimer is posted on the Moneta Markets website, and reads as follows:
"Trading Forex and CFDs involves significant risk and can result in the loss of your invested capital. You should not invest more than you can afford to lose and should ensure that you fully understand the risks involved. Trading leveraged products may not be suitable for all investors. Before trading, please take into consideration your level of experience, investment objectives and seek independent financial advice if necessary. Please read our legal documents and ensure that you fully understand the risks before you make any trading decisions."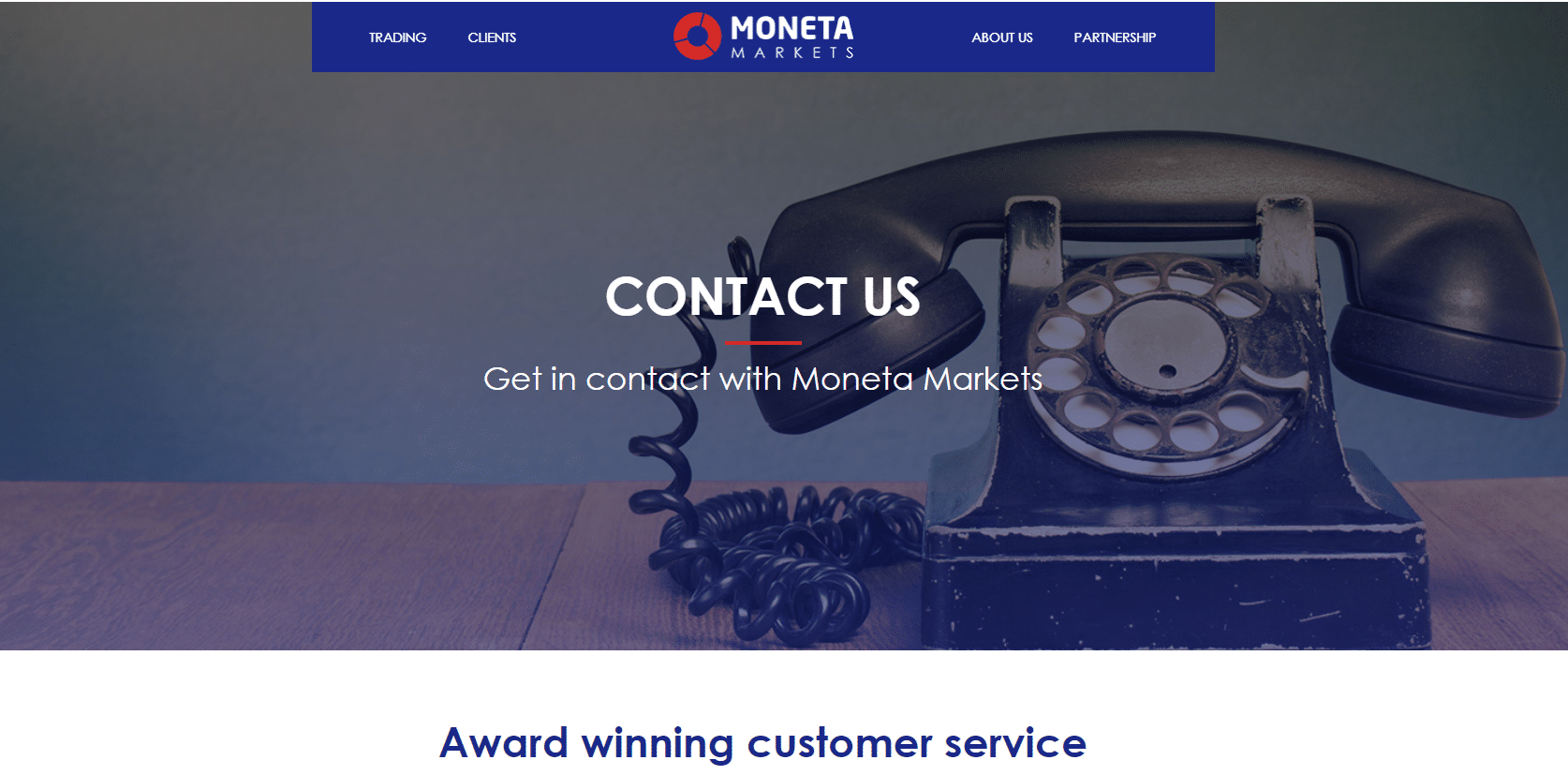 Payment Methods
Trader Rating
Customers of Moneta Markets can benefit from a wide variety of different payment methods – and no matter what their preferred method might be, there will be a relevant option.
In terms of card payments, for example, customers can make their deposit via well-known names such as Visa. Japan-based global payment service JCB is also accepted, while the direct debit service FastPay is also available.
When it comes to bank transfers, a wire transfer system is available for customers to use. Moneta Markets also makes it clear on its website that its custodian bank is the National Australia Bank.
It is also possible to fund an account via bitcoin, so those who deal in cryptocurrency will have appropriate options available to them. Other technological innovations are also welcome at this broker, including e-wallets such as Neteller and Skrill. The major e-wallet service PayPal is also represented, which is sometimes not the case at other brokers – meaning that the range of funding methods on offer truly is particularly broad.
Best Offers
Trader Rating
Moneta Markets offers a generous account funding bonus that can extend the value of your trading account and let you access the benefits of extra capital. All that a customer has to do in order to take advantage of the offer is to add an extra $500 or more to their account, and from there Moneta Markets will add an additional 50% of the sum.
Unusually, this offer can be redeemed whether or not you are a new customer. Some brokers only offer deposit bonuses to customers who are new, so this is a particularly generous option. The terms and conditions of the bonus scheme indicate that it is far from a one-off offer. Customers can make several claims, so the benefit of the added cash can be felt several times.
Regulation and Deposit Protection
Trader Rating
The regulatory environment in which Moneta Markets operates is complex. The broker is in fact owned by a company named Vantage International Group Limited, and Vantage is both the owner of the Moneta trademark and also the provider of the investment products offered.
Vantage is an international firm, and it is regulated by several different providers all over the world.
The first is the Cayman Islands Monetary Authority (CIMA). In this jurisdiction, it has been given a designated Securities Investment Business Law number, which is 1383491.
In terms of larger countries, meanwhile, the broker has approval from a number of other regulatory bodies around the world.
The firm is, for example, regulated by the Australian Securities and Investments Commission (ASIC), where its number is 428901. Finally, it is also regulated in the UK by one of the most prominent regulatory bodies in the world, the Financial Conduct Authority (FCA) – its number there is 590299.
In terms of deposit protection, the client agreement document on the broker's website suggests that the broker will place deposits into a "client segregated bank account when required by Law". It is worth reading this document in full in order to understand the extent to which Moneta Markets will act to protect your cash.
Finally, it is important to emphasise that citizens from a range of countries are not permitted to trade at Moneta Markets. These include major economies such as the US and Japan, but also less prominent countries such as North Korea.
Awards
Trader Rating
Moneta Markets has won a respectable array of awards in recent years. In the 2020 M&A Today Global Awards, for example, the broker won the 'Best Customer Support' award for a CFD broker, and in the CV Magazine Corporate Excellence Awards in 2020, it won the 'Most Advanced Web-Based CFD Trading Platform' award.