Founded in 2011 in Italy by Chairman Paolo Galvani and CEO Giovanni Daprà, Moneyfarm is a pan-European digital wealth manager with 50,000 active investors and over £1 billion invested on their platform. They operate out of the UK and Italy, and they offer services to UK, Italian and German residents, including U.S. citizens resident in the UK.
The well-established robo-advisor company has earned a good reputation among investors, and it now ranks among the largest investment companies of its type after having received considerable financial backing from Allianz Asset Management, United Ventures and Cabot Square Capital.
If you are interested in how we review Moneyfarm, then read further in this Moneyfarm UK review to determine if the robo-advisor satisfies your investing requirements and if investing with Moneyfarm makes sense for you.
Note that this is not a Moneyfarm CFD review, a Moneyfarm cryptocurrency review or a Moneyfarm forex review since the robo-advisor does not currently offer trading products of that type to clients.
Moneyfarm Review Navigation
#

Robo-Advisor
| | | | |
| --- | --- | --- | --- |
| Min Deposit | App Support | Max Leverage | Trading Fees |
| £500 | 3 | 1:1 | Mid |
Using Moneyfarm's robo-advisor service puts you in the role of a passive investor. The minimum investment is £5,000 OR £500 + a monthly contribution of £100+. This is to ensure that portfolios are diversified and you benefit from their investment strategy. Direct debits can be set up to add to your invested amount over time with a minimum of £100 per month. Unfortunately, the robo-advisor does not currently offer an ethical investing option like some of its competitors do.
The assets that Moneyfarm offers investment access to include: shares, commodities, real estate, bonds and money market instruments.  Moneyfarm also tends to use exchange-traded funds (ETFs) in its portfolios, since doing so helps keep its fees affordable and reduces risk via diversification. The robo-advisor also uses high-yield bonds to add to a riskier portfolio's investment returns.
Furthermore, Moneyfarm's dedicated Asset Allocation Team actively reviews and rebalances investment
portfolios based on every customer's risk level.
If your financial goals, situation or risk appetite change, you will also have the opportunity to revise your portfolio using Moneyfarm's Advice Centre feature.   You can elect to either update your investing time horizon or take the investor profile questionnaire again. Your portfolio settings can be edited every six months, and your investor profile can be edited once each year.  If the changes suggest a different portfolio, you can accept the resulting portfolio changes at no extra cost to you.
What did our traders think after reviewing the key criteria?
Moneyfarm Fees
Moneyfarm makes a point of keeping its fees both competitive and transparent to potential and existing clients. The company does not charge setup or subscription fees, and it charges an annual management fee that varies with your invested amount and includes its investment management services, custodial fees, trading, guidance and other costs of administering your assets.  Moneyfarm also charges an underlying fund fee of 0.20% and a market spread fee of up to 0.09%.
The company's tiered approach to management fees means the more you invest, the lower the fees you will pay. If you have £20,000 or less invested across all accounts and portfolios, then your fee is 0.70% per year. Those with between £20,000 and £100,000 invested pay 0.60%, those with between £100,000 and £500,000 invested pay 0.50% and those with more than £500,000 invested pay 0.40%.
Account Types
You will be able to open up a Private Pension, a Stocks & Shares Individual Savings Account (ISA) or a General Investment Account (GIA) to invest your money in at Moneyfarm. You can also transfer existing ISAs and pensions, although the assets within your existing plans will be sold and the cash will be transferred, since Moneyfarm does not accept in specie asset transfers.
Due to the tax benefits of an ISA, many UK residents will want to open one.You can invest as much as £20,000 per tax year in an ISA without being required to pay either income or capital gains tax on its investment earnings. You can also withdraw funds from an ISA at any time, although you can only have one ISA per year.If you have already exceeded your allowable ISA balance, you can open a GIA instead, although it lacks the tax benefits of an ISA.  
Moneyfarm also lets you to set up a pension plan to invest for retirement, although you will not want to use an account of this type if you plan on withdrawing funds before you reach 55. Once you reach that age, you can typically withdraw as much as 25% of your invested pension amount tax-free, while leaving the balance invested.
Moneyfarm offers a flexible Pension Drawdown program for accessing your pension once you retire. You can withdraw funds either as a lump sum, or you can create a steady income stream, or both.
Platforms
As with most robo advisors, Moneyfarm proposes portfolio strategies for its users that are calculated based on a risk assessment conducted by interviewing them via its website.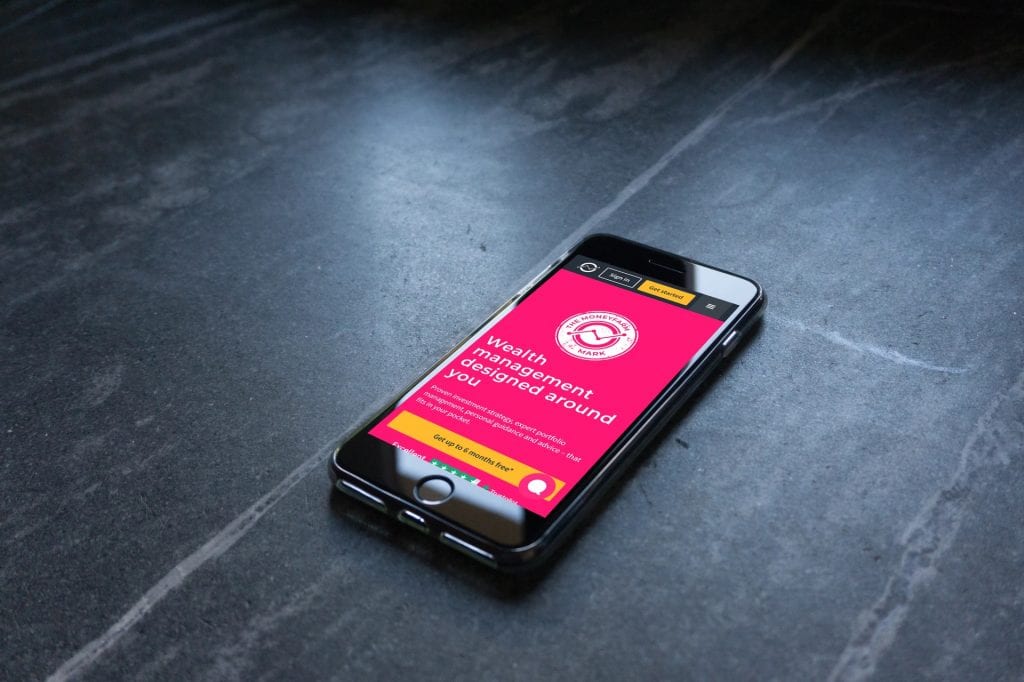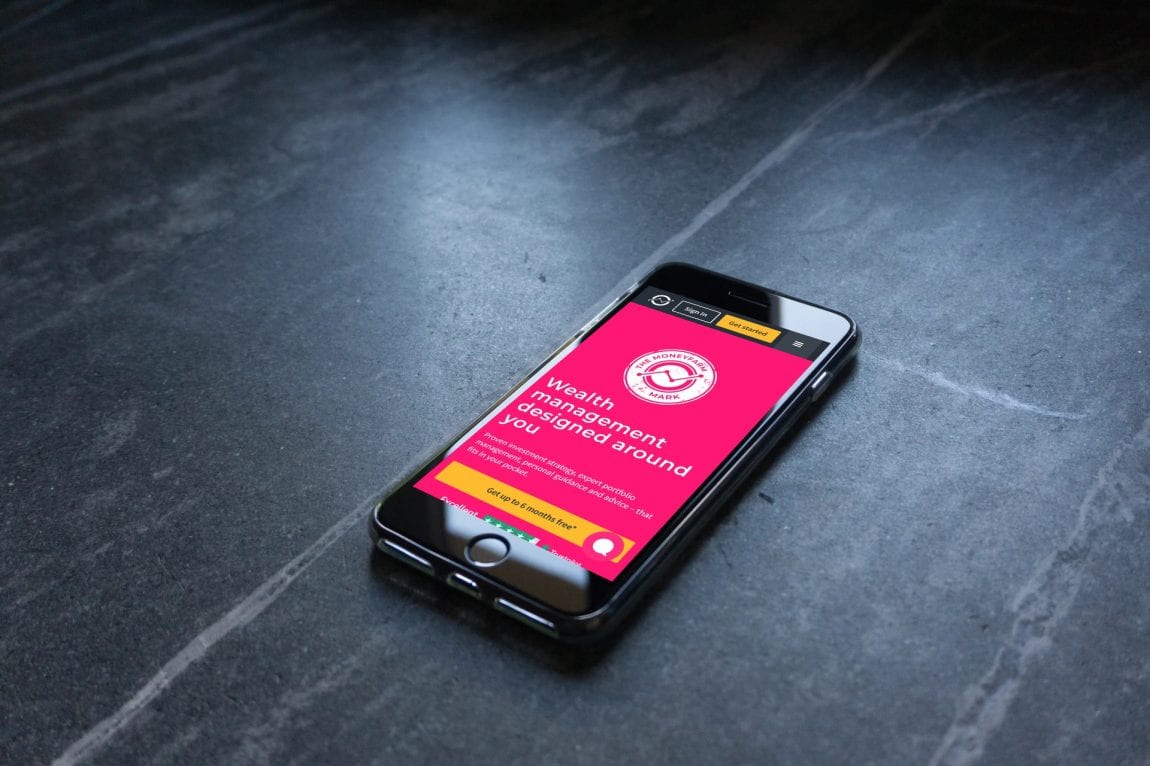 For example, those willing to take on a more aggressive investment strategy have a higher risk tolerance, so more of their money will be invested in growth stocks and high-yield or emerging market bonds.  Users who are more risk-averse will instead have a higher percentage of their portfolio put into government bonds.
In addition, Moneyfarm uses some of the most advanced risk assessment software in the industry that is augmented by its investment team's constant monitoring. This winning combination really makes the robo-advisor's investment platform stand out from the rest of the pack.
Moneyfarm also has a nice mobile app that is simple and easy to use with versions for iOS and Android. The app also provides the latest market insights for you to keep up to date with. A screenshot of this mobile device software taken during the investor profiling stage is shown below.
Usability
Moneyfarm's official website has a professional look designed mostly in white and shades of grey with an easy-to-read layout. The website just has four tabs at the top, and the first three have drop down menus linking to topics you might want more information about to assist you with site navigation.
The website's tabs are:  Services, Why Moneyfarm, Resources and Help. In addition, each website page has Sign in and Get started buttons placed conveniently in the right upper corner. They can be helpful if you're keen to open an investment account with the robo-advisor once you read this Moneyfarm review. 
Customer Support
Moneyfarm has a unique hybrid service model, where they combine 24/7 access to all your investments via online
and app, while also maintaining a team of data-driven investment advisers who can recommend suitable solutions and guide you through your investment journey. Options include a toll-free phone number and a number you can call from abroad, as well as email and live messaging options like Live Chat, Twitter and Facebook Messenger. You can also fill in a form to schedule a phone appointment.
You can get the information you are looking for from those sources or by browsing through Moneyfarm's useful FAQ that gives clear answers to common questions you might have as part of its website's Help section.
Existing or prospective clients can contact Moneyfarm via phone during extended UK business hours from 9 a.m. to 7 p.m. Monday through Thursday and from 9 a.m. to 6 p.m. on Friday. Telephone support is therefore not available in the late evenings or during the weekends.  A screenshot of Moneyfarm's Speak with us page is show below.
Moneyfarm's support staff seems very well-versed on topics pertaining to the company's products and services, but you should speak to an independent financial advisor if you require a full review of your financial situation and expert advice on how best to manage your finances.
Payment Methods
To make a deposits or withdrawals, you will first want to log in to your Moneyfarm account using either its website or app.  ISAs and GIAs can be funded via bank transfer using the bank details and reference code you will be given.
Adding funds to a pension account needs to be done via direct debit, either on a one-off basis or for ongoing contributions, unless you are transferring funds from an old pension.  You cannot use a bank transfer for pensions.
Monthly contributions to be made via direct debit can be set up by clicking on 'Add funds', choosing your preferred contribution date and then picking 'Direct Debit' as the Payment Method.  You can also set up a standing order with your bank.
Withdrawal times to get your money from Moneyfarm vary somewhat depending on whether you are presently holding cash in your portfolio or if you have your funds fully invested in other assets.
It normally takes as much as seven business days to withdraw funds to a bank since you have to first disinvest your assets by selling them to get the cash credited to your Moneyfarm account once they settle a few days later. At that point, you can have the resulting cash transferred to your nominated bank account, which can take around three business days.
If you have cash in your account, you can withdraw it by going to 'Funding Details' by clicking on the arrow beside your name on the website or at the bottom tab of the mobile app. Then press the 'Withdrawals request' button, enter the amount you want to withdraw, and choose the bank account you want the money sent to. This process takes up to three business days.
Best Offers
Moneyfarm offers an investment advice centre on its website that provides simplified advice and educational features. This can be helpful for those new to investing to help them become better informed about their investment options so they can get started saving money quickly.  You can also read about Moneyfarm's products and its market and economic views on its Insights blog.
Furthermore, Moneyfarm promo codes are sometimes available and can provide investors with a small advantage when used. An example would be a promotion that gives you several months of investment without management fees at Moneyfarm.  You can search for these promotional codes online.
In addition, Moneyfarm has several social media accounts, although they are not especially active in terms of posts. Its popular Facebook page has over 50,000 followers, its YouTube channel has a decent selection of videos with around 250 subscribers, and the UK robo-advisor's Twitter account has over 3,400 followers. You can message the company for support via its Facebook and Twitter accounts. Moneyfarm also offers:
Investment advice and guidance, so clients can feel confident about their investment decisions
Globally diversified portfolios, managed by industry experts. They offer 7 portfolios, with different
risk levels to fit clients' investment plans.
They invest in high-quality, low-cost exchange-traded funds ( ETFs ) – they're a great way to achieve
diversification and keep costs under control.
Possibility to open or transfer a fully managed ISA, Pension or GIA portfolio.
Simple and low pricing – with no hidden costs
Awards
Moneyfarm has been around for a while and have received quite a few awards compared to newer digital wealth management companies that are not so well established. The following are among the company's more recent and prestigious industry accolades:
Best Direct SIPP Provider – YourMoney.com Awards, 2019
Best Online Direct to Consumer Investment Platform – YourMoney.com Awards, 2018
Innovation of the Year Award – British Bank Awards, 2018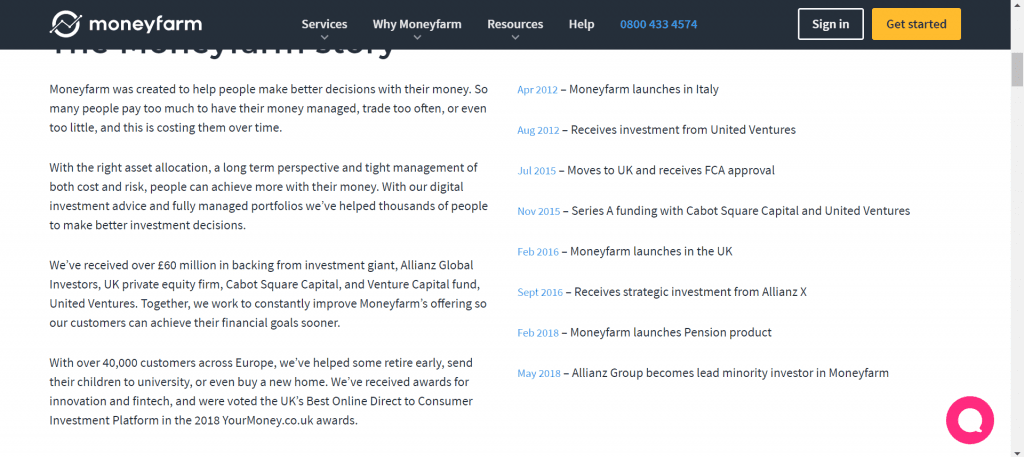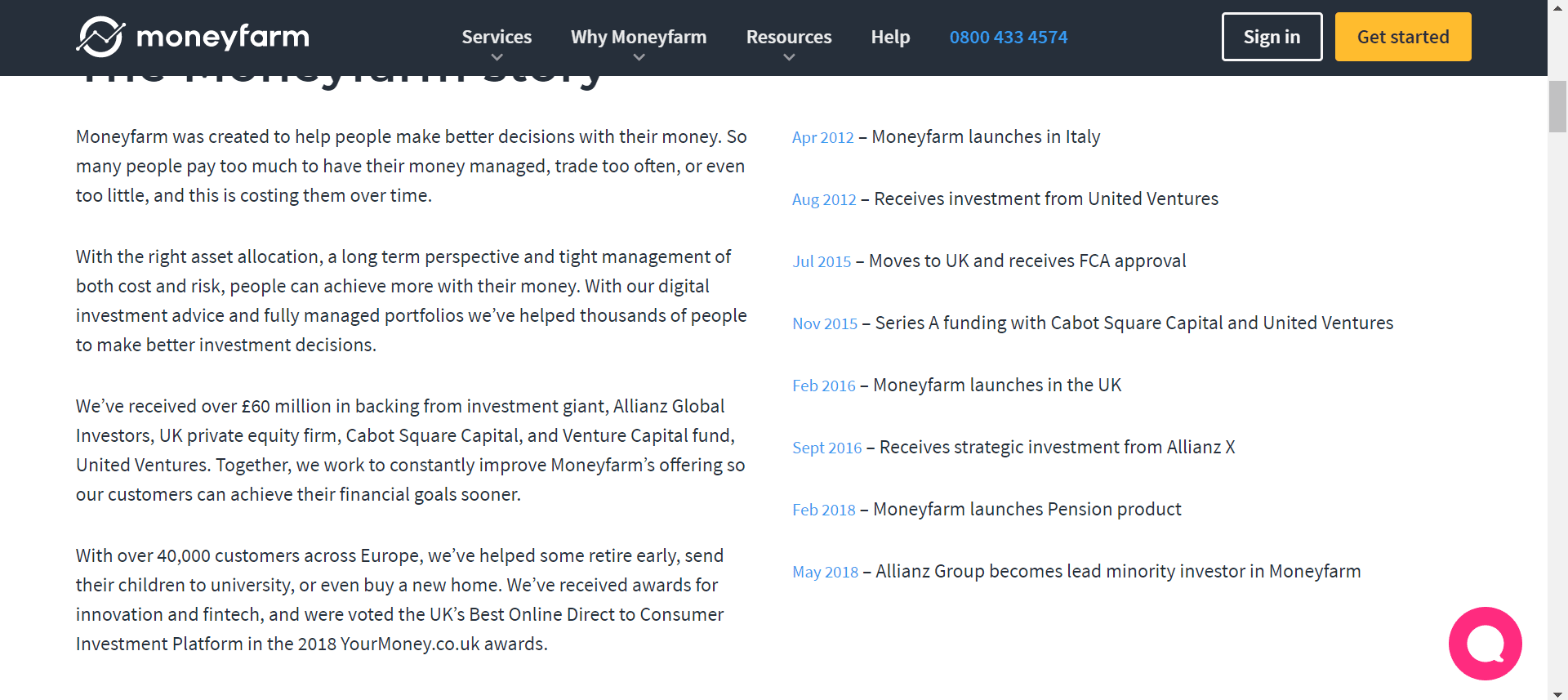 Moneyfarm is also currently rated 4.6/5 stars on Trustpilot, with over 400 customer reviews . Their clients particularly value their customer service, the accessibility of their technology, and the performance of their portfolios. Their advisors and staff are often referred to as "helpful" and "professional", while Their services have been described as "trustworthy", "safe", and "transparent".