Founded in 2015 by Thomas Salter and Charlotte Ransom, who currently serves as its CEO, Netwealth is an up and coming digital wealth management service provider available to UK residents.  Their goal was to augment elements of traditional wealth management with a technology-enhanced approach to portfolio management and investing that lets clients choose their wealth objectives, risk levels and account type.
If you are interested in how we review Netwealth, then read further in this UK review to determine if the robo-advisor satisfies your investing requirements and if investing with Netwealth makes sense for you.
Netwealth Review Navigation
#1

Netwealth Robo-advisor Review
| | | | |
| --- | --- | --- | --- |
| Min Deposit | App Support | Max Leverage | Trading Fees |
| £5000 | 5 | 1:1 | Mid |
Using Netwealth's robo-advisor service means you will generally take the role of a passive investor. Unlike many digital wealth managers, you can actually check out broker's services without funding an account. The account setup process takes around 15 minutes after you have finished designing a suitable portfolio for your financial situation and goals.
Furthermore, you will need a very hefty amount of £50,000 to open a live account on your own, you can start participating with just £5,000.
The assets that they offer access to include: UK, European, U.S., Asian and emerging markets stocks, high-grade corporate, government and emerging market government bonds, and cash deposits.
Also uses funds in its client portfolios so you can gain exposure to a wide range of assets and markets at reduced costs.  Investment portfolios mainly consist of Exchange Traded Funds (ETFs), Unit Trusts and open-ended investment companies (OEICs), as well as direct holdings in UK government bonds or Gilts.
In addition to performing annual financial reviews for you, the company also has human financial advisors to assist you with ad hoc questions, but it charges extra for that service. The advisors are also restricted to providing advice only about Netwealth's own products and services.
When you sign up, you will need to answer questions about your risk tolerance. You will also select among five savings objectives that include: Retirement, Regular Withdrawals, Significant Purchase, Rainy Day and Just Invest. The company has various investment and pension accounts available, including those for minors and with tax benefits for UK residents.
What did our traders think after reviewing the key criteria?
Fees
Netwealth charges a comprehensive annual fee that includes its management services, custody fees and costs of administering your assets.  If you have £50,000 or less invested across all accounts and portfolios, then your fee is 0.65%. Those with between £50,000 and £250,000 invested pay 0.50%, and those with more than £500,000 invested pay 0.35%.
If you want to change the risk level on your portfolio, then you can do that twice a year free of charge, but changes beyond that incur a charge of 0.12% of the invested value involved. Netwealth does not charge for providing paper or online statements.
You will also not be charged a fee to transfer GIA, ISA and JISA cash balances or to close an account. Regarding withdrawals, there is no charge to withdraw cash via BACS, although CHAPS withdrawals incur a £25 charge and in specie transfers of assets incur a £20 charge.
Personal pension charges start at 150 per year to have such an account and you will also pay that amount for cash transfers out.  There are also various charges for anything but single and regular contributions and cash transfers in.
Should you want to speak to a person about your finances, then the firm has a team of qualified financial advisors who can provide you with advice and help you build a unique financial plan to suit your goals and preferences.  This costs a minimum of £250 plus £125 per hour after the initial two hours for one-off advice. Ongoing advice costs 0.2% per year of your account value with a £1,000 minimum per year.
Account Types
Netwealth offers five basic account types for you to select among that you can open when you first sign into your account. You can also visit the Add Investment section of its website to do that if you already have an account with Netwealth.
Due to the tax benefits, many UK residents will want to open either a Stocks and Shares Individual Savings Account (ISA) for adults or a Junior Stocks and Shares ISA (JISA) if they are under 18. Children who have a Child Trust Fund need to transfer its balance to a JISA in order to open one, which broker can assist you with.
You can invest up to £20,000 per tax year in a regular ISA or £4,368 per year in a JISA without having to pay income or capital gains tax on your investment earnings. You can also withdraw funds at any time, but you are only permitted to have one ISA/JISA per year.
You can also open a General Investment Account (GIA) or a Junior GIA, which can be useful if you have already maxed out your allowable ISA balance.   Broker also allows you to set up a pension plan to invest for retirement. Company and trust accounts are also available.
Platforms
Netwealth offers powerful online investment software that helps you clearly distinguish between portfolios with seven different risk levels.  Users can also choose among five brokerage account types (ISA, JISA, GIA, Junior GIA and Pension).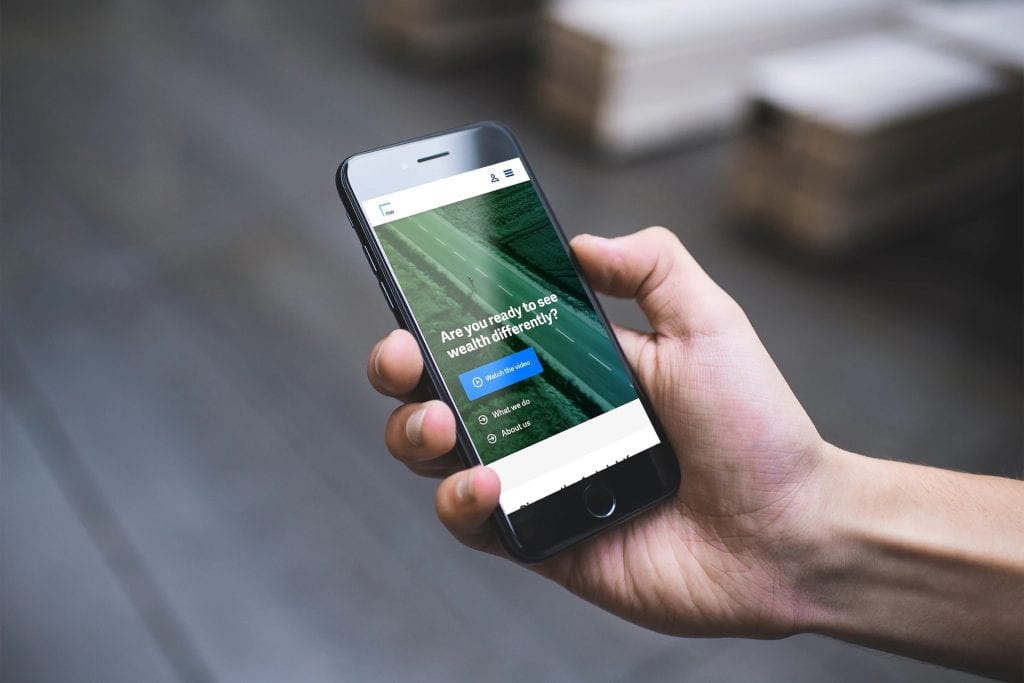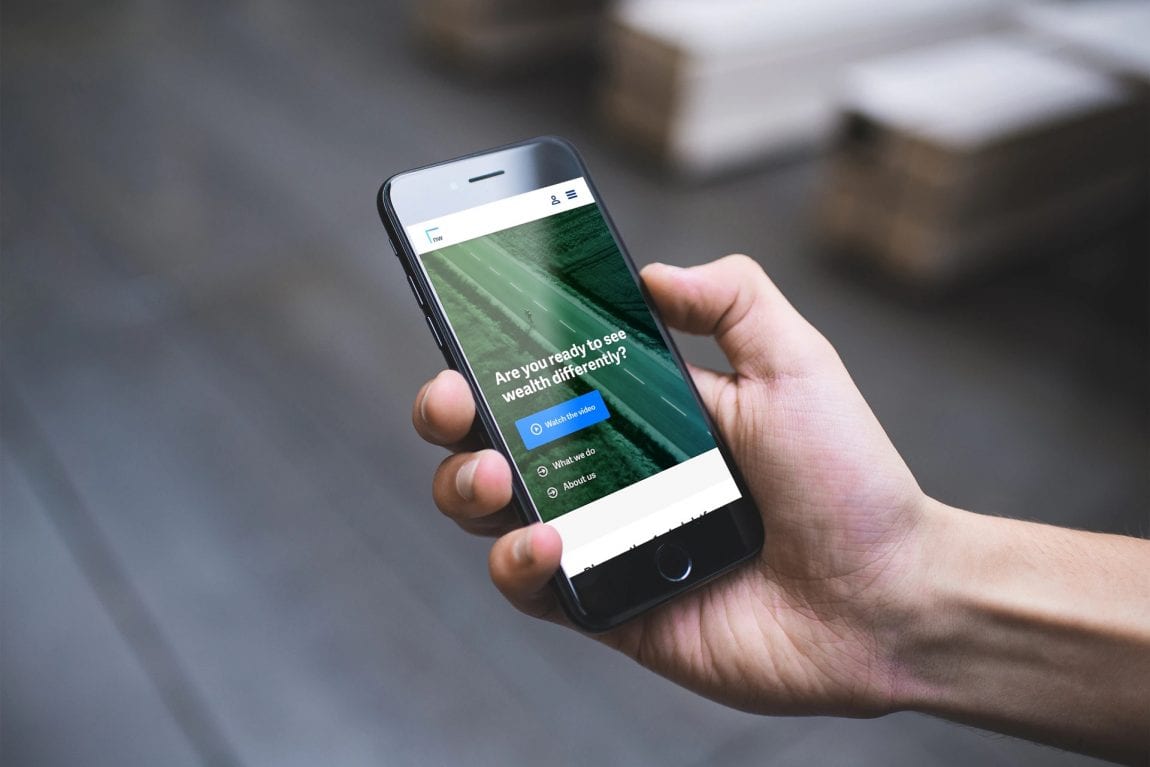 Once users select one or more of these account types, they can set up their desired contributions that meet the service's minimum deposit requirements. Automated future tax-efficient investing is also available.
The web-based platform then suggests an investment combination suitable for the investor's risk tolerance, and provides options to save it for later, invest now, or discuss it with an advisor.
Asset classes are broken down into separate categories with good visuals, and users can see investment outcome projection forecasts within a wide range.
Netwealth UK does not seem to have a mobile app for either iOS or Android. There is an app for an unrelated Australian company for which a screenshot is shown below, but that is not suitable for use with this robo-advisor.
Usability
Official website has a professional look with a clean and easy-to-read layout. The robo-advisor's website has a set of five tabs at the top, each with self-explanatory drop down menus that link to basic topics you might have questions about. The tabs give you an idea about the website's organisation, while the pull-down menus can assist you further with site navigation.
The website's tabs are:  About , Our Service, Financial Planning, Resources and Our Views. Each associated page also has Log In and Start Now buttons placed conveniently in the upper right corner. This can be useful if you want to open an investment account once you read this review.
Customer Support
Netwealth gives you several ways to get in contact via its website. Although phone, snail mail and email are available, They seem to lack any Live Chat or direct messaging service that many clients would prefer to rely on.
You can easily find information you are looking for, while broker provides a useful FAQ that gives straightforward answers to common questions as part of its Help Hub.
Clients can contact via phone during normal UK business hours from 8 a.m. to 6 p.m. Monday through Friday. This means you cannot get phone support in the evenings or over the weekends.  A screenshot of their Contact Us page is show below.
Keep in mind that while they have human financial advisors whose advice is restricted to topics related to the company's products and services, you may need to make an appointment with an independent financial advisor to get a more complete and un-biased review of your financial situation.
Payment Methods
To make a deposits or withdrawals, you must first log in to your Netwealth account via the company's online interface.  You can then select Add/Withdraw to obtain detailed instructions for making a payment into your account.  If you already have an account and want to open a new one, then you can log into your existing account and choose the Add Investment selection from the top of the page.
Cash withdrawals from your account take around six to seven business days to complete. Once you have initiated a withdrawal, then assets in your portfolio will be sold on the next available trading day. Sale transactions then take two to three days to settle, and the resulting cash transfer to your bank account will be made via BACS after settlement completes. Faster same-day CHAPS payments are available for an additional £25 each.
Best Offers
As a client of Netwealth, you can invite as many as seven friends or family members to join your investment Network. This provides fee benefits for everyone involved that depend on the Total Invested Amount of all Network members. Each member can of course pursue their personal financial goals and select the risk levels that best suit them.
Also offers sample accounts, which is an unusual feature among robo-advisors. You can just enter your name, email address and a password to try they platform free of charge. This lets you select your preferred investment risk level, enter investment amounts in various portfolios and read a performance forecast.
Additional training is available from the Knowledge Centre on the platform's website. This offers basic training on bonds and exchange traded funds and why to use and invest in them. You can also find out more about their market and economic views from its Our Views blog.
Broker also has some social media accounts, although this reviewer could not find an active Facebook page for the firm. While its YouTube channel has only two videos and subscribers, the UK robo-advisor's Twitter account had some recent posts and around 1,300 followers.
Regulation and Deposit Protection
Broker has UK offices in London and Redding and is regulated by the Financial Conduct Authority (FCA). The robo-advisor must therefore follow the EU's Markets in Financial Instruments Directive II and its regulations requiring the separation of client funds from its own.
The invested assets of their clients are safely held by a third-party, non-trading custodian called SEI Global Nominee Ltd that is a subsidiary of SEI Investments (Europe) Ltd, which is also FCA-regulated. Client cash is held in accounts with trust status, so they are recognized as belonging to Netwealth's clients not to Netwealth.
Furthermore, UK investors are generally protected against any default up to £85,000 because the robo-advisor participates in the Financial Services Compensation Scheme (FSCS).
When it comes to data security, their platform is hosted by Microsoft, so it enjoys state-of-the-art protection against cyber threats and Distributed Denial of Service (DDoS) attacks.  Broker encrypts, obtains, processes, stores and uses your personal data only in compliance with relevant data protection legislation.
Awards
Netweath is a relatively new company, so they have not received the same volume of awards as some other digital wealth management companies that are better established. With that noted, CEO Charlotte Ransom won the Wealth Manager of the Year 2019 at the Women in Finance awards.  In addition, they won the Innovative Client Solution Award at the WealthBriefing European Awards in 2019.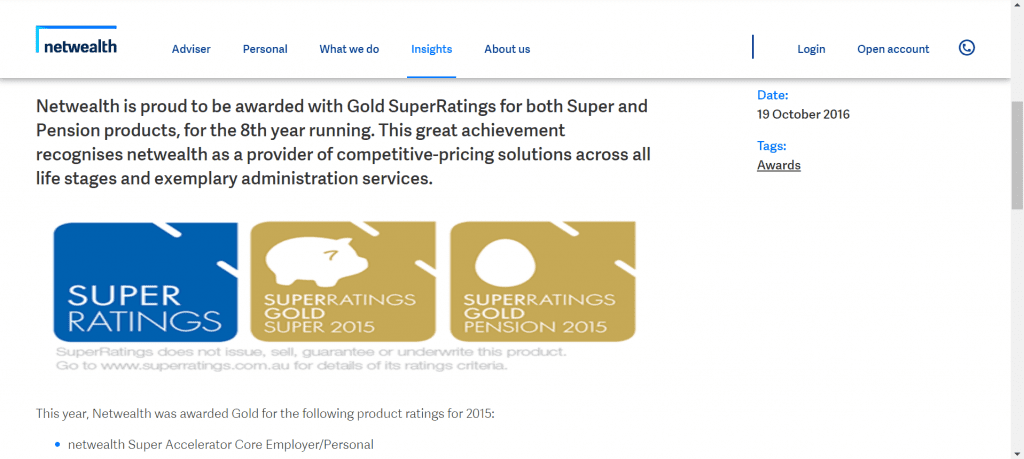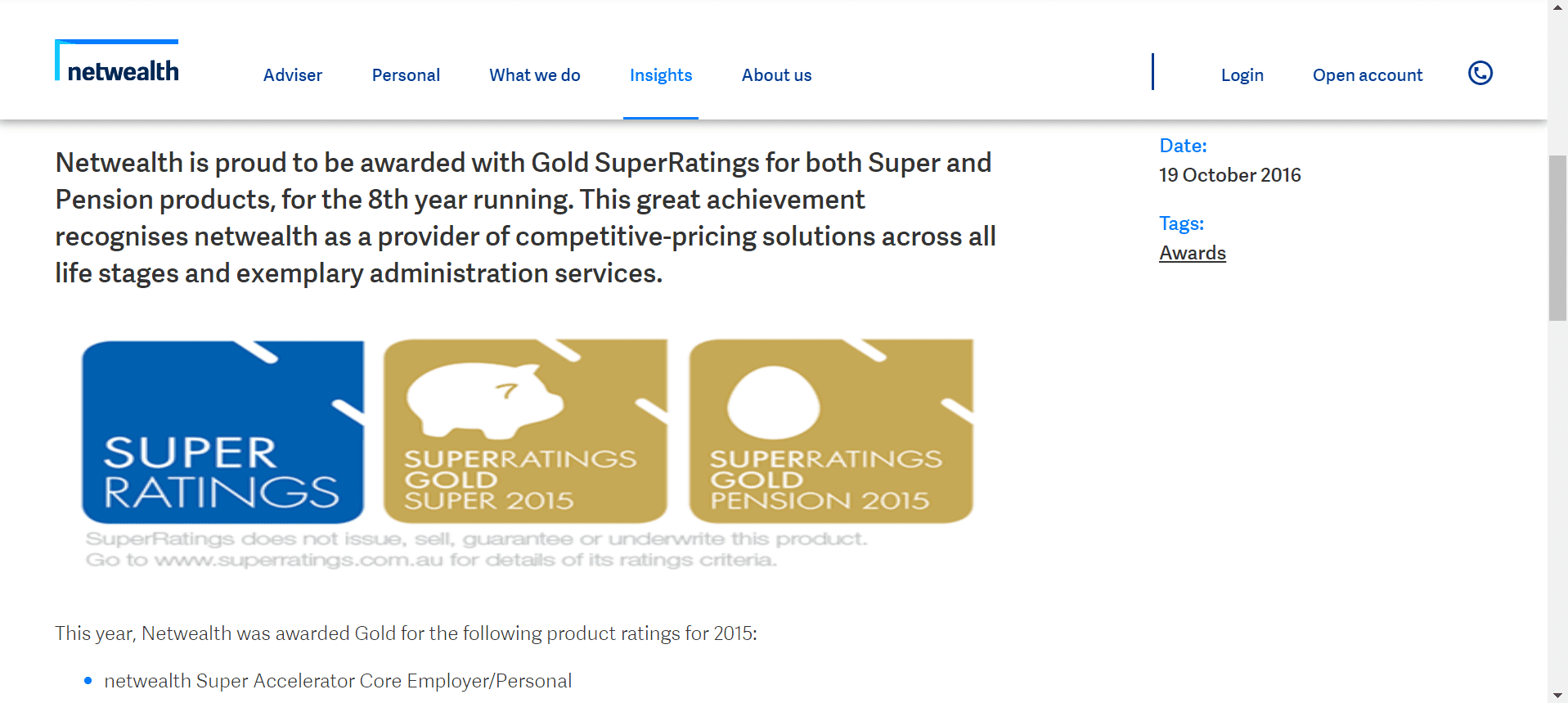 Netwealth FAQs
To buy shares on Netwealth all you have to do is register by completing an online application. Once that's done, you can either transfer cash via EFT, Bpay, direct debit or assets through an in-specie transfer. Wait until your account is credited before you start investing. To buy shares, log in to your Wealth Accelerator platform, choose the stock, quantity, entry price, broker, and place the order.