Place Trade offers clients discount brokerage services online. The broker prides itself on offering global trading in 24 countries, more than 100 market centuries, 12 languages, and 22 currencies.
Our review team appreciates the vast range of asset classes available, providing access to the instruments that most people are interested in. Clients can trade stocks, bonds, options, ETFs, mutual funds, and more.
Place Trade Review Navigation
#

Stocks
| | | | |
| --- | --- | --- | --- |
| Min Deposit | App Support | Max Leverage | Trading Fees |
| $5000 | Mid | 1:1 | Mid |
This review lets readers know that stocks are among the various assets offered by this broker. The broker offers advanced trading tools and your choice of trading platforms.
As you review Place Trade's U.S. stock offerings, you will find access to more than 100 market centers. There is also the ability to trade a full range of stock types, including IPOs, common stocks, preferred securities, international stocks on foreign exchanges, penny stocks, and American Depository Receipts. The broker relies on smart order routing, so you get the best available price execution.
Trading stocks also features access to more than 60 order types and algorithms, market scanners, and trading APIs.
#1

ETF
| | | | |
| --- | --- | --- | --- |
| Min Deposit | App Support | Max Leverage | Trading Fees |
| $5000 | 2000 | 1:1 | Mid |
This Place Trade review suggests ETFs as a way to diversify your portfolio while keeping it simple. The ETFs from Place Trade come with the best execution and a fully customizable trading platform.
Place Trade does not list the number of ETFs offered, but it does make it clear that clients can trade bond and equity indices on 16 exchanges across seven countries, which include leveraged and short ETFs. Commission-free ETFs are also available.
There is also a convenient Mutual Fund Replicator tool for those who want to create ETFs that resemble their favorite mutual funds. There is also access to thousands of different mutual funds for those who prefer those investments.
#2

Options
| | | | |
| --- | --- | --- | --- |
| Min Deposit | App Support | Max Leverage | Trading Fees |
| $5000 | Mid | 1:1 | Mid |
As you review Place Trade's options offerings, you will notice low margin rates and access to market news.
There is no base fee for trading options via Place Trade, and it just costs $0.75 per contract, with a minimum of $1.50 per trade. This Place Trade review lets readers know that the broker prides itself on offering all the index and equity options listed on all U.S. exchanges.
Clients can enjoy best executions that are lightning-fast, along with international market center access.
What did our traders think after reviewing the key criteria?
Place Trade Fees
This Place Trade U.S. review finds that the broker has reasonable fees, which are typically highly competitive, although some brokers do offer better rates. The fees are improved by the broker's SmartRouting Advantage, which looks for the best prices available then immediately executes the order.
Those interested in trading on margin who review Place Trade's rates for this will be very impressed. The margin rates are significantly lower than the average and less than most competitors, even market leaders. As of the time of writing, the highest margin rate is just 3.9 percent for balances under $100,000, and the rate can be as low as 2.2 percent for balances over $200 million, with five rate tiers.
Clients should keep in mind that the minimum initial investment is $5,000, although it drops to $3,000 for IRA accounts and for those between 21 and 26 years old. After this, there is no minimum balance for most account types. There are inactivity fees of up to $20 for those with balances less than $2,000 and $10 for those with balances less than $100,000. To avoid the fee, clients must pay at least that commission level. The inactivity fee will be that amount minus the commissions paid.
Our Place Trade review team appreciates that the broker clearly outlines all its fees in the relevant section of its website, so there should not be any hidden fees.
Account Types
If you review Place Trade's account types, you will find just one type of brokerage or investing account to choose from. This single account can also serve as your own investment and online trading account as well as your full-service account if you want to take advantage of Trade Place's full-service advice from experienced advisors.
Additionally, the broker offers retirement accounts, including Traditional IRAs and Roth IRAs, SEP IRAs, One Participant 401(k)s, and 401(k) Plans Group/Enterprise.
Keep in mind that despite having one main brokerage account type, Place Trade offers two account opening applications. The FastTrack Application is if you just want to trade stocks in one currency and country with a regular margin account or cash. You can easily add products in the future. ProTrack Applications are for those who want immediate access to more.
Paper Trading accounts are also available to serve as a demo and to let you test strategies before trading real funds.
Platforms
Most Place Trade U.S. reviews mention the range of platforms available from the broker. There are options for trading on your desktop computer, web browser, or mobile device, depending on your preference.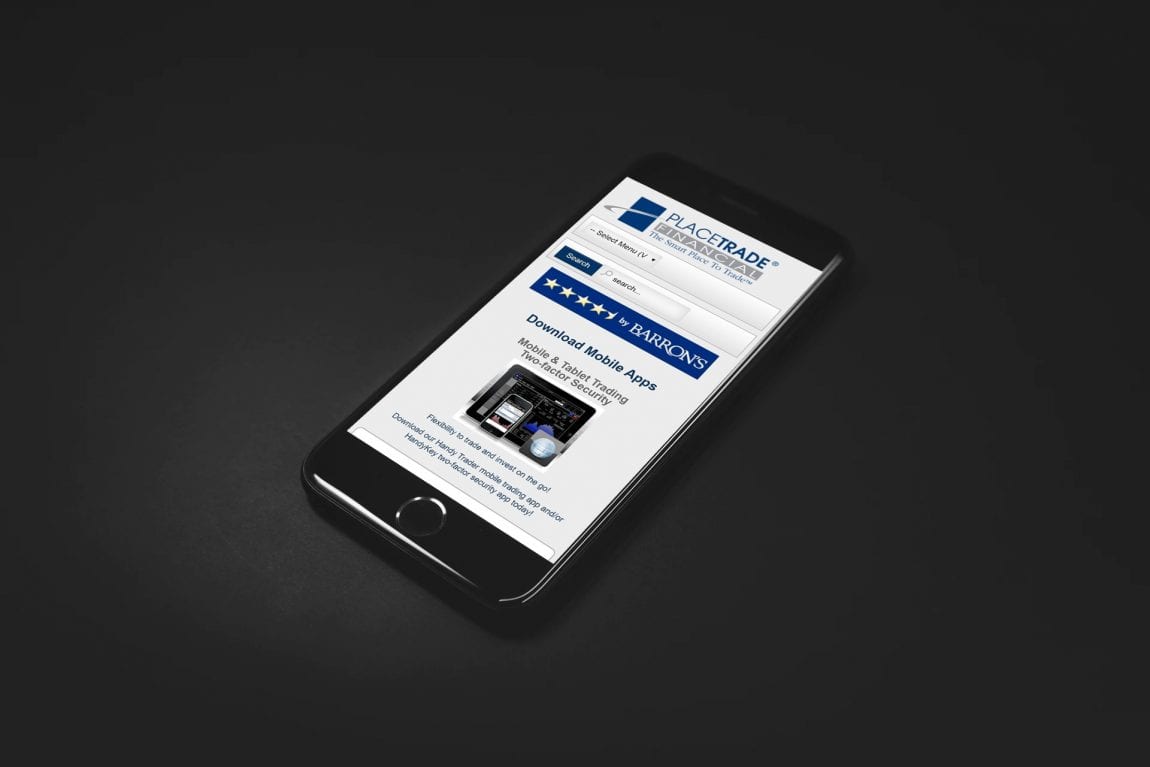 Place Trader Workstation (TWS) is the feature-filled desktop trading platform that most Place Trade reviews focus on. It is sophisticated yet simplified, including comprehensive fundamental and news subscriptions, real-time activity monitoring, and a real-time margining system. There are also task-specific tools that advanced traders will appreciate, including the Accumulate/Distribute algorithm, ScaleTrader, FXTrader, SpreadTrader, and OpenTrader, among others. There are also built-in applications for option pricing and risk management.
As the name implies, Place Trade Web Trader is the platform that works with your web browser, making it our review team's suggestion for those who do not want to download any programs. It offers a similar feature-rich trading environment to TWS with access to advanced trading tools, yet it has a simplified layout. Advanced traders will appreciate the Market Scanners, BookTrader, Market Depth, and Contract Search. The platform also has a modular design, a tabbed interface, and the ability to add ticker symbols and use flash-based interactive charts.
Those who do not want to deal with any extras and just plan on making simple trades without advanced research will want to use Quick Trade. Our Trade Place review team suggests this platform for beginners or anyone who completes their research elsewhere before trading with the broker.
There are also mobile trading applications for Android, iOS, Blackberry, and Java ME. There is also a Place Trade MobileTrader that offers universal use. All of these have similar functionality, including price alerts with notifications via email and real-time charts and streaming quotes. They also offer quick access to account information, portfolios, and trade reports.
Our Trade Place review team suggests using PaperTrader to test out strategies before trying them with real money. It provides a simulated trading environment with the layout and features of TWS.
There is also an API available.
Usability
The platforms from Place Trade are straightforward to use and offer the tools and features that most people will want. However, the broker's website appears incredibly dated. It has no modernity in its layout and design, and our Place Trade review found that it would not look out of place 10 years ago.
Despite the dated appearance of the website, it is very easy to find the information that you need on the page. Users may become frustrated by the need to open numerous menus to reach various pages, but at least they open by hovering the cursor over them.
Customer Support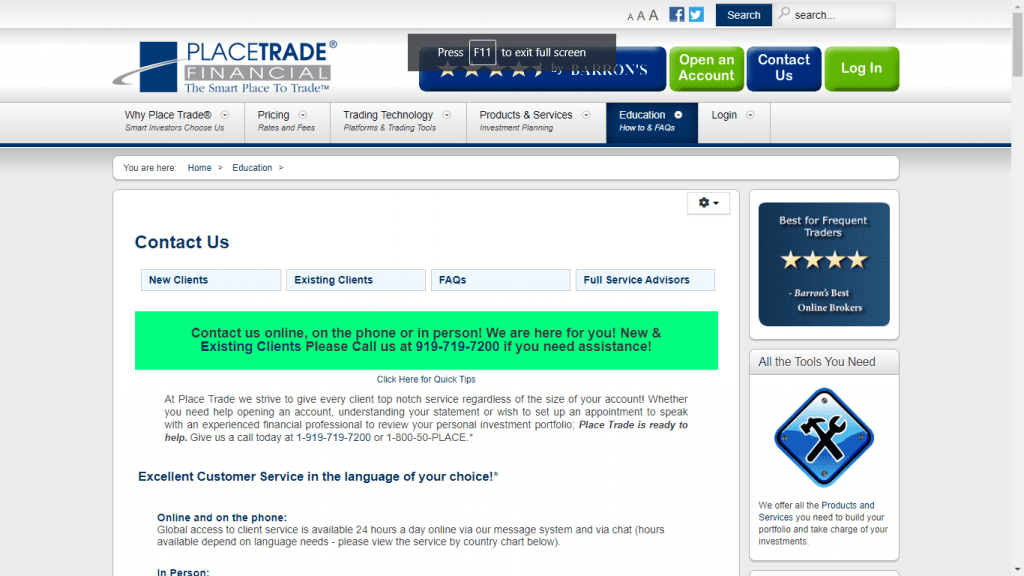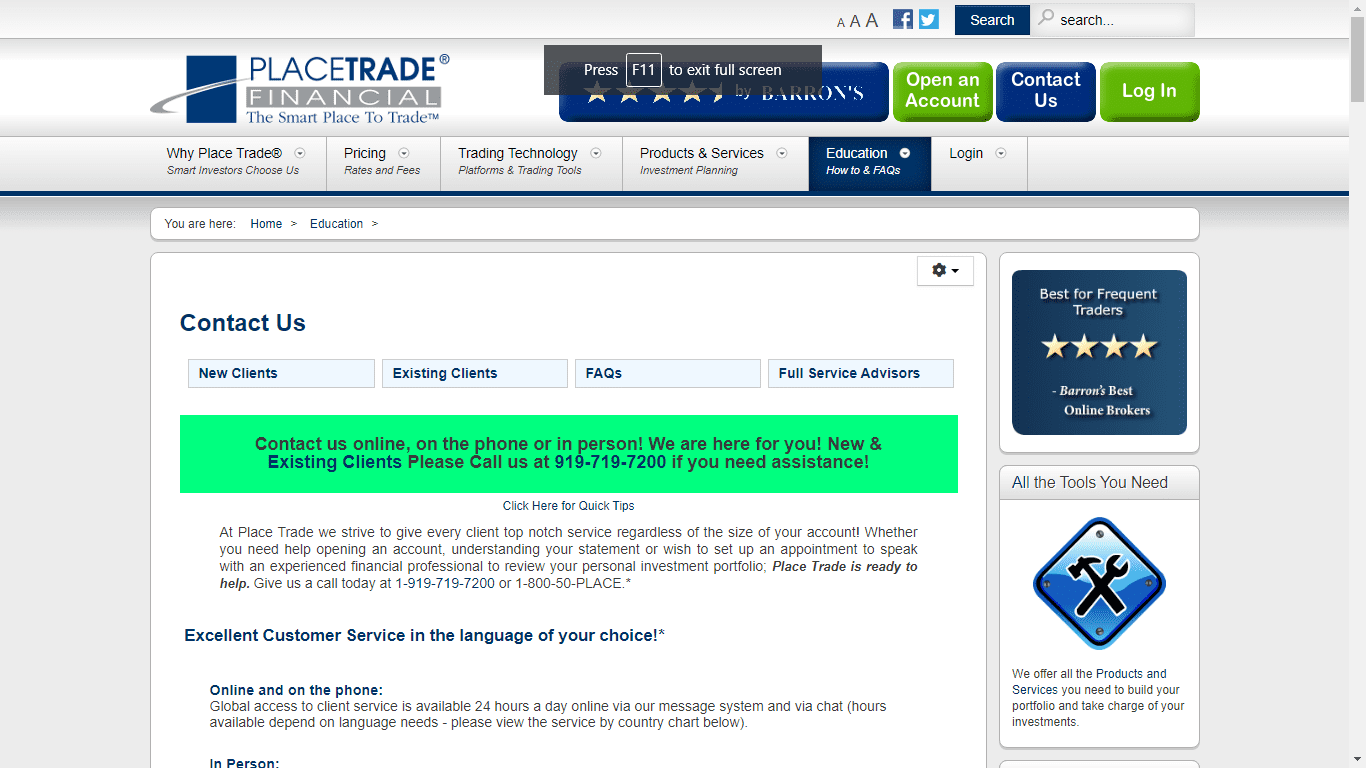 Those who review Place Trade's customer comments will notice that the broker offers support in an incredible number of languages. Clients will also appreciate the fact that customer support is available 24 hours a day due to the company having customer service centers in Asia, Europe, and America. Most clients will contact customer support via the online chat, message system, or phone, but there is also the option of visiting a location in person.
The support page also features useful FAQs that should answer the most common questions and prevent the need to contact customer support at all.
Payment Methods
When you review Trade Place's U.S. deposit methods, you will see that there are multiple ways of funding your account.
Bank Wire Transfer
Wire transfers can take up to four business days, but they may be immediate, depending on the bank.
ACH Transfers
Clients can set up ACH transfers between their bank account and their Place Trade account. Processing can require up to four business days.
Checks
A check can be deposited, but this requires writing your account number on the check and mailing it in. There is no option to deposit a check via a mobile device.
Best Offers
Those who spend a minimum of $30 in commissions every month receive free real-time market data as well as news access.
Clients of Place Trade can access a range of advanced trading tools. On Place Trader Workstation alone, there are more than 60 order types, mosaic tiles and tools, and dozens of other trading tools, such as FXTrader, ComboTrader, ChartTrader, BasketTrader, Order Ticket, Quantity Calculator, and Yield Optimizer.
There is also access to Interactive Analysis, Portfolio Analytics, Option Analytics, a TWS Arbitrage Meter, MarketWatch News, and charts.
Clients can find videos detailing how to use the various platforms and perform actions with Place Trade. There is also an Education Center with articles, prerecorded and live webinars, and courses. Clients must log in to access the Education Center.
Regulation & Deposit Protection
This Place Trade review lets readers know that the broker is a SIPC member, meaning that securities accounts offer protection up to $500,000. The broker additionally has a policy with Lloyd's of London to provide additional coverage of up to $30 million for each account, with a cash limit of $900,000. Clients can also purchase more coverage if they need it, and Place Trade can assist with this process.
For further security, our Place Trade review team encourages readers to enable the optional extra security via the broker's Secure Login System.
Awards
U.S. reviews have honored Place Trade with high ratings and awards. Barron's named it one of the "Best Online Brokers" with 4.5 stars. It was also named "Best for Frequent Traders" and "Ranked #3 Overall Best Online Broker." The broker has a Better Business Bureau Rating of A+.
The caveat is that these honors from Barron's came from 2014 and earlier. The Place Trade website does not indicate any more recent awards or honors. Most clients would prefer to trade with a broker that has more recent honors and accolades, as this indicates the current quality of the platform and offerings.