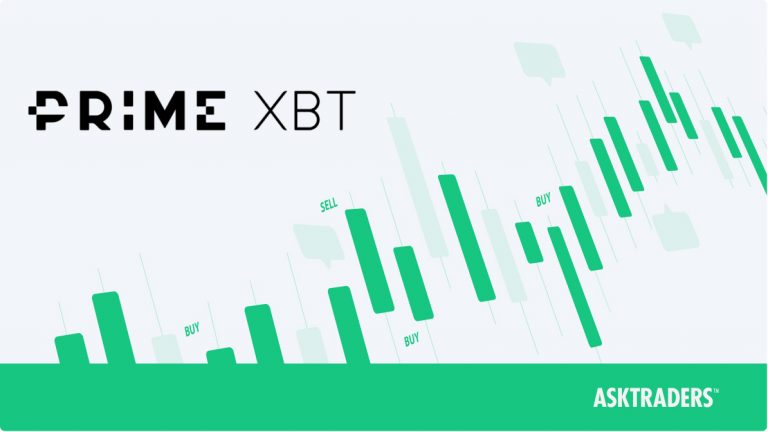 At Prime XBT, all assets are traded via the central platform, which is bitcoin-powered. This means that bitcoin, either directly transferred from a wallet or paid for using fiat currencies and a credit card, is used as capital. However, as this Prime XBT review will show, it certainly does not mean that the only assets available to trade are cryptocurrencies. A range of assets are on offer at Prime XBT. Some forex pairs are available, though there are only 25, which is fewer than some other brokers. Commodities and indices are also available. As is to be expected with a bitcoin-friendly platform, there are also cryptocurrencies on offer to trade – these include bitcoin itself, ethereum, litecoin and EOS. Let's now review Prime XBT in full.
PrimeXBT Review Navigation
#

PrimeXBT Forex Review
| | | | |
| --- | --- | --- | --- |
| Min Deposit | App Support | Max Leverage | Trading Fees |
| BTC0.001 | Good | 1:1000 | Mid |
Foreign exchange is certainly a key part of the product offer at Prime XBT. There are a number of pairs on offer, all of which are major pairs. It is worth noting, however, that this broker does appear to offer fewer than many other brokers in the market – some of which offer closer to 50. One potential advantage of choosing this broker in particular to trade forex is that there is no 'Know Your Customer', or KYC, requirement – this means that the process of signing up and getting started with trading can be speeded up somewhat.
#1

PrimeXBT CFD Review
| | | | |
| --- | --- | --- | --- |
| Min Deposit | App Support | Max Leverage | Trading Fees |
| BTC0.001 | Good | 1:500 | Mid |
Some commodities are available to trade as contracts for difference at this broker, including Brent Oil, Crude Oil and Natural Gas. However, the broker appears to limit its offer at this trio, which means that there are far fewer commodity training opportunities available here compared to that of many other brokers. However, as with Prime XBT's other tradeable asset classes, the main advantage is perhaps that a trader can get started almost straight away.
While this broker does not appear to offer contracts for difference for stocks in particular, it does offer an option for bitcoin-powered trading on stock indices. Various major international indices are offered, including the S&P 500, NASDAQ, UK 100 index, and many more.
#2

PrimeXBT Social Trading review
| | | | |
| --- | --- | --- | --- |
| Min Deposit | App Support | Max Leverage | Trading Fees |
| BTC0.001 | Good | 1:100 | Mid |
Prime XBT offers a social trading service that it terms 'covesting'. This service, it says, permits traders to invest in a specific fund – the parameters of which have been crafted by other traders. Not only is it possible for a trader to follow another fund and benefit in this way, but it is also possible for a trader to create their own investment fund for other traders to follow in turn – and for that trader to benefit financially through 'success fees'.
#3

PrimeXBT Crypto review
| | | | |
| --- | --- | --- | --- |
| Min Deposit | App Support | Max Leverage | Trading Fees |
| BTC0.001 | Many | 1:100 | Low |
As would make sense for a broker that offers the opportunity to make deposits using cryptocurrencies, Prime XBT is very keen to offer cryptocurrencies to actually trade. This Prime XBT cryptocurrency review will go on to show that a lot of big crypto names are represented in the list of digital assets it offers for trading. Traders have a choice to trade some digital assets against each other (trading ripple, or XRP, against bitcoin, for example) or trading a digital asset against a fiat currency (bitcoin against the US dollar, for example).
What did our traders think after reviewing the key criteria?
Fees
This Prime XBT broker review will begin by looking at an important criterion to consider — fees. Prime XBT has a clear page on its website that outlines its trading fees. The broker says that it charges fees based on "clear principles" – that "prices should be competitive and transparent, and never burdened with false incentives".
It does charge commissions on each trade, and these are flat fees. Also, the broker does say that it provides lower prices if your trading volume is higher. These commissions appear to vary from asset class to asset class. For cryptocurrencies, for example, the flat fee is 0.05%, though there is also a reference to 'tight spreads' on the broker's crypto page.
Remember that while many brokers have moved away from commissions and entirely towards spread-based models (and this may be what you are used to), you may also find that this broker – despite an element of commission-based charging – does not break the bank for you. We feel that it is worth doing some research into what the Prime XBT fee structure looks like for your preferred assets and then running some calculations based on your planned trading volume.
It is also worth mentioning that Prime XBT invites customers to get in touch with it via a support email address to find out more about individual trading conditions.
Account types
According to the firm's sign-up page, there are not many account types on offer. It appears that there is one main type of trading account available, with no tiers based around different fees, spreads and so on.
However, there are different versions of the platform that can be used for different purposes, each of which mimics the account type varieties seen at other brokers. There is a 'Refer and Earn' affiliate scheme available, for example – and, as mentioned in more detail below, there is also a 'Turbo' platform available for what seems to be binary options trading.
Platforms
As has already become clear elsewhere in this Prime XBT cryptocurrency review, this is a broker that does things its own way. The platform choices on offer are no exception. Prime XBT bucks the trend by providing its own trading platform, which comes with a number of interesting features.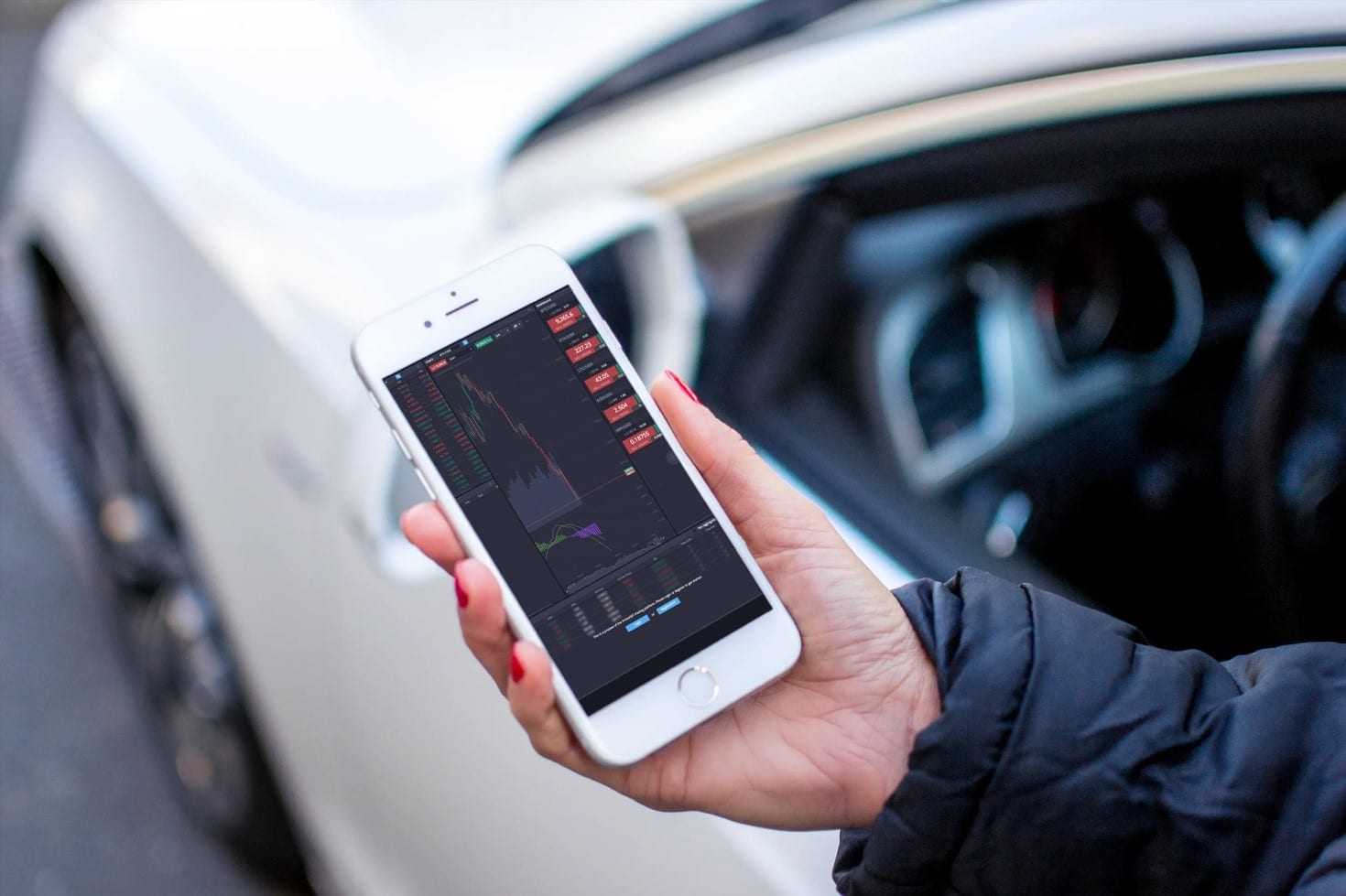 We note that these include a range of technical analysis functions, such as 50 indicators designed to help you analyse price trends. Order management tools are also on offer here, while the platform also interestingly comes with an offline storage system designed to protect your assets in wallet form.
While there is no sign of the usual platform names on the broker scene, such as MetaTrader 4 or cTrader, what does exist is a powerful platform that has been developed in-house and from scratch – which means that the broker is most likely invested in its success, and in debugging it also.
Separately to the main platform, however, this broker also offers a separate, also in-house, platform called 'Turbo'. The Turbo platform appears to be a binary options service, and binary options have been largely discredited across the wider industry. Prime XBT claims some advantages to using this service – including a minimum starting investment of just $1. We feel that traders who are considering using this part of the platform should think carefully and do their research first.
Usability
Now, this Prime XBT forex review will explore the usability of the website and its platform. The main Prime XBT website is fairly well laid out, with clear separate sections for different pieces of information. There is a clear registration button in the top right, and there is an option to turn off notifications if that is required. The trading platforms themselves are also well laid out. The WebTrader function in particular, for example, is organised into three key columns – one featuring lots of markets with current prices, one showing a price chart for a particular chosen market, and one showing a trading dashboard.
One stand-out feature of this broker when it comes to usability is the extent to which it has translated its platform into various global languages to ensure that as many traders as possible can participate. By hiding the dropdown menu at the top of each main page, a user can choose their preferred language from the list. Major European languages such as English, French and German are represented, while other languages from around the world such as Japanese and Korean are also there.
In addition, it's worth noting that Prime XBT employs a range of security methods to protect customers who use the service. It has encrypted Secure Sockets Layer (SSL) technology, and it also puts passwords through a cryptographic hashing process using a service called 'bcrypt'. In addition, the Cloudflare service is employed in an attempt to tackle possible distributed denial-of-service (DDoS) attacks.
Customer Support
The customer support options that are on offer at Prime XBT are somewhat mixed. On the plus side, there are several email addresses from which to choose. One is for general information and another is for technical support. Those who might not yet be customers but who are looking to offer a business proposal, meanwhile, also have a dedicated email address. There is also an extensive help centre that contains a wide variety of frequently asked questions and information.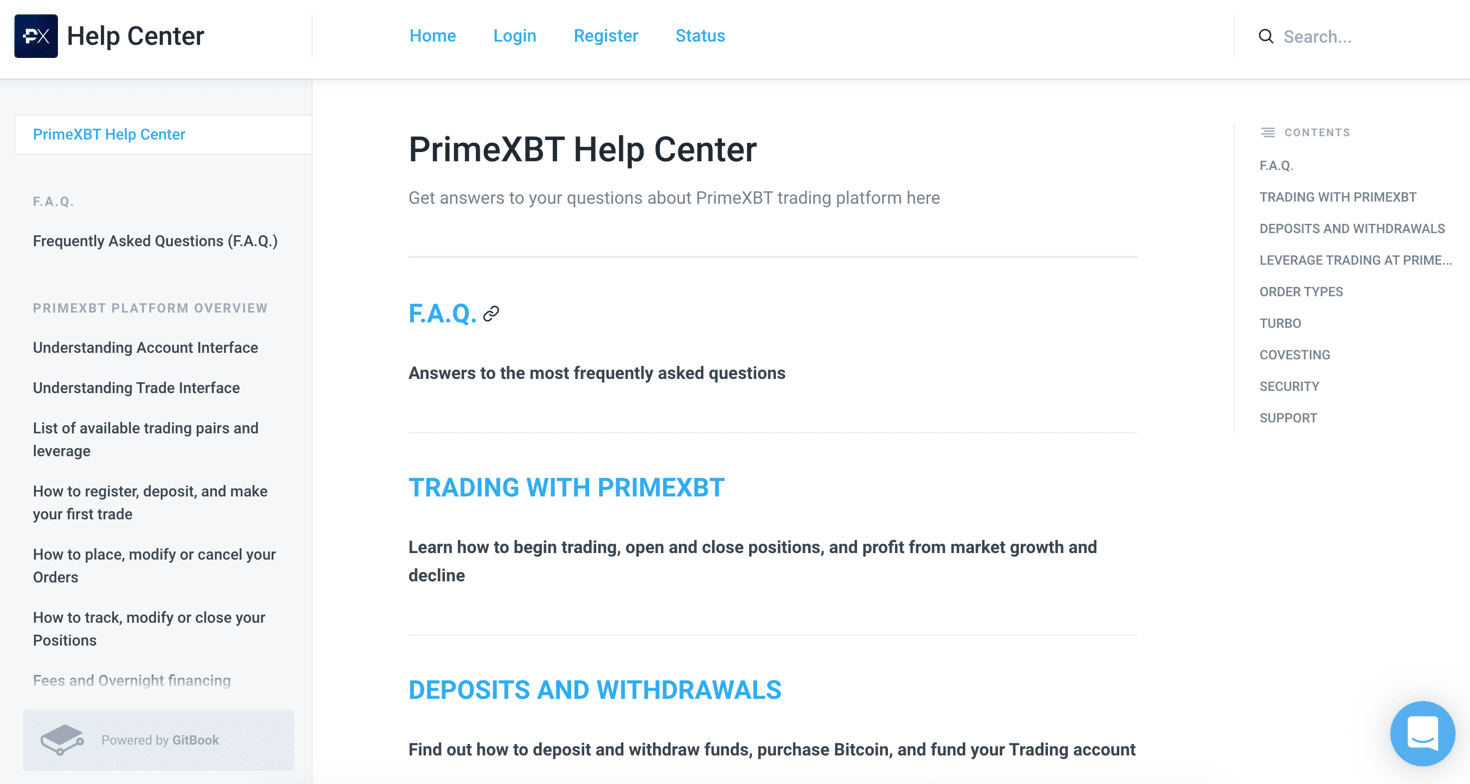 We did find that there is no instant response customer service option, such as a telephone number or a live chat service. This means that those who need an immediate (or close to immediate) response might not necessarily be able to get one.
Payment Methods
Next in this Prime XBT CFD review will be a brief exploration of the various payment methods. Given the relatively unusual nature of Prime XBT's bitcoin-powered platform, deposits at the platform can only be made in particular crypto-friendly ways. According to the broker's help centre, there are two methods of making a deposit, and the first is a direct deposit of bitcoin.
We noticed that in order to make a bitcoin deposit, you will first need to sign up for a Prime XBT account and then go to the deposit page to find your personal wallet address for the broker – and, from there, you need to go to your other wallet in order to specify it as the destination. Helpfully, there is also a QR code scanning option.
The second way to make a deposit with this broker is to do so via a credit card and a fiat currency. However, even this has to be routed through a partner called CEX so that it can be converted into bitcoin to use on the site. In sum, Prime XBT has clearly gone to some lengths to ensure that customers who want to make a credit card purchase can do so – but given that there is a requirement for the deposit to ultimately be made in bitcoin, there will always be some element of restrictiveness.
Best Offers
Prime XBT does not appear to have any offers at present, which may disappoint traders who are looking to secure a discount or some savings.
Regulation and Deposit Protection
Moving on to regulation, Prime XBT is in fact two firms based in two different countries. The first is PrimeXBT Trading Services Ltd., which is based in the Seychelles, and the second is Prime Technologies Ltd., which is based in Saint Vincent and the Grenadines.
However, there is little information on the broker's 'About us' page about exactly which institutions regulate it. The page does carry information about the company numbers of these two firms, with the registration number for the Seychelles firm being 206865 and the equivalent for the Saint Vincent and the Grenadines firm being 25369BC2019.
On its website, Prime XBT states that customers from over 150 nations across the globe are currently served by it. The broker says that it was set up in 2018, which means that it is just two years old.
We consider it important to note that the broker currently carries an unusual form of words in its risk warning section in the footer at the bottom of its major pages. It states that a firm behind the broker is currently undertaking analysis of how bitcoin trading on the margins (or, in other words, using leverage) can be carried out. It also states that the firm could then choose to change its functionality based on what it finds out during this analysis process – and it informs users that they will need to proactively monitor the site themselves in order to find out any updates.
It is up to individual traders to decide what to do with this information, and whether or not it might affect their decision to move ahead and trade with Prime XBT. They may also wish to consider undertaking some research of their own into how the worlds of bitcoin and margin trading interact, and whether this is suitable for their needs.
In terms of deposit protection, Prime XBT does not work in the same way as the vast majority of brokers, given that it does not accept fiat currency. The requirement for bitcoin wallets and other external tools to be used means that typical deposit protection schemes may not apply, or do not apply in the same way. There does not appear to be any clear reference to deposit protection on the firm's website. We feel that traders should consult the broker and their chosen bitcoin wallets before proceeding.
Awards
Prime XBT has secured an award in recent years – a development that reflects its status as a preferred broker for many traders. At the ADVFN International Financial Awards in 2020, it was victorious in the Best Bitcoin Platform for Margin Trading category.