In this SigFig review, we find that is a solid robo-advisor and is a great hands-off tool when it comes to managing your money. The customer support is quite solid and the low fees make this an attractive choice for any investor or trader. However, the high minimum deposit and lack of education might intimidate those just getting started.
Robo-advisors are becoming more and more popular, especially with millennials and younger generations. While previous generations preferred to deal with a human financial advisor; technology and algorithms have now made it possible for your money to work for you in a much more efficient way. This review points out that the platform is a solid one, but that there are other alternatives out there that are possibly a better fit.
Broker is looking to change the way that wealth management is done. One thing is clear in this review – the company is interested in cutting out the middleman, which is often the human financial advisor that charges way too much in terms of fees. The idea here is that investors and traders can take advantage of automated financial advice instead, while also having the option of speaking to a human financial advisor (if you fund your account with $10,000 and over).
You can also get access to a personal advisor, which is a huge plus. However, it does have its drawbacks when you consider the competition.
#

SigFig Robo-advisor Review
| | | | |
| --- | --- | --- | --- |
| Min Deposit | App Support | Max Leverage | Trading Fees |
| $2.000 | 27 | 1:1 | Low |
You have access to 27 ETFs and they cover all sorts of markets. This includes shares, commodities, real estate, equity, US equity, developed market, emerging market debt, US municipal bonds, and more. SigFig manages clients' money through a custodial arrangement with brokers.
There are many "robo advisors" out there, but few of them have gained traction over the years. One of the reasons that the company has gained popularity and legitimacy is due to the fact that they have actually partnered with three brokers.
These three brokers are Fidelity, Charles Schwab, and TDAmeritrade. It should also be noted that Charles Schwab recently announced that they were acquiring TDAmeritrade, as well. In this review, we will examine whether the platform makes sense for your wealth management needs. The company was founded in 2007.
One of the reasons that SigFig has managed to garner headlines is because the platform will manage your money FOR FREE if you are investing $10,000 or less. If you are interested in the platform managing more, the fees are still extremely low. In fact, if you wish to invest over $10,000 – the fees are only .25%.
However, it should be noted that a $2,000 minimum deposit is required to use the service. For novice traders that might not have access to thousands of dollars to invest – this does limit the kind of investors/traders that will use the platform.
Broker isn't known for the amount of currencies that you can trade, unfortunately. The platform is meant for those who are hands-off about investing. There are no options to trade forex or cryptocurrency, for example.
However, IRAs are supported – and this goes for traditional IRAs, Roth IRAs, rollover IRAs, and more. In addition, individual and joint non-retirement accounts are available, which is great for overall goal-setting.
What did our traders think after reviewing the key criteria?
Fees
This SigFig review is largely positive and one central reason is that is completely free. It's also one of the reasons that it's gained popularity. You only begin to pay a fee once you invest over $10,000, where you begin paying .25%, which is a fee that is comparable to other robo-advisors.
Account Types
SigFig is a platform that is meant to invest your money more wisely, but they do work with your existing broker. If you do not choose a favorite broker, they use TDAmeritrade by default. There are two types of accounts you can utilize. However, if you are looking for a wide range of brokers to choose from – you are somewhat limited by Sigfig's options.
Portfolio Tracker
Min Deposit: $2000 USD
Trading Fees: Low
Trader Support: Good
Also is known for its portfolio tracker, which allows you to manage your existing accounts. This feature is free, which means that you will have free hands-on investing. This is incredibly convenient and comforting for those who might lead busier lives and want their money to "work for them." The portfolio tracker is arguably the most central feature, and it's quite intuitive. It does require information such as your income, age, and risk tolerance.
Once this information is given, it will build a portfolio for you and immediately begin automatically managing it.
Platforms:
The mobile app is available for both iOs and Android operating systems and is relatively easy to set up. Many have stated that the mobile app is extremely easy to use when compared to the competition, and the app has been highly reviewed by various publications.
There is a lot of white space on the website, which makes for a cool and calm layout. Broker makes the process extremely easy to understand. In fact, the "Tell Us About Yourself" section is a great way for a trader/investor to enter some personal information so that can figure out exactly how the platform can benefit that particular individual.
The menu bar at the top doesn't attract much attention, and elaborates on pricing, enterprise solutions, and who is behind the company. A live chat option on the right allows a user to ask any questions that they may have immediately, which is extremely convenient. There is also a user-friendly graphic that describes how can work for the investor – whether they are a novice investor just getting started or a sophisticated investor looking to diversify.
The FAQ section of the website is also extremely well-organized and straightforward. There are many complicated and disorganized websites out there, but this Sigfig review finds that its website is quite easy to navigate.
Usability:
This SigFig review found that both the website and mobile app are clean and easy to navigate.
Customer Support: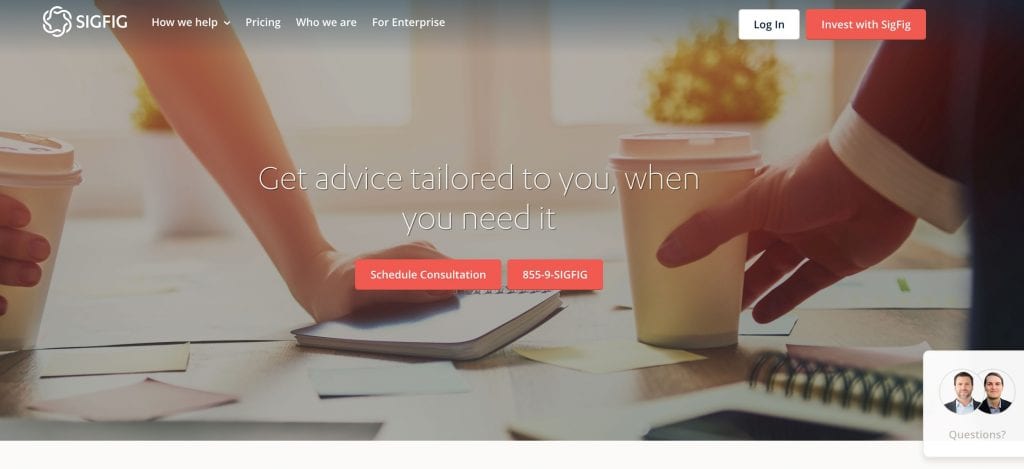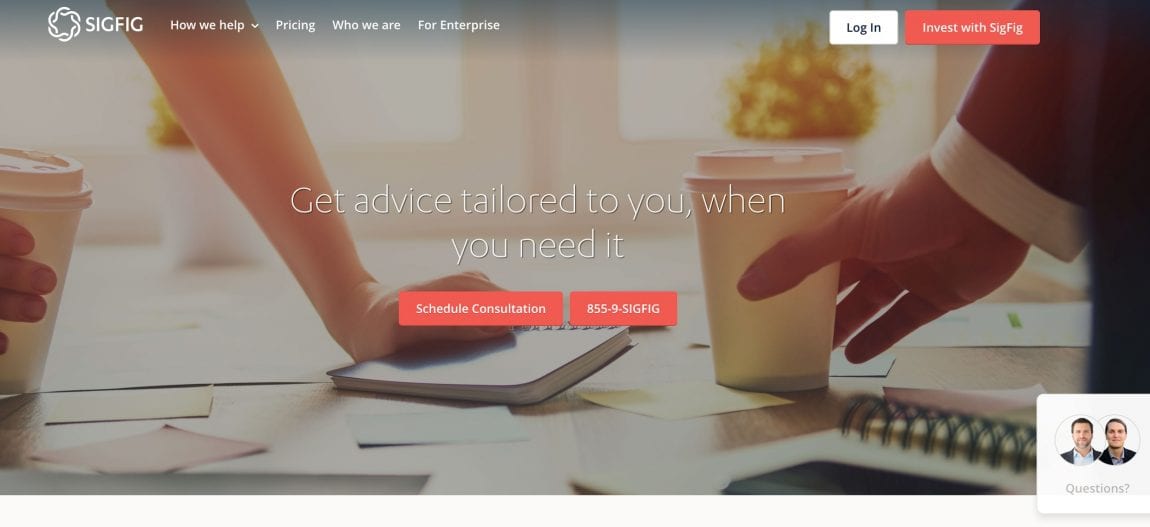 There are many wealth management platforms out there that are interested in new individuals signing up for accounts, only to remain quite evasive when it comes to customer support. For example, there are some companies that are only available on weekdays. This is extremely inconvenient for users and investors that want 24/7 access to some kind of customer support. In this SigFig review, we find that the company offers some solid customer support options.
Luckily, SigFig offers a range of options when it comes to customer service. First and foremost, you can reach the team by phone, and even schedule a call at your convenience. You can schedule an appointment through the website, and indicate your time zone. The number is 855-875-1580. The phone support is available Monday through Friday, 6 AM – 5 PM PST.
Unlike other companies, here is extremely responsive through e-mail, as well. They usually respond within 24-48 hours. However, the e-mail support is only available from Monday through Friday. The e-mail to use for customer support is: [email protected]
That isn't all! If you desire a response within just a few hours, you can contact SigFig through social media.
Payment Methods
You might be reading this SigFig review and become anxious to get started. There are many ways you can begin funding your account.
ACH: Of course, the most popular way of funding an account is through an ACH. This might take anywhere between 30 minutes to three days depending on your financial institution. Here, you simply transfer money from your bank account to your brokerage account.
Wire Transfer: If you plan on funding your account with a large amount of money, you might want to consider a wire transfer. This takes up to 1 business day.
Check: This method takes between 1 to 3 business days. It should be noted that you will have to either mail in the check or download the mobile app for this particular method of funding your account.
You can deposit using a physical stock certificate, and this usually takes one business day.
Best Offers
SigFig does offer a wealth of articles that can help investors and traders with wealth management, but the truth is that they don't offer much in the way of a clear and direct education. At the same time, articles can be potentially helpful to many users.
The website does offer some useful information. You might find some articles about investing mistakes or biases that can change the way you trade in the future and lead to larger returns. There is also advice about surviving a volatile market, as well. The content is well-organized.
Additional Offers
One of the reasons that is praised is because they are a robo-advisor platform that actually allows access to human advisors. This special feature is one of the reasons that Sigfig is unique, but this review actually offers more positives. While other platforms might charge a monthly subscription fee for new features, which offers a whole lot for FREE!
For example, the portfolio tracker is absolutely free. In addition, there are no fees for up to $10,000. This certainly adds to the platform's "plus" column.
Regulation and Deposit Protection
One thing that this SigFig review can assure is that the website is well-protected, thanks to 128bit SSL technology. While this doesn't mean that your data is completely secure and that SigFig cannot suffer a data breach; it should give SigFig users some peace of mind. This is obviously significant considering that handles personal and sensitive data.
In terms of regulation – SigFig is registered with none other than the SEC. The Securities and Exchange Commission is the most prestigious agency in the federal government when it comes to protecting investors, so there is no reason to worry about whether markets are regulated and maintained.
All of partners are members of SIPC. What does this mean? This means that even if SigFig's well-known partners, such as TD Ameritrade and Fidelity, experience some kind of financial trouble for whatever reason (very unlikely) – investors are protected for up to $500,000 in cash and/or securities.
Awards
Broker has been praised in many various publications and outlets, and the platform has also won a plethora of awards. The company has had multiple Webby Award nominations, which celebrates some of the best websites and platforms on the Internet. SigFig has also had the distinction of being named one of the "Best 50 Websites" in Time Magazine in 2011.
There are many robo-advisor services out there, and is regularly mentioned as one of the top platforms on the market. The fact that doesn't require annual fees of any kind is a huge plus, but this Sigfig review has also been clear that a minimum of $2000 is necessary. This might be too much of a minimum for some. In addition, there aren't that many market research tools to choose from.
This review wouldn't be complete without speaking to the fact that so many features are free. There are no fees for up to $10,000, which is one of the reasons that many investors are drawn to the service. For those who are managing above $10,000, the fee is reasonable, and you also have the ability to connect to a human advisor. If a "human touch" is important to you; this might prove to be a solid choice for you.