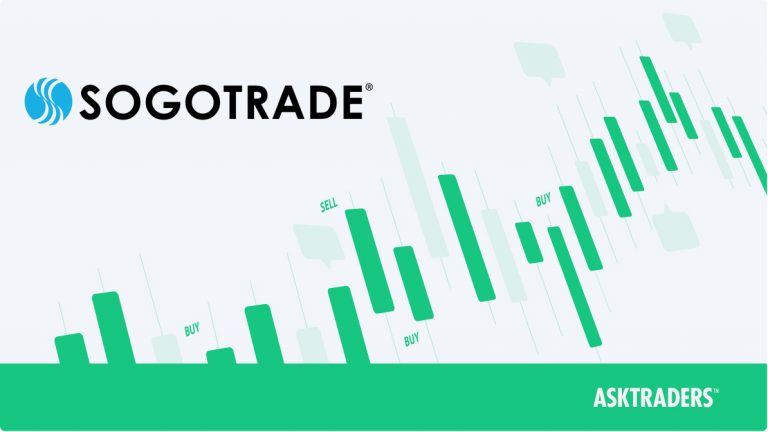 SogoTrade offers clients the ability to trade stocks as well as other assets. This broker began as a U.S. stockbroker in 1986 and is regulated by FINRA and the SEC.
This review appreciates the range of assets that the broker offers, as well as its range of market tools and competitive commissions. There is also a program of discounts for active traders, and the broker offers access to equities, ETFs, options, margin trading, cryptocurrency, and Power Portfolios.
SogoTrade Review Navigation
#

SogoTrade Stocks Review
| | | | |
| --- | --- | --- | --- |
| Min Deposit | App Support | Max Leverage | Trading Fees |
| $1 | Mid | 1:1 | Low |
This review found that the broker offers trading of stocks as well as equities via the same convenient type of trading. The broker points out that this type of trading lets clients take advantage of dividends and provides flexibility and control.
There are three classes of traders, each with its own pricing tier for stocks. Basic Traders enjoy base rates of $4.88 for each stock, provided the stock has a price of at least $1. This U.S. review lets moderate traders know that they can purchase prepaid stock trading packages for discounts. A package of 20 trades is $3.88 per trade, while a package of 50 is $2.88 for each trade.
Active traders will particularly appreciate the commissions for trading stocks. The commission can be just $2.88 on stock ETF trades, no matter your share limit or order type. To qualify as an active trader, you must execute a minimum of 150 trades per quarter.
A related offering is Power Portfolios, which are managed portfolios tailored to your preferences and risk levels. Clients answer questions about risk tolerance, time horizon, and goals, and creates a Power Portfolio for them.
#1

SogoTrade ETF Review
| | | |
| --- | --- | --- |
| Min Deposit | App Support | Trading Fees |
| $1 | 2000 | Mid |
As you cannot review CFDs, clients can trade ETFs directly. According to SogoTrade, this asset class combines the potential for diversification you get from mutual funds with the flexibility associated with stocks. They are easy to trade, as you do so in a similar manner to stocks, and allow for diversification since each ETF can have up to thousands of stocks.
In our review of SogoTrade's ETF commissions, we appreciated that they can be as low as $2.88. In many cases, trading ETFs costs less than trading mutual funds. The broker even offers a cost calculator so potential clients can review ETF commissions themselves.
#2

SogoTrade Cryptocurrency Review
| | | | |
| --- | --- | --- | --- |
| Min Deposit | App Support | Max Leverage | Trading Fees |
| $1 | Many | 1:1 | Mid |
Those interested in a cryptocurrency review will appreciate the ability to trade this asset class via a partnership with Apex Crypto.
As you review cryptocurrency offerings, you will notice that it is available in 43 U.S. states in addition to the District of Columbia. It is not available yet in Alabama, Florida, Hawaii, New York, North Carolina, Rhode Island, or Vermont.
However, people who live in one of those states can sign up to get updates. This will allow them to be one of the first in their states to review SogoTrade cryptocurrency offerings via Apex Crypto.
This particular type of asset is a relatively recent addition. Customers first received access to it in June 2019 but on a limited basis. The broker's website indicates that as of late August 2019, it should be available in all permitted states. Interestingly, this review is written several months after that date, and the information has still not been updated.
Trading fees associated with cryptocurrencies are 1 percent of the value of the trade or $1, whichever is higher. Unfortunately, our review was unable to find any additional specifics, including which cryptocurrencies can be traded, as broker had not updated the relevant page of its website at the time of writing.
What did our traders think after reviewing the key criteria?
Fees
This SogoTrade U.S. review found that the broker's low commissions are one of its high points. The broker strongly advertises its low commissions, and this is not a case of exaggerating, at least for stocks and options.
The base rate for those who do not trade frequently is $4.88 for online market or limit orders, which is already about average. Activate traders with more than 150 trades per quarter have a base rate of $2.88. The ability to purchase prepaid packages for $2.88 or $3.88 per trade without that high activity level is also a strong point in favor. Online option trading then has an extra fee of just $0.50 per contract. Rates are slightly different for stocks that are priced under $1. These charge an extra $0.0003 per share or 0.25 percent of the principal.
Those who review rates should keep in mind that while these commissions are low, there are higher charges for some other fees. For example, broker-assisted trades have a base rate of $25, making them fairly impractical. Options exercise/assignment is $15. Mutual funds are only available as broker-assisted trades with a fee of $25, a relatively high cost.
There are also fees to be aware of for paper tax statements, duplicate statements, options expiration management, returned ACH fund transfers, check withdrawals, returned checks, stop payments, wires ($25 for domestic), stock certificates, and more. Some of those other miscellaneous fees are high, such as a $150 fee for a non-DTC item or the physical trade fee.
Account Types
This SogoTrade U.S. review finds the expected types of accounts that most potential clients would expect from a broker of this type.
Individual accounts are investment accounts for a single person.
Joint accounts are investment accounts for two people.
Business accounts are for LLCs or corporations.
IRA accounts are for SEP IRAs, Roth IRAs, or Traditional IRAs.
There are also Coverdell Education Saving Accounts, UTMA/UGMA Accounts, and Trust Accounts available.
Platforms
Our SogoTrade review team appreciates the range of platforms that the broker offers, as there is something for everyone and every device. We also appreciate that the broker has preview videos of each platform on the relevant page of its website.
SogoOnline allows for trading of stocks, ETFs, and options without any download. It features the broker's powerful trading technology, intuitive use, and quality executions.
Is a fully customizable desktop platform that includes leading technologies, such as streaming quotes, interactive charts, extended hours trading, quality and fast execution, and flexible order entry.
SogoOptions is a powerful and customizable platform specific to trading options. It features fast execution, a high level of configurability, streaming quotes, and powerful tools for risk management and analysis.
SogoElite is a downloadable platform ideal for advanced traders who want ultra-low-latency real-time streaming information about the markets for American options and stocks. This data stream is sourced right from the exchanges, reaching your desktop in milliseconds. It features options chains, a top movers list, dynamic charting, and integrated trading.
SogoMobile is a mobile trading platform that works right in your browser, so you do not have to complete any downloads. As you review the SogoTrade platforms and compare them to those from other brokers, you will notice that this is a unique offering. Most brokers only have mobile applications, not a mobile-optimized web platform.
SogoApp offers that downloadable option that many mobile traders prefer. It can be fully customized to meet your needs and has the same features as the other platforms. These include trading for stocks and options, streaming charts, streaming watch lists and quotes, a real-time news feed, customizable settings, and stop limit and stop orders.
Advanced users can also utilize the SogoTrade API for viewing market data, accessing account data, and building their own trading application.
Usability
As we reviewed SogoTrade's website, we found it to be highly usable, with all of the expected information available. Some visitors may dislike that the main navigation menu only has main headings without subheadings, which can lead to an extra click to get to the desired page. However, the bottom navigation menu has main headings and subheadings. The layout and color scheme of the page appear professional yet interesting with the use of pastel colors.
Customer Support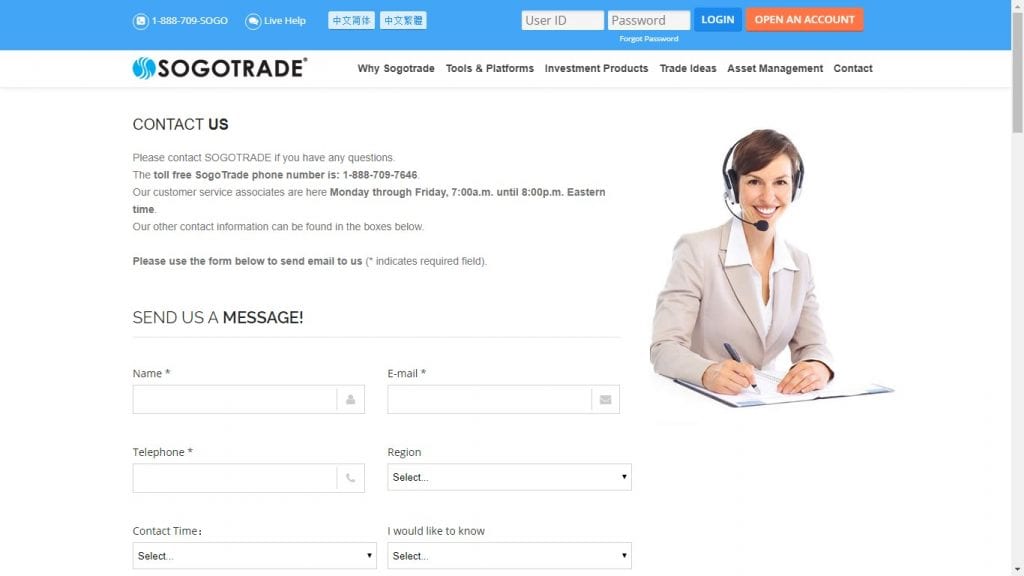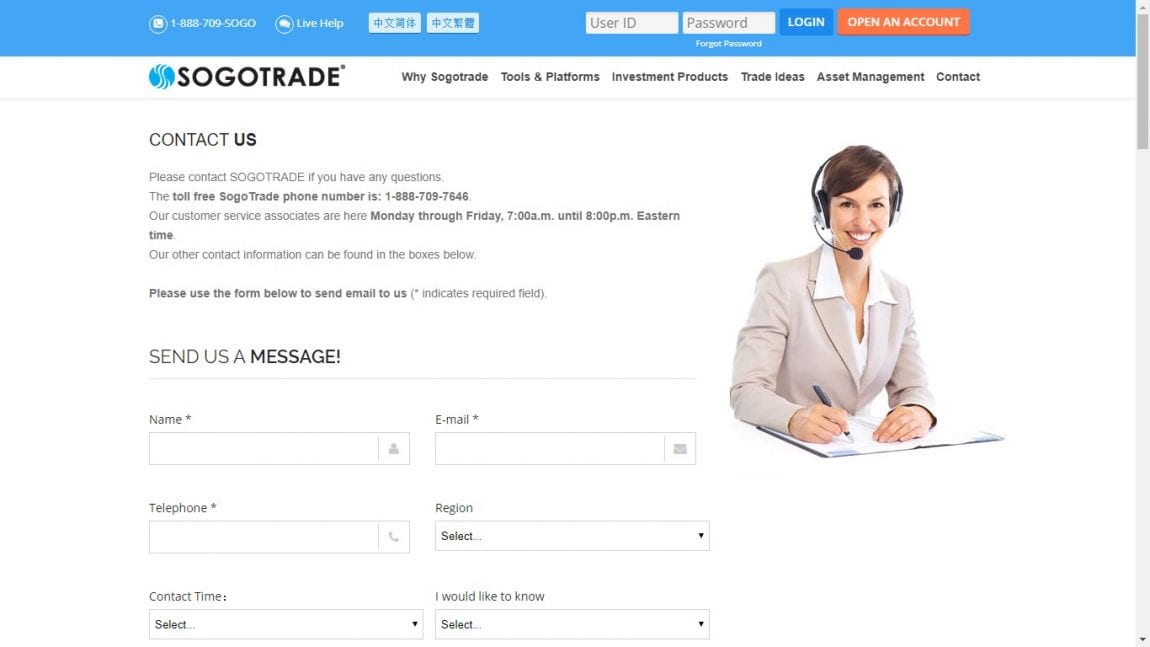 This review found a reasonable amount of customer support on the broker's website, as well as several ways to contact the support team. The Contact Us page includes a contact form. The page also has phone numbers and service hours for a nationwide English service center, a nationwide Chinese service center, an East Coast New York Service Center (with address), a Midwest St. Louis service center (with address), and a general information admin line. There also is information for mailing, emailing, and faxing.
The only downside of the broker's customer service is that it is only available on weekdays, although service is available between 7 a.m. and 8 p.m. eastern time, which is more than standard trading hours. It is worth noting that on days that the stock exchange is closed, so is the broker's customer service department.
There is also a convenient FAQ section that should provide most of the answers that clients need.
Payment Methods
As you review SogoTrade's funding options, you will find several choices, but you should be aware of the potential fees.
Bank wire transfer
Bank wire transfers are encouraged since they typically credit in a single business day. Broker does not charge any fees for deposits via this method, although your bank may.
Electronic transfer (ACH)
Clients can also set up an ACH transfer with their bank account, following verification of micro-deposits. This connects the bank account with the account for easy transfers in the future.
Check
There is also the option to deposit funds via a check.
Best Offers
This broker offers educational materials and research tools, but this SogoTrade review found that they are slightly hard to find. They are not easily accessible via the main menu, and clients must instead visit the bottom navigation bar.
The Education Center is best for beginners, with topics covering the basics, "the mechanics of the trade," options, choosing stocks, margin trading, and a glossary. While advanced traders will not find much, beginners should find almost all the information they need.
The Research Center features market movers, company research, a symbol lookup, an ETF center, leader boards, and news headlines. Clients can also use it to view information on various instruments without logging in.
Regulation & Deposit Protection
As mentioned, SogoTrade is a member of SIPC/FINRA and registered with the SEC. Via the FINRA membership, clients have coverage of up to $500,000. There is also additional insurance of up to $37.5 million on accounts.
Awards
This SogoTrade review found that in the StockBrokers.com Annual Review in 2018, the broker received four stars for Commissions and Fees, Customer Service, and Options Trading. The broker does not list any other awards on its website. A quick search also found that StockTraders.com ranked SogoTrade "Best in Class for Commissions and Fees" in 2016 and 2017.