SquaredFinancial Fees
Trader Rating
Fees at SquaredFinancial can vary depending on what account type the trader opts for. A standard Pro account does not charge commission on foreign exchange transactions, for example, though the more expensive account – the SquaredElite option – charges a commission of US$5 per lot on foreign exchange transactions.
Like many brokers, SquaredFinancial offers 'spreads' to traders – calculated by taking away the sale price of the asset from the buy price, and then shaving off a fraction of that as revenue. The 'tighter', or lower, the spread, the more cost-effective it is for the trader. The standard SquaredFinancial account offers spreads beginning at 1.2 pips, but the SquaredElite account offers spreads as tight as 0.0. Therefore, while commissions are in force on the SquaredElite account, the cost may be offset by better spreads.
It is also worth exploring whether fees are charged at other points in the process. Deposits at this broker do not come with fees or commission, regardless of the method being used.
Account Types
Trader Rating
As mentioned above, there are two account types to choose from at SquaredFinancial. The first is the broker's standard account, the 'SquaredPro' option, and the second is the 'SquaredElite' account. The two accounts have many similarities, including the base currencies they offer. These are the single European currency, the US dollar, the British pound and the Swiss franc. They also both have market execution when it comes to ordering. Both have a minimum trade volume (for forex) of 0.01, a margin call level of 50%, and a stop out level of 30%.
Some of the differences between the accounts are outlined in the above section on pricing. However, the other main differences lie in the minimum deposits they require. For a SquaredPro account, no minimum deposit is required at all, but for a SquaredElite account, a minimum deposit of US$5,000 will need to be put down.
Overall, there's a decent amount of choice available, though the presence of only two normal account types does create a sense that the trading is 'all or nothing'. The presence of a few more options in between the two extremes, especially on the level of commission, may be helpful.
Aside from these account options, some more specialist account choices are available. This broker offers traders the option of a 'demo' account, which requires no cash deposits and instead functions as a sandbox for traders to experiment with particular trading routes – but with no risk of financial loss. Once they are comfortable trading at the broker, they can then migrate over to a paid account if they wish. This is ideal for new traders, many of whom may find that they are not in a position to take the risk of trading with leverage until they are better acquainted with how it works and what the potential losses and benefits might be.
This broker also offers customers the option to open an Islamic account. This type of account has a different set of rules in some key ways in order to make it compatible with Sharia law. The main difference is that swaps are not charged when positions are held open from one day into the next. Other than that, the trading conditions on this account are largely the same compared to other, non-Islamic accounts.
Platforms
Trader Rating
SquaredFinancial has a strong range of options when it comes to platforms. MT4, or MetaTrader 4, is one of the most popular in the sector. But it's far from the only choice, and it's also not the most up-to-date version. MT5, its successor, is also offered by this broker, and it has a number of additional features that MT4 does not. These include just over 20 timeframes: MT4, on the other hand, has under 10.
On the other hand, MT4 still has some benefits. It comes with four varieties of pending order, covering everything from sell limits to buy stops. It permits hedging, though it does not permit the practice of netting: traders who want to do that will need to use MT5. Finally, there are over 2,000 free-to-use custom indicators in MT4.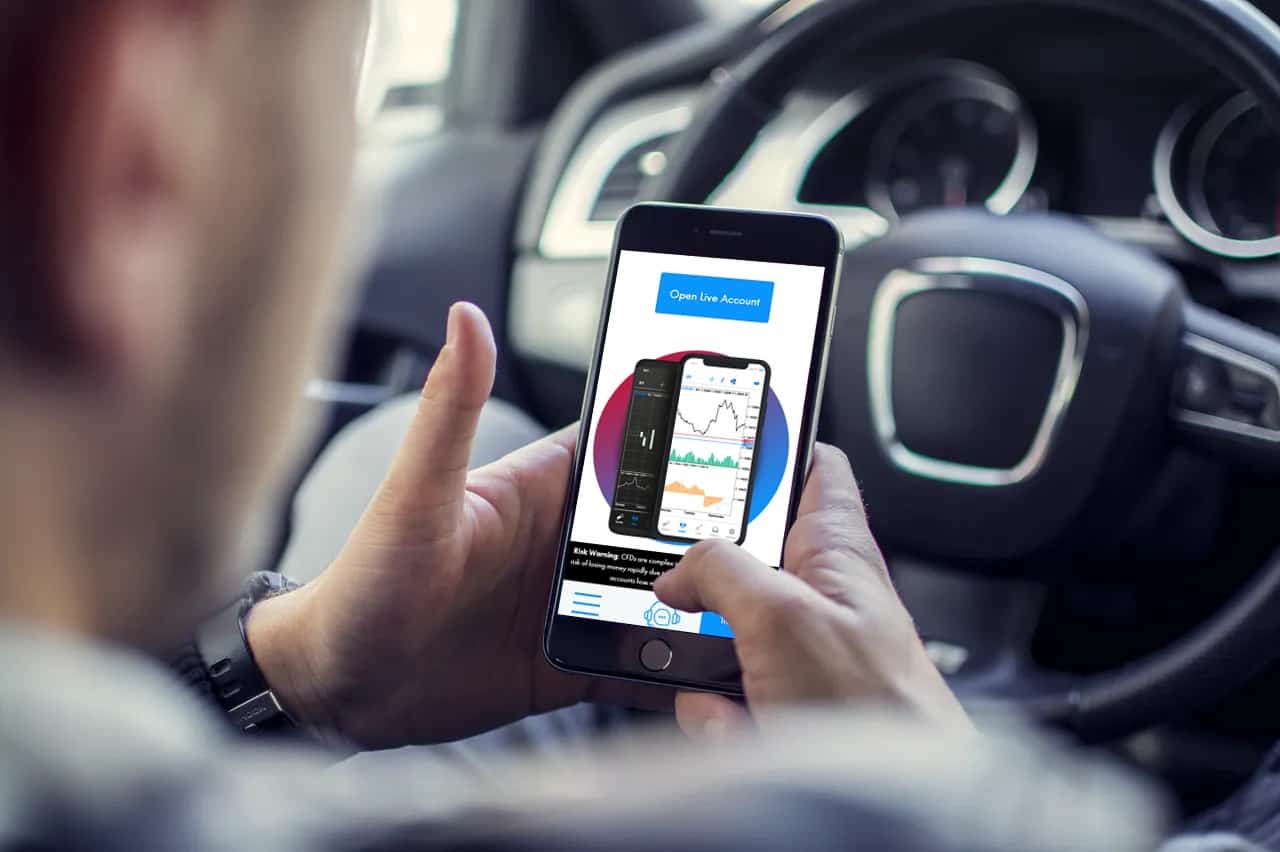 Both options can be used as desktop trading solutions for those with laptops or other computers. However, there is also a web trader for those who are not in a position to download large or complex pieces of software. It is, however, worth noting that the mobile trading option at this broker leaves something to be desired. There are no mobile applications offered for either the Apple operating system, iOS, or the Android version. Traders who want to trade while moving around will therefore need to secure an account with another broker before they can do so.
This broker also provides an 'AutoTrade' option. Traders who select this option can set up what are known as 'Expert Advisors', which in turn allow your trades to be carried out by robots, based on trades made by other traders who have a track record of success. This does not mean that investment returns for you are guaranteed, but it does mean that you can let the process be managed without your direct intervention.
Usability
Trader Rating
The SquaredFinancial website is relatively easy to use. It is organised into several key sections. The first, 'Traders', contains relevant information such as a list of asset classes on offer, the account types that can be chosen, and information about the platform. There is also a section titled 'Market Insights', as well as one containing learning resources, and another with information about the broker.
A prominent link to open an account is displayed in the top-right. Customers who do not have English as a first language can easily translate the site into a number of other languages, such as Spanish and Arabic, using the toggle function in the top right. The broker may benefit from expanding the range of languages represented in order to appeal to a broader array of traders from around the world.
In terms of the actual trading platform, MT4 and MT5-powered systems are simple and straightforward. Traders can easily implement stop losses, timeframe analysis tools, and more. The presence of the demo account enhances this accessibility as it permits traders to learn about the way that the platform works without having to commit to placing cash.
Customer Support
Trader Rating
There are several support options available at this broker. Traders may well be able to find the answers to their questions by going through the 'Learn' or 'About' sections of the website, which contain guides, glossaries, video tutorials, and much more.
In the event that the trader cannot find the answers to their questions on these pages, they may instead wish to contact SquaredFinancial directly. The broker provides its postal address on its website: this is listed as 205, Arch. Makarios Avenue, Victory House, 5th Floor, 3030, Limassol, Cyprus. However, a more efficient way to contact SquaredFinancial is likely to be via phone, and a Cyprus-based telephone number – +357 25260333 – is offered for use.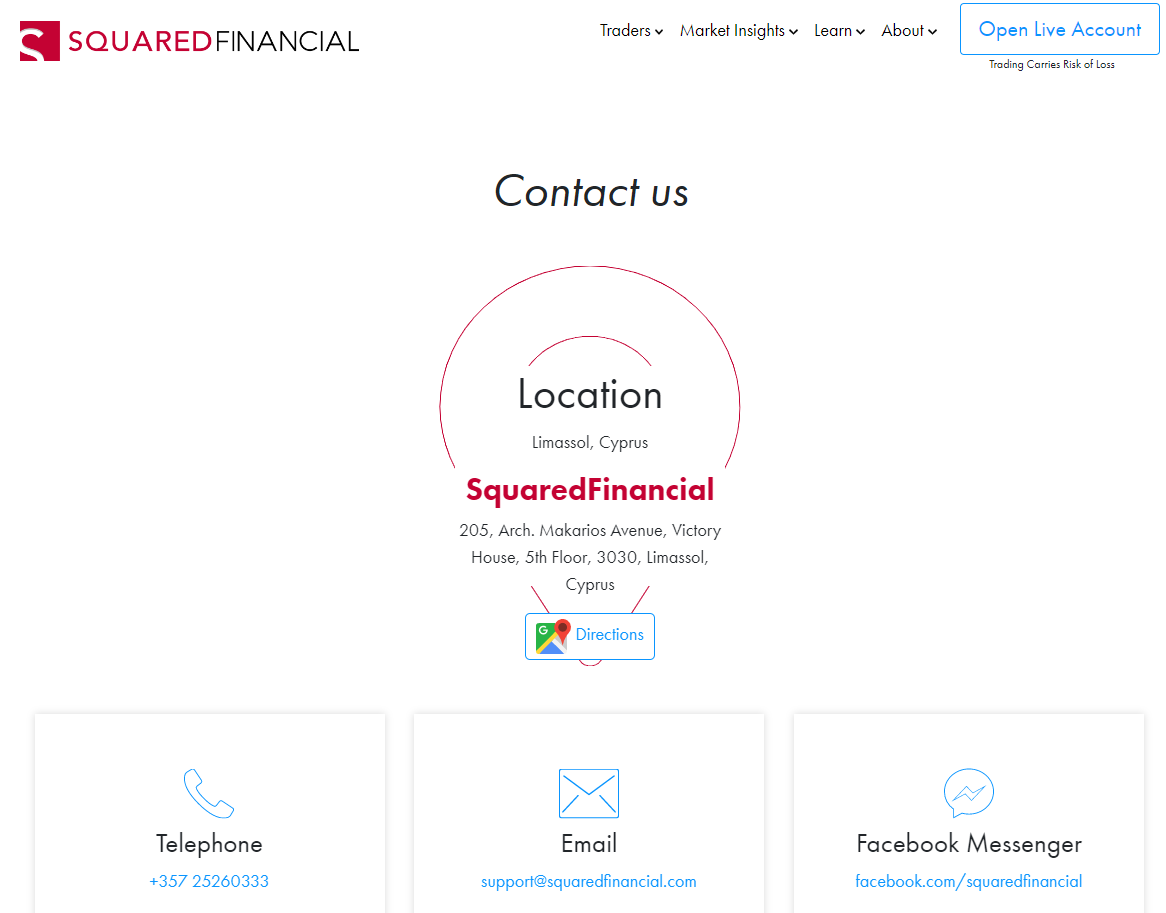 It's also possible to send an email to the broker on [email protected], or to speak to agents using Facebook Messenger or Live Chat (accessed through the Help Center). In the introduction to its online email form, the broker stipulates that it can be contacted round the clock during the trading week – so traders can speak to someone about technical problems or account issues as and when they need to do so.
Best Offers
Trader Rating
You can withdraw your funds from SquaredFinancial through the following methods:
Card payments
Bank wire transfer
SquaredFinancial has an extensive list of supported payment methods, and it proudly displays these at the bottom of its website homepage. Card payments at the broker can be made using well-known services such as Visa or Visa Electron, as well as Mastercard or Maestro. American Express does not appear to be represented.
Those who wish to pay using their bank's systems can do so with wire transfer. On its payment methods page, the broker specifies that it works with NatWest and the Bank of Cyprus in this regard. There are also a number of eWallets that can be used to make deposits with this broker. These include names such as Neteller and Skrill, though PayPal does not appear to be represented. Unusually, a number of popular Chinese money transfer functions can be used at SquaredFinancial. These include Alipay and UnionPay.
Regulation and Deposit Protection
Trader Rating
In terms of regulation, SquaredFinancial is overseen by one of the West's leading financial bodies. It derives its European regulatory oversight from the Cyprus Securities and Exchange Commission (CySEC), which regulates a firm called Squared Financial (Cyprus) Limited. The company's licence number is 329/17. The broker's other operations, meanwhile, are focused on a firm called Squared Financial (Seychelles) Ltd. This is regulated by the local oversight body, the Financial Services Authority of the Seychelles, with the licence number SD024.
CySEC is part of the larger European Securities and Markets Authority (ESMA). SquaredFinancial also adheres to the Market in Financial Instruments Directive II (MiFID II), which offers traders an added level of protection.
It is a positive sign that the broker is so highly regulated. While this fact does not entirely remove the risk of fraud, it does provide investors with additional confidence that the broker has taken some concrete steps towards engaging with the authorities and ensuring a basic level of adherence to regulations. In a further sign that SquaredFinancial takes its responsibilities to protect its investors seriously, it also places a risk warning in the footer of its website explaining that trading CFDs on a leveraged basis can lead to monetary losses:
"CFDs are complex instruments and come with a high risk of losing money rapidly due to leverage. 79% of our retail investor accounts lose money when trading CFDs. You should consider whether you understand how CFDs work and whether you can afford to take the high risk of losing your money. Please refer to our Risk Disclaimer."
The broker also emphasises on its website that it has been audited by the well-known financial services company Deloitte.
Deposit protection appears to be in place. SquaredFinancial states on its website that it is part of the Investor Compensation Fund Policy, which offers some customers the opportunity for compensation if the firm was to go out of business or experience cash flow problems.
Awards