We believe this firm may be providing financial services or products in the UK without FCA authorisation.
TRENDSMACRO is a relatively new online broker, founded in 2020. Based in the Republic of Marshall Islands and operated by the Ascana Group, the broker offers a range of financial instruments including forex, CFDs, indices, metals, energies and other commodities. The firm provides dedicated multilingual customer support and has a range of client protections in place. For example, TRENDSMACRO holds client funds in segregated accounts with top-tier banks and offers negative balance protection. TRENDSMACRO facilitates a variety of trading techniques and strategies and allows for CFD trading on various instruments with generous leverage. Opening an account is a quick and easy process, which can be done online entirely. There are different good account type choices, all offering access to around 50 currency pairs and over 45 CFDs.
The broker offers a zero-commission account model for forex trading, with broker profits taken exclusively from the spreads. Spreads depend on the account type held, but are very competitive on the higher-level accounts, with spreads on the premium Platinum Account starting from just 0.1 pips. The platform is very easy to navigate, and uses the ever-popular MT4 software, with its intuitive and highly customisable interface and a good variety of built-in tools and indicators. The MT4 platform also offers the ability to easily integrate third-party applications and build a trading platform that is suited to your individual needs and requirements.
Trendsmacro Review Navigation
#1

Forex
| | | | |
| --- | --- | --- | --- |
| Min Deposit | App Support | Max Leverage | Trading Fees |
| $250 | Good | 1:400 | Low |
TRENDSMACRO offers a wide range of currency pairs, with no commissions and variable spreads which depend on the type of account you hold. Your minimum deposit and the leverage offered to you will also depend on the type of account you choose to open, but even traders with a basic Bronze Account may be offered leverage of up to 1:100. Around 50 forex pairs are available to trade, and forex trading is offered 24 hours a day, whenever markets are open, which effectively means there is only a short period each weekend when trading is not available.
#2

CFDs
| | | | |
| --- | --- | --- | --- |
| Min Deposit | App Support | Max Leverage | Trading Fees |
| $250 | Good | 1:400 | Low |
TRENDSMACRO offers some financial instruments which can be traded as CFDs, including forex and stock indices. CFD trading is a form of derivative trading, allowing traders to speculate on the price changes of a particular financial instrument, without owning the underlying asset. It allows for trading with leverage, the level of which will depend on the instrument you are trading. Trading indices as CFDs also allows for either long or short trading, whereas short trading of individual stocks is not possible.
#3

Stocks
| | | | |
| --- | --- | --- | --- |
| Min Deposit | App Support | Max Leverage | Trading Fees |
| $250 | Good | 1:50 | Low |
TRENDSMACRO offers trading in both single stocks and stock indices, with a variety of international instruments available to trade. Trading stock indices as CFDs is possible at TRENDSMACRO, but single stocks are not available as CFDs. It is important to note that although TRENDSMACRO states that leverage of between 1:100 and 1:400 is available to all account holders, depending on account type, the actual leverage available to you will also be dependent on other factors, including the instrument you are trading. When trading indices you will be offered a lower level of leverage than when trading forex.
#4

Social Trading
| | | | |
| --- | --- | --- | --- |
| Min Deposit | App Support | Max Leverage | Trading Fees |
| $250 | Good | 1:400 | Low |
TRENDSMACRO operates using the MetaTrader platform, specifically MT4, which provides traders with the opportunity for various types of social trading via Trading Signals and other external trading tools such as ZuluTrade. Automated trading is also accessible when trading on the MT4 platform, using Expert Advisors.
What did our traders think after reviewing the key criteria?
Fees
TRENDSMACRO trading fees are competitive. There is a zero-commission model when trading most instruments, which means, of course, that the broker's profit comes entirely from the spreads. This brokerage offers floating spreads that vary from 2.8 pips on the Bronze Account, to as low as 0.1 pips on the Platinum account. As with any broker, the spreads offered will depend on a wide range of factors, including the type of instrument being traded, the type of account you hold, and the current market conditions.
Minimum spreads quoted are just that: the minimum that you can expect to see offered on any one instrument at any time. As experienced forex traders will know, spreads will tend to be lower on commonly traded major currency pairs, and higher on minor or exotic pairs. Always check spreads carefully as they can be quite volatile on some instruments and under certain market conditions. You must sign in to your TRENDSMACRO trading account in order to see current spreads being offered.
Account types
TRENDSMACRO offer four account types, which are aimed at traders with different levels of experience and different budgets. The Bronze Account is more suitable for beginner traders, requiring a minimum deposit of $250 and offering up to 1:100 leverage. Spreads on this account start at 2.8 pips. The Silver Account is the next step up, requiring a minimum deposit of $2000 and offering up to 1:200 leverage, with spreads starting from 2.5 pips. A Gold Account comes with up to 1:300 leverage and spreads that start at 1.5 pips, with a deposit requirement of at least $10,000. Lastly, a Platinum Account has a minimum deposit requirement of $50,000 but comes with the benefit of spreads from as low as just 0.1 pips and leverage of up to 1:400. All account types have access to all instruments and trading via the MT4 platform, although only Silver, Gold and Platinum account holders can access Expert Advisors.
TRENDSMACRO allows all account holders to hold an unlimited amount of open positions. They allow trade sizes from 0.01 lots up to 50 lots. A stop out level of 5% is offered across all account types. All accounts offer straight through processing (STP), meaning client orders are sent directly to the market without being passed through a dealing desk. Market order execution means trades are executed at the current ask and bid prices, with no requotes. All account types allow for most trading techniques, including scalping, and a personal account manager is available across all account types, even for those holding a basic Bronze Account. All account types use USD as their base currency.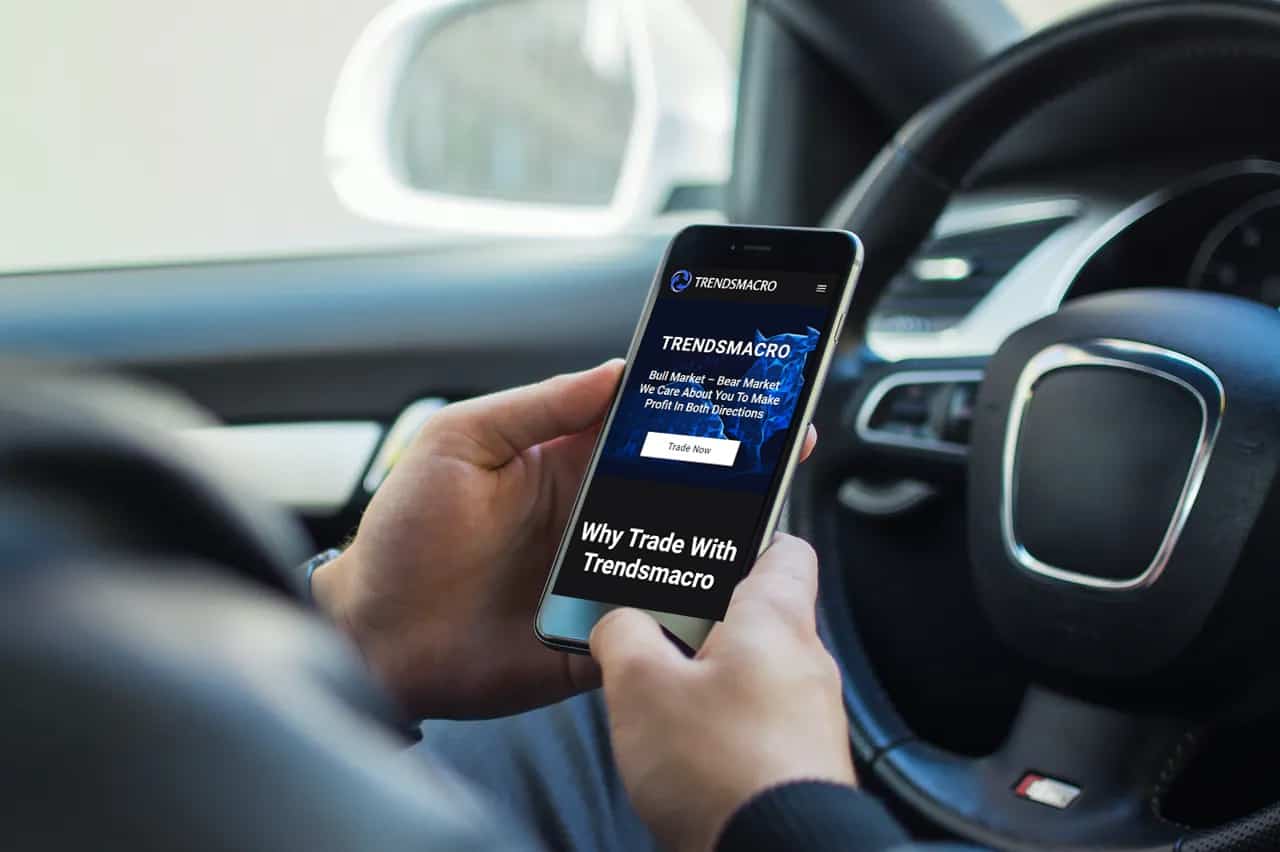 The process of opening an account at TRENDSMACRO is quite straightforward. You simply need to fill in a short registration form online and verify your account. This can be done online and will involve scanning and sending proof of identity, such as a government-issued identity card or driving license, and proof of residence, such as a recent bank statement or utility bill that clearly shows your address. Account verification is necessary to comply with legal regulations and protect both the client and the brokerage from fraudulent activity.
Platforms
TRENDSMACRO offers its clients access to the popular and award-winning MetaTrader 4 platform, in all its various versions. As MT4 enthusiasts are aware, the platform is considered an extremely efficient and intuitive tool for online traders, and it was indeed specifically designed to be used by individual online traders, particularly those who trade forex and CFD instruments. The platform has a range of advanced features and functions including a wide variety of integrated technical indicators, sophisticated back testing facilities, and useful charting tools. It provides online traders with the facility to create their own trading scripts and allows for automated trading within customised pre-set parameters, via the Expert Advisors function. There is the added advantage that the MT4 interface is easy to navigate and highly customisable, allowing each trader to create personalised watchlists and trading alerts, and a suite of technical indicators aligned with their trading style and objectives. The platform integrates well with many third-party tools and applications and is incredibly versatile. TRENDSMACRO offers MT4 trading for Windows, Mac and mobile devices, as well as facilitating the use of the platform via web browser.
When it comes to mobile trading, traders can download MT4 mobile apps to facilitate easy, convenient trading from wherever they happen to be. These apps are available for both iOS and Android devices, including tablets and smartphones, and offer an intuitive mobile trading experience, not dissimilar to the main desktop or web-based platform. Apps provide access to most of the same features and functions as the main platform, including charting tools, technical indicators, customised watchlists, and easy order execution. The mobile apps are available to download free from the Apple App Store and Google Play Store and are generally very quick and easy to install. One further advantage of this broker is that they provide an easily accessible online MetaTrader 4 Guide, that answers many of the questions new MT4 traders may have, from how to select a new language, to how to check historical data.
Usability
This broker seems to have a strong focus on creating a pleasant and intuitive user experience. The website is clear, uncluttered, and easy to navigate, and displays all of the important legal documentation and information clients might need to access, including the brokers anti-money laundering policy, risk warnings, and terms and conditions. The only drawback we could find is that some information, such as details regarding the spreads offered on specific currency pairs, can only be accessed by registering or signing into your trading account.
They are not freely available on the website. Generally speaking, navigation around the website, the platform itself and the mobile apps is fairly easy. The website keeps things very simple, with a clear top-bar menu listing the main web pages, along with drop down menus, allowing you to quickly navigate to specific pages. Generally speaking, we found the website, platform and mobile apps all provide a satisfying user experience.
Customer Support
If you are a new or existing customer of TRENDSMACRO you can get in touch with any concerns or queries you may have. Customer support can be accessed via the broker's dedicated customer service phone line, or by emailing the support staff at [email protected] There is also a handy web form, which can be found on the contact page on the website, where you can request that support staff get in touch by phone or email.
All support channels are available 24 hours a day, 5 days a week, to tie in with trading hours on the international markets. While the customer support available is adequate, the main website is missing a live chat function, although this function is available to customers once they have registered and logged in to their account. The company does not appear to run social media accounts either, which can be another way that some customers like to stay in touch.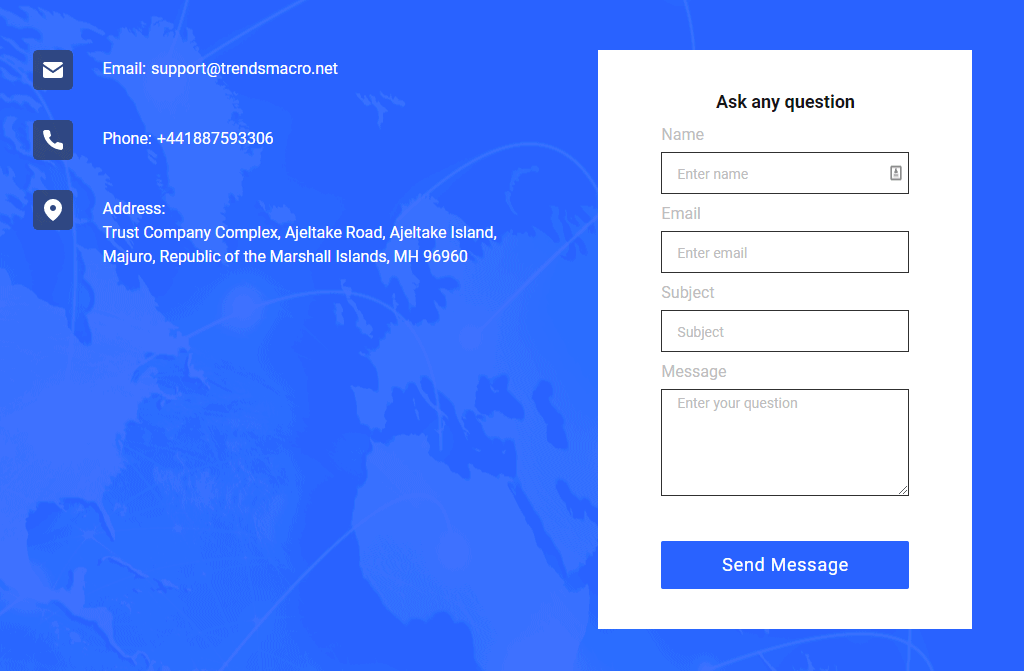 On the plus side, TRENDSMACRO tries to limit the amount of customer support you may need, by providing plenty of general information on the website that addresses many of the questions you may have about opening an account and trading with this broker. As already mentioned, you will also be assigned a personal account manager you can contact as needed.
Payment Methods
Once you have opened your TRENDSMACRO account, the first thing you will need to do is to pay some funds into it to start trading. This is easy to do and there are a couple of different options available.
Card payments
Card payments are accepted, with the option to pay with both credit and debit cards. Visa and Mastercard are both accepted. You will need to provide front and back copies of your card, as laid out on the 'Deposits' page. Making a payment with either a credit or debit card usually means the funds will be transferred instantly.
Bank Wire Transfer
Wire transfers are also accepted. You will need to transfer funds from a bank account that is held in your name. Third party bank wire transfers cannot be accepted. Depending on your bank, it may take a few days for these transfers to clear into your TRENDSMACRO account. If your bank account is held in a currency other than USD, you will need to convert your funds either before making the transfer or arrange for conversion as part of the transfer. If you fund your account by wire transfer, you may need to provide proof of payment.
E-wallets
TRENDSMACRO does not currently support payments from e-wallets and other third-party payment processors.
Best Offers
TRENDSMACRO is certainly a broker with a lot to offer its potential customers. The brokerage offers the versatile MT4 trading platform, automated trading, mobile trading, high levels of leverage and a no-commission pricing model. The intuitive mobile apps facilitate easy trading on the go from a variety of devices. The broker offers straight through processing with no requotes and allows for most types of trading strategies. There are a wide variety of forex pairs available, along with a reasonable selection of other financial instruments, and the choice of account types means there is something for everyone, regardless of budget and experience.
Regulation and Deposit Protection
TRENDSMACRO is an offshore broker based in the Marshall Islands, which means that it is not under the authority of a major international regulating body. While many traders trade with these types of offshore brokerages, it is important that you are aware that they are not regulated in the same way that most European or American brokerages are. TRENDSMACRO clearly states that all client funds are kept in segregated accounts with top-tier banks, and offers negative balance protection, meaning traders cannot lose more money than they have available in their trading account. The broker displays all relevant legal documentation clearly at the website. We always advise that prospective clients carefully check all such documentation before committing to trading with a particular brokerage.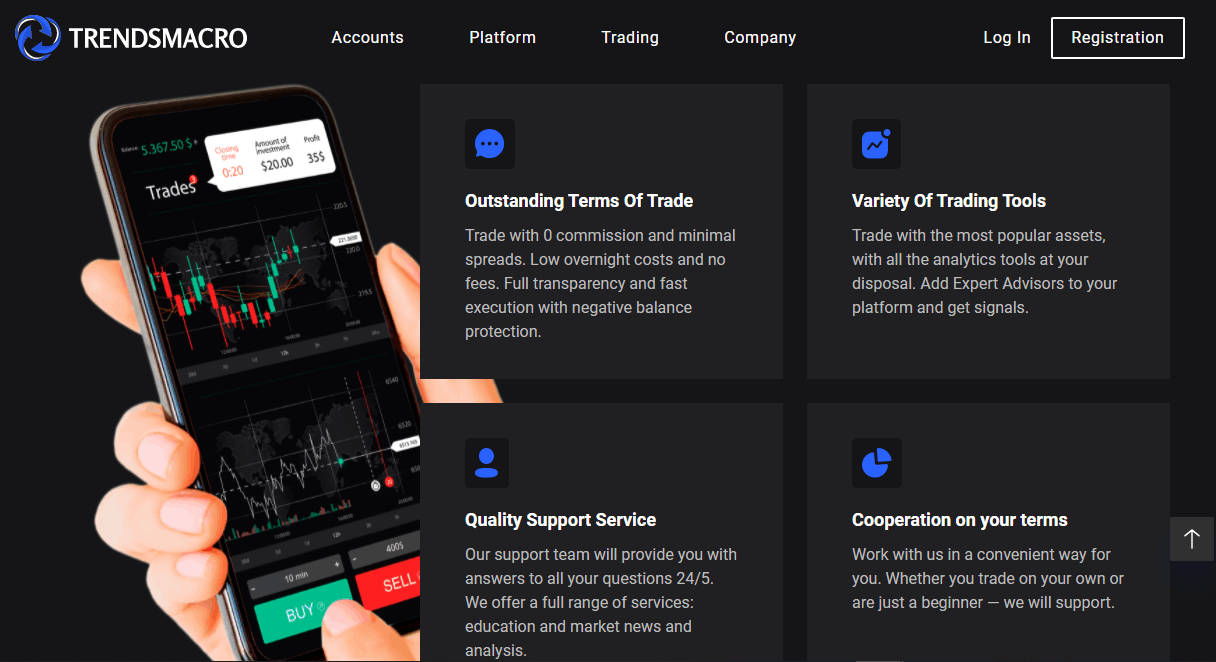 Awards
As mentioned, TRENDSMACRO is a relative newcomer in the online trading space and has not yet won any major industry awards. The broker does however use the MT4 platform which has won various awards over the years, including best FX Trading Platform at the Finance Magnate London Summit Awards.