Founded in 2007 and headquartered in Newcastle upon Tyne, True Potential Investor has a strong management group with extensive experience providing advice distribution, financial services technology and investment management services in the UK.
The digital wealth management company's stated mission is to help close the savings gap for UK savers between the funds they presently have and the funds they will need to meet their goals for a comfortable retirement.
True Potential Investment also wants to educate the public about savings and investments to help them plan for a better future. In 2014, the company joined forces with the Open University to make the True Potential Centre for the Public Understanding of Finance. This resource now provides three free personal finance courses that have proven very popular with those looking to improve their financial knowledge.
If you are interested in how we review True Potential Investor, then read this True Potential Investor UK review to determine if it will satisfy your robo-advisor investing requirements and if investing with True Potential Investor makes sense in your unique situation.
Note that this is not a True Potential Investor CFD review, a True Potential Investor cryptocurrency review or a True Potential Investor forex review since the robo-advisor does not offer such trading products and instead takes on clients who want to invest passively.
True Potential Investor Review Navigation
#

True Potential Investor Robo-advisor Review
| | | | |
| --- | --- | --- | --- |
| Min Deposit | App Support | Max Leverage | Trading Fees |
| £1 | 5 | 1:1 | Mid |
Using True Potential Investor's robo-advisor investment service puts you in the role of a passive investor once you decide what sort of account you want and what risk level you feel comfortable with.
Unlike many digital wealth managers who require so much more, you can check out True Potential Investor's services for a minimal amount of £1 to see if you like what they have to offer.  The account setup process is done online and takes around 10 minutes.
The company's expert in-house investment team accesses over 9,000 world-class investment professionals in 200 locations worldwide. They believe this helps them make the best possible investment decisions in True Potential Investor's set of five fully-managed investment portfolios.
UK residents can select among three types of savings account offered by True Potential Investor. These include: a Stock & Shares Individual Savings Account (ISA), a General Investment Account (GIA) and a Personal Pension account. Note that withdrawals from Personal Pension accounts are restricted to those aged 55 and older.
When you sign up at True Potential Investor, you will answer questions regarding your investment risk preference so that you can select a suitable portfolio among the five available options to hold in your savings account. These portfolio types include: Defensive, Cautious, Balanced, Growth and Aggressive, and their names reflect the sort of risk involved in selecting them.
What did our traders think after reviewing the key criteria?
True Potential Investor Fees
True Potential Investor's investment-related charges are around 1.16% per year on average. These fees are broken down into two main parts.
The first part is a fixed service cost of 0.40%. This covers administration of investments, access to your account, customer support, custodial services and asset safekeeping.
The second part is a variable product cost that is typically around 0.76%. This charge covers the ongoing fees for all the funds contained in your portfolio, as well as transaction fees.
The good news is that several services provided by True Potential Investor have no extra charges associated with them. These include setting up an account, transferring savings accounts, topping up an account and withdrawing funds. The company also does not charge discretionary management fees.
Account Types
True Potential Investor offers three basic account types when you first sign in as a new client. They consist of a Stocks & Shares ISA, a GIA or a Personal Pension.
Because of the tax benefits, most UK residents will elect to open or transfer a Stocks and Shares ISA.  Savers can invest as much as £20,000 each tax year in a regular ISA without needing to pay income or capital gains tax on investment earnings. You can withdraw funds any time but can only have one ISA per year.
If you have maxed out your allowable ISA balance, you can always open a General Investment Account (GIA).  A Personal Pension plan is generally used to invest for retirement, so you cannot withdraw funds from a Personal Pension until you reach the age of 55.
Platforms
When dealing with a new potential client, True Potential Investor's website interface first asks questions to determine what sort of savings account you need. It then leads you through your investment options to help you clearly distinguish between and decide among portfolios with five different risk levels.
You can also set up your desired initial and ongoing monthly account contributions. The system lets you start at just £1 so you can test the service out before you commit any substantial amount of money.
In addition to its web interface, True Potential Investor also has a popular mobile app for both iOS and Android that UK residents can use. A screenshot of the app's asset allocation screen is shown below for the aggressive portfolio type.
True Potential Investor's app lets you access your fully-managed investment portfolio anytime so you can track its performance and set goals while on the go. The firm's app even lets you link bank accounts, savings accounts and credit cards to it so that you can review your full financial picture and net worth on one easy-to-use and fully-consolidated platform.
You can also quickly top-up your investments at the touch of a button with the company's useful impulseSave technology aimed at those who want a fast and easy way to add funds to their investment accounts.
Usability
True Potential Investor's official website has a very professional look in navy and white with an easy-to-read layout. The website has a set of seven self-explanatory tabs at the top that give you an idea about how the site is organised. Several of those tabs also have drop down menus that link to additional topics you might want to explore.
The website's tabs are:  Why invest?, Our Portfolios, Our Team, Accounts, Transfer, Pricing and Blog. Each page also a toll-free phone number, as well as Log in and Start investing buttons conveniently situated in the upper right corner. They can be helpful if you want to start up an investment account after reading this True Potential Investor review.
Customer Support
True Potential Investor provides you with several different methods to get in touch with its exceptionally courteous and highly knowledgeable support staff. Not only can you visit them in person, if you happen to be in Newcastle upon Tyne, but you can also phone them toll free from the UK or send them correspondence via snail mail or email.  A screenshot of True Potential Investor's Contact Us page appears below.
True Potential Investor also has a handy Live Chat function for direct messaging that appears as a blue button at the lower right side of each web page. The firm's Help Centre is online and available by phone during extended UK business hours from 8 a.m. to 8 p.m. Monday through Friday, which means you cannot get live support in the late evenings or over the weekend.
Still, you can probably get all the information you need from True Potential Investor's well-organised and professional-looking website.  One great place to look is the firm's useful FAQ page that has clear answers to common questions you may have. A link to this page and others can be found on the website's Resources menu that appears at the bottom right of each page.
Payment Methods
To deposit or withdraw money, you first need to create and log in to your True Potential Investor account using the robo-advisor's online or mobile interface.  You can then either initiate your first deposit or top up your account if you wish to make an additional deposit. Deposits starting at £1 are accepted with no added charge.
Cash withdrawals from your True Potential Investor account can take around seven business days. The withdrawal process requires assets in your account to first have to be sold and then settled for the resulting cash to become available for transfer to your designated bank account.
Withdrawals can be made at any time from a Stocks & Shares ISA or from a GIA, but you will need to be over 55 to withdraw funds from a Personal Pension held at True Potential Investor.
Best Offers
One of the best offers from True Potential Investor is that it lets you try out its digital wealth management investment service with an initial deposit as low as £1. This lets you try out the service before you commit to using it.
In addition to the educational material on its website, the company offers free training via its three popular courses made available at the Open University by The True Potential Centre for the Public Understanding of Finance. They are entitled: Managing My Money, Managing My Investments, Managing My Financial Journey and Managing My Money for Young adults.
These online courses have attracted more than 375,000 registrants and positive feedback. You can also check out the views of True Potential Investor's economic writing team by reading the posts on its active Blog page.
True Potential Investor also maintains several social media accounts with regular posts. The company's Facebook Page has over 2,300 followers, and its YouTube channel has an interesting selection of videos and 140 subscribers. The UK robo-advisor's Twitter account also had recent posts and has around 1,500 followers.
Regulation and Deposit Protection
True Potential Investor is the trade name of True Potential Investments Limited Liability Partnership (LLP), and it has its UK offices situated in Newcastle upon Tyne.
The company is authorised and regulated by the Financial Conduct Authority (FCA), and it follows the EU's Markets in Financial Instruments Directive II that require the separation of clients' funds from its own money for extra safety.
Furthermore, UK investors are well-protected against a default by True Potential Investor up to £85,000 since the company participates in the Financial Services Compensation Scheme (FSCS).
When it comes to data security, True Potential Investor takes unusually strong data protection measures, including the encryption of stored personal information.
Its servers are also protected by powerful Transport Layer Security v1 (TLS) or Secure Socket Layer (SSL) v3 technology, so you will want to make sure you use an up to date browser that supports this high level of security.
Awards
True Potential Investor has won numerous awards for its innovative investment technology and high quality customer support over its years of operation. Some of its more recent accolades include the following:
European Public Vote Award – European Business Awards, 2018.
Best Platform for Innovation Award – Platform Awards, 2018.
Best Platform Provider AUM Under £25bn Award – Schroder Platform Awards, 2017 and 2018.
European Business of the Year Award, 2017.
Best Support Service Award and Best Use of Technology – Money Marketing Awards, 6 years running.
Business Partnership Award – The Guardian, 2017.
Best for Innovation and Best for User Experience – the lang cat's Direct Platform Awards, 2015.
Best Use of Technology by an Advisor Award – Money Marketing Awards, 2011.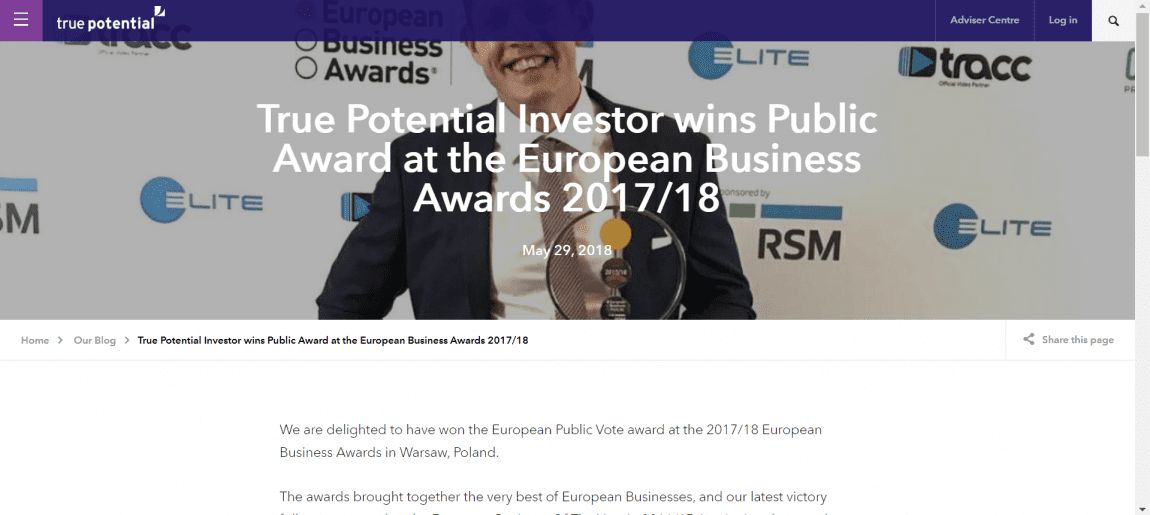 PEOPLE WHO READ THIS ALSO VIEWED: