Its one of the most well-known online brokers, famous for its ultra-cheap offerings on mutual funds and ETFs. In fact, thei founder Jack Boogie (now deceased) created the index fund. The company is built around low-cost investing.
Broker is the standard bearer for low cost passive investing, though competitors have also joined them in terms of commission free trading, most notably Fidelity and Charles Schwab. Still, in terms of portfolio selection and expense ratios, shines through as the best possible choice for long-term, cost-conscious investors.
Vanguard is a registered investment adviser and manages over $5 trillion in active management. They are based in Pennsylvania and are the largest provider of Mutual Funds and the second largest provider of Exchange Traded Funds.
Vanguard Review Navigation
#

Vanguard Stocks Review
| | | | |
| --- | --- | --- | --- |
| Min Deposit | App Support | Max Leverage | Trading Fees |
| $1 | Mid | 1:1 | Low |
Vanguard is not the best option when it comes to stocks. This is primarily because this broker is not aiming to target this market. You cannot short sell stocks, and options can only be traded in a single leg. This means that for complex options, you need to call a live broker for a manual trade. Options research is quite limited, charting analysis tools are very basic, the trading terminal is not quick or easy to use, and stock trading is not cheap. However, if your account is large enough, the trades are cheaper.
Vanguard Commodities Review
They don't offer a huge range of commodity stocks. However, it does offer its own commodity fund – The Commodity Strategy Fund ('VCMDX'). Trading in commodities stocks can be quite volatile and this is not an area that Vanguard excels in, preferring a more passive and long-term approach.
Min deposit: $0
Trading fees: High
Trader support: Average
Vanguard Indices Review
Broker is exceptional when it comes to index funds. It has among the lowest expense ratios, which eats into portfolios over time. With its Admiral Shares program, expenses ratios come down even lower. This is why they are the cheapest passive investment platform available. But it also has a giant range of funds to choose from, also is arguably the best provider around for those looking to trade in this asset class. It has a massive selection of funds for a low cost.
#1

Vanguard Futures Review
| | | | |
| --- | --- | --- | --- |
| Min Deposit | App Support | Max Leverage | Trading Fees |
| $1 | Mid | 1:1 | Mid |
Options trading with Vanguard is not very sophisticated. Investors are limited to a single leg and complex options will require a live phone call to a broker. Margin rates are quite high and there are no advanced charting tools for specialized option trading.
What did our traders think after reviewing the key criteria?
Fees
Our expert trading team were a little disappointed with Vanguard in terms of functionality, trading tools, and customer service. While is one of the top options in terms of ETFs and mutual funds, it is a little lacking for active traders and those looking for deeper analytical insights.
However, it needs to be understood that it is still ideal for people of a certain demographic.
Vanguard are not targeting traders, but are designed for investors with large portfolios with a passive and long-term investment approach. Perhaps because of this, the website is difficult to navigate. But Vanguard actually goes as far as to actively discourage people who place trades more frequently. Other platforms reduce fees when more trades are placed, yet Vanguard increases them.
The website does offer retirement planning tools and other resources for passive investors. Stock trade commissions are increased based on the assets a trader has invested in Vanguard funds. Traders with less than $50,000 invested pay $7 per trade for the first 25 trades and $20 per trade for subsequent trades.
But all in all, Vanguard is very easy to analyze. It is perfect for those looking to retire or who want to take a long-term approach to passive wealth management. It is one of the cheapest platforms available and is highly regarded. On the other hand, it is simply not suitable for people outside of the passive wealth bracket. Traders are best advised to look elsewhere.
Vanguard Fees
Vanguard fees are among the very lowest on the market. They are probably the lowest ETF and mutual fund providers out there, with over 1,800 commission-free ETFs and over 3,000 mutual funds with no transaction fees. The range of offerings is also huge, so investors are somewhat spoiled for choice.
Trading fees depend on the account size. For account balances between $1 – $5 Million, it only costs $2 per trade, with the first 25 trades of each year being free. Account balances with less than $50,000 will be charged $7 per trade for the first 25 trades each year and $20 for all following trades.
Vanguard also offers its Admiral shares with ultra-low expense ratios. But to qualify for Admiral shares, investors need to have higher account thresholds – $3,000 for most index funds, $50,000 for most actively managed funds, and $100,000 for certain sector-specific index funds.
Account Types
Vanguard offers a large range of account types. These accounts include Taxable, Joint, Roth IRA, Traditional IRA, Rollover IRA, Custodial, SEP IRA, SIMPLE IRA, Solo 401(k), Trusts, Non-Profit, 529, Annuities, Money Market and CD accounts. Overall, Vanguard offers a huge variety of account offerings. Accounts not on offer include Limited Partnerships, Checking, savings, Coverdell, and partnerships.
Platforms
Vanguard does not have a large range of platforms to work with. The website itself is outdated and the mobile applications are ok, though nothing exceptional. The website is very hard to navigate, and does not have a huge range of technical tools that traders can use. For passive traders with large portfolios, the core platform does function well in terms of viewing holdings, but there is not much that can be changed or altered.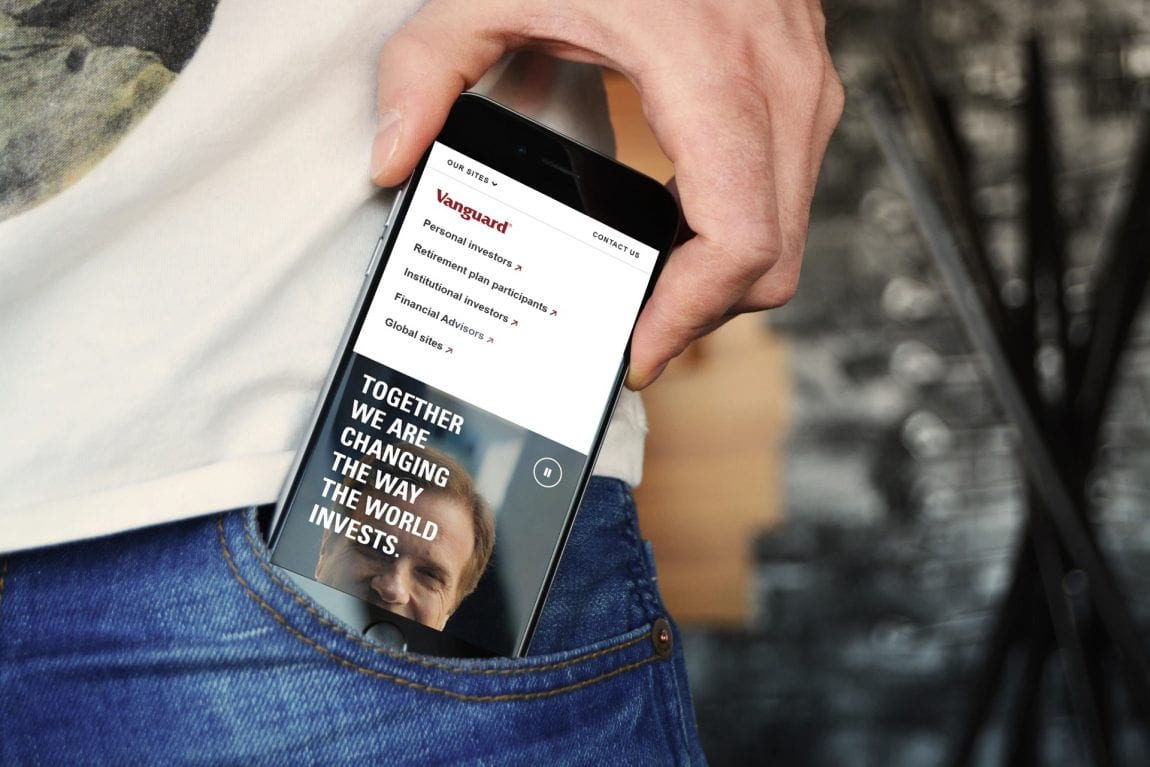 Usability
Our review team cited usability as one of the biggest disadvantages of Vanguard. Even if they are not targeting traders, modern sites need to be intuitive, smooth, and user-friendly. Usability is one area that Vanguard needs to work on.
While the company is geared towards passive investors, the website is really not up to speed in terms of usability. The site is difficult to navigate and it is obviously not a priority. The quotes do not automatically stream – you will need to manually refresh the screen to get an update on quotes. Customization options are very limited, and we could not find a way to set up alerts.
The team also found that the site itself was slow and cumbersome. This is quite problematic at a time when trading platforms are being set up that are super intuitive and easy to navigate. All in all, the website does not score highly in terms of usability and is not designed for active traders. The executed trades are also quite slow. To trade complex options, you will need to call a trader.
Vanguard offers mobile versions for IOS and Android which are far better than the site version. Still, even the mobile applications fall behind some of the more modern competitors. This may not really be a 'flaw' of Vanguard. It is more that they are deliberately focusing on passive investment. They do not seem to even be interested in trying to cater to younger audiences that are orientated towards short term trading.
Customer Support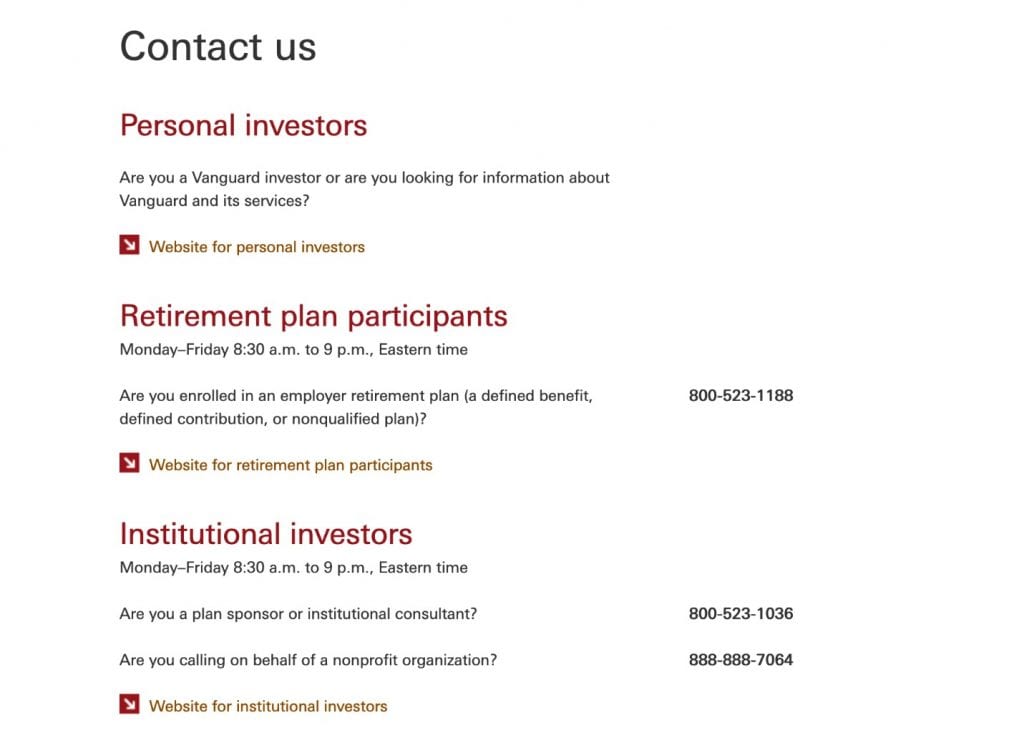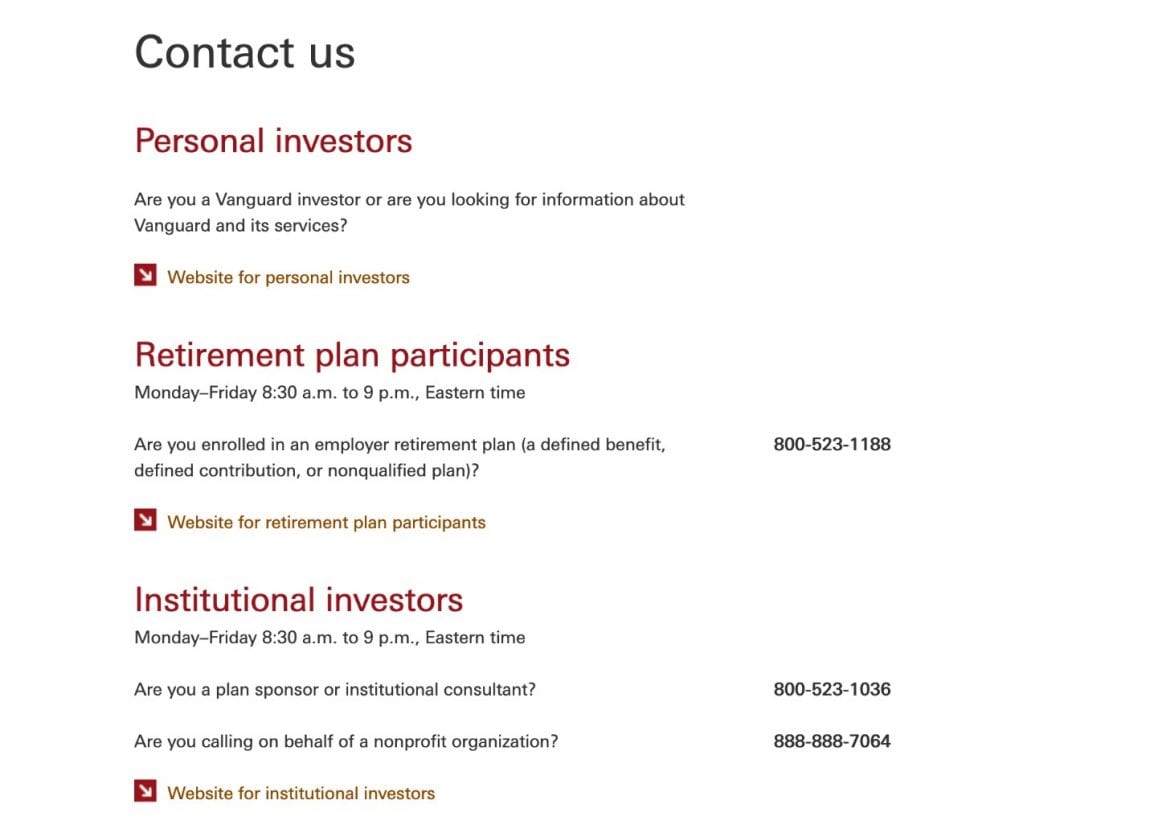 Vanguard offers phone support Monday to Friday from 8 AM to 10 PM. Email support is also available. There are no physical branches. Vanguard customer support is well below par. In terms of withdrawing money or closing an account, Vanguard is arguably one of the lease efficient brokerages on the market as compared to tests on other sites by our team. The delays are unreasonable and it is very hard to get to speak to a live representative.
There are frequent communication failures and all things considered, it is not a customer friendly service. Unfortunately, the low cost of the Vanguard funds seems to come at the expense of a quality customer service team and a reliable interface. They also seem to have a strategy of delaying customer withdrawals in the hopes that the client gives up. This might be different for accounts that have large holdings above $50,000, or accounts with over $500,000 that are granted specialized access.
Payment Methods
You can use the Vanguard mobile application to move money out of your account. To do so, you will need to click a button 'Sell Vanguard Funds' so that it gets withdrawn to your bank account. It is also possible to withdraw using ACH wire transfer, the most common means of withdrawal across brokers. As an additional bonus, Vanguard does not charge to withdraw money using ACH transfer, while nearly all other brokers do.
You cannot deposit money to Vanguard using credit or debit card. To do so, you mail them a check or send money with a direct deposit. You can also use an electronic bank deposit.
Best Offers
At the current time, there are no live promotions or offers with Vanguard. Unlike other brokerages they are not offering sign up bonuses. This is probably linked to the fact that they are seeking to attract long term investors instead of short-term traders who would make use of such bonuses.
The real benefits come with depositing a large amount of cash. This assists with cheaper trades and special services that would not otherwise be available. Investors with over $500,000 have access to a team of investment professionals as well as $2 trades, much lower than the typical $7 for stock trades and $8 for options, with this brokerage platform.
Regulation and Deposit Protection
Vanguard is fully regulated by the Securities and Exchange Commission ('SEC') as well as Financial Industry Regulatory Authority ('FINRA'). These are the two primary regulatory authorities in the USA.
Vanguard Marketing Corporation is a member of the Securities Investor Protection Corporation ('SIPC'), which protects securities customers of its members up to $500,000 (including $250,000 for claims for cash).
To offer greater protection and security, Vanguard has secured additional coverage from Syndicates at Lloyd's of London for brokerage clients. This additional insurance has the same customer eligibility requirements as SIPC. This coverage has an aggregate limit of $250 million for all claims of securities and cash.
Awards
Our Vanguard review team has watched this provider take a number of accolades over the years. Vanguard has managed to achieve the Fund Manager of the Year Award three times in a row. In addition, the Vanguard's range of Exchange Traded Funds (ETFs)have been awarded five gold medals at the Money magazine 'Best of the Best awards 2018'.
These ETFs include Best Australian Share ETF (Vanguard Australian Shares Index ETF), Best Income ETF (Vanguard Australian Fixed Interest Index ETF), Best Specialty ETF (Vanguard Australian Property Securities Index ETF), and the Best International Share ETF (Vanguard US Total Market Shares Index ETF).