#1

Forex
| | | | |
| --- | --- | --- | --- |
| Min Deposit | App Support | Max Leverage | Trading Fees |
| $200 | Good | 1:500 | Low |
As a platform primarily dedicated to forex and forex CFD trading, the forex trading on offer is generally pretty solid. Vantage FX gives users instant access to deep liquidity on the live currency markets across over 40 currency pairs. While quite limited when it comes to the more exotic currency pairs, all of the major currency pairs that you could hope to trade are covered. Generally speaking, the spreads on offer are very competitive and trades are executed incredibly quickly. Vantage FX is a no-dealing desk trader and offers STP and ECN forex trading accounts.
#2

CFD
| | | | |
| --- | --- | --- | --- |
| Min Deposit | App Support | Max Leverage | Trading Fees |
| $200 | Good | 1:500 | Low |
Vantage FX currently offers CFD trading across forex pairs, indices, commodities, metals, energies and US/UK/HK/EU/AU shares. In total, Vantage FX offers 24 different CFDs across a range of different financial instruments and assets.
#3

Stocks
| | | | |
| --- | --- | --- | --- |
| Min Deposit | App Support | Max Leverage | Trading Fees |
| $200 | Good | 1:20 | Mid |
Users of the Vantage FX platform can trade a number of different share and stock CFDs across a range of markets. Access is provided to 50 US stock CFDs with leverage of up to 20:1 on trades. Similarly, access is given to 50 share CFDs for both the top Chinese and Hong Kong companies, as well as the top 50 companies in the UK and EU. A full list of all the stock and share CFDs available to trade is available through the homepage of the Vantage FX platform.
#4

Social Trading
| | | | |
| --- | --- | --- | --- |
| Min Deposit | App Support | Max Leverage | Trading Fees |
| $200 | Good | 1:500 | Mid |
In addition to the auto trading features in the MetaTrader 4 and MetaTrader 5 apps, Vantage FX also provides users of the platform with access to ZuluTrade and Myfxbook AutoTrade tools. These additional tools are a great way of adding some social and automated trading features to your trading account. The Myfxbook AutoTrade tool allows you to seamlessly integrate copy trading into your Vantage FX investment account by connecting you to a growing network of over 90,000 forex traders. Similarly, ZuluTrade integrates into your Vantage FX trading account and gives you instant access to a network of over 10,000 professional day traders. Social trading is a great way to learn from the top traders in the industry, so it's great to see Vantage FX supporting it so well.
Vantage FX Fees
Trader Rating
When compared to the industry averages, Vantage FX has a reasonably competitive system of fees and commissions in place. The fees you get charged on trades will vary depending on which of the three account types you have, with the Standard STP account offering zero-commission trades. The Raw ECN account and the Pro ECN account provide trades at $3 and $2 per trade (each way), respectively. While not the lowest commissions we have seen, these are nevertheless very competitive and are just below industry averages. What we did appreciate was how transparent and open Vantage FX is about the fee structure, with this information being very easy to find through the website.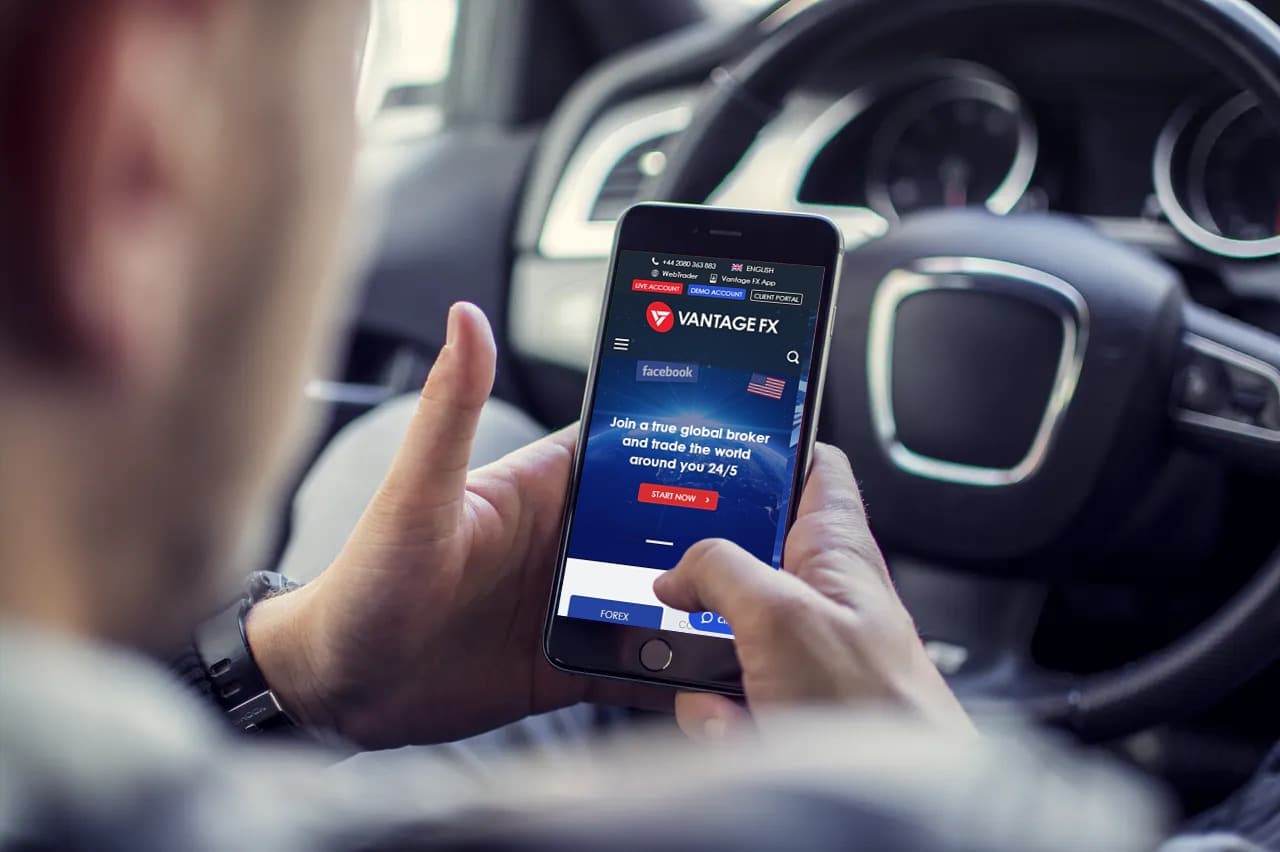 Account Types
Trader Rating
Vantage FX has a number of different account types to suit all varieties of trader, from the casual trader to the professional day trader. In all, there are four main account types: Raw ECN, Standard STP, Pro ECN and an Islamic trading account. A free demo account is also available to try out. Of these four account types, the Raw ECN account is the most popular and offers institutional-grade liquidity and cost-effective forex trades. This includes no spread mark-up and a $3 commission on each trade. The Standard STP account provides you with institutional-grade spreads and dark liquidity pools for professional-level trading conditions. Trades made with this account will be executed via the Equinix fibre optic network, which offers industry-leading execution spreads. The Standard STP account offers no-commission trading with very tight spreads. The Pro ECN account provides a professional trading environment with tight spreads and a $2 commission (each way) per lot traded.
Platforms
Trader Rating
One of the areas where Vantage FX really excels is in the various trading platforms it makes available to you. In addition to the MetaTrader 4 and MetaTrader 5 platforms, which have basically become industry standard by now, Vantage FX also gives you access to a proprietary Vantage FX App and a WebTrader app. It should also be noted that both the MetaTrader 4 and MetaTrader 5 platforms come with mobile versions of the desktop app, which allows you to monitor your trading account and to execute trades on the go. Additionally, social trading features are available through ZuluTrade and Myfxbook, which can be integrated with your Vantage FX account.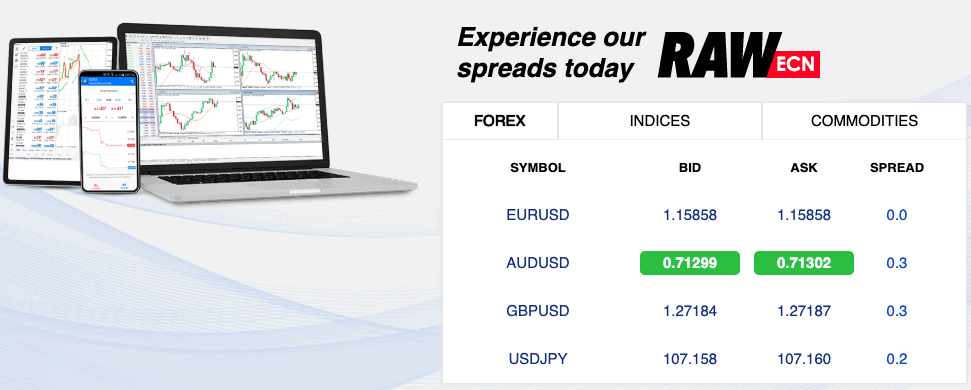 Usability
Trader Rating
Overall, the writer of this Vantage FX review found that using the platform is relatively simple. If you have any previous experience of similar trading platforms, then using it shouldn't be too much of an issue. The website itself is well laid out, and a useful search bar allows you to pull up any information you might be searching for in an instant. The trading experience via the MetaTrader 4 and MetaTrader 5 platforms is very much what you have come to expect. The MetaTrader 5 platform in particular has really been streamlined with this latest update. The WebTrader platform and the proprietary mobile app are both similarly easy to use, and beginner traders shouldn't have an issue getting used to them.

Customer Support
Trader Rating
Generally speaking, the level of customer support available on the Vantage FX platform is very good. A highly skilled customer support team can be accessed via email, telephone or live chat. The team are available 24 hours a day, Monday to Friday, and according to the website, they endeavour to respond to all queries within 24 hours. In our experience, response times are much quicker than this, with queries submitted via the live chat box generally responded to within a few minutes. If you are not a member of the Vantage FX platform, queries can be submitted by live chat, phone or email. However, they will only be responded to between 9:00am and 5:00pm, Monday to Friday.

Payment Methods
Trader Rating
When it comes to topping up and withdrawing from your account, the options available are very much industry standard. Card payments can be made via Visa and Mastercard, while bank transfers and wire transfers are also available – though it should be noted that wire transfers take a little bit longer and may be subject to additional fees. Domestic fast transfers are also available for those who are located in Australia. Additionally, Vantage FX also supports a number of electronic transfer methods, including Neteller, Skrill and FasaPay. Generally speaking, Vantage FX will not apply any additional fees, though this may depend on your bank. A full list of fees is readily available and easily accessed via the homepage – simply click on the payment options icon at the bottom right-hand corner of the homepage. In our experience, both deposits and withdrawals to the platform are processed quickly with minimal delay.
Best Offers
Trader Rating
In addition to all the other account features available, Vantage FX has also got a number of other bonus features that make an account with it even more appealing. This includes a 'refer a friend' scheme, an active trade programme, a 50% deposit bonus, and a rebate scheme. The 'refer a friend' scheme is potentially lucrative and gives you the opportunity to earn a $150 bonus for every successful referral – this also gives them a $100 sign-up bonus. The active trader promotion offers users who open a Standard STP account funded by at least $10,000 the opportunity to earn bonuses based on their account activity. The welcome bonus provides a bonus of 50% on deposits of up to $500 for users signing up to the Vantage FX account. Vantage FX clearly takes customer satisfaction and loyalty very seriously, as these bonus schemes are among the best we have come across. These rate strongly in the broker's favour and come highly recommended. In particular, it's great to see Vantage FX offering promotions and bonuses for both new and experienced users of the platform.
Regulation and Deposit Protection
Trader Rating
According to its website, Vantage FX is founded on the values of accountability, transparency, reliability, integrity and trust. As such, it is quite clear that Vantage FX takes its regulatory obligations
seriously, making this broker one of the safest around. It upholds the highest standards of regulation and compliance as required by the terms of its licence, with client funds kept under tightly controlled accounts that are kept segregated and tightly audited. Currently, the National Australia Bank acts as its custodian bank and it is regulated by the Cayman Island Monetary Authority (CIMA). Additionally, it also has indemnity insurance, meaning that user accounts and deposits are afforded a very high level of protection.
Awards
Trader Rating

Despite only being in operation for a little over a decade, Vantage FX has managed to acquire a significant number of industry awards. These include, among others, 'Financial Trading Services Provider of the Year' in 2019/2018/2017, 'Best ECN Broker' (2016), 'Best IB Broker' (2016), 'Best Customer Support' (2016), 'Best ECN/STP Broker' (2016), and 'Best Forex Execution' (2012). Although it is still a relatively young broker, the sheer number of awards that Vantage FX has amassed in a relatively short amount of time signals good things for its future. A full list of all the awards it has won over the years can be viewed in the 'About Us' section of its website.