Founded in 2014, robo-advisor Wealth Horizon offers a simple and inexpensive automated alternative to traditional financial advisors that cost-conscious investors are finding increasingly attractive. The headquarters of this privately-held UK-based firm are located in Bristol, England.
At present, only UK residents are able to participate in Wealth Horizon's investment plans. This restriction therefore excludes even dual UK citizens who are currently residing out of the country.
Broker allows its clients to take a passive approach to investing that has a focus on making long-term investments. The investment strategy the firm employs on behalf of its clients is based on the Nobel Prize-winning portfolio investment theories of Harry Markowitz, an American economist.
Their web-based service assists an investor in maximising the return on their investment by putting together and managing a portfolio for you determined by your stated risk tolerance. Holding your portfolio in both an Individual Savings Accounts (ISAs) and/or a General Investment accounts (GIAs) is supported.
If you are looking for a UK investment plan you can set up and leave running, then they are one of the top ten robo-advisor options currently available to UK residents. While its fees are reasonably competitive, you can probably find better fees at other robo-advisor companies that do not provide customised and personal investment advice.
If you are interested in how we review, then read further to determine if the broker will satisfy your investing needs and if it makes sense to open a robo-advisor account.
Wealth Horizon Review Navigation
#

Wealth Horizon Robo-advisor Review
| | | | |
| --- | --- | --- | --- |
| Min Deposit | App Support | Max Leverage | Trading Fees |
| £1000 | 3 | 1:1 | Mid |
Based on information you provide, Wealth Horizon will use its investment algorithm to automatically create a suitable and diverse portfolio for each investor that can include the following products: shares, commodities, real estate, bonds and money market instruments.
The particular investments suggested to you by the firm may include: collective investment vehicles, unit trusts, open ended investment companies (OEICs), fixed interest securities and cash.
The idea behind diversifying your portfolio by spreading your invested funds across a number of asset classes is that it tends to help insulate the portfolio against losses in any one asset class by balancing them with gains in another asset class.
An essential element of their robo-advisor approach is its introductory interview. During this interview, investors are asked to specify what amount of risk they feel comfortable taking with their investment portfolio, what their situation is and what their investment goals are.
Building a portfolio that is right for you will depend on your answers, although you can modify your preferred risk exposure at any time. They even check in with you each year to confirm that your previous level of risk tolerance still applies and is appropriate given your personal situation.
Once you provide that information, will suggest an appropriate blend of assets to place in a portfolio for you based on your designated risk level and goals, which they claim to be able to do in just 30 minutes.
You will also be expected to make a minimum deposit of £1,000 and an additional minimum deposit of £100 per month. The robo-advisor will then take over to manage that portfolio for you and protect it from market downturns.
Broker encourages investors to take a long-term, passive approach to investing over a minimum time frame of three to five years, although they require no minimum investment period. They do advise against frequent trading and recommend instead relying on benefitting from the consistent upward underlying market trend in the stock market.
What did our traders think after reviewing the key criteria?
Fees
The fees for investing at Wealth Horizon tend to be higher than some other robo-advisor competitors, probably since they also offer a form of personalised advice. There are no fees for receiving income payments, withdrawing funds or changing providers. Their fees have four main elements as follows:
Initial investment charge – This is for the portfolio creation and execution service when establishing your investment. It is currently 0.25% of your portfolio value.
Ongoing advice charge – This fee is for the company to give you advice and make sure your portfolio stays on track and suitable for you in future. It is currently 0.5% of your portfolio value.
Platform charge – This fee is for the company to give you advice and make sure your portfolio stays on track and suitable for you in future. It is currently 0.25% of your portfolio value.
Underlying fund charge – This fee depends on the underlying investments in your portfolio. The average that clients pay is currently 0.22% of your portfolio value.
This means that can expect to pay an initial fee of 0.25% of your deposited amount, along with an additional annual fee of around 0.97% going forward for management. The exact amount charged will depend on the investment amounts and risk tolerance you have.
You will be shown these fees when you get your personalised investment management proposal that you need to agree to before you invest with them. The fees will then be confirmed again to you in your Suitability Letter from the company.
Also has a Fees page on its website you can look over for an indicative breakdown of charges that currently has the following table showing its various investment charges, the total per year and how much that would be on a £10,000 initial investment.
Account Types
Wealth Horizon does not offer different investment account types, other than ISAs and GIAs, although each investment plan is customised to an individual's situation, goals and risk tolerance. You do not need to make a large initial investment either, although it is larger than at some other robo-advisor firms that take UK clients.
The minimum initial investment you will need to make is £1,000, with a minimum additional monthly investment of £100. The company does not limit the amount you can invest, and you can add more funds if you like or withdraw funds if you need to.
The firm also lets you transfer an existing ISA and provides guidance on using your ISA allowances optimally up to the legal limitation amount per tax year.  UK residents can currently invest up to £20,000 each year in a Stocks and Shares ISA for investment purposes with them.
The benefit to having this special type of account is that you do not pay tax on the earnings of your investments. If you already have an ISA, then you can transfer it online to Wealth Horizon so that you can implement its recommended investment plan for your situation and risk tolerance in your ISA.
If you have more than £20,000 to invest, you can set up a GIA to place any remaining balance in. Both ISAs and GIAs can be set up online on their website if you do not yet have them.
Platforms
As a robo-advisor, it takes a more managed approach to your money than most online brokers, so you do not make your own transactions with this company. All you will need to do is spend roughly 30 minutes of your time on the company's website to provide the information and needs to build you a suitable portfolio that aligns with both your risk tolerance and investment goals.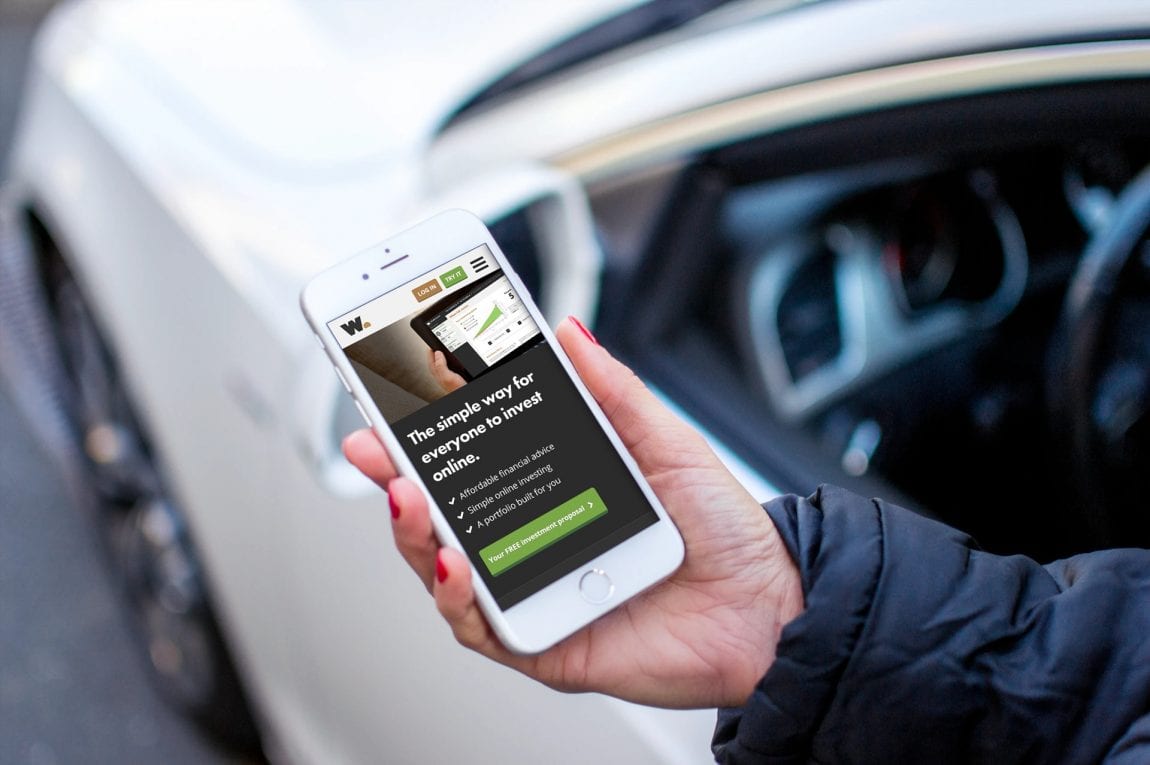 Basically, you will need to answer a series of simple questions regarding your finances and attitudes regarding money. Brokerwill then come up with a suggested investment portfolio aimed at providing a return in line with your risk tolerance. Once you approve of its suggestions, they will then be implemented in your account.
Although those who use it tend to take a "set it and forget it" type of investment strategy, the firm's investment managers do check the assets in your portfolio each month to determine if they remain suitable given your objectives.  If an asset no longer suits your investment criteria, it will be replaced with an asset that does.
Throughout the investment year, managers will also periodically rebalance your portfolio to maintain an appropriate risk exposure. This process may cause you to incur some additional transaction fees and expenses, so be prepared for that.
Once your portfolio is set up, you can then keep track of its performance going forward using Wealth Horizon's web interface. Although the web interface is fine, broker does not seem to provide a mobile app at this time for either iOS or Android devices, so that explains its less favourable rating in this review.
Usability
Official website focuses on simplicity in investing. It has an easy-to-read format with four basic tabs options without pull down menus as follows: Why use Wealth Horizon, Our story, Knowledge hub and In the press. This gives you a good sense of how the site is organised, and each website tab leads you to a page with relevant information.
The robo-advisor's website also has a contact phone number in the upper left and three helpful links at the top right of its pages that are: Contact us, FAQs and Fees. The FAQ is very helpful and answers many important questions investors may have, while the Fees page has details about the firm's various charges for its services. Time-sensitive information provided on the Knowledge hub and In the press pages looked largely outdated though.
Each page also has two buttons that invite the reader to Log In and Try it, just in case you want to get started right away.
Customer Support
Wealth Horizon provides its customers with normal contact options on its website that clients can use to ask questions and obtain technical support. A screenshot of the company's Contact us page is shown below.
The company also has an extensive FAQ section that contains answers to most things you will want to know about the company, how your account will work and what sort of fees you will pay. One item that could be improved upon was that the FAQ section failed to specify what withdrawal time frames clients could expect.
Support options include: telephone, a call back form, email and social media messaging via Twitter and Facebook. The website also lacks a live chat feature.
Furthermore, if you need to speak to someone, you can pick up the phone and chat to one of the firm's qualified Investment Advisors who are available from 8 a.m. to 6 p.m. Monday through Friday.  If those advisors think you need more comprehensive financial advice given your unique situation than they are prepared or authorised to give, then they will suggest you obtain it elsewhere.
With respect to educational support, as their website has a Knowledge Hub, but it is really mostly an old blog. The educational material on investing linked therein just consists of a few videos, a white paper and an eBook. Market-related research seems minimal and quite out-dated, while its social media posts on Facebook and Twitter stopped in August, 2017.  The website's In the press tab similarly disappoints with old information.
This reviewer was left wondering if the notable lack of useful and up to date investment information on website was because clients do not make specific investment decisions themselves. Such decisions are instead made for them by investment algorithm after they provide details about their investment goals and risk tolerance.
Also has several social media accounts, although they are not recently active, even though the company claims to provide support via its Facebook and Twitter accounts on its website. The robo-advisor's Facebook Page only has 188 followers, while its Twitter account has just 609 followers and its YouTube channel has a mere 5 subscribers.
Payment Methods
Wealth Horizon allows clients to make initial deposits online via their secure payment services or by sending them a personal cheque. In addition to the £1,000 minimum initial investment, you will also need to make ongoing deposits of at least £100 per month going forward.
The company does not insist on a minimum investment period, although it does recommend that new clients plan on leaving their money invested for three to five years.
You can cancel your account and withdraw all or part of your funds at any time, but this reviewer was unable to find information on the firm's website about the time frame for funds to be returned to the investor upon withdrawal or account cancellation.
Best Offers
Those UK residents who plan on investing in an ISA or GIA have 14 days to cancel from when their completed application was received by Wealth Horizon. This serves as a cooling-off period just in case they change their mind.
If an investor does cancel, they can still invest in another ISA that same year. If the market falls between the time that the application was received and then cancelled, however, the value of the investor's account will reflect that loss.
Regulation and Deposit Protection
Wealth Horizon is a "trading style and name" used by Self Directed Investments Ltd, which is a fully-owned subsidiary of Aberdeen Asset Management PLC. Broker is based in Bristol, England in the UK, so it must submit to regulation by the Financial Conduct Authority (FCA).
Furthermore, because the firm also currently operates within the EU, it also needs to comply with the Markets in Financial Instruments Directive II, at least until Brexit occurs. This means client funds must be kept separate from its own money.
Investments at Wealth Horizon will be held on deposit with Parmenion, which is a wholly-owned subsidiary of Aberdeen Investments Limited and Aberdeen Asset Management PLC that is also regulated by the FCA.  UK investors also enjoy protection against defaults of up to £85,000 due to their participation in the Financial Services Compensation Scheme (FSCS).
Awards
The information contained on Wealth Horizon's In the press website tab was out of date by several years, although the Who we are tab on its website contains an image that lists the following industry awards the company has won over the past few years.
Platforum – Best Advisor Platform Under £10bn.
The Aberdeen UK Platform Awards 2015.
Defaqto 2016 for DFM Managed Portfolio, 2017 for Gold Platform Service and DFM MPS Direct.
The 2015 FinTech 50.
Financial Advisor Service Awards 2016 – Investments.
Platforum Best Advisor Platform for Technology.
Professional Advisor Awards 2017 – Best Platform for Discretionary Management.
The lang cat Direct Platform Awards 2016 Hero of the Year Award (for Parmenion).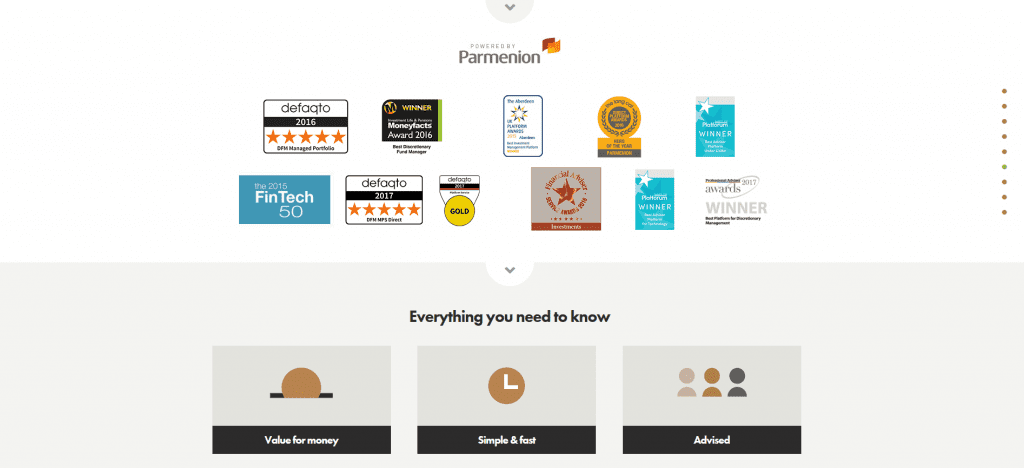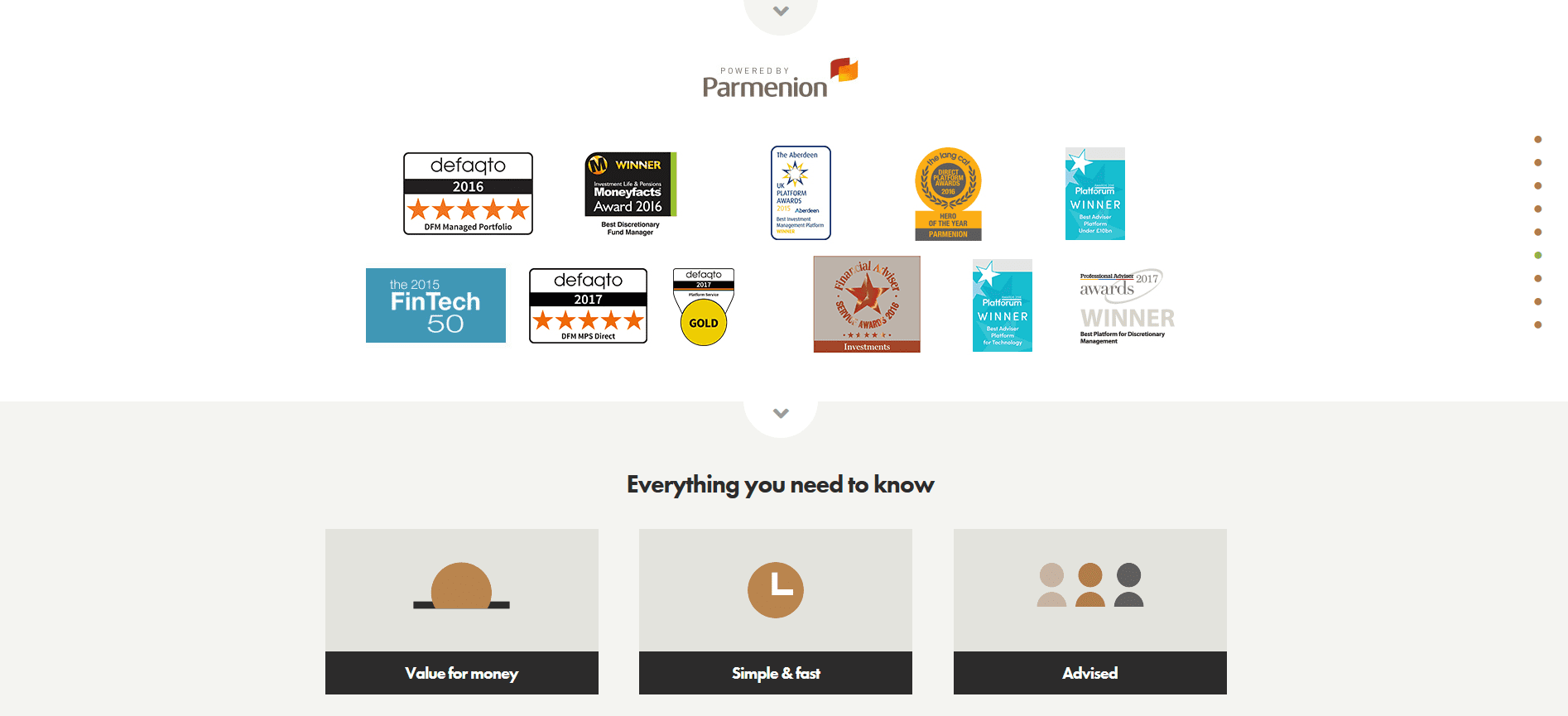 Furthermore, links on the firm's website do direct the reader to some favourable reviews that appeared in the financial industry and mainstream press several years ago that are summarised on this page.