Founded in 2017, this robo-advisor burst onto the investing scene with a simple but effective way to help clients grow their savings. They began a strategic partnership with Aviva in February 2018, which is a global financial services company and the UK's largest insurance provider. This included Aviva purchasing a majority stake in Wealthify in October 2017.
As a UK-based firm regulated by the Financial Conduct Authority (FCA), the broker has five investment plans ranging from 'cautious' to 'adventurous' with both an original and ethical version of each. This helps investors manage their portfolios' risk while enjoying the benefits of a passive investment strategy. You can also invest as much or as little as you want, so you can open an account with as little as £1 and no upper limit.
If you are looking for an investment plan that requires minimal input, this broker is certainly right up there with other robo-advisor options. Also, their fees are very competitive for smaller to medium sized investments, although those with £500,000 or more to invest might find modestly better fees elsewhere.
If you are interested in how we review to determine if the broker will satisfy your investing needs and if it makes sense to open an account with them today.
Wealthify Review Navigation
#

Wealthify Robo-advisor Review
| | | | |
| --- | --- | --- | --- |
| Min Deposit | App Support | Max Leverage | Trading Fees |
| £1 | 5 | 1:1 | Low |
Using this robo-advisor service seems very straightforward. You just select from among their five investment plans that are differentiated by the risk involved and choose how much you want to invest. Invests your money into exchange traded funds (ETFs) and mutual funds according to its investment algorithm and your risk tolerance.
Since there is no minimum investment, you can check out their services with minimal risk. Your portfolio is robo-automated and could include shares, commodities and bonds, as well as property and private equity.  The system will even go back to cash when a market is showing excess volatility.
Unlike some other investment firms, they allow you add funds to or request a withdrawal from your brokerage account whenever you want. This provides considerable flexibility in managing your invested amounts, although the broker can take up to 10 days to release your funds.
UK residents can use an Individual Savings Account (ISA) to invest up to £20,000 tax-efficiently each tax year. Since Wealthify only offers investment ISAs, you cannot currently open a cash ISA, a Lifetime ISA or an Innovative Finance ISA at this broker.
What did our traders think after reviewing the key criteria?
Wealthify Fees
The fees for investing tend to be somewhat lower than its robo-advisor competitors if you are a small to medium sized investor with less than £100,000 to invest, although larger investors may find better fees elsewhere.
Wealthify charges two costs you will need to be aware of that consist of a management fee and other investment costs. Investment costs can include fund charges that are taken directly by the fund manager and dealing spreads, which can add an extra 0.22% to the overall fees you will pay.
Their management fee is a simple annual fee payable on a monthly basis that depends on the total value of your investments. It covers both account charges and investing activities that Wealthify performs on your behalf.
If you have less than £15,000 to invest, you will pay a management fee of 0.7% . From £15,001 to £50,000 you pay 0.6%, from £50,001 to £100,000 you pay 0.5% and above that you pay 0.4%.
Account Types
Wealthify offers two basic account types, and you won't find any VIP accounts with special privileges, since a larger deposit just entitles you to lower management fees.  Also, anyone in the UK can open a General Investment Account (GIA) provided that they are over the age of 18.
The first type of account operates under one of their five investment plans. These are the Cautious Plan, the Tentative Plan, the Confident Plan, the Ambitious Plan and the Adventurous Plan.
While you can select the original version of each plan, Wealthify also specialises in offering an ethical version of each plan to help you invest in socially and environmentally responsible assets.  This lets you put your money where it will do some good while at the same time making a return on your investment.
In addition, Wealthify features an investment ISA for UK residents where you can invest up to £20,000 each year in an investment ISA. The benefit to an ISA is that you won't pay tax on your investment earnings. If you already have an ISA, then their staff can help you to transfer it to Wealthify and implement one of its investment plans. This can even be done online.
If you would like to open up a Junior ISA for your child, then a Junior Stocks and Shares ISA can help them invest their savings for university or to start a business when they turn 18. Junior ISAs offer a tax-efficient way for you to save as much as £4,368 per child each year.
Platforms
Wealthify has a very modern operation that keeps the user experience in mind while attempting to greatly simplify the investing experience. When you visit their website, you will see its content neatly categorised and easily accessible so you can easily learn more about the firm quickly.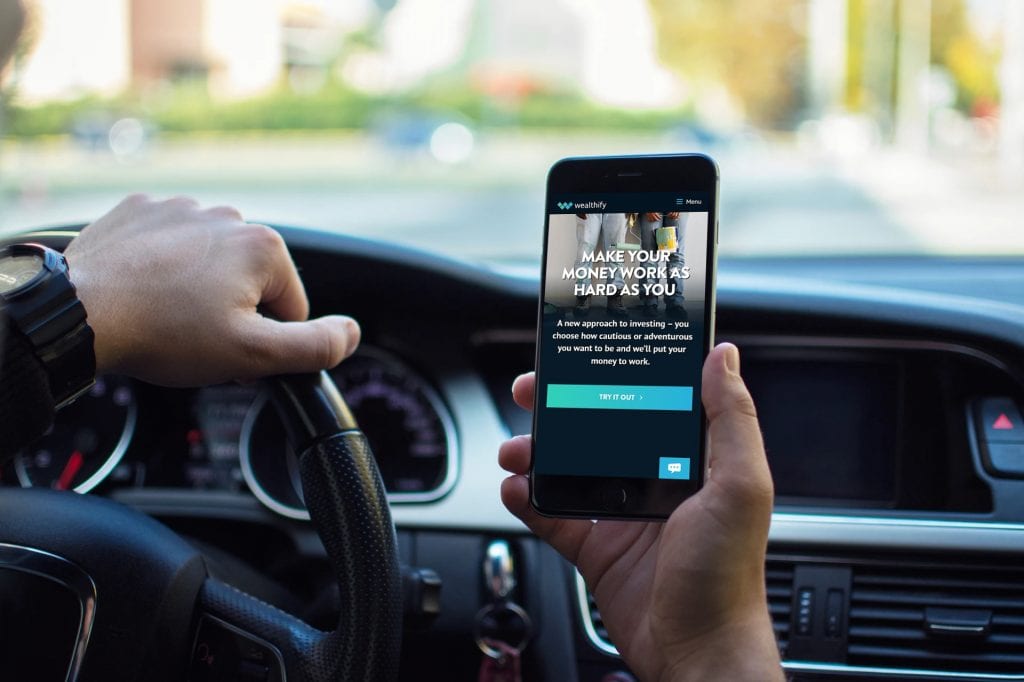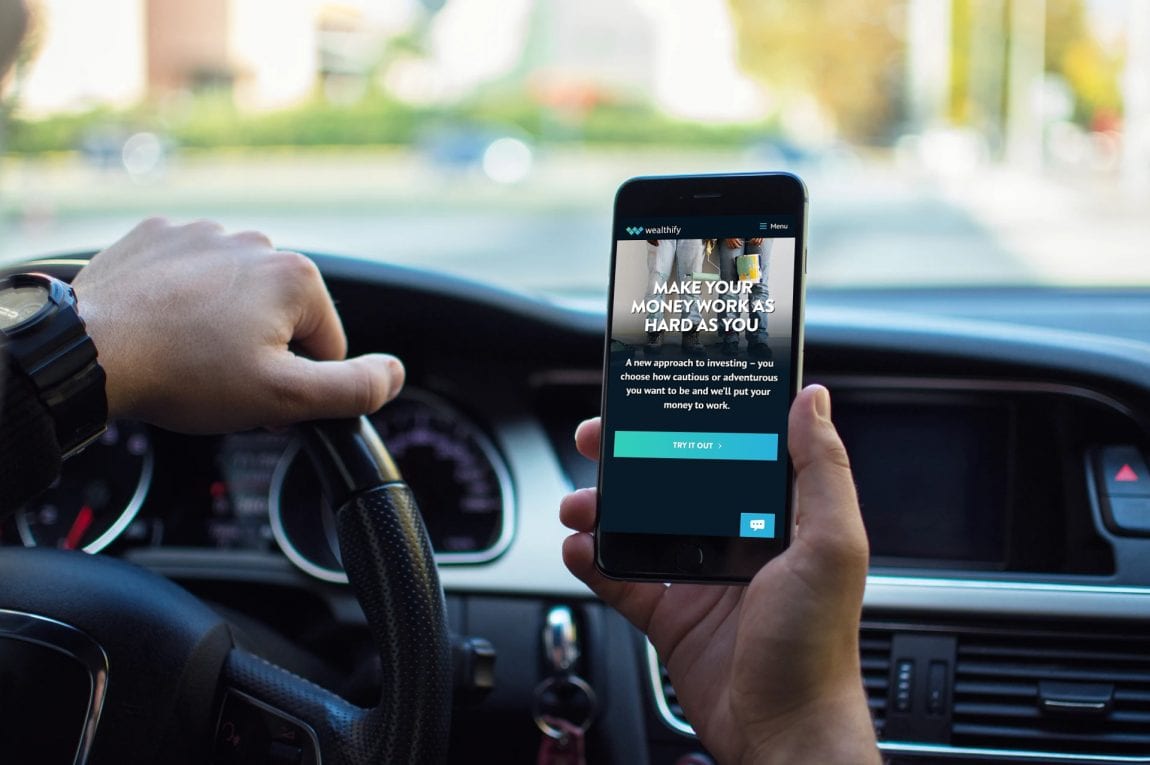 The website's FAQ section contains transparent answers to almost anything you will want to know about the company, how it operates, how your account will work and what sort of fees you will pay.
Their mobile app is available for download on iOS and Android devices and seems both intuitive and straightforward to use, resulting in top marks in this review. It also has a calculator that lets you create your own hypothetical investment plan based on the amount invested, time frame, etc. This can provide insight into the returns you can expect given present levels of market volatility.  Also, the performance feature shown in the screenshot below gives you a sense of how your investment plan is performing.
Usability
Wealthify's official website has a very easy-to-read format with helpful tabs and drop down menus linking to all the basic areas you might have questions about.  The robo-advisor also has a very helpful and transparent FAQ with details about its fee charges.
The website has these tab options: What we do, Products, About us, Blog, FAQs and Contact us. This provides a good sense of the site's organisation, and each tab has an associated pull-down menu that gives you even more detailed information about how to navigate the site.
Each page also has an Invest Now button at the top in case you want to get started right away after reading this Wealthify review.  Although their website has a blog, the robo-advisor doesn't really provide any educational material on investing or market-related research, probably because all of the investing is done for you by experts and its investment algorithm.
Customer Support
Wealthify provides customers with normal contact options on its website that you can use to make general enquiries and get technical support. The company also provides an extensive FAQ you can use to get answers to common questions.
Support options include telephone, a message form, email and live chat. Their phone line is answered by UK-based staff between 9:00 am and 6:30 pm Monday through Friday and on Saturdays from 9:00 am to 12:30 pm.  A screenshot Contact Us page is show below.
Although their customer support staff are very knowledge about the firm's products, keep in mind that they do not provide financial advice, so that is not something you should expect help with since you need to make your own financial decisions when using this robo-advisor.
Payment Methods
Wealthify allows clients to make initial deposits and withdrawals via bank transfer or direct debit, but it does not support e-wallet or debit/credit cards payments. If you chose the direct debit method, you can either select a recurring investment or a one-off investment that you can later opt to 'top up' by making ad hoc payments whenever you wish.
Bank transfers typically take 3 to 5 business days to arrive in your plan's account. One-off direct debits take up to 7 business days to leave your account and then another 2 to 3 days to show up in your investment plan.  Recurring direct debits are deducted on your chosen day, but they then take a few days of processing time to show up in your plan.
Best Offers
Wealthify offers an interesting opportunity to reduce your fees if you sign up for its Circle programme. You can start your own Circle by inviting friends, colleagues and family to join. You will then enjoy discounted fees, and Circles of 50 or more individuals get fee deductions of up to 20%.
Also has several social media accounts. The robo-advisor's Facebook Page presently has over 1,700 followers, while its Twitter account has over 16,600 followers and its YouTube channel has 845 subscribers.
Regulation and Deposit Protection
Wealthify is based in Cardiff, South Wales in the UK, so it is duly regulated by the FCA. Since it presently operates within the EU, it must also comply with the Markets in Financial Instruments Directive II, so clients' funds must be segregated from its own money.
Investments at Wealthify will be held with Winterflood Securities Ltd, which is a global financial services provided also regulated by the FCA.  Also, UK investors may enjoy protection against broker defaults of up to £85,000 via the Financial Services Compensation Scheme (FSCS).
Awards
Wealthify has received various awards over the relatively few years it has been operating that indicate why it has received relatively favourable Wealthify reviews from clients and industry experts. Its recent awards include:
Best Digital Innovation by Wales Online.
The Most Innovative Product and Tech Start-Up Award at the 2017 Wales Technology Awards.
Proposition Development winner – Investment Week's Investment Marketing and Innovation Awards.
Best Use of Technology at the Financial Services Experience Awards in 2017.
Nominated for the Leading Innovation Award at the UK Platform Awards.