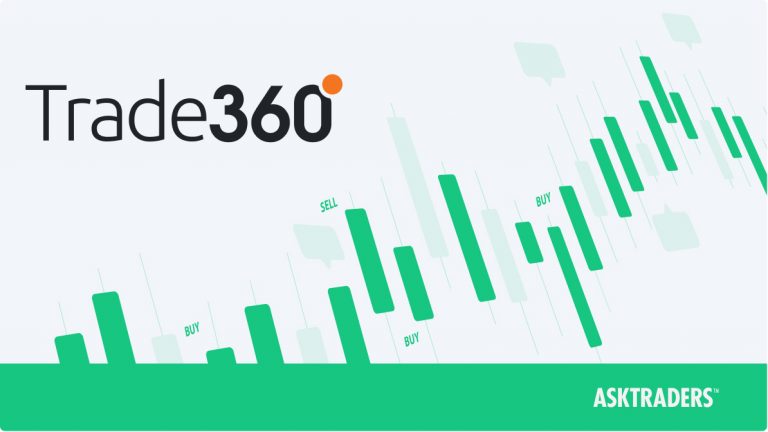 Established in 2013, Trade360 is a trading broker loved by its clients and respected by its peers in the industry. That is evidenced by the awards the business has won, earning the likes of Best Trading Broker and Most Innovative Social Trading Technology at the European Global Business Awards. And these aren't dusty old awards with cobwebs from yesteryear – they were earned in 2020.
Trade360 Review Navigation
#

Forex
| | | | |
| --- | --- | --- | --- |
| Min Deposit | App Support | Max Leverage | Trading Fees |
| £250 | Good | 1:30 | Mid |
All of the traditional major and minor currency pairs are available at Trade360. While there are no fees for opening and closing positions, it is noticeable that the spread can be fairly stingy. At the time of writing, the spread between USD/GBP was almost five pips for traders with an entry-level account.
There isn't the most comprehensive selection of Forex options available either, with just 48 pairs offered – that is considerably less than some of their rival brokers.
#1

CFDs
| | | | |
| --- | --- | --- | --- |
| Min Deposit | App Support | Max Leverage | Trading Fees |
| £250 | Good | 1:20 | Mid |
There are more than 200 tradeable assets and CFDs at Trade360 spread across the usual product range.
There is decent coverage as far as the overall quantity is concerned; however, some of the individual categories of CFDs could do with a more comprehensive offering before Trade360 could be considered as a market leader in this department.
#2

Stocks
| | | | |
| --- | --- | --- | --- |
| Min Deposit | App Support | Max Leverage | Trading Fees |
| £250 | Good | 1:20 | Low |
You'll find more than 450 stocks available at Trade360, from prominent names like Apple, Amazon, and Netflix to new and emerging brands.
Leverage is offered at a rate between 1:5 and 1:20, depending on your account type. You can open and close positions using MT5 and the broker's proprietary software across the full range of trading hours as per each international market.
Both short and long traders are welcomed, and there is zero commission paid on stock trading with Trade360.
#3

Social Trading
| | | | |
| --- | --- | --- | --- |
| Min Deposit | App Support | Max Leverage | Trading Fees |
| £250 | Good | 1:30 | Low |
There can't be many brokers that offer a more detailed social trading platform than Trade360.
The firm has devised its own trading 'environment' called CrowdTrading. It brings together CrowdFeed, a real-time live feed of the markets and asset price fluctuations, and the CrowdTrading Sentiment Indicator, which offers up data on both the market's buy and sell-side to see where the community is investing their money.
The basic premise is that the wisdom of the crowd is sharper and more accurate than the market reading of a single individual. So, with Trade360, you can access essential market information and predict where prices might be heading next.
A range of other tools, including Trend Spotter, identify patterns that fit your trading behaviour while taking advantage of Surge In Position and Trend Reversal to try and stay one step ahead of the game.
Few brokers offer a 'social' trading platform quite like that of Trade360.
What Did Our Traders Think After Reviewing the Key Criteria?
Trade360 Broker Fees
As is the case with many trading brokers, the fees you will pay are based somewhat on the account type you open with Trade 360.
The 'higher' your account type, e.g. VIP rather than standard, the lower your spreads will be when trading many of this broker's instruments – this is the main type of everyday 'fee' that is imposed. It does feel like something of a tax on newcomers to trading or those operating on a tighter budget, but as ever, liquidity rules.
There are also overnight fees and swap rates to be paid when you carry an open position into a new day, and they vary from Forex to stocks.
Trade360 will charge fees for hedged trades. However, there are no charges for deposits and withdrawals.
Account Types
There are six different account types to choose from at Trade360. As ever, these are differentiated by a minimum deposit amount. The higher your opening deposit, the more 'prestigious' your account is considered to be, and the more perks that are available to you.
The entry point is the Mini account, which has a minimum deposit of $250. You'll have access to the broker's bespoke CrowdTrading platform, trading signals, and customer support 24 hours a day, five days a week. However, and this cannot be stressed enough, Mini account holders do NOT have access to MT5 in their trading.
The Standard (minimum deposit $1,000) account offers all of these features and does have MT5, while the Gold ($5,000) account adds exclusive market updates and personalised notifications into the mix as well.
Platinum, Diamond, and VIP are essentially the same as Gold, albeit with a minimum deposit of $10,000, $50,000, and $100,000 respectively. However, spreads are tighter on many trades, and that will be reflected somewhat in your profitability.
On a side note, Islamic accounts are available.
Trade360 wants to attract as many high rollers as possible – understandable, given that this is where their profit lies, but that is against the social trading philosophy. After all, most VIP traders will have their sources of information aside from the wisdom of the crowd.
And they deserve a thumbs down for not allowing their Mini clients access to the MT5 platform – these social traders should have the chance to use all of the platform options.
Platforms
There are four different trading platforms available with the broker, as well as the mobile trading option.
The most basic platform is WebTrader, which offers all of the most straightforward functions that a trader will perform. There are more than 500 assets to trade and stacks of technical indicators.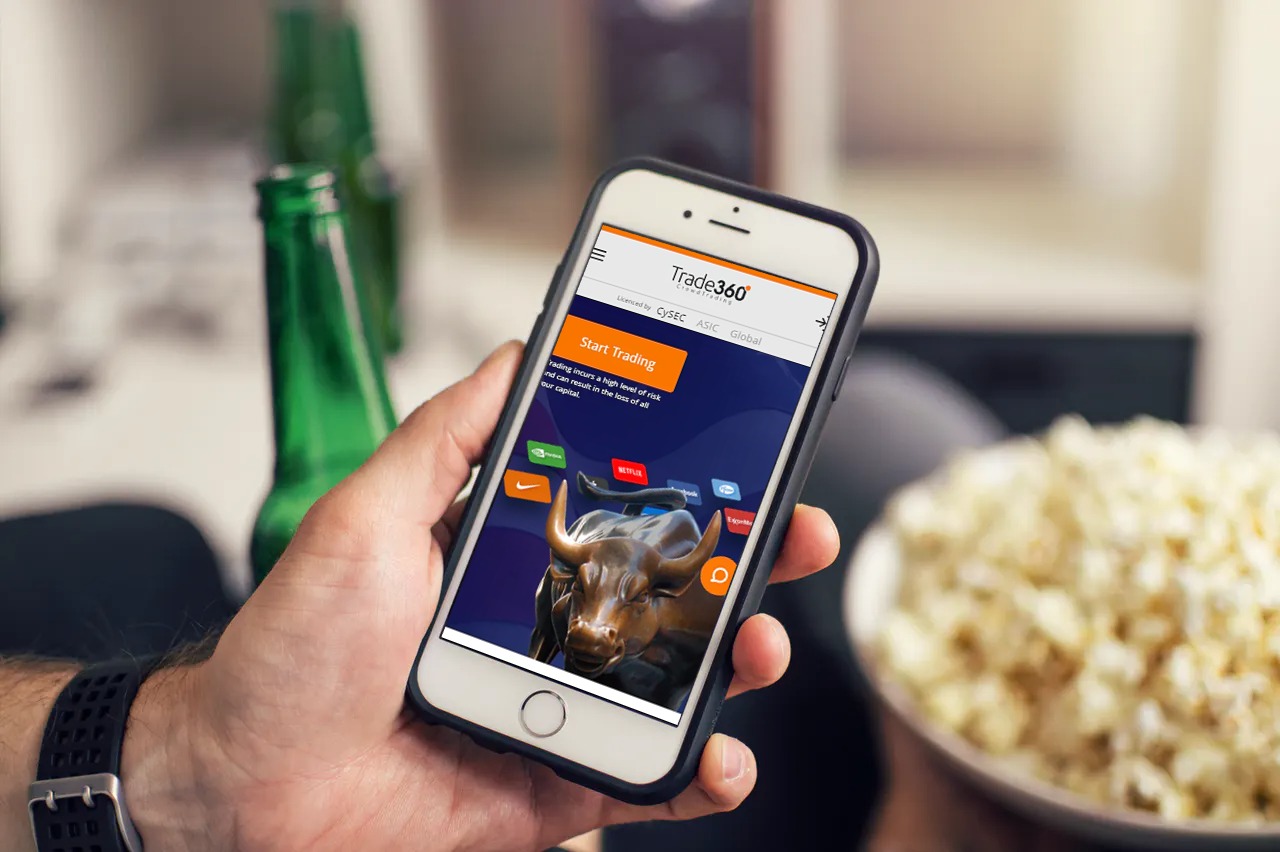 MT5 is available to Trade360 clients beyond the Mini account level, and this software is very much the industry standard for professionals.
Remember, this broker also offers the unique CrowdTrading platform, so you can take hints from the trading community and, hopefully, take advantage of market movements in your favour.
All traders are given access to Trading Central, a provider of tailored trading signals across multiple asset classes.
And for traders who are always on the go, there's a chance to take advantage of a robust mobile trading app. It offers all of the functionality you would suspect from standard desktop trading platforms.
This is an excellent spread of platforms, although Trade360 loses marks for not allowing the Mini account holders to have access to MT5. And they aren't offered MT4 by way of consolation either, although respect goes to the firm for the development of their proprietary CrowdTrading platform.
Usability
There are no real issues with the usability of any of Trade360's assets. The sign-up process for new traders is quick and easy, aside from the usual verification checks you would expect from a responsible broker. Customer support is easy to access, and the account functions will be familiar to anyone who has traded in the past.
The usability of the broker's software speaks for itself – some traders prefer WebTrader, others MT5 – while the CrowdTrading platform is intuitive and simplistic (in a good way) in its operation.
Finally, mobile traders will find the app very straightforward when opening and closing positions on the go, so all things considered, we can conclude that Trade360 is a broker that is easy to use no matter which of the platforms you choose.
We would, however, like more – much more – in the way of educational content. The broker's website contains a useful glossary of common trading terminology, and there is a more comprehensive section dedicated to each tradeable asset and instrument that they offer.
A market report, updated daily, is also a nice touch. Still, we would like to see more in the way of blogs, interviews, and video tutorials from the firm's lead traders or specially invited industry experts.
Customer Support
If you are looking for assistance with your account or trading in general, you might find your question answered in Trade360's help centre. It is a mini-FAQ with information on payment methods, documentation, and more.
If that doesn't help, the usual triumvirate of ways to contact their customer support team is available. There's a phone line, a messaging service (either via their website or standard email), and live chat, the latter of which is manned 24 hours a day, five days a week.
Trade360 goes a little further than most brokers with its support and will provide remote assistance if you experience a technical issue with one of the products. Using the TeamViewer platform, you can grant access to a support engineer who will assist you on your screen to find the answers to your problems.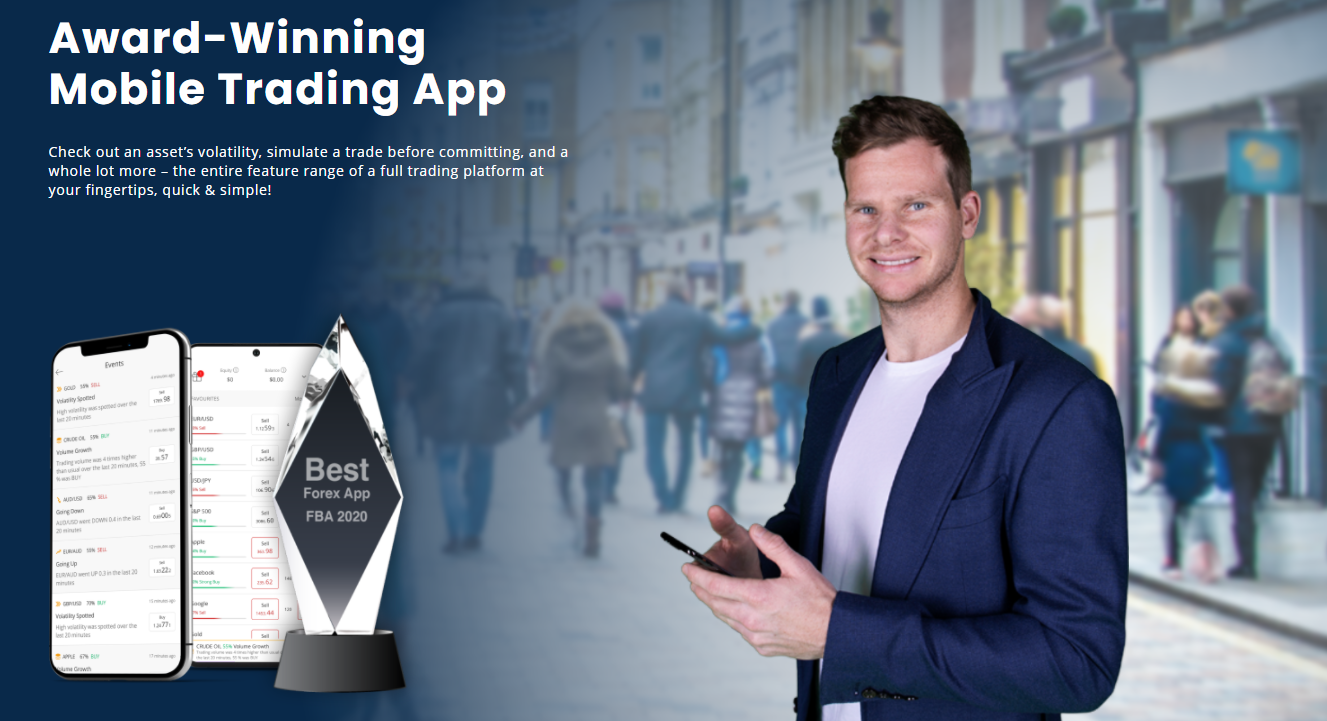 This is an excellent support provision that is made all the better because Trade360's support team seemed knowledgeable about their company and its products. Written messages were replied to swiftly and efficiently.
Payment Methods
The payment platform supplied by Trade360 is secure and reliable. All you need to do is select which method you want to use, action the deposit via your account, and your funds will be ready to trade within a matter of moments. Remember, all deposits with this broker are conducted free of charge.
Card Payments
Both credit and debit card deposits and withdrawals are welcomed by Trade360, with all of the major institutions – Visa, MasterCard, Maestro etc. – all accepted.
Bank Wire Transfer
You can make a bank transfer using the Trade360 website, with all of the necessary steps documented on screen. Deposits and withdrawals via bank transfer will vary as far as their processing time is concerned; they can take anything from 12 hours to a few working days.
e-Wallets
All of the major e-wallet methods are accepted for deposits and withdrawals, including Skrill and Neteller.
When you wish to make a withdrawal from your Trade360 account, you will first need to complete the 'know your customer' verification requirements. You can only withdraw using the payment method used for deposits.
Withdrawal requests are processed within three days – pretty much the industry standard you will find with most brokers, and it can take anything from 3-14 days for your funds to hit your account depending on the financial institution in question.
Happily, there are no withdrawal fees levied.
Best Offers
Unfortunately, due to the stringent rules of CySEC, Trade360 is not allowed to offer potential clients any bonuses or inducements to get them to sign up for an account. As such, the offers on the table from Trade360 are non-existent (albeit through no fault of their own).
Aside from a welcome bonus of some kind, the broker does let you open up a demo account, so in that way, you can test out trading strategies without any risk to your bankroll.
Regulation and Deposit Protection
As a broker that operates within several jurisdictions worldwide, Trade360 has secured the necessary licensing from several key regulatory bodies.
They include the Cyprus Securities and Exchange Commission (CySEC) and the Australian Securities & Investments Commission. Adherence to the standards outlined by the Markets in Financial Instruments Directive (MiFID) also offers the firm's traders peace of mind that they're in safe hands.
What's more, Trade360 operates within some countries of the European Economic Area. So they are registered with the Financial Conduct Authority in the UK, the Federal Financial Supervisory Authority in Germany, the Banque de France, and many other international authorities.
All of which leads us to believe that Trade360 has left no stone unturned in proving its credentials as a premium trading broker. With such widespread regulatory power monitoring their every move, traders can have complete confidence that this is a firm operating entirely by the book.
As far as deposit protection is concerned, Trade360 is a member of the Investor Compensation Fund. That offers clients in European countries the comfort of knowing that they will have their funds returned if the broker is deemed to have acted in an incompetent or illegal way.
Awards
If you're looking for further evidence that Trade360 is for you, you might find it among the glittering array of trophies and awards they have landed at various industry events.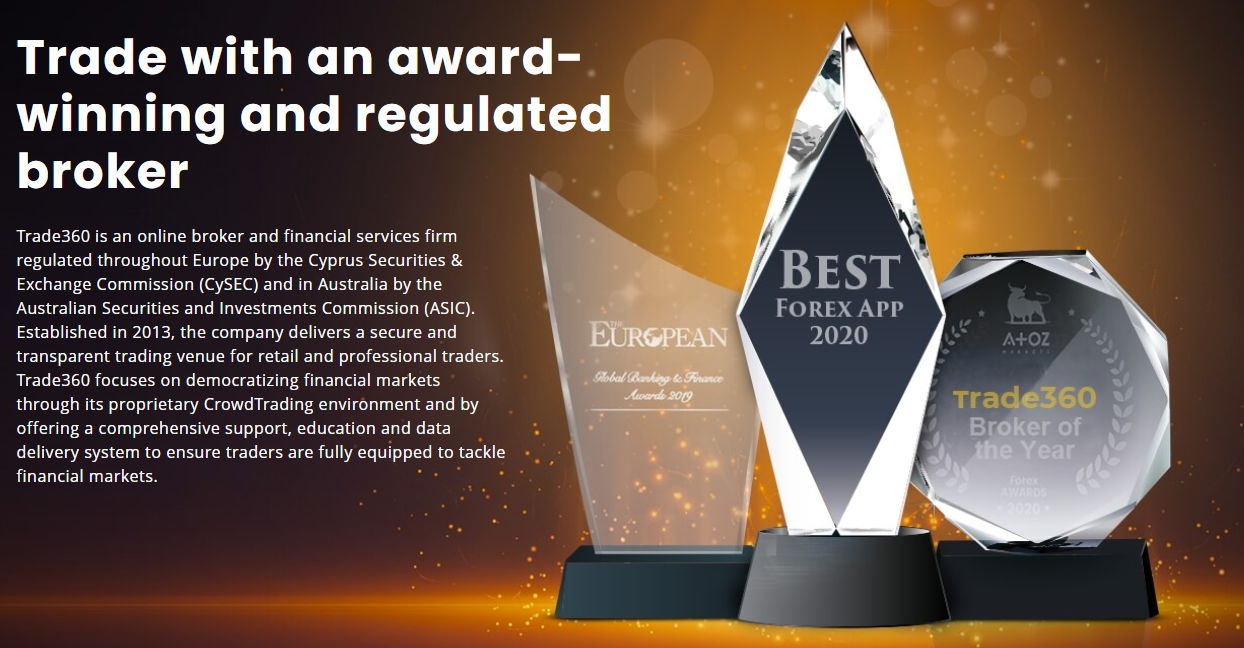 In 2020, the firm took the Best Gold Trading Broker trophy home from the European Global Business Awards, with a special commendation for 'revolutionising the concept' of online trading, courtesy of the CrowdTrading platform.
And that's not all. They claimed the Most Innovative Social Trading Technology for many of the reasons we have outlined in this Trade360 review from the same award ceremony.
At the AtoZ Forex.com Broker Awards, the company has scooped the Forex Innovator gong on three separate occasions. So far as recognition from its peers is concerned, Trade360 has undoubtedly succeeded.