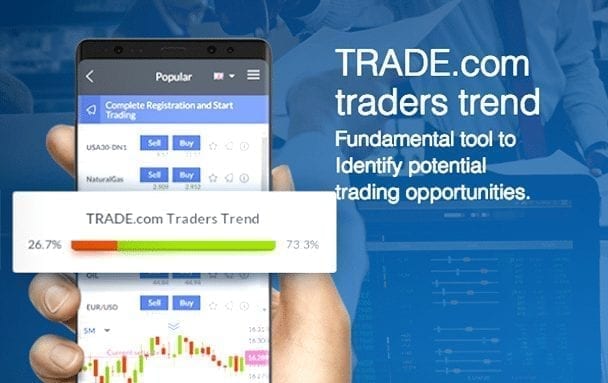 Trade.com MT4 is one of the platforms available on Trade.com, the trading name of Lead Capital Markets Limited. The company is regulated by the Cyprus Securities and Exchange Commission (CySEC), with licence number 227/14. MT4, or MetaTrader 4, is a widely used electronic trading platform developed by MetaQuotes Software. The platform was launched in 2005 and has been one of the most popular trading software platforms ever since. It is available to foreign exchange brokers worldwide and can be downloaded for Windows, Android, and iOS. Some of Trader.com's MT4 most notable features include the following:
Customisation tools
Available on desktop and mobile
Expert account managers available 24/5
Multiple assets and products.
Trade.com MT4 review
Trade.com MT4 is a tried and tested trading platform that offers easy customisation, automated trading, trading alerts, and access to a range of assets and products. The platform allows traders to monitor over 350 assets, a feature that MT4 is very proud of, as it enables those who use it to adapt and react to fluctuating markets in the fastest time possible. It also allows traders to scrutinise trade opportunities and to observe the market in real time.
MT4 provides access to a wide range of products, including CFDs, commodities, bonds, forex, futures and indices. Apart from this global access to different financial markets, the software makes it possible for traders to apply one-click executions as well as stop and limit orders. The software is linked to Trade.com's customer service department should the trader need assistance in operating the platform. This seamless integration to client support services makes it easier for traders to talk to dedicated account managers whenever they need. With Trade.com's aim to provide excellent customer service and full client support, its representatives know the intricacies of MT4 by heart and can assist traders who need help with using the platform. Even those who are on practice accounts can talk to account managers to get expert advice. Traders who would like to explore the platform can visit www.trade.com and download the software from there.
MT4 basic navigation
By default, the navigation window presents four charts divided into four sections or windows, and they each represent currency pairs. Traders can change that arrangement later if they want to view other charts. The toolbars are at the top of the screen, and on the left side, traders will see a dedicated window for "Market Watch." Traders can click any of the two tabs at the bottom of that window: "Symbols" and "Tick Charts." The first tab shows a currency pair list, and the second tab shows current price activity. Just below "Market Watch" is the "Navigator," an area where users will see "Scripts," "Expert Advisors" and "Accounts." Trade, Account, Mailbox, Experts, Alerts, and Journal are shown at the bottom of the screen. The platform also offers a range of charts and settings:
Traders can change the colour of the price charts to one with which they are most comfortable
To change the chart's colour and style, traders need to right-click on the price chart for "Properties" to appear
When a colour scheme has been chosen, the changes are secured by selecting "Save Template"
Traders can also add technical analysis indicators to any of their price charts
The additions include volumes, trends, etc.
Trade.com MT4 capabilities
Traders can minimise or maximise the charts on the platform. They can also opt to close or restore them. If users want to take a closer look at their charts, they can zoom in. That feature is particularly useful if traders need a close up of the analysis they are viewing. The platform also has a set of time frames ranging from one minute to a few hours, a day, a week or a month. To find the right time frame, traders only need to click on the clock or timer icon termed "Periods." A drop-down menu then appears to allow selection of the desired time frame.
MT4 also has drawing tools on the toolbar. The tools include horizontal and vertical lines, Fibonacci retracements and channels. The platform also shows traders whether they are connected to the internet. One of the more advanced features of the platform is the use of an Expert Advisor, a program that traders can execute on request. To find out more about this feature, traders can click "Help," followed by "Help Topics." The user guide will explain how Expert Advisor and other programs, such as scripts and custom indicators, are created and applied.
The best stock broker around
Trade.com is one of the most trusted stock brokers to date. Apart from MT4, the broker also offers WebTrader, an online trading platform for traders who are not comfortable with or have not yet mastered MT4. The platform offers over 2,100 assets to traders, including foreign exchange pairs, global exchanges, commodities and cryptocurrencies. Like MT4, WebTrader also has a multi-chart display complete with its own chart functions. This web-based platform has mobile compatibility, a range of trending tools and a central trading window. Users can also customise the chart settings and its style. It also has settings for price action displays and time frames. Other features include live chat, support, one-touch account switching, access to FAQs and the capability to withdraw or deposit right on the system. In-platform price alerts, along with account levels and real-time balances, are also available. Both platforms are fitted with powerful analytical tools and choosing either will serve the trader well.
In addition to providing two trading platforms, Trade.com also has an in-house resource centre. The centre includes top quality industry tools that help traders to make better decisions and inspires them to take attractive trading opportunities. The resource centre also provides market news from trusted sources, covering anything from stocks and indices to bonds and currency instruments. The news articles are posted to ensure that traders are well-informed about their trading positions 24/7.
Trade.com news, education, and support
Market news is very important for traders, but Trade.com has taken information to the next level by adding a market outlook section to its website. The market outlook section provides a daily pre-session video feed that keeps traders updated about trading opportunities. The website also has an education centre that offers free access to industry tools and an economic calendar that details significant economic reports and events. Trade.com also has live chat support right on its website. The live chat connects to the customer service department within seconds, and clients are immediately greeted by the company's friendly personnel.
With an aim to reach more traders around the world, the website is available in English, Danish, French, German, Italian, Portuguese, Spanish, Greek, Polish, Romanian, Czech, Mandarin and Arabic, among others. Moving from one language to the next is seamless most of the time, save for an occasional bug that displays one language on the website and another in the live chat window. Traders can solve this problem by refreshing the website or by calling customer support. Trade.com also offers a range of payment methods. The methods include major credit cards, such as Visa, Visa Electron, Diners Club International, JCB and Mastercard. Traders can also use Qiwi, Skrill, WebMoney, and Neteller.
How can MT4 enhance your trading experience?
The trading platform is armed with many innovative strategy systems and customisation tools aimed at both experienced and novice traders. The main advantages are:
MT4 allows clients to employ automated trading techniques
The ability to manage trades and analyse prices of assets or products
Before traders can take advantage of its capabilities, they must master the platform. According to broker comparison sites and investment websites like Investopedia, MT4 is among the most robust trading platforms around, and because of its advanced capabilities, it does take time to master the program. The good news is that once novice traders learn how to use the software, they quickly begin to appreciate the intricacies of MT4. Traders who would like to take advantage of MT4's powerful features are advised to open a demo account online. Mobile trading, the market itself and trading signals are also integral parts of the platform, and they, along with its other features, can enhance a trader's dealing experience. The software offers a range of opportunities, including copying trades of other traders; an MT4 innovation that Trade.com loves. Traders who want to keep an eye on several markets while making sure that their experience is customised to their trading support requirements should use this platform.
Trade.com review: Is Trade.com a scam?
A lot of novice traders ask this question when shopping for a broker, and this holds true whether they are researching Trade.com or any other broker. While stock broker comparison websites are quite helpful, novice traders are difficult to convince; however, that is natural, as they are going to part with a portion of their income, and there is that danger of losing their hard-earned money if the broker is not licensed. It is important to note that the majority of brokerage firms and stock brokers are honest and reputable. In the case of Trade.com, traders can call the Cyprus Securities and Exchange Commission (CySEC). CySEC regulates the Cyprus Stock Exchange and all transactions that the stock exchange carries out. It is also responsible for supervising licensed investment firms, such as Lead Capital Markets Limited, and has the power to grant licences to brokers and brokerage firms. CySEC can impose disciplinary penalties and sanctions. One of the most confusing details for novice traders is the fact that brokers operating online are registered under CySEC and that a CySEC registration allows brokers to operate within Europe. Traders who would like to make sure they are dealing with a licensed broker can contact CySEC through their official website www.cysec.gov.cy or call them at +357 225 0 6600. Lead Capital Markets Limited, the owner of Trade.com, is registered under licence number 227/14.
Learn more about Lead Capital Markets Limited
Incorporated as a private limited company in 2013, Lead Capital Markets Limited is a Cyprus Investment Firm (CIF) that provides a range of investment and ancillary services. The company owns the Trade.com brand as well as Finexo.com and Forexyard.eu.com. In compliance with the financial regulations of the European Union, the company keeps client funds in licensed financial institutions within Europe, and those funds are segregated from Lead Capital Markets' operational funds. The firm is a member of the Investor Compensation Fund (ICF) to fully protect its clients, a fund set up by Cyprus' Central Bank and CySEC specifically for clients of Cyprus investment firms, such as Lead Capital Markets Limited.
The Investor Compensation Fund is a statutory fund for CIF clients if the company defaults or is in financial distress. That membership ensures that Trade.com clients and other clients of the company can claim compensation if such an event occurs. This is extra insurance for both Lead Capital Markets' clients and the company itself. Ensuring the safety of all client transactions, such as depositing and withdrawing money, is also important to the company. That's why it uses physical and technical safeguards to protect its data systems. All data transmissions use SSL encryption, and all financial transactions made on any of Lead Capital Markets' trading sites are handled by licensed payment services.
Should you start using Trade.com MT4?
MT4 is a reliable and robust trading platform widely used by brokers around the world. While it is somewhat difficult to master the software initially, it does give traders the opportunity to enhance their trading experience and their productivity. MT4 has already proven itself on the world stage, which leaves traders reading this article with one question in mind – should they open an account withTrade.com? The answer is yes. The company is registered in Cyprus, and its licence is compliant with the European Parliament's Markets in Financial Instruments Directive's (MiFID) requirements to ensure investor protection and that the investment services offered by Trader.com meet all applicable regulations. An EU legislation, MiFID is applicable in all 30-member states of the European Economic Area (EEA). In accord with this directive, Trade.com's owner, Lead Capital Markets, is registered with all financial regulators of the countries in which it operates.
PEOPLE WHO READ THIS ALSO VIEWED: