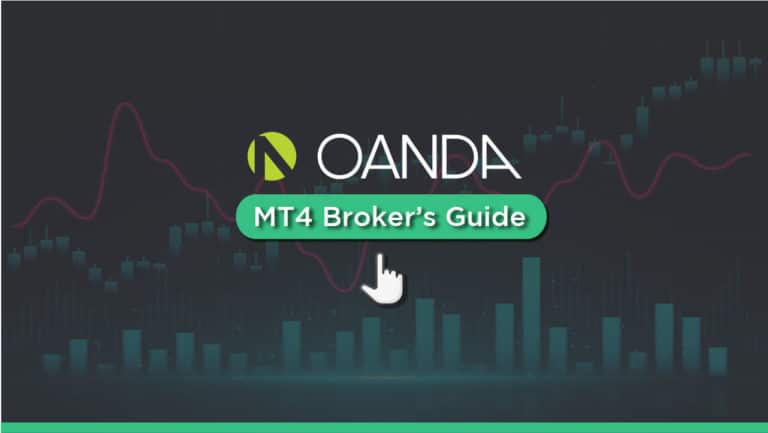 A Well-Established History – But is it a Positive One?
As with any platform, when considering the OANDA MT4, it is a good idea to get a feel for the company, delving into its reputation as a broker. When making a broker comparison, there are plenty of methods to use. Reading reviews, articles and browsing the website is a good place to start with finding out more about the company. OANDA's first platform, the fxTrade Platform, was the first online, fully automated retail forex trading platform, and it has gone from strength to strength. It is estimated that OANDA's servers process more than a million transactions per day and account for nearly 20% of the industry's traffic. While all broker sites will make grand claims about their capabilities, OANDA can substantiate its claims with a number of prestigious awards over the years. These include:
'Best Forex Broker' (ShowFX 2017)
'Best Forex Trading Technology' (UK Forex Awards 2017)
'Best Retail FX Platform' (Week e-FX Awards 2016)
'Best Value for the Money' (Investment Trends US FX Report 2016)
'Highest Overall Client Satisfaction' (Investment Trends US FX Report 2016)
The number of awards and the fact that so many have been won in recent years suggest that this is not a company that rests on its laurels but continues to strive for the best possible experience for its clients. The breadth of the awards also suggests that this is a trading platform that scores highly all round.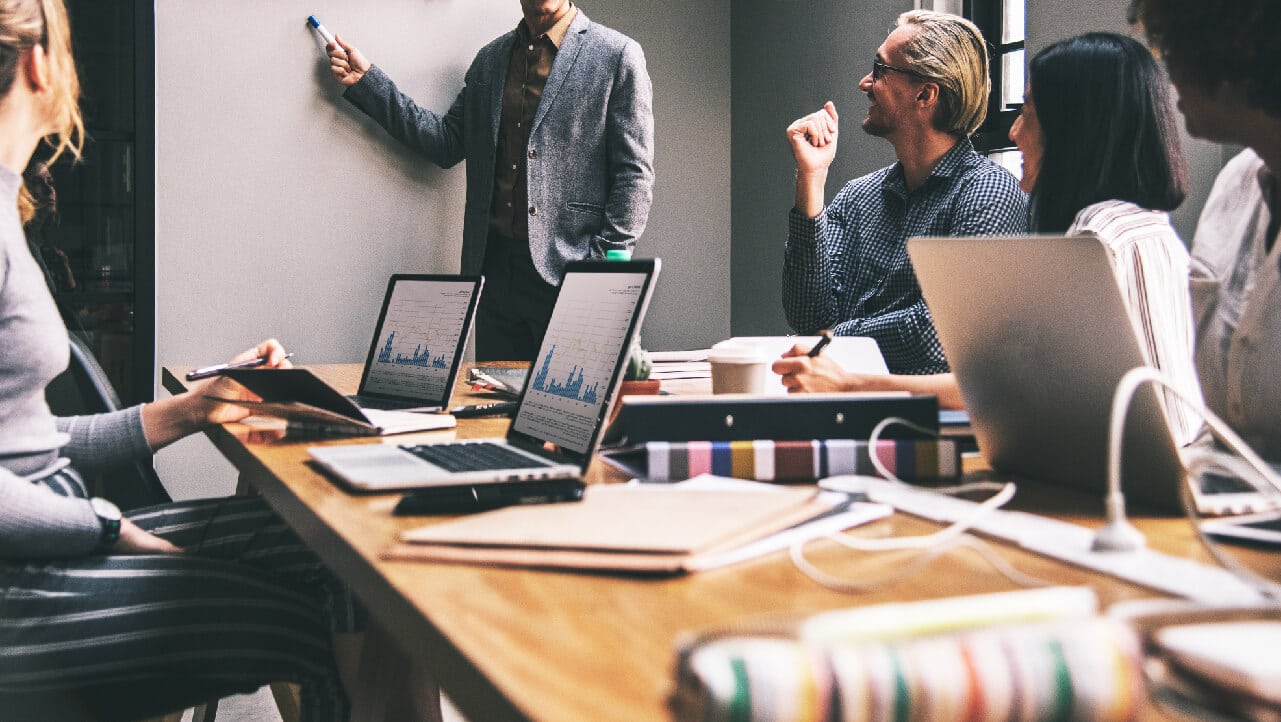 Trading on an Oanda Metatrader 4 Platform
MetaTrader 4 is an online trading platform developed by MetaQuotes Software, allowing investors to trade in forex, CFDs and the futures market. The platform can be downloaded from its website, but many investors like to use a broker's platform such as the OANDA trading platform.
A feature of MT4 is the use of Automated Expert Advisors (EAs), programs that follow a certain set of instructions allowing trades to be opened or closed without the trader needing to be present. This reduces the instance of trades being missed while the trader is away from their computer. With its use of charts and graphs, it is straightforward to plot trends and price fluctuations. It has become the most popular trading platform for forex trading.
The software is light, so it will not overload a system – this means that it is ideal for fast trading in a volatile market when every second needs to count. With most platforms providing analytical and trading tools, even complex strategies can be carried out. The platform is very user-friendly, making it suitable for the novice trader to use. Although a more advanced MT5 platform has been launched, MT4 remains the most popular platform and is more than adequate for most trades.
With its ease of use and popularity, it is not surprising that so many brokers have launched their own versions.
What Does Oanda Offer on Its mt4 Trading Platform?
On its website, OANDA boasts that by opening an MT4 account with them, you can enjoy all the positive features of MT4 combined with the competitive spreads and exceptional trade execution for which OANDA is known.
The OANDA MetaTrader 4 allows you to
Build algorithms and backtest strategies
Supports EAs, including ones with hedging capabilities
Allows you to use the MetaTrader 4 platform to open long and short trades
Possible to trade straight from charts with nine time frames and multiple displays
Ability to scan the market using the 50 built-in indicators
Includes OANDA's MT4 Order Book Indicator
MT4 plugin to access OANDA's technical analysis
Intraday market scanning
Automated alerts for specific patterns
Pattern quality indicators and automatic chart pattern recognition
The ability to complete trades directly inside the interface
Option of using an OANDA VPS Provider that allows trading to continue even when the computer is off
Mobile MT4 app allows trading almost everywhere you go
How to Connect OANDA Account to MetaTrader 4
In order to connect and use MetaTrader 4 on OANDA, you need to first have an OANDA trading account. Below are the steps you need to take to connect the platforms and enjoy trading with OANDA MT4 platform.
In order to connect and use MetaTrader 4 on OANDA, you need to first have an OANDA trading account. Below are the steps you need to take to connect the platforms and enjoy trading with OANDA MT4 platform.
Go to OANDA homepage and click on the sign in tab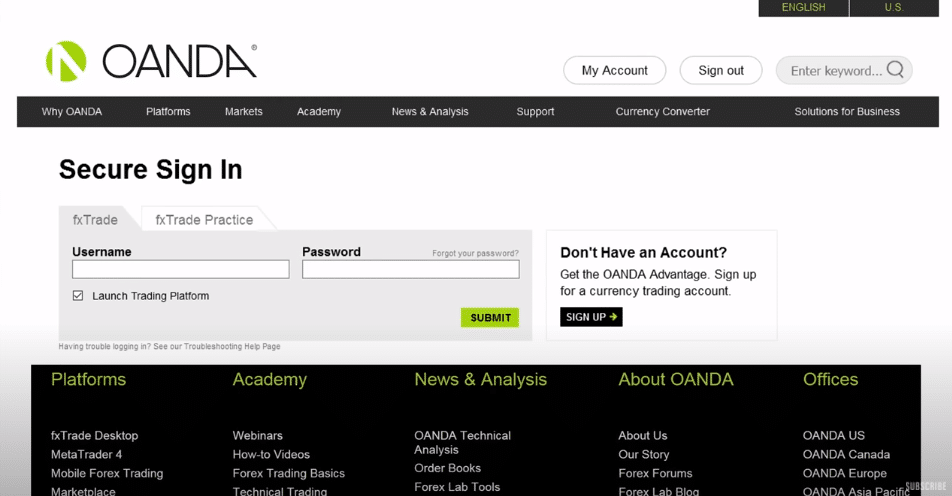 Once you are directed to your account information section, click on 'Add sub account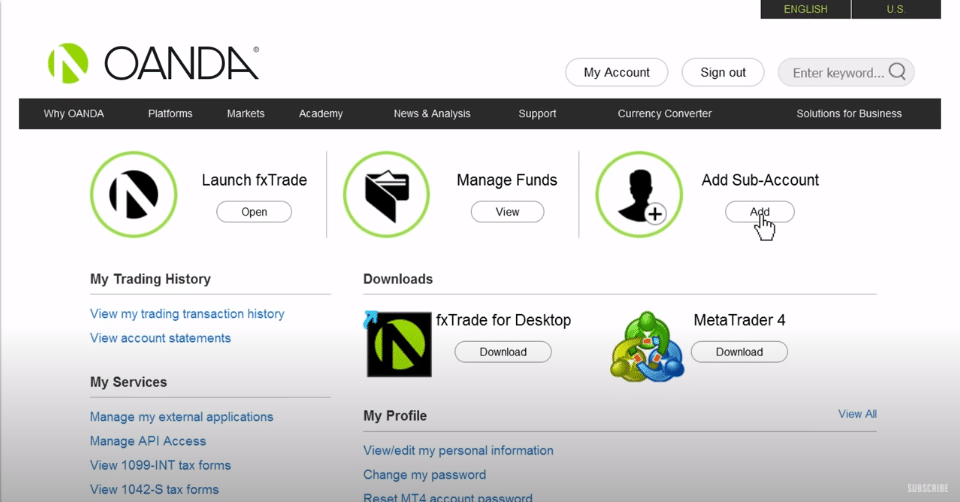 Choose and select the 'add new sub account' under the fxTrade accounts tab
To make your MetaTrader 4 account compatible, click on the 'MetaTrader 4' radio button located on the right side of the page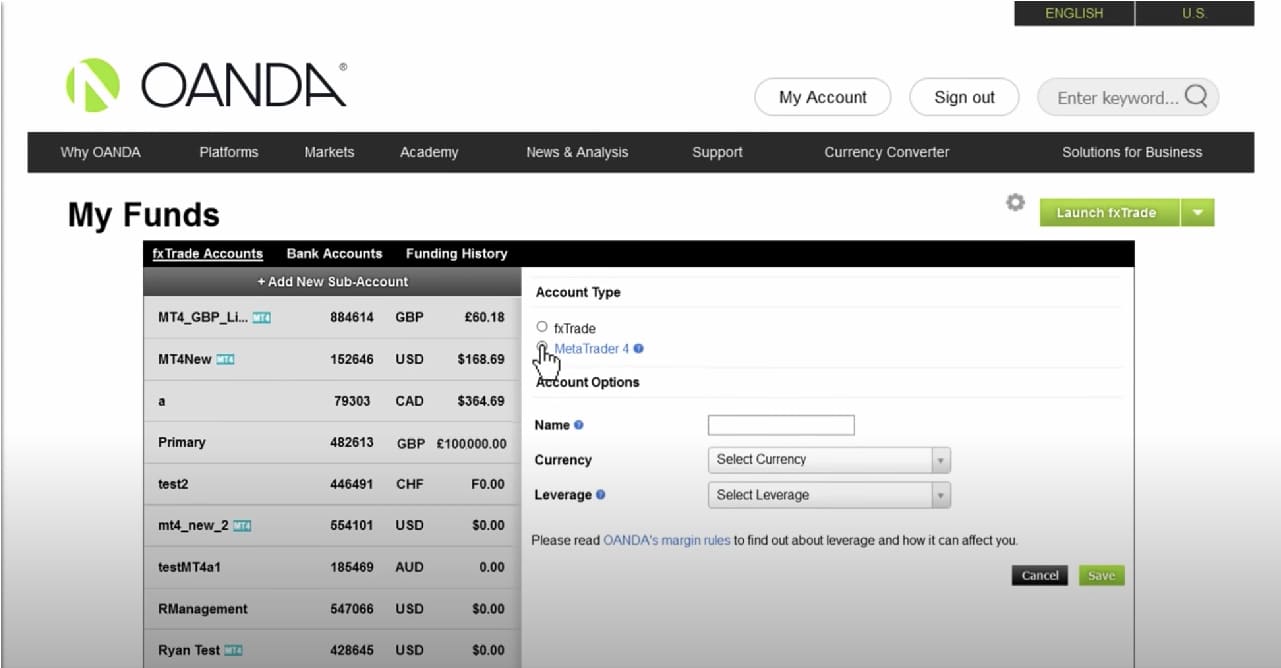 Key in your password once you will be prompted, and key in a distinctive account name for your MT4 account
Select the base currency and the amount of leverage you wish to use from the drop down menu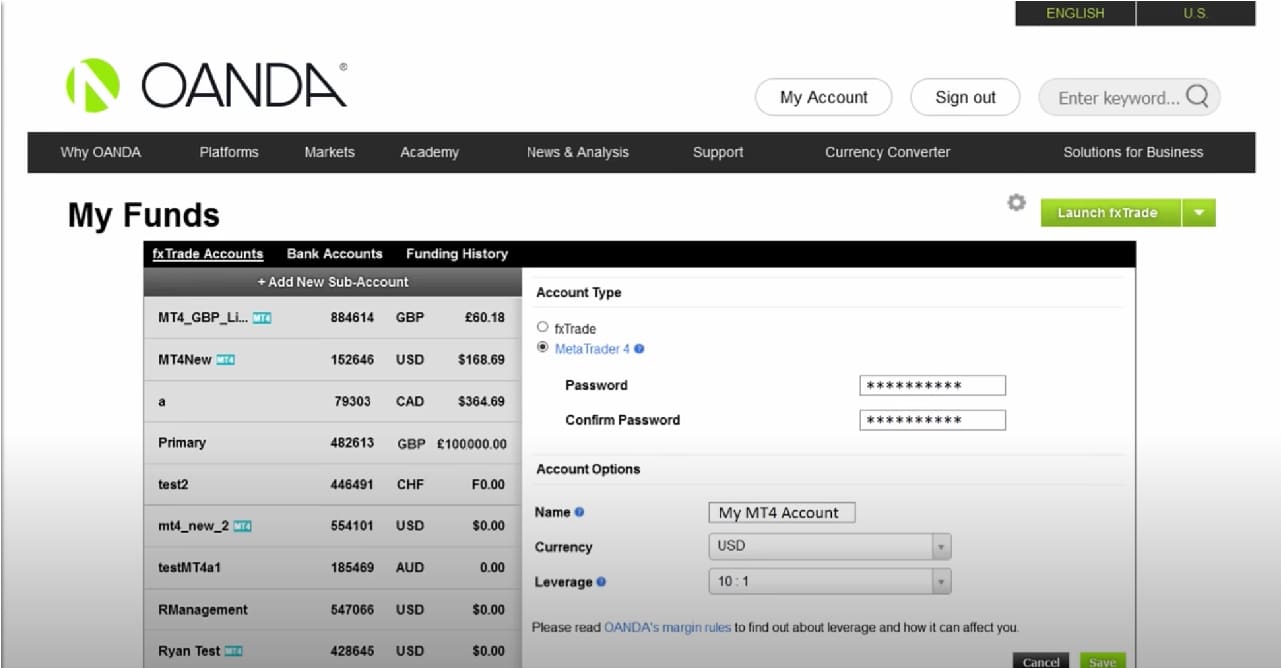 Click on to agree with the terms and conditions, and your account will be created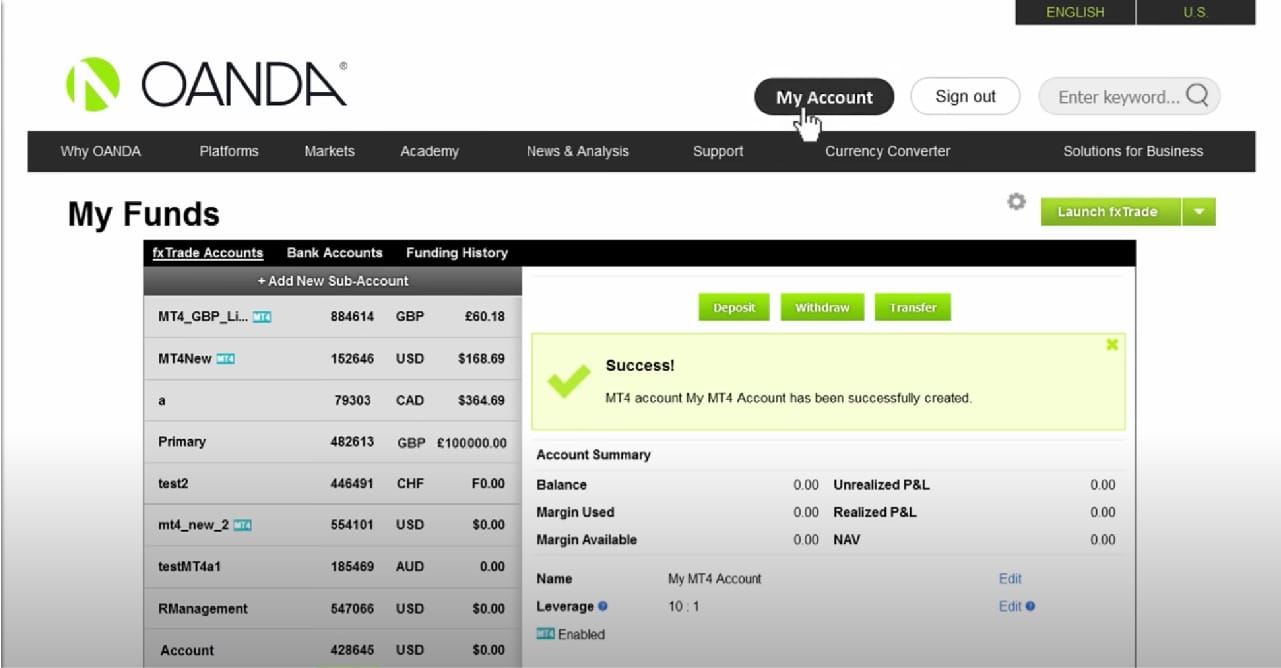 Your accounts information will be available on the left side of the same page. Make note of your MT4 account number you wish to open in MT4 for the sign in process later.
How to Download MetaTrader 4 for OANDA
Once you have successfully connected your OANDA and MT4 account, you can now download the MT4 for OANDA. Below are the steps you will need to take for downloading.
On the same page you connected the MT4 account to OANDA, click on 'My Account' button to go back to your account management page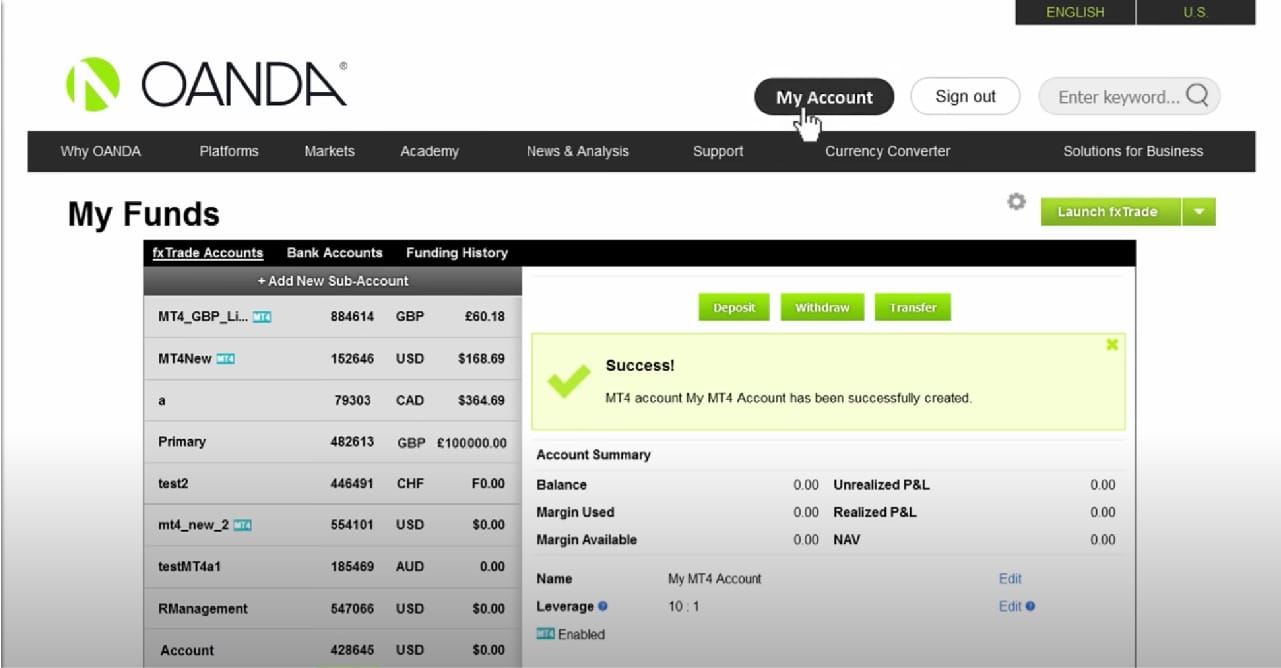 Click on download button underneath the MetaTrader 4 icon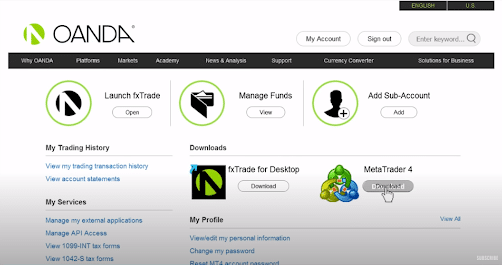 A new window will appear asking if you wish to save the file.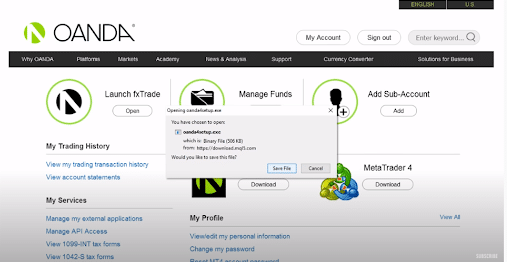 Click on the installation icon from where you just downloaded on your downloads folder
Click 'Allow' when a window pop up asking if you would allow the program to make changes to your computer
Once the download completes, click on to agree to the terms and conditions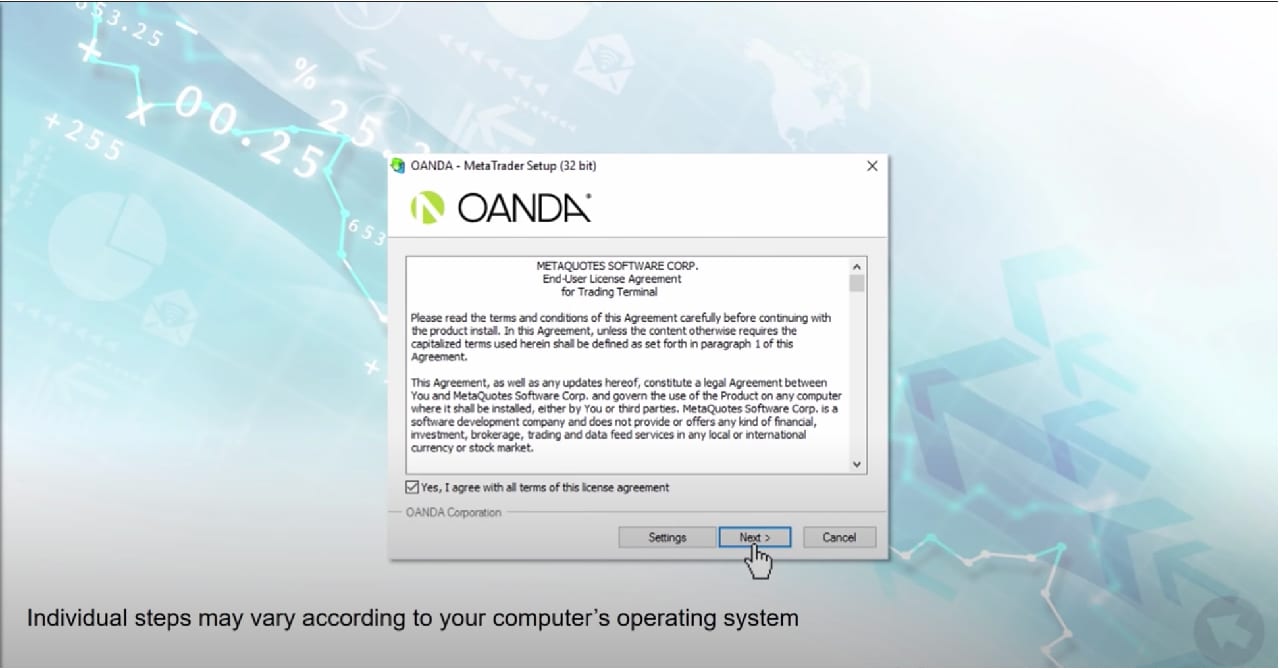 Continue installing the program as per the instructions
Once installation is complete, MT4 instrument panel should automatically open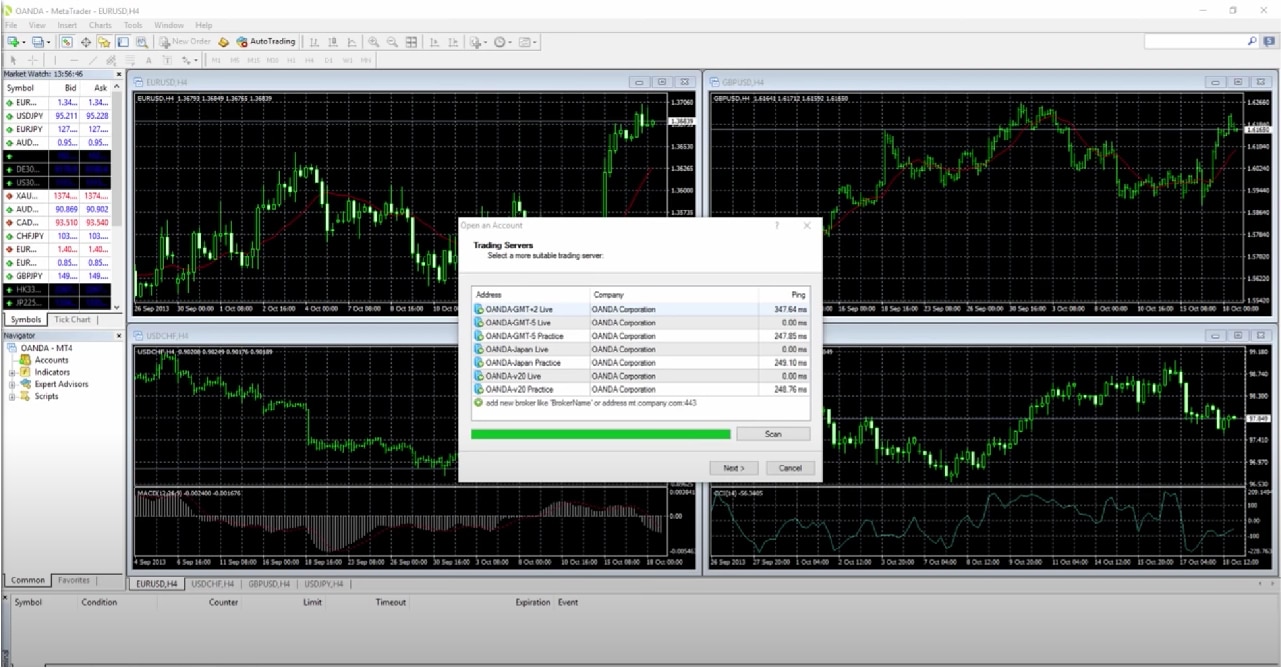 A window of 'Trading Service' will pop up, where you need to click on the 'Next' button
You will then need to log in using the same account number you have saved earlier on OANDA page, and the password will be the same with your OANDA account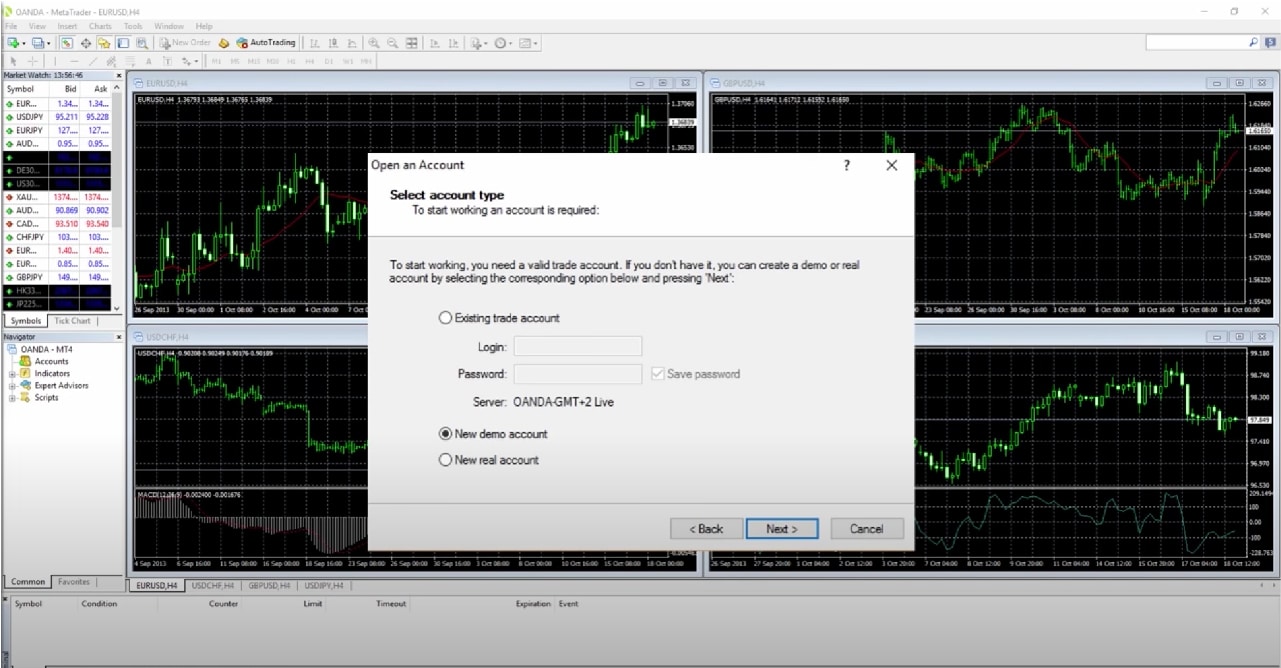 You can also download MT4 for your mobile devices. The app will be available on Android and iOS. Once downloaded on your device, go to 'settings' tab and 'trade accounts' to add an existing account.
Find the OANDA server by using the search bar and log in with your MT4 account number and password used when downloading MT4 on your computer.
MetaTrader 4 System Requirements
There are some system requirements for using the MT4 platform. Below you'll find a table with the minimum and recommended system requirements to install and run MT4 on your computer.
| | | |
| --- | --- | --- |
| MT4 | Minimum Requirements | Recommended Requirements |
| Operating System | Windows server 2012 RS Standard x64 | Windows server 2016 standard x64 |
| CPU | Intel i7 4xxx series quad-core or higher | Intel Xeon E3, E5 series quad-core or higher |
| RAM | 8 GB | 16 GB |
| HDD | RAID-1 array with 2×1 TB SATA HDDS | RAID-1 array with two 480GB SSDs |
| Monitor Resolution | 1280×800 | 1280×800 or more |
| Network | 100 Mbit/s Ethernet with 10Mbit/s bandwidth | 100 Mbit/s Ethernet with 50Mbit/s bandwidth |
OANDA's MetaTrader Support and Training

Customer services are accessed easily using phone, email or via live support. This support is available 24 hours a day, but not every day.
The exact hours vary depending on your location, but typically it starts on a Sunday afternoon or very early Monday morning, running through to Friday or early Saturday.
There are sometimes long wait times to be connected, and even when phone calls are answered, clients are often referred on to email support.
Whether you are new to trading, just new to meta trading, or are simply changing platforms, you will benefit from first setting up an MT4 demo account. Starting with a 100,000-unit starting balance, you can place trades without risk under real market conditions.
Whether you want to trade in forex, indices, gold and silver, commodities or CFDs, you can trial all this first in the demo account. Both the desktop and mobile platforms are available to use, just as they are for real trading.
There is no time limit on the demo account, and even the most experienced traders often like to keep them to test new strategies before risking real capital. An OANDA meta trader also has access to an array of educational resources.
There are instructions on the website for getting started, tools and strategies and capital management, as well as a program of webinars and events where you can receive guidance from professional instructors.
Opening an OANDA MT4 Account and the Costs Involved
Opening an OANDA MT4 account is a straightforward process and should take no more than ten minutes. You sign up with your basic personal information and details such as your employment status and expected income.
You will need to verify your identity, so have a scanned copy of an official document that can do this, such as a passport. The MT4 account is then opened as a sub account. How much you will need to deposit will depend on the account that you require.
There is no minimum deposit for a standard account, while for a premium account, you will need to deposit $50,000 or equivalent funding. The benefits of a premium account are:
Unlimited free wire transfer
Spread-only pricing
Dedicated relationship manager for account assistance
Custom trading support
Although you can deposit as little as $1 into a standard MT4 account, realistically the smallest trade is a micro lot, likely to be $20 to $30. OANDA does not charge for this, but your bank or credit card might.
Withdrawals by bank transfer cost €20 or equivalent, but one card withdrawal can be made free of charge each month. OANDA works on a spread policy for its trading fees, with the average spread of 1.2 Pip. A €10 monthly inactivity fee is charged if there are no open positions for 24 months.
OANDA's Trading Platform
When making an MT4 broker comparison, a key question is going to be about the accessibility and features of the trading platform. The OANDA trading platform can be accessed using the web, a mobile device or a desktop. With a two-step log-in, accessing the web platform is a secure process.
The platform is mostly easy to navigate with clearly marked buttons, though the search bar is not so easy to find. Both the workspace and the charts are customisable. The news section offers a feed to MarketPulse and Dow Jones, which is handy, but compared to the number of news feeds on some other sites, this is limited.
The mobile platform is very similar to the web platform, meaning that an OANDA meta trader on the go can access their account easily from wherever they are. An added benefit of the mobile app is that it also displays order confirmation and price alerts.
The desktop platform, though similar to the web-based platform, is not as user-friendly. However, it does have some functions integrated onto the site, which are displayed on a different page.
These include the Forex Order Book, a summary of the open order and positions held by OANDA's clients over the previous 24 hours; a currency heat map, a visual chart displaying FX pair changes in percentages; and Forex Open Positions Ratio, a handy breakdown of client's open positions across major pairs.
How Safe is the Money?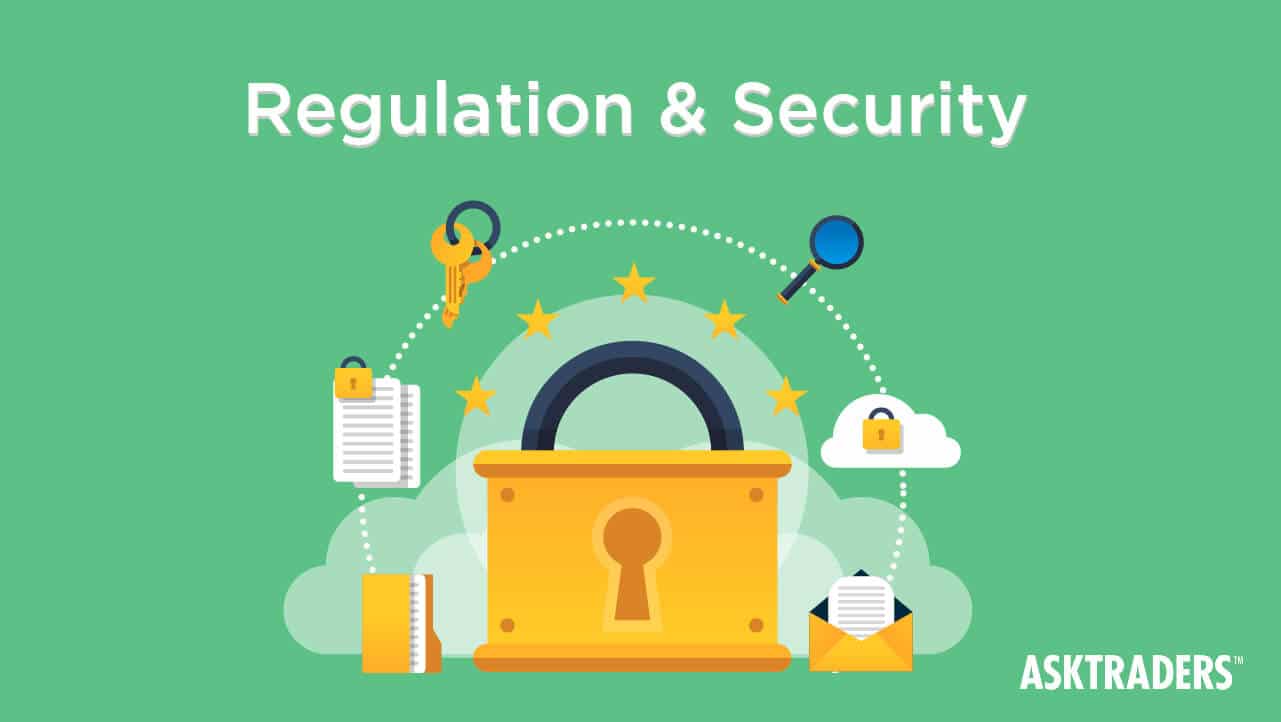 Trading is a risky investment strategy with the ever-present risk of significant losses, which can threaten even the most experienced traders. Beyond this risk, with so many brokers advertising, it can be hard to know if you are dealing with a reputable company or facing a scam.
Even reading a positive OANDA review may not be enough to provide the reassurance to invest capital. The fact that OANDA is a privately held forex and CFD broker and is not listed on the stock exchange and does not have a banking parent company may seem concerning. When choosing a broker, the key is to look at its regulatory bodies.
OANDA is mostly owned by venture capitalist firms Index Ventures and New Enterprise Associates and has its headquarters in the US. As a result, it is regulated by the rigorous regulatory body, the CFTC.
As a global company, it is also required to be regulated by other bodies around the world. In Europe, this means that it is regulated by the UK regulator, the FCA, which offers protection of client funds up to £50,000.
OANDA does also at times go beyond what is required, as can be seen during the Swiss National Bank crisis, when it closed positions automatically and did not make users pay their negative balance.
However, you should remember that this was done at OANDA's discretion and you should not presume that it will always do this.
Our Verdict on the OANDA MT4 Account
As a well-established broker, OANDA is as safe a pair of hands as you will find in the risky environment of trading. With a long track record, numerous awards, and licences with the strictest regulators, OANDA is a company that can be trusted.
Experienced traders opening an OANDA MetaTrader 4 account may find the portfolio limited with only CFDs and FX, but they will enjoy the array of features available on the platform and the mobile ability to trade on the go.
The slow customer support and the fact that it is not available 24/7 may be off-putting to newer traders, but the lack of a minimum deposit is certainly a draw. The MT4 platform itself is a good one with its ability to support hedging EAs and advanced charting.
The unlimited time on the demo account is also a perk for those new to MT4 trading. If fast, reliable support is not a priority, then the advantages of the OANDA MT4 account with its competitive pricing and sophisticated trading platform make it an option well worth considering.
Further reading