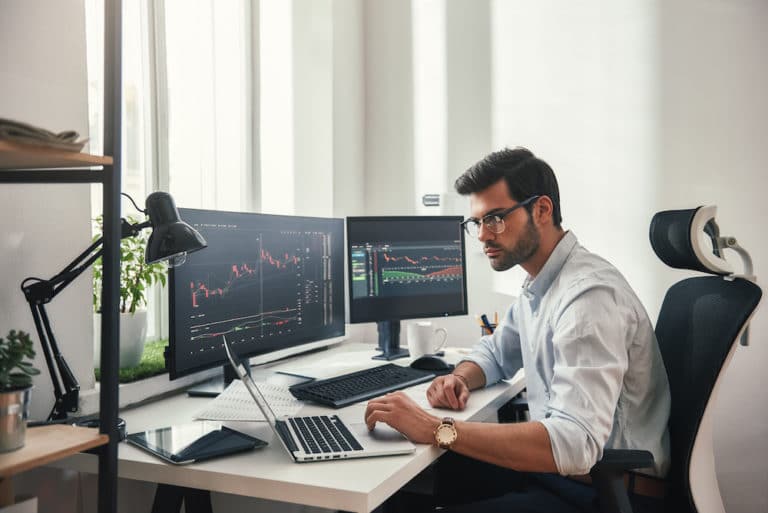 The free Demo account at Forex.com is one of the best ways to try out trading the financial markets. It's also risk-free.
Below is a step-by-step guide on what to do, with additional tips from experienced traders on how to get your virtual trading off to a good start. We'll cover:
How to open a Forex.com Demo account.
How to get started trading on a Forex.com Demo account.
What support is there for new traders?
com Demo account review.
Advantages of a Demo account.
How to trade safely.
The bottom line.
HOW TO OPEN A FOREX.COM DEMO ACCOUNT
Just click the link found here to head directly to the Forex.com Demo account registration page and sign up for risk-free, virtual trading.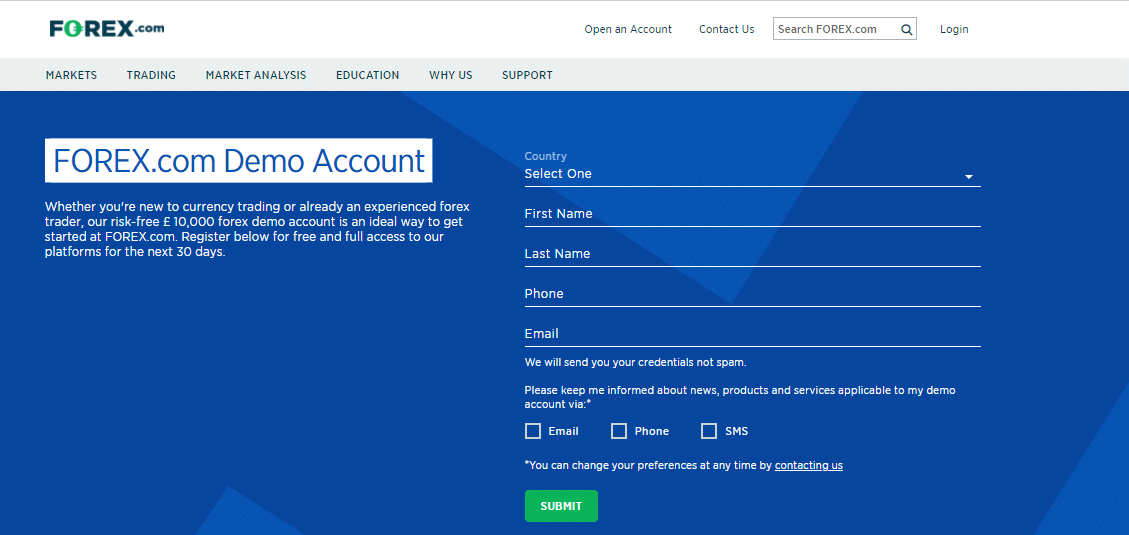 Registering through the dedicated Demo Account link involves entering in the minimal amount of information. It really is as simple as inputting some basic information such as phone numbers and email addresses into the registration page.

You can adjust your profile at a later date, but to access the Forex.com Demo account, simply complete these five data fields. Your Demo trading journey is about to begin.
HOW TO GET STARTED TRADING ON A FOREX.COM DEMO ACCOUNT
The screen that welcomes you has all the functionality you would expect of a top-level Demo account. There are also Price charts, Watchlists, Position reports and a News section.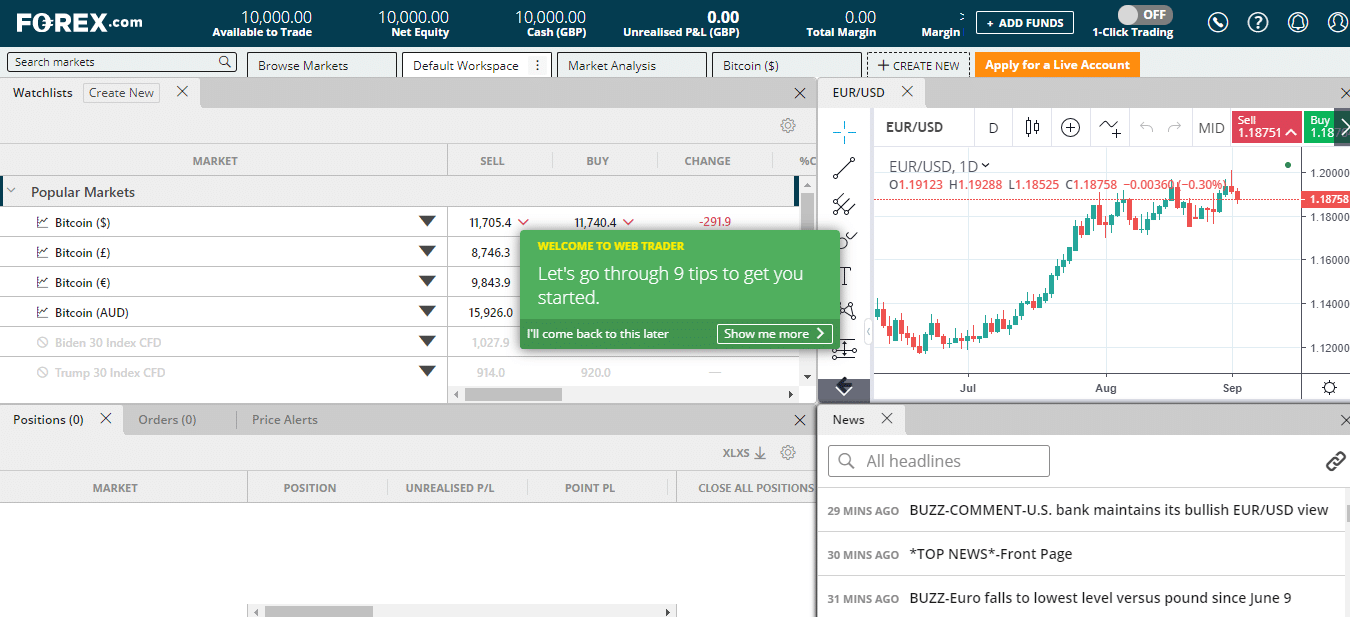 As tempting as it is to get straight into trading, one neat feature of the Forex.com Demo account is that the onboarding process starts with a tour of the site.
It's recommended that new users select 'Show me more' and take advantage of the tour. Even experienced traders will note that the quick run through the features of the site saves time in the long run.

The trading platform offered at Forex.com is a high-grade piece of web-based technology. You can log on using any device and through any internet browser, and it is also available in mobile app format.
There is a whole range of other nice-to-have features associated with the Forex.com Demo account:
Wide range of markets to trade– trade the markets of your choice.
A platform built with beginners in mind– a combination of simplicity and power.
Easy to access– no need to download anything – just log on from any web browser.
Research and education– an extensive list of resources to call on.
Quality trade execution– a willingness to share performance data to back up its claim.
Listed company – the parent company StoneX Group Inc. is listed on the Nasdaq (NASDAQ:SNEX).
What is also helpful is that the trading experience on the Demo account is exactly the same as if you had a Live account. All that's required to take that next step up is to complete your profile and fund your account.
WHAT SUPPORT IS THERE FOR NEW TRADERS?
Forex.com offers a wide range of resources designed to help you locate trading strategies that suit you.
When trading real funds, it's important to remember that each trader's approach has to suit them. Successful trading therefore requires you to consider what time and capital you can realistically allocate to trading.
With Demo accounts, the funds are, of course, virtual, so it is a good time to experiment, maybe by shorting stocks. The profit and loss on your account will be a good measure of whether or not the strategies that you adopt suit you.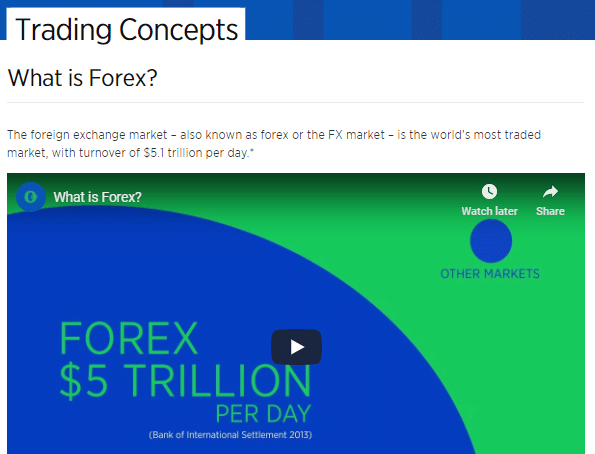 Beginners can take advantage of the high-quality analytical software and a range of free live webinars. The help function at Forex.com is particularly useful.
Those who want to get a granular understanding of the T&Cs can do so with ease. The Forex.com approach to transparency extends to the site sharing all sorts of information such as Key Information Documents and is to be welcomed.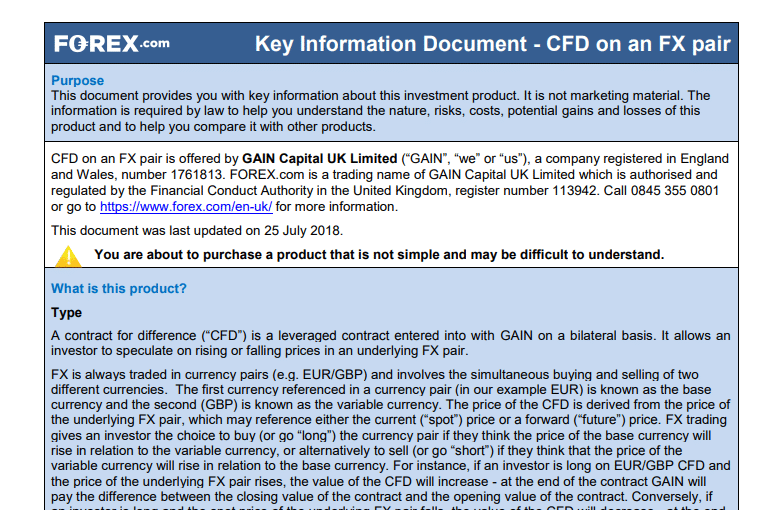 As well as the 'how to trade'-style support, there are also features that address the question of 'what to trade'.

The pricing analytics section offers beginner traders a grounding in how to spot trading opportunities. It covers a range of markets, including forex, stocks and futures.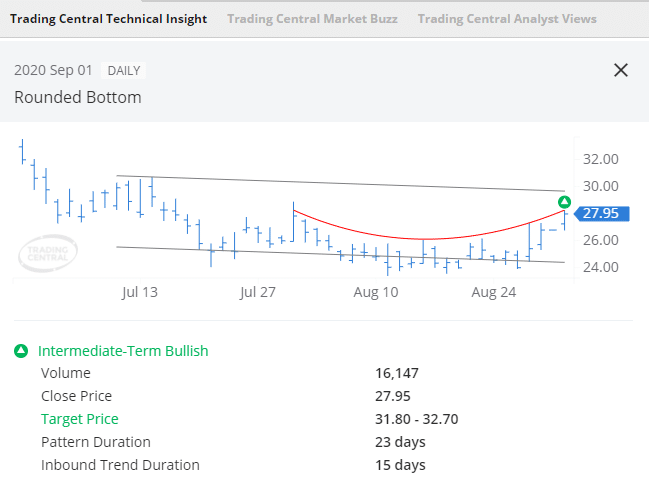 Broker accounts, such as the one provided by Forex.com, are in many ways similar to online banking accounts, only you have your account log-in details and your cash deposits sit in your account unless you choose to use some of them on a trading idea in an effort to make a return.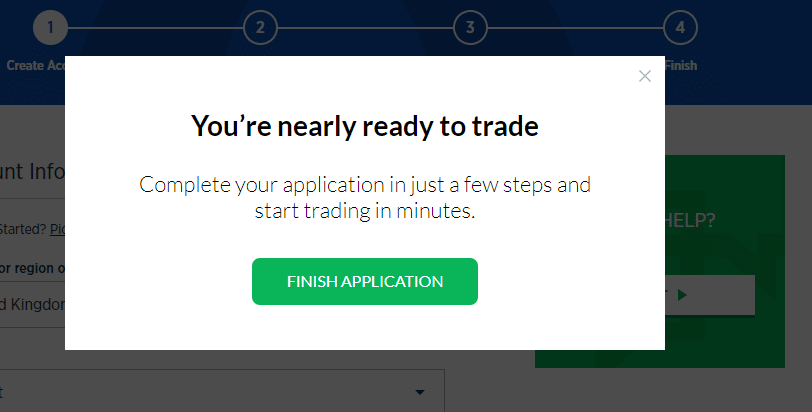 The minimum deposit at Forex.com is £100, so traders moving on from the Demo account are able to follow the tried-and-tested advice of starting Live trading in a small size.
FOREX.COM DEMO ACCOUNT REVIEW
The forex.com Demo account platform has been developed with novice traders in mind. Some of its best features include:
Trading concepts– factsheets and video tutorials on how the financial markets work.
Risk management– easy-to-understand notes on how to mitigate risk.
Trader development– resources on hand to take your trading to the next level.
Trade entry ideas– ideas on how to enter and exit trades.
All bases covered – research materials on both fundamental and technical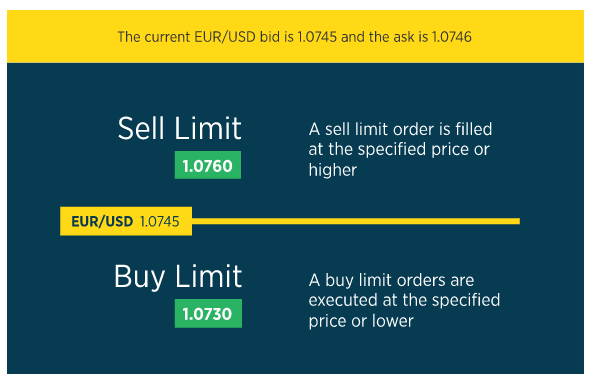 As well as all these in-house tools, there are also third-party services, such as TradingView, which become available to you once you register for a Forex.com Demo account.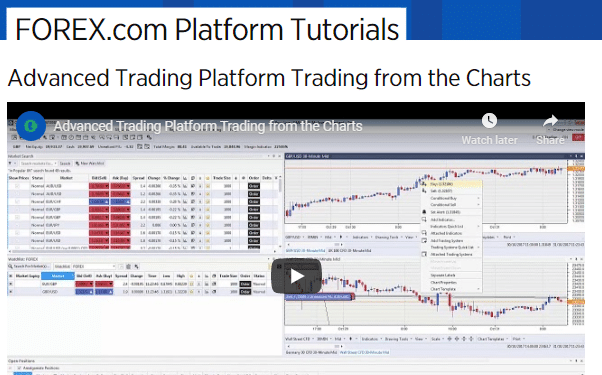 The Forex.com platform is designed to be a good fit for beginner and intermediate traders. It's easy to use, but behind the scenes, there is a lot going on. Quality of trade execution may not be a Day One priority, but it does become a hot topic once you start trading.
As you would expect with a top-grade broker, there are news flow monitors to allow you to keep up to date with market moves.
ADVANTAGES OF A DEMO ACCOUNT
Fast-tracked learning – the fairly ubiquitous training materials found online can be really useful. A Demo account not only helps you skip some of those lessons but also offers hands-on experience that helps them really count.
Testing – follow the lead of institutional investors and use virtual accounts to test out new strategies.
New tricks – Demo accounts can be particularly useful when branching out into unfamiliar territory. Whether it is a particular currency pair or an entire asset group such as cryptocurrencies, Demo accounts are a great first step to trading new things.
Information is power – a Demo account gives you the opportunity to really get to know how your broker works. There are plenty of alternatives and Demo accounts are free, so if it's not a good fit, you can easily move on.
Operational risk – 'fat finger' errors plague all traders, even seasoned pros – it's just that the top traders have learnt that they need to know their systems and check their trades. A Demo account offers an insight into how to do this and a chance to practice.
HOW TO TRADE SAFELY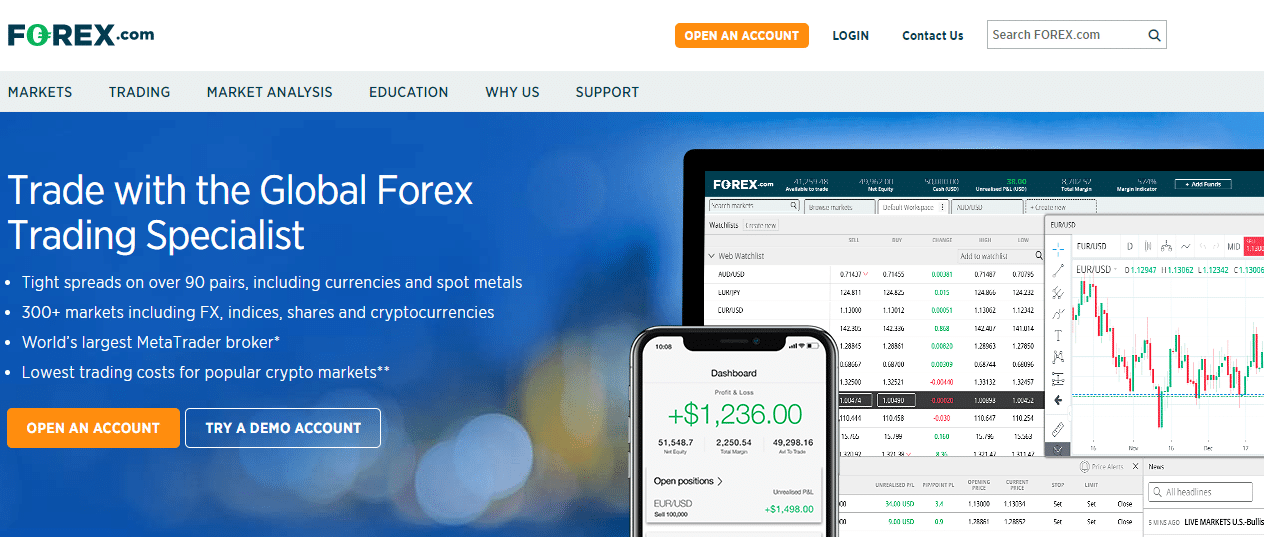 Although the Demo account involves risk-free trading, Forex.com, like other regulated brokers, has a duty of care to anyone who registers. The contact details that build your profile are part of its requirement to comply with 'Know Your Customer' rules.
The amount of information required to open a Demo account varies from broker to broker. If you're looking to get straight down to trying your hand at trading, then Forex.com is a good option. It is 'light-touch' in terms of how many questions it asks you.

The question relating to your main country of residence is important as it determines which regulatory body you will be protected by. Forex.com is regulated in seven jurisdictions worldwide, supporting over 200,000 traders in over 180 countries. Brokers need to match clients to respective regulators.
UK-based investors will note that Forex.com is regulated by the Financial Conduct Authority (FCA)  and adheres to its strict regulatory guidelines. Investors from other countries may benefit from protection by one of these other tier-1 regulators.
US Commodity Futures Trading Commission (CFTC)
Cyprus Securities and Exchange Commission (CySEC)
Australian Securities and Investments Commission (ASIC)
Demo account trading is risk-free. Do bear in mind though that the switch to trading real funds can play tricks on your 'trading psychology'.
One top tip is that when the time comes, start trading in a small size. With a minimum opening account balance of $100, this is certainly possible to do at Forex.com. Even then, do keep in mind that Live trading is a big step up from virtual trading.
THE BOTTOM LINE
If you want to start your journey into trading by finding out more about the financial markets, then practicing with virtual funds in a Forex.com Demo account is a great start.
The platform has a lot going for it, and if you want to find out more, the broker's homepage is found here. Or you may want to carry out more research by considering the in-depth review of the broker found here.
The great thing about the Demo account at Forex.com is that you can enjoy a trading experience that's very much in line with live trading. The process of getting onto the Demo platform is one of the most straightforward in the market.
People Who Read This Also Viewed: