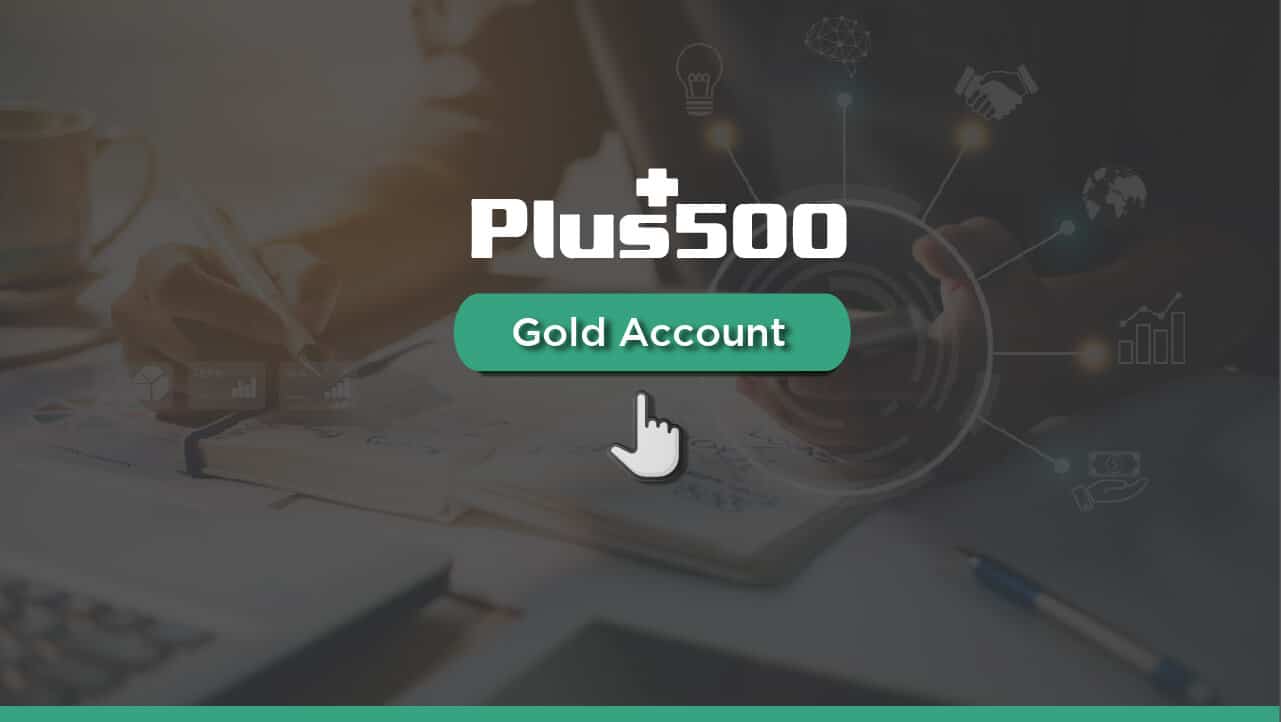 Plus500 is an online trading platform specialising in forex and CFDs, including shares, commodities, ETFs, and more. Since setting up in 2008, they have seen impressive growth – gaining 2 million transactions a month just three years later.
According to their website, with the advent of mobile and tablet technology, they have moved away from just PC-based trading and set out their stall to be the number one CFD trader in the world.
This Plus500 gold account review will tell you everything you need to know about this exciting trader that continues to go from strength to strength.
Forex and CFD specialist
Ten years of successful trading and growth
Aim to become the top CFD dealer in the world
Info: A trader with a Plus500 account can trade CFDs on underlying financial instruments such as Forex, Stocks, Cryptocurrencies, Commodities, Options, and Indices. 76.4% of retail investor accounts lose money when trading CFDs with this provider.
World-Recognised and Innovative Brand
In 2015, Plus500 started to enter the world stage as a big player, announcing a shirt sponsorship agreement with Atletico Madrid Football Club, a partnership that still exists.
With so many La Liga games being broadcast all around the world consistently, and with their partner club always appearing near the top of their league, this exposure began to show how seriously they were taking their intentions to become a market leader in the forex trading and be the best forex broker in the world.
Operates in international markets
Global sponsorship deals
Large user base
Available in many languages
To further demonstrate and enhance their international capabilities, they also announced a sponsorship deal with the Australian rugby union team the Brumbies in late 2016.
This marketing strategy coincided with them hitting a market valuation of one billion dollars on the Alternative Investment Market (AIM) stock exchange and introducing and enhancing their technological platforms.
This is to deliver trading capabilities fit for the latest mobile technology and allow investors to manage their stocks, shares, commodities, and exchanges wherever they are in the world.
They also added security to help their traders, with a guaranteed stop-loss function, which exists when traders cannot manage their investments at a specific time and can cap how much can be lost at a certain point.
Start Trading with Plus500 Demo Account Now
The Plus500 demo account is an excellent choice for you to practice on before real trading. New traders will love its full-featured and user-friendly trading platform due to its simplicity, ease of use, and trading tutorials. Essentially, the quick sign-up process allows you to get started with minimal fuss while the excellent support staff is on-hand 24/7 to assist you with any queries you may have.
Reduced Overnight Trading Charges
The Plus500 website tells us the gold account will grant you access to trade higher quantities and avoid being hit by the full amount of overnight charges fee you would expect from the standard version.
Instead, you will get a 5% discount on overnight fees, which are calculated as the trade size multiplied by the opening rate of the option you went for, multiplied by the percentage of the daily overnight funding rate.
While this may not necessarily be much of an issue for those with low investments, you can imagine this could significantly differentiate earnings when larger sums are placed.
Given that overnight fees are counted daily, this also means that over, say, a period of a week, the savings will be seen as even more of a bonus.
How much the rates laid out in this formula will vary instrument by instrument, so it's best to thoroughly research what trading options you're looking to go in to see just what the Plus500 gold account benefits are for you.
Plus500 make this information readily available on each instrument's trading page, by following the link that says 'details.' It is worth pointing out that you will only be affected by these improvements if you wish to hold overnight positions with your trade, and anything settled on the same day will incur no extra charge from this either way.
How Do I Get the Plus500 Gold Account Upgrade?
The company has recently announced that all standard accounts are being moved over to the Plus500 gold account as a result of so-called 'system enhancements' and will include the fact that technology is moving on so quickly it is getting easier by the year to keep on top of trading and access new markets.
So, what does this mean for people who want to join today? Will they automatically get the gold account? According to their website, this has not been fully rolled out everywhere just yet, meaning that everyone will only get Plus500 gold account benefits when they sign up for the first time if they ask for it.
Easy to upgrade
You can change your mind
Access to more trading instruments
Discount on overnight fees
At the moment, Plus500 says they are 'gradually' moving everyone over to the Plus500 gold account, so if you want to take advantage of the benefits of this system, it is worth bearing in mind that you may not have access to it straight away.
Over time, however, it seems very likely that all new users will automatically be granted a gold account when starting. If you know that you want to trade with specific instruments you know will benefit from this type of account, it would seem worthwhile doing that as soon as you have signed up and verified everything.
Is it Possible to Get a Plus500 Gold Account Downgrade?
If you decide to opt-in and upgrade and wish to change your mind later on, this is absolutely fine. Part of the FAQ section on their website has a question dedicated to this exact potential worry, where they state this process is allowed.
All you have to do is email them with a request to downgrade your account, and the settings in your account will be adjusted accordingly. It is worth bearing in mind that this change may not happen instantly. Most companies usually go by replying and responding to queries within one working day, so if you don't notice an instant change, there is no apparent reason to worry.
Once your changes have been implemented, it will then be possible to operate within a standard account's limits once again. However, if you have open overnight trades and wish to downgrade from the gold account, there is no guarantee you will receive the discounted overnight trading fees, depending on when your request can be dealt with.
It is usually best to make this request within the general business hours to avoid any complications and uncertainties regarding discounted overnight fees.
Access More Markets
As earlier stated, another of the Plus500 gold account benefits is the availability of increased access to different trading instruments, as per the Plus500 website.
In general terms, a trading instrument is considered to be an item of financial value that can be traded, which of course, includes everything you'd expect to be able to invest in, including cryptocurrencies, foreign exchange currencies, and various commodities.
However, there may well be several other options that you won't be aware of.
This Plus500 gold account review highlights that you can have a much greater collection of trading instruments to trade with. It is good to know if you are either looking to opt into some niche markets or simply diversify your portfolio and not weigh in so much of your capital on just one or two investments.
If you find yourself in this position, or you would like to see yourself as being so, opting for the gold account option makes a lot of sense.
Particular inroads can also be more easily made quickly in some niche markets before interest takes off, so the more access you have could pay off if you already have ideas about exactly what you're looking to invest your capital in.
Trading with CFDs (Contracts for Difference)
One of the biggest sells Plus500 pride themselves on is the availability of a wide range of CFDs, calling themselves a 'leading provider.' CFDs are increasingly a trading mechanism, as it allows you to speculate on price changes as they rise or fall.
These could be any basic derivative (where the value of the price change is based on each asset's underlying worth), including forex and commodities.
Plus500 also offer what are called EFTs (Exchange Traded Funds) as part of their CFD availability, which are funds that are tied to securities on the market and can be traded throughout each working day, unlike mutual funds, which cannot.
The considerable potential of various tradable assets and funds means a lot to be involved with. This broker comparison suggests that with so many ways to invest and so many users already on their platform, Plus500 is arguably a great place to begin your investment strategy, especially if these options start to get you excited about all of these possibilities.
Of course, with the ability to downgrade and upgrade as you see fit, there is no reason to feel tied into one account type if you wish to reverse your decision after trying out a strategy.
The Plus500 Gold Account: Forex Broker Comparison
All the reviews of this product suggest that one of the apparent reasons for choosing it is the sheer level of accessibility that others don't always provide. This is exemplified by just how many languages the Plus500 trading platform is available in, for example.
Suppose you wanted to get trading in your native language or indeed a second. In that case, you could choose from a much broader range than most of their competitors offer, including many other languages than the expected English, German, French, et cetera.
You can also carry out your Chinese, Japanese, Bulgarian, Polish, Greek, and many more investments. Plus500 also offers what is known as fixed spreads – set prices for commodities, options, and forex over a specific period.
This usually comes in the form of a day rate and a night rate, which could come in handy if you can only keep an eye on proceedings a few times each day rather than a few times each hour.
With many investors likely to be in the former category rather than the latter, offering this kind of flexibility is again helping Plus500 to demonstrate their capacity to attract a broad audience with varying needs and wants in terms of investment.
Platform available in multiple languages
Fixed spreads offering
Flexible services for a wide audience
Try Before You Buy
When looking at the broker comparison, Plus500 also offers what they call a 'trading demo account' to interested investors who want to get used to the platform before they begin.
If you are thinking about getting a Plus500 gold account but are wary of investing before you test out their mechanisms, if you wonder how well it will work to access your phone or have other apprehensions about using a new trading product, a Plus500 demo account is ideal.
You can not only discover how to use it regularly but also trade with various strategies. You can have a go at some new and exciting markets or try niche ones you've always been curious about but haven't yet delved into. This is exactly what the trading demo account exists for, and it is well worth checking out.
The only discrepancy to be aware of is that live trades will move quicker than they will in a demo account. With that exception, the demo account is a great way to get a grounding before you get serious, especially if you're new to online trading and don't want to get overwhelmed by how much is going on at once.
Plus500 Gold is The Gold Standard Account
Since Plus500 will be gradually moving all of their standard accounts to gold accounts, you may as well get there early and reap the benefits that come along with having a gold account.
When you can access a discount on overnight trading fees, find yourself engaging with interesting new markets. With trading instruments that you can hold overnight, the gold account seems perfect.
If you are already on the standard account and want to hold more currencies until the next morning market openings, especially if you plan to take advantage of both benefits, upgrading to the gold account now makes sense.
If you're still a bit unsure, get a Plus500 trading demo account, so you can see just how it works for you and still get started with your investment plans right away.
Take a look at the Plus500 gold account to see how it works with your investing.
PEOPLE WHO READ THIS ALSO VIEWED: