Price momentum in metal markets can last for months and years, so there's no reason to think that you've missed the boat on investing in metals, more that the direction of the trend has been confirmed. It's also very easy to invest in metals, and once you've made the decision to buy metal stocks, it's simply a case of considering some basic ground rules. The below top tips from experienced traders are designed to optimise returns and set up your strategies so that you're able to just sit back and monitor your returns.
Easy Ways to Trade Metals
Demand for metals comes from industrial clients and to some extent speculators. Specialist metal exchanges have been set up for the core players in the market who want to take physical delivery of a raw material and turn it into a marketable good. The London Metals Exchange is one of those markets, but for some time, specialist exchanges have remained outside the scope of smaller investors. High commissions can act as a deterrent and factors such as futures 'rolling' can overcomplicate matters.
Copper – Daily Price Chart – 2019-June 2022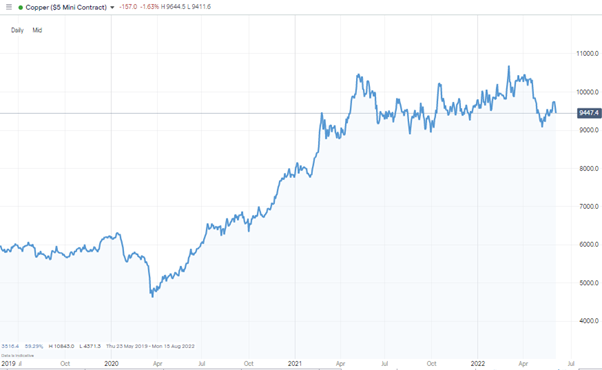 Source: IG
Fortunately, it's easy to get exposure to the metals sector without signing up to trade metal futures.  Those exchanges, where large-scale producers and users of metals interact, will ultimately set the global price of metals, but buying the right metals stocks can enable you to benefit from price moves using a much more convenient instrument: equities.
Things to Look For in Your Metal Stocks Broker
There are a few quirks to the metal market that make broker selection an important part of the investment process. Ensuring that your broker is safe is the crucial first step towards successful investing. This shortlist of trusted brokers is a great place to start, and in-depth reviews carried out by experienced traders can guide you towards finding a best-fit broker.
Aluminium – Daily Price Chart – 2019-June 2022
Source: IG
Not all brokers offer the same number or range of instruments. If you open an account with a good stockbroker such as IG, which has a larger number of markets on offer, you'll be able to trade small-cap mining stocks. These tend to have a higher risk-return profile, and while few would suggest going all in on this sector, the 2,000% price rise in Greatland Gold that occurred in less than 12 months explains how ensuring that you can trade that end of the market can boost returns.
Albemarle Corp – Daily Price Chart – 2021-2022 – Lithium Mining
Source: IG
Bigger brokers are also more likely to support trading in less mainstream metals. If you're looking to buy lithium stocks to capture the growth in battery technology and clean energy, then you'll want to use a broker that offers markets in these best lithium and lithium mining stocks.
At the other end of the risk spectrum are ETFs, which some, but not all, brokers offer. Exchange-traded funds allow investors to buy an entire basket of different stocks with just one click of a button. The fund manager then goes into the market to buy a number of stocks, which results in you starting off your trading journey into metals with a well-diversified position.
As of 31st March 2022, the iShares MSCI Global Metals & Mining Producers ETF was reporting a six-month cumulative return of 30.39%. While that's impressive enough, the kicker is that the fund takes positions in 250 different mining, so thought has also been given to minimising risk.
iShares MSCI Global Metals & Mining Producers ETF – Daily Price Chart – 2021-2022
Source: IG
Most good brokers offer a free-to-use Demo account, which allows clients to trade using virtual funds. They take moments to set up and are an ideal place to start whether you're an experienced trader looking to test a new strategy or a beginner attracted by the potential returns from metals.
The Advantages of Using Stocks to Get Exposure to Metals
Stocks and shares remain an ideal way to benefit from rising metals prices. It's possible to fine-tune your search to locate exploration-oriented firms such as Barrick Gold (GOLD), or firms such as Encore Wire Corp (WIRE) that operate further down the production process. Huge multinationals such as BHP Group PLC (BHP), which is the largest mining company in the world, engage in all aspects of metal mining and processing, so offer a user-friendly route to the entire sector. There's a metal stock for every kind of investor.
Holding metals in physical form can involve storage charges, but stocks in contrast typically pay dividends to investors. The dividend yield of BHP Group PLC is currently an inflation-beating 9.12%, which means that stock offers passive income as well as the potential of capital growth – the share price going up.
BHP Group PLC – Fundamentals

Source: IG
The cost-effective nature of mining stocks extends beyond charges relating to holding a position. The bid-offer spreads on large-cap mining stocks are as tight as any in the market because of the high daily trade volumes, and if you buy and hold a stock position in a share dealing account, ongoing costs will be minimal.
One note for beginner investors is the importance of determining whether you want to buy the stock outright or use CFDs (contracts for difference). CFDs come with added functionality. They facilitate short selling, and a chance to make a profit if you think that the price of a stock is going to fall. Leverage can also be applied if you want to scale up on risk-return. They do, however, have daily financing fees, which can add up over time, so if you're looking to hold a metal stock for more than a few weeks, buying it outright will avoid CFD financing charges acting as a drag on bottom-line returns.
Why Buy Metal Stocks Now?
The route into buying metal stocks is simple and secure, and more investors are taking an interest in the sector due to underlying changes in the global economy. The shift in investor sentiment seen in the first half of 2022 denotes a new trend forming and it's one that could run for some time.
Metal Stocks as a Hedge Against Inflation
Commodities are often regarded as one of the investments that protect against inflation. As long as underlying demand and supply for minerals remains constant, the price paid for copper, iron, aluminium or lithium is something of an accounting formality. If fiat currency levels go up 5%, so do commodity prices.
With an era of higher interest rates and inflation on the way, buying metal stocks is a way to offer protection against currency holdings being devalued. As there aren't many other asset groups that offer this sort of protection, it's even possible that metal prices will overshoot to the upside. That would trigger a commodity supercycle and those have a habit of running for years rather than months.
Precious Metal Stocks and Political Uncertainty
Taking that approach one step further opens up the opportunity to invest in precious metals. Gold in particular has a reputation for being a hedge against inflation due to its historical track record of holding its value during times of uncertainty.
The start of 2022 was associated with heightened geopolitical tension, as exemplified by the Ukraine-Russia conflict, as well as surging inflation rates. Unsurprisingly, by the end of March 2022, gold was showing a year-to-date return of +11%. The share price of gold mining firm Freeport-McMoRan mirrored this move and was up 19% over the same time period.
Gold – Daily Price Chart – 2019-June 2022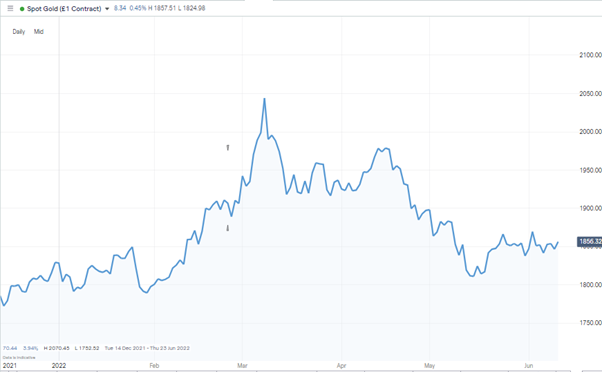 Source: IG
Metal Stocks and the Clean Energy Economy
A long-term shift towards a low-carbon economy has been formed due to increasing consensus among world leaders that green energy is the only viable option. The momentum behind that move should not be underestimated, with the 2021 US Infrastructure Bill set to fund $1tn of new roads, bridges and trains. The Bill covers every aspect of the economy from broadband access to clean drinking water.
With public spending positioned to support a restructuring of global infrastructure, everything from vehicles to power plants will need to be updated and upgraded. That process will support the demand for metals for years to come with some of the best metal stocks being those that have a strong position in copper and lithium production.
Some of the Best Metal Stocks to Buy Now
There are plenty of different types of metals strategies. Whichever ones you choose, diversifying your portfolio is recommended because the sector is known for undergoing periods of higher-than-average price volatility.
Rio Tinto PLC (RIO)
If you're looking for a large-cap blue-chip mining company with a global client-base, then Rio Tinto probably ticks the box. The firm is particularly strong in the extraction and processing of copper, iron ore and lithium. It also has some of the best ESG credentials, which can be important when selecting mining stocks. Institutional investors making decisions about which mining stock to invest millions of dollars in are increasingly factoring in the ecological approach that mining firms take.
Rio Tinto PLC – Daily Price Chart – 2020-June 2022
Source: IG
Energy Fuels Inc. (UUUU)
Green energy might be the way forward, but renewable energy from wind and solar needs a complementary source of energy to ensure that a secure base level of electricity is produced. That is where uranium mining companies come in thanks to their product being required to fuel nuclear power plants.
The US is the world's largest supplier of nuclear power and accounts for more than 30% of the global total. The country's government is also keen to ensure that domestic suppliers of the much-needed uranium are supported so that the US economy does not become dependent on foreign energy supplies. That makes Energy Fuels Inc. an ideal play on the uranium mining sector. The firm is one of the leading uranium producers in the US and has exploration and mining operations in homeland states of Wyoming, Colorado, Texas, New Mexico and Arizona.
Freeport-McMoRan Inc. (FCX)
Freeport-McMoRan accounts for 60% of total US copper production and has a relatively large percentage of its operations based in North America. That makes it an ideal metal stock for those who want to hedge against geopolitical risk disrupting global trading networks. The copper it produces can be used by EV manufacturers such as Tesla that are based in the US and are willing to pay a premium for a secure supply of the metal.
Freeport-McMoRan Inc. (FCX) – Daily Price Chart – 2020-June 2022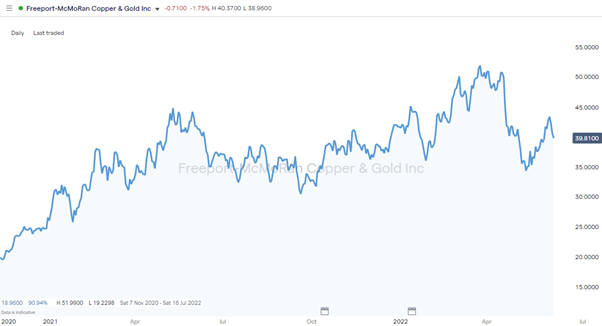 Source: IG
Final Thoughts
Metal stocks offer an ideal way to trade the current market conditions. The added bonus is that positions in metal shares have the potential to become long-running winners. Identifying a new trend and trading in the same direction as it is, after all, the secret to successful investing.
A lot of the work involves setting up your account in the right way and using fundamental and technical analysis to identify the best metal stocks to buy. The next step involves buying stocks using an online broker. Setting up an account is incredibly straightforward, and checking that your broker is regulated by a Tier-1 financial authority will also offer a feeling of security.
The extent to which brokers support trading in metal stocks does vary. Heading to this list of good brokers for trading metal shares will fast-track the process of finding the best fit for you. They have all been checked and reviewed by the AskTraders team to ensure that they offer the functionality, T&Cs and support services to get your metal stocks trading off to the best possible start.