There are plenty of good reasons why local and international investors might want to buy Philippine shares. Strong economic growth of approximately 6-7% per annum is fuelled by a burgeoning population of 110m with a median age of 25. The government has a reputation for being 'pro-business', and the country is located in a strategic sweet spot in relation to other economic hubs in the Southeast Asia region.

As an 'emerging' economy, there is still time to step in and buy Philippine shares while they trade at a discount to the more mainstream markets the country is catching up with. The impressive response to the Covid pandemic was a 5.7% growth rate in 2021—a resilient bounce-back highlighting how the economy is primed to continue outperforming rivals.
How does an investor participate in this market and establish a position to benefit from future growth potential? There are essentially two approaches. The conservative method is to buy into an ETF that features the Philippines, thereby ensuring risk mitigation and a highly liquid asset for whatever may come.
The second path involves finding a safe broker who can give you access to individual Filipino securities denominated in Philippine pesos, which have been reasonably stable versus the US dollar and other major currencies. These companies sometimes list in other stock markets, but the liquidity and spreads may not be favourable.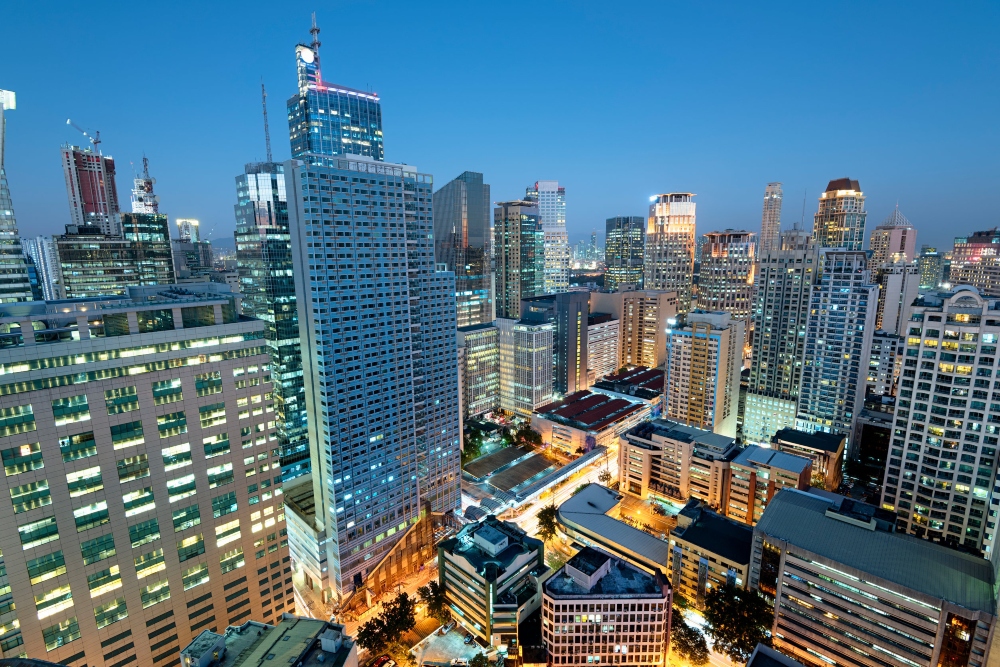 BEST PHILIPPINE STOCKS TO BUY
If you are an investor who prefers to buy shares in individual companies rather than in an ETF for your country of focus, you will need a broker that can assist you by providing guidance as to the best long-term companies in the region of interest. The safest route for long-term investing timeframes of five years and more is to choose from a list of blue-chip stocks with proven track records over a long period.
Based on local recommendations, the seven best shares to buy in the Philippines are detailed below. This discussion is not investment advice. You must perform due diligence on each company and decide when is the best time to invest.
SM Investments Corp. (SM)
This firm is a significant property management and banking consortium founded in 1958. Its property division handles everything from and including mall, residential, and commercial development to the operation of hotels and convention centres. It operates 36 shopping centres in the Philippines and seven in China.
Its retail division is retailing and wholesaling dry goods, clothing, food, and other merchandise. Its banking area handles capital management and other financial services from over 1,400 branches. This firm is the largest company on the Philippine stock exchange and has established an impressive track record for returns.
Ayala Corporation (AC)
Ayala is another large Philippine conglomerate. Founded in 1834, it provided a model for competitors like SM Investments to follow. It, too, focuses on property management, both domestic and international, and banking services. It, however, has a broader play in that it is heavy in the telecommunications industry and the manufacture of electronic infrastructure products.
The firm is also prominent in water services, power generation, onshore and offshore outsourcing, air-charters, consultancy, agri-business, education, human capital resource management, health, and transport infrastructure. It is considered one of the best blue-chip companies in the Philippines.
SM Prime Holdings (SMPH)
SM Prime Holdings (SMPH) is a diversified real estate management company. It has chosen to stay in one lane of property development in the Philippines, China, and Southeast Asia. It has four segments:
Mall – operates shopping centres and theatres and amusement arenas; 
Residential – development and sales of condominiums, residential units, and leisure homes;
Commercial – office buildings, and
Hotels and Convention Centres – 8 hotels and five convention centres. It is the largest real estate development firm on the Philippine stock exchange.
International Container Terminal Services, Inc. (ICT)
This company is the number one terminal operator in the Philippines with no competition on the Philippine Stock Exchange. Founded in 1987, it acquires, develops, manages, and operates container ports and terminals serving the shipping industry in the Asia Pacific region, Europe, the Middle East, Africa, and The Americas. The firm operates 32 terminal projects in 19 countries. ICT is one of the top listed companies on the Philippines Stock Exchange and is primed to deliver above-average earnings during the post-COVID recovery.
Jollibee Foods Corporation (JFC)
This firm is a king in the fast-food industry, operating nearly 6,000 outlets in North America, Europe, the Middle East, Africa, China, Southeast Asia, and India. Branded outlets include Jollibee, Chowking, Greenwich, Red Ribbon, Yong He King, Hong Zhuang Yuan, Burger King, Mang Inasal, PHO24, Hard Rock Cafe, Dunkin' Donuts, Smashburger, The Coffee Bean & Tea Leaf, Tim Ho Wan, Tortas Frontera, Highlands Coffee and Panda Express names. JFC is the leader of the food network on the Philippine Stock Exchange.
BDO Unibank (BDO)
Concerning assets, capital, deposits, loans, and receivables, BDO is the largest banking institution in the Philippines. It engages in all banking-related services from a base of nearly 1,500 branches. It was founded in 1967 as Banco De Oro Unibank Inc. but changed its name to BDO Unibank in 2011. It is considered the leader in the domestic banking sector with an impressive track record.
Puregold Price Club Inc. (PGOLD)
This firm operates department stores, engaging in retailing and wholesaling consumer goods in the Philippines. Known as the Walmart of the Philippines, Puregold operates 403 stores, covering a full spectrum of hypermarkets, supermarkets, extras, and minimarts, including 20 membership warehouse clubs and 46 quick-service restaurants. Founded in 1998, PGOLD has built a very loyal fan base and sports a market cap of $2.5bn.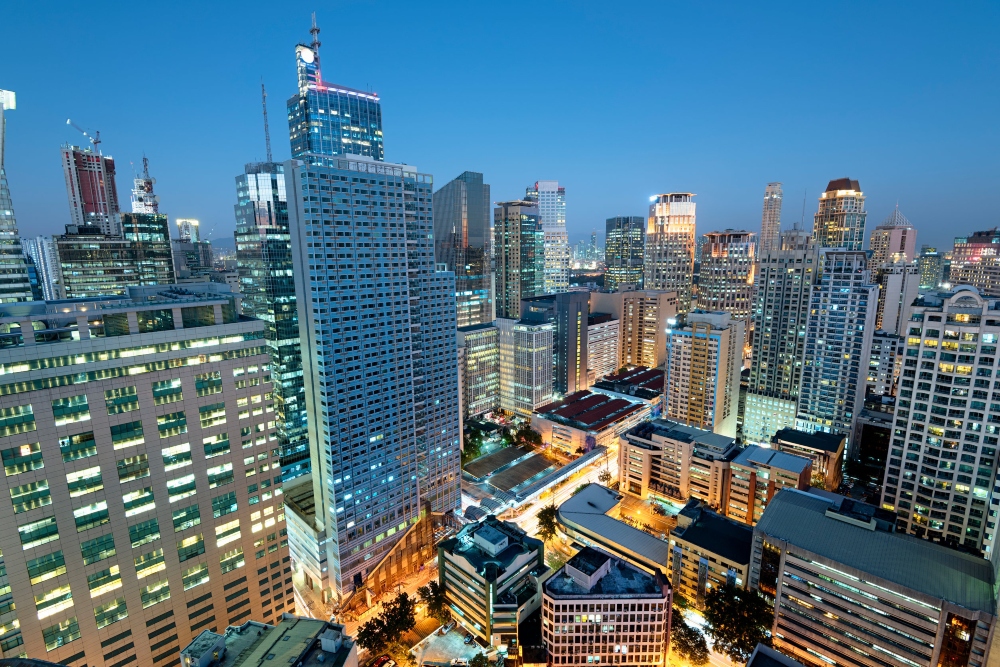 HOW TO BUY STOCKS IN THE PHILIPPINES
Whether you lean towards investment in an ETF covering the Philippines or you prefer to invest directly in local companies, you will want to ensure your chosen broker has a free-to-use demo system. Practice sessions will acquaint you with your broker's trading platform while helping you become acquainted with local market conditions and to refine your plan of attack for an unfamiliar market. If and when you are better informed, you will be well on the way to investing in the Philippines. These five steps will ensure that you remain on the right track.
Choose a broker
 Depending upon your investment strategy, you will need to choose a broker that can provide access to the targets you seek, whether ETF shares or individual shares in Filipino companies. Let safety and security be your guide.
Open and fund an account
The global brokerage community must comply with various Know-Your-Customer and Anti-Money Laundering statutes. In this regard, you will be asked to submit personal identity information, which must be confirmed before your account can be approved and active.
Open an order ticket and set your position size
Use the broker's demo system to acquaint yourself with the various ways to open an order ticket, close it, and use risk management principles to determine an appropriate position sizing.
Set stops and limits 
Most trading platforms allow you to set stop-loss and take-profit limits during order execution. Use the demo system to learn how to fix or adjust these limits after executing the order. Also, practice closing a position.
Make your purchase
It is time to enter an actual order with your chosen security, amount, and stop limits. When you are ready, hit the 'buy' button. Each broker has its way of acknowledging the transaction. Check your portfolio to verify your purchase. Be sure to monitor your positions from time to time.
SUMMARY
The Philippines is another central stock market in Asia primed for a post-COVID recovery. There are several ways to take advantage of the potential profit opportunity that this market affords. The best shares to buy in the Philippines are numerous and require due diligence before investing. Purchasing shares in an ETF that focuses on this market is also a smart and diversified way to balance risks in your portfolio. Remember to stick to a single strategy, be vigilant, and enjoy the process.
People Who Read This Also Viewed: