Stocks in South Africa's flagship index, the South Africa Top 40, have rebounded by more than 90% from the Covid crisis low of March 2020. That is a healthy enough return for any investor; however, there is a sense that deciding to buy stocks in South Africa now could take advantage of the market being slightly undervalued. Over the same period, the rival index, the NASDAQ 100, was up more than 135%.
South Africa 40 Weekly Price Chart – 2015-2021 – Undervalued?
Source: IG
Interest from domestic and international investors is based mainly on the potential of South Africa's relatively young population and the country's world-beating mineral reserves. In an ideal world, a commodities super-cycle could act as a catalyst for widespread economic growth. Periods of sustained bull-runs in mining and mineral stocks have a record of lasting for years.
Identifying a target market is the first part of the process, but there is also the question of exactly how to start investing in stocks in South Africa. The good news is that a range of well-regulated and trusted brokers have set up user-friendly online platforms which offer a safe and cost-effective route into South African stocks.
This step-by-step guide will walk through the steps required to get the most out of trading and optimise returns.
WHY BUY STOCKS IN SOUTH AFRICA?
Many of the reasons why now might be a good time to buy stocks in South Africa revolve around mining, minerals and commodities. South African stocks have historically been targeted by investors looking to gain exposure to that sector. There are other reasons why now might be a good time to invest in South African stocks.
South Africa and the Commodities Super-Cycle
The abundance of South Africa's natural resources makes it one of the world's largest raw materials suppliers. It produces more than 10% of the world's gold, holds more than half of the world's supply of chromium and has one of the biggest diamond trades in the world. The list of natural resources found in the country is extensive and includes iron ore, copper, platinum, silver, manganese, titanium, and uranium.
Gold Daily Price Chart – 2015-2021
Source: IG
Peculiarities of the mining industry mean that mining stocks are likely to see their prices rally hard following even a slight uptick in demand for their products. The long period needed to bring new mines into production means that big players like Anglo American, BHP Billiton, Rio Tinto, Kumba Iron Ore Ltd and Sibanye-Stillwater are limited to the extent to which they can increase supply to meet increased demand.
Following the fundamental laws of economics, prices in commodities then rise and sometimes spiral as manufacturers scramble to ensure they have enough supply. Exploration, testing and setting up new mines are time-consuming activities, and it can take decades for a new supply to become available. If demand remains the same, then a commodities super-cycle, which can last for years, is formed.
Having their resources increase in value is obviously a positive move for South African mining stocks. However, there is a quirky accounting feature, which means the rise in the value of the stocks can be far greater than the rise in the price of the minerals themselves.
Taking the gold market as an example, if a firm breaks even when the price of gold is $1,200 per ounce, and the market price is $1,800, then a 10% increase in the price of gold would result in the firm's profit margin increasing by 30% not 10%. [(19800-12000) / (18000-12000)]. That can cause small changes in commodity prices leading to South African mining stock prices experiencing exponential gains.
Anglo American Daily Price Chart – 2015-2021
Source: IG
SOUTH AFRICA – ENTRY-LEVEL INVESTING IN AFRICA
The continent of Africa is seen as one of the most exciting growth markets in the world. Investing in emerging markets can be risky, and South Africa's relative stability means it is seen by many as the safest way to gain exposure to the Africa growth story. South Africa has also recently become a member of The African Continental Free Trade Area, meaning it has access to a market of one billion people and a combined GDP of $2.6tn.
The country's financial markets are managed by a well-regarded regulator, the Financial Services Conduct Authority FSCA, which applies internationally recognised standards of investment practice. A country's banking sector plays an essential part in supporting growth, and South African banks have a solid and long-running reputation for being prudent and consistent. The country also has a modern infrastructure system and is home to Africa's largest airport and logistics network.
The solid foundations for business operations add up to South Africa having the largest number of multinational firm headquarters on the continent. Firms looking to access expansion opportunities across the continent are choosing South Africa as a base, and local and international investors are following suit.
SOUTH AFRICA – BOUNCING BACK FROM THE COVID PANDEMIC
At the height of the pandemic, Minister of Trade, Industry and Competition, Mr Ebrahim Patel, in a Parliamentary Committee address, stated that the pandemic had caused a swift and rapid shock upon the economy, impacting the demand and supply-side. He also stated that the impact on GDP would be very significant – projecting a recession causing a severe contraction of the economy and significant job losses and firm closures.
South Africa may have been one of the biggest losers from the Covid pandemic, but the question for those considering investing in the country is whether that bad news is already priced in. South Africa's population is currently estimated at 59 million, with a median age of 27.6 years. While the country was the most affected by Covid in Africa – and is considered the origin of the Omicron variant – the disease is known to have less impact on the young.
HOW TO BUY STOCKS IN SOUTH AFRICA
Buying stocks listed on the Johannesburg Stock Exchange (JSE) requires using a broker. It's impossible to buy directly from the exchange, but it is possible to find a broker who will do that for you.
The good news is that the buzz of excitement about South African stocks means a range of reputable brokers provide ways to access the market. Technological breakthroughs mean that big-name online platforms offer execution only services and user-friendly functionality.
Ultimately the act of buying South African shares comes down to a click of a mouse or a tap on a screen, as trading can be done from handheld as well as desktop devices. Before getting to that stage, there are some 'onboarding' processes to work through and insider tips relating to client safety to consider. It is also essential to factor in the two principal risks, which, while unavoidable, can be managed.
Market Risk
Market risk is the chance that your South Africa stock purchase might be a bad choice. This is, unfortunately, an inherent part of investing. Good brokers offer tools to help manage this risk and help clients tilt the risk-return equation in their favour.
Operational Risk
There is a lot more scope for individuals to manage their accounts in a way that helps them avoid scams or making newbie errors. One way to get to grips with the process of trading is to set up a Demo account. They are free to use and take moments to set up. Once done, it's possible to practise risk-free trading using virtual funds to establish which broker would best suit your needs.
1. Choose a Broker
Choosing a safe broker is even more important than getting your stock picks right. Scammers do operate in the market, and there is nothing worse than believing you've made a profit to find you can't even get your original stake back. Scammers are clever and ruthless, which means avoiding them is rule number one.
Fortunately, financial authorities such as the FSCA make it their duty to regulate the financial markets. The FSCA, previously known as the Financial Services Board (FSB), aims to ensure the fair and efficient operation of financial markets. The licenses of approval it provides for high-quality firms can only be attained by the broker completing a range of costly and time-consuming tasks. These include providing reports on the health of the company and client care protocols.
South African investors don't need to use an FSCA regulated broker. Some international brokers operate under licence from other regulators, and a seal of approval from a Tier-1 regulator such as those listed below will confirm the broker is legitimate.
The Financial Conduct Authority (FCA)
The Australian Securities and Investments Commission (ASIC)
The U.S. Securities and Exchange Commission (SEC)
Cyprus Securities and Exchange Commission (CySEC)
The Financial Services Conduct Authority of South Africa (FSCA)
The following list of regulated brokers has been created by the AskTraders team so that new traders can select from a shortlist of trusted firms. Using it can help you make a solid decision and fast-track you towards putting trades on in the market.
Regulatory protection is essential, but if two brokers offer the same degree of security, choosing between them will come down to other factors. The trading dashboards provided by online brokers have a different 'feel' from each other. The quality of the mobile phone App platform might also be important, and then there are the T&Cs. Competition between brokers has driven down the cost of trading, but it's worth checking the small print to ensure you're not giving money away unnecessarily.
2. Open and Fund an Account
To upgrade your Demo account to a Live Trading account or to set up a Live account from scratch requires providing the broker with some personal information. The broker will then be able to identify you and ensure that you, and only you, have access to the account.
Source: IG
Opening an Account
Onboarding is completed online; regulated brokers use a relatively generic template. After submitting personal details and verifying your I.D., there may be a series of questions relating to your trading experience and investment aims. The questions are asked so that a broker can comply with Know Your Client (KYC) rules and apply an appropriate amount of client protection. The whole process can be completed using a laptop, PC, tablet, or mobile handset and takes minutes to do. Once finished, you're ready to wire funds to your account.
Funding your account
If, after some final checks, you're sure your broker is safe, then it's time to wire funds to your new account. The process is in many ways like any other online purchase or banking transaction. Good brokers allow clients to fund using various payment methods, with bank transfer, credit card and debit cards being popular. However, ePayment service providers are increasingly gaining market share. It is worth checking the T&Cs on your account as you may find using one payment method is faster and cheaper than another. Once the funds hit your account, you're ready to trade.
3. Open an Order Ticket and Set Your Position Size
If you already know what South African stock to buy, then you can navigate the trading dashboard at your broker to locate that market. If you're still considering your options, it's possible to run a search on stocks by country or use some of the free research brokers offer on firms and their stocks. The platforms provide tools based on technical analysis, charting and fundamental analysis to help their clients spot good investment ideas.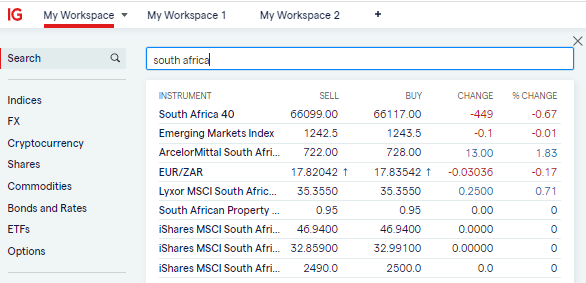 Source: IG
Most of the hard work has been done at this stage, and the actual act of putting on a trade is incredibly simple. All that is needed is to populate some data fields and click or tap 'buy'. As trading is as much about managing risk as it is about banking profits, some additional risk-management features are worth considering. These can help you limit not only your downside but also enhance returns.
BHP Billiton Trading Dashboard at broker IG
Source: IG
4. Set Your Stops & Limits
Online trading platforms give clients complete control of trade management, and you can access your positions at any stage of their life to adjust your strategy. For example, Stop Loss instructions and Take Profit orders are instructions built into the system that will automatically sell some or all of your position if price reaches a certain point. That means you can get on with your day job rather than watch the markets while at the same time benefiting from knowing that you'll automatically bail out of a position if things go against you.
Take Profit orders work similarly to stop losses but close out your position if price moves the way you want it to go. They lock in profits by selling some or part of your position and turn unrealised profits into realised gains.
An Alternative Approach to Stop Loss Use
Stop losses are often recommended for beginners and are popular with traders following short-term strategies. Practising using them in a Demo account is recommended, and it's also worth remaining open-minded about alternative forms of risk management.
Buy-and-hold investors prepared to wait a long time for a position to come good often don't apply stop-losses. That is because using stops would leave them open to being stopped out if there is a flash crash. The argument that long-term investors sometimes use is that short-term bumps in the road ought not to jeopardise your long-term confidence in a position. That doesn't mean risk can't still be managed, and trading in a smaller size makes it more likely that any 'noise' can be ridden out. That way, you can stay in a trade and protect your account.
Effective portfolio management is an excellent skill to learn. It involves using diversification of assets, having a clear strategy including target entry and exit points, and taking the emotion out of trading.
A final order type to consider is the Limit Order, which can help introduce an element of discipline into trading. These allow you to state the price you want to enter into a position. There's no guarantee that the price will reach your target level, but if it does, you'll optimise your entry price rather than overpay due to impatience.
5. Make Your Purchase
The process of buying South African stocks is very straightforward. The functionality of modern online broker sites is designed to make things easy, and complete beginners can set up and book their first trade within minutes. It requires simply clicking or tapping the button marked 'buy'.
The added protection offered by stop losses, take profits, and limit orders are nice to have features but might not fit in with all types of trading strategy; however, there is one check all investors should run after they have traded.
After executing a trade, it's a good idea to immediately visit the Portfolio section of your account to double-check you bought what you intended to buy. Even the pros make 'fat finger' errors and buy instead of sell, and as prices can move very quickly, any errors need rectifying before they prove costly.
SUMMARY
The Portfolio section of the site is also where you'll be able to monitor your trade's performance over time. You'll be able to watch the P&L (profit and loss) on the position fluctuate in line with market prices. Clients have complete control over trade management and can add to positions by buying more, or when the time is right, sell some, or all, of the position and convert the proceeds to cash.
Trading South African stocks doesn't have to eat into your free time. You can use price alerts to let the broker keep you up to date with events and following the adage of using only amounts of money you can afford to lose can take some of the emotion out of trading. That way, you can focus on your day job, but at the same time hope to gain from your investment.
Nothing is ever guaranteed in the markets, but now could be the ideal time to buy South African stocks. The country has always been popular with those interested in commodity markets, but it is now viewed as the gateway to the Africa growth story. Following the tried and tested methods relating to safer trading and choosing a broker are ideal first steps into a country that represents a unique investment opportunity.