Successful day trading strategies aim to capitalize on the small price moves which characterize intraday trends.  However, day trading can also pose many risks for those without a tested, though-out strategy.  This is why it's particularly important for investors to gain a deeper understanding of the common principles of day trading.   In this article, we will look at some of the factors involved when day traders make the decision to buy or sell certain assets during intraday time intervals. 
Selecting Trades and Opening Positions
Day traders earn profits by exploiting intraday trends in various asset classes (stocks, forex, cryptocurrencies, options, and commodities).  When selecting which assets to trade (and when to open new positions), it's critical to start with a tested strategy outlook and find market scenarios that meet all of the requisite criteria.  New traders will often make the mistake of initiating new trades based on the logic that the only way to make money is to have active positions open at all times.  However, this "fear of missing out" mentality can have many unintended consequences and will often lead to unnecessary losses.
For these reasons, successful traders must always start with a set of preferred market conditions and then wait for the market to meet those requirements.  Of course, this requires a high level of patience —and can even result in a sizable number of missed trading opportunities.  But, rather than regretting those instances of uncaptured profits, it's important for day traders to remember a critical piece of the traditional market wisdom:
"It's better to be out of the market wishing you were in a position than it is to be in a market position wishing you were out."
Defining which market elements are most relevant for day traders in determining sufficient buy/sell triggers requires an understanding of three key factors:
Trading Volume:  Trading volume measures the number of times an asset has been purchased or sold during a specific period of time.  Day traders tend to monitor average market volume for each daily trading period before entering in a position to buy or sell an asset.  Higher trading volumes indicate rising levels of market interest in the asset and this can signal the development of new trending price moves.  Remember, rising volumes can be positive or negative when impacting changes in price.  Everything depends on the behaviors seen in the majority of the market.  Are most investors bullish or bearish?  The answer to this question is what determines the next direction in market price trends.
Market Liquidity:  Market liquidity levels allow day traders to enter and exit their positions at a favorable price.  For example, markets characterized by low liquidity levels often experience trading slippage that can lead to wide spreads (higher trading costs) as the distance between the bid/ask price increases.  Day traders will often enter into several positions each day, hoping to capture small gains in the process.  When those small profits are reduced by significant trading costs, a day trader's total earnings can drop significantly.
Price Volatility:  Price volatility measures the market's potential for changes in valuation.  Essentially, volatility shows day traders the difference between price highs and price lows (over a certain period of time).  This price difference creates a trading range that day traders can use to define position parameters.  As a general rule, higher volatility levels mean greater potential for gains (as well as greater potential for losses).
Setting Realistic Profit Targets
Day trading strategies don't need to end in gains 100% of the time in order to generate consistent profits.  In fact, many profitable day traders are successful in just 50-60% of their positions.  How is it possible to be profitable if only 50% of a trader's positions are profitable?  Doesn't this mean that an equal number of will trades lose money and that the outcome should be neutral (zero total gains)?
Not necessarily.  The trick to succeeding as a day trader is to structure positions so that winning trades gain more than losing trades lose.  As a general rule, day traders will seek out profit targets that are roughly 3x the potential for losses.  As long as these parameters are maintained, a day trader could actually lose in most positions and still end in profitability over the long term.  Remember, day trading requires us to set realistic profit targets that are based on the market's trading ranges and the potential for volatility.  Always make sure that trading risk is limited to a set percentage of the total size of the trading account (generally around 2%).  Deviating from these rules can result in substantial losses if market prices take an unexpected turn.
Technical Analysis in Day Trading
Day traders typically use a variety of technical analysis tools.  Some of the most common technical analysis tools used by day traders include:
Moving Averages
Pivot Points
Stochastic Oscillators
Average Directional Index (ADX)
Parabolic SAR
Trend Analysis
Many of these indicators can be used in conjunction with one another as a way of finding high-probability trading setups.  However, it is often inadvisable to use more than three technical analysis indicators at once (as this approach can give conflicting price readings).
Structuring Market Positions
After defining a specific set of trading rules (based on factors like volume, volatility, profit targets, and stop loss exposure), day traders must assess the market's price charts and assess current market conditions.  As a general rule, it is a good idea to close trades if the original reasoning behind the position is somehow invalidated by the market.
For example, a day trade based on a previously defined price range would likely need to be closed if that range breaks and no longer contains market activity.  Conversely, positive trades will also need to be closed once the potential for gains begins to erode.  For example, a trade base on an uptrend might be closed after prices rally significantly and begin to stall at historical resistance levels.
Stop Losses and Limit Orders
When we say that traders must "limit their losses," we are specifically saying that stop losses or limit orders must be in place whenever day traders open an active position.  If nothing else, stop losses work as a protective measure during periods of heightened market volatility.
If an unexpected news event begins to influence trading behavior, trades without the protection of a stop loss can quickly erode prior losses and eliminate the profitability results in any trading system.  It's never fun to see a trade stopped out at a loss.  But closing out a losing position can allow day traders to take a step back and find better trading opportunities elsewhere in the market.
Real-Time Day Trading Examples
Day traders use many different methods to achieve a successful approach to master the markets.  Every environment has its own potential risk and possibility for reward, so some strategies are better suited than others depending on the market context.  Next, we'll cover four of the most popular strategies employed by expert day traders.
Scalping: is a very popular day trading strategy, which involves closing a trade almost immediately once the position becomes profitable.  In these cases, price targets can be highly variable as trades are usually closed manually once prices start to move against the position.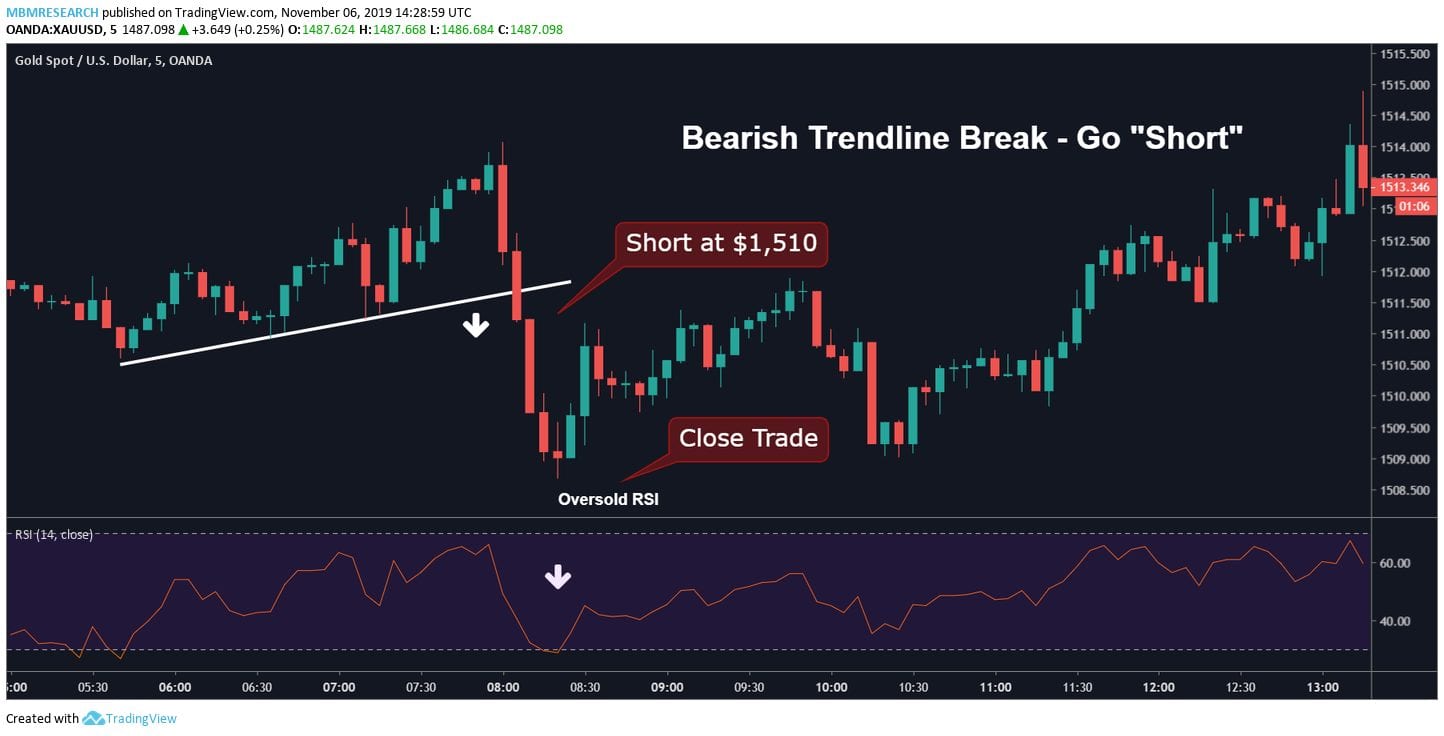 An expert scalper would have seen the negative momentum and initiated short positions at $1,510 using a 5-minute price chart.  Once indicator readings on the Relative Strength Index (RSI) reached oversold territory, scalping traders would close the position at a profit.
Momentum Trading:  involves constructing trades based on the underlying trends that are visible in the markets each day.  Day traders will generally look for trending moves that are supported by rising volume indicators, as this suggests greater validity in the direction of the trend.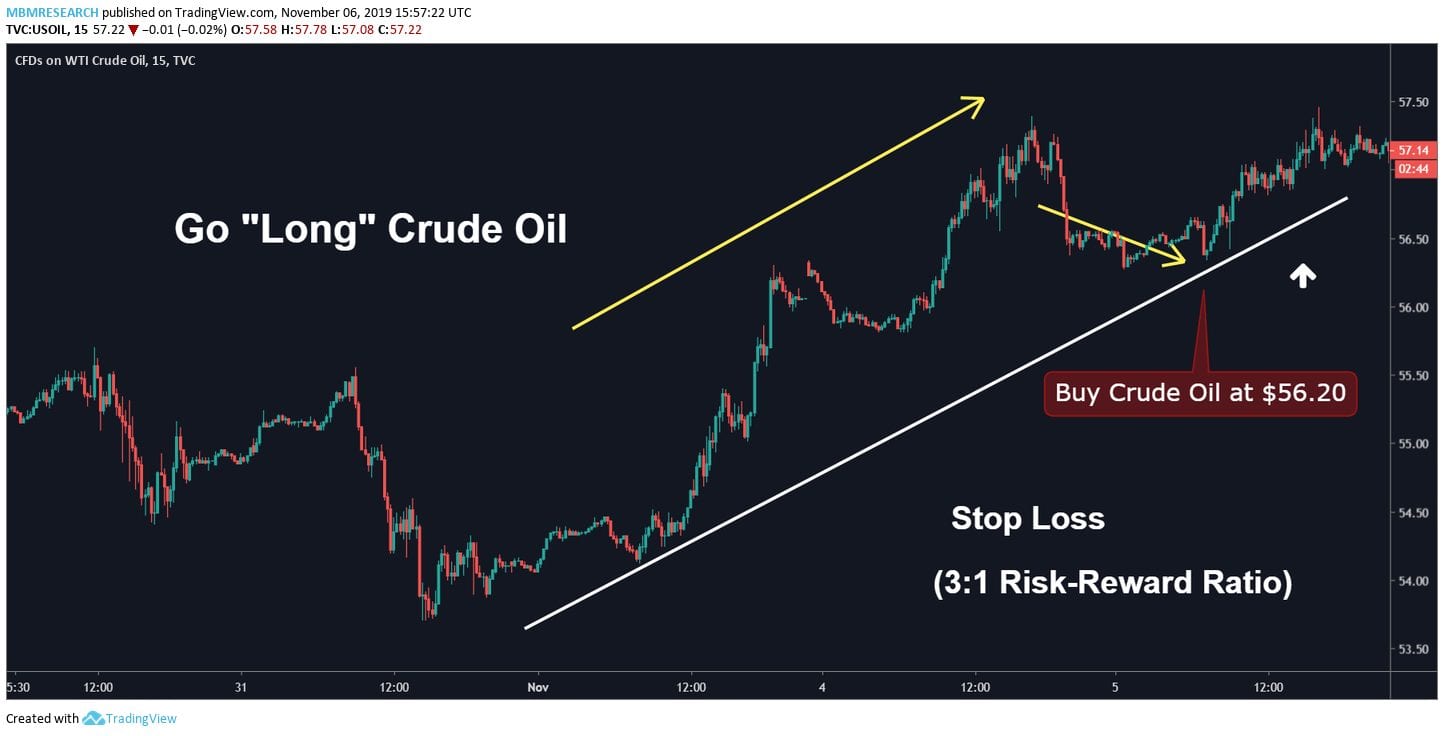 Next, we will look at a momentum trading example that bases its outlook on chart trendlines.  As an upward trendline emerges, expert traders would see the changes in market momentum, and buy crude oil at $56.20.
Profit Target is set at prior resistance levels (at $57.40)
3x risk-reward means that the stop loss should be placed at $55.90
As we can see in the chart, the final outcome shows that trade momentum gains as crude oil prices continue moving higher with price trendline.  This results in profits for the long trade.
Advanced Day Trading Techniques: Pivots and Price Fading
Price Fading: involves selling an asset after a major rally or buying an asset after it experiences a significant decline in its valuation.  Fading strategies are based on the assumption that over-extended markets will ultimately revert back to their averages.  Conservative traders tend to view this approach as risky because the majority of the market's momentum is already working against the position.
Daily Price Pivots:  involves constructing day trades based on an asset's potential for volatility.  Day traders attempt to buy at price lows and sell at price highs on each trading day.  Price targets and stop losses are generally based on the support and resistance levels that define the daily trading range.