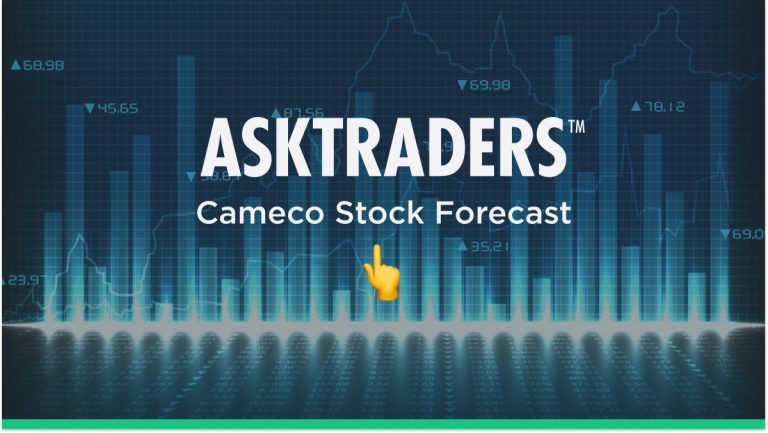 The climate summit Cop26, which was held in Glasgow in November, has confirmed that the world is shifting away from carbon-based energy supplies.
With further measures ratified by global leaders, the long-term trend is towards alternative energy supplies such as nuclear power being developed. This is good news for uranium mining firms and has been reflected in their stock prices. Cameco, one of the big players in the sector, has seen its share price surge. Between November 2020 and November 2021, CCJ stock increased in value by more than 170%, and there are reasons to believe that the upward momentum will continue. Nuclear power has a unique position compared to wind and solar, thanks to it being more reliable. With coal power on the way out, it is a good time to ask the question, is Cameco a good stock to buy? To answer that, this Cameco stock forecast will apply technical and fundamental analysis to outline the short and long-term prospects for the firm.

Cameco (CCJ) Share Price 2015-2021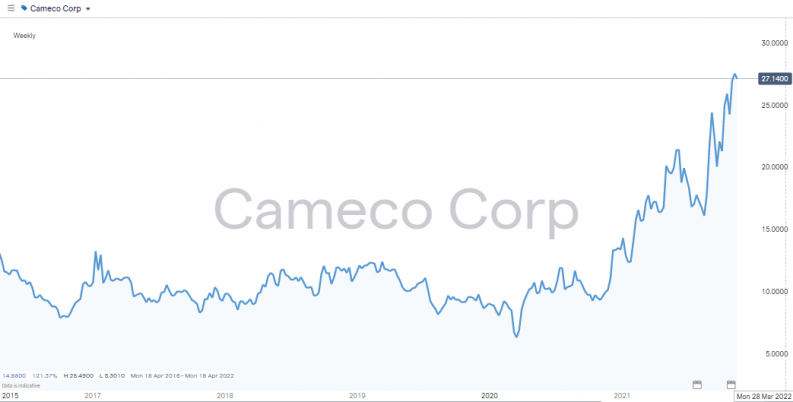 Source: IG
Who are Cameco?
Cameco was founded in 1988 and has its head office in Saskatoon, Canada. Its stock is listed on the New York Stock Exchange under ticker CCJ, and it has a market cap in the region of $10bn. The firm operates two divisions, which cover various areas of the uranium industry. The Uranium division engages in exploration, extraction, milling, and buying and selling of uranium. The Fuel Services division operates further down the production process and refines, converts and fabricates uranium.
The firm operates a global network of mining sites, but many of its operations and reserves are located in North America. The total licensed capacity is currently to produce more than 53 million pounds (100% basis) of uranium concentrates annually, which are backed up by 455 million pounds of proven and probable mineral reserves (source: Cameco).
Over the last 52 weeks, CCJ stock has traded within a price range of $9.25-$28.45.
Cameco Fundamentals

Source: IG
Nuclear energy divides public and political opinion, and this means that demand for Cameco products can be volatile. As a result, the firm's Net Income and Cash Flow charts mirror the fluctuating fortunes of the industry as a whole. While the stock might therefore be considered a high-risk-return proposition, it does have a history of paying dividends, with the current yield of 0.238% being in line with the rates offered on savings accounts.
Cameco Balance Sheet

Source: IG
CCJ's proven and probable uranium reserves mean that it is well positioned to increase capacity if the price of the metal goes on a bull run.
Highlights from the nine-month financial results up to 30th September 2021 include:
Cameco Corp (USA) revenues decreased 19% to C$1.01bn.
Net loss decreased 14% to C$113.8m.
Revenues reflect Uranium segment decrease of 25% to C$727.5m.
Asia segment decrease of 50% to C$176.4m.
Europe segment decrease of 47% to C$175.7m.
Lower net loss reflects Administration – Balancing value decrease of 100% to C$199k (expense).
Source: Investing.com
Where Will Cameco's Stock Price Be in 3 Months?
Recent price moves in CCJ stock give a hint of the potential volatility. Between 23rd August and 16th November 2021, the stock shot up in value by more than 68%. It can move as dramatically in the opposite direction. In the three months after February 2011, the CCJ share price tumbled by 37%.
The recent surge in the price of CCJ stock raises the question: Cameco stock – buy or sell? Short selling at these levels would be a risky proposition and something only for experienced traders to consider, but there are hedge funds that have taken the view that CCJ stock may fall back from current price levels.
Currently, 2.9% of the shares of the company are short sold.
Cameco saw an increase in short interest during the month of October.
As of 15thOctober, short interest totalled 11,350,000 shares, which was an increase of 21.3% from the 30th September total (9,360,000 shares).
Based on the current average trading volume of 7,260,000 shares, the days-to-cover ratio is currently 1.6 days.
Short-term price moves in mineral markets are driven largely by demand factors. A change in view on the move away from carbon-based energy sources can be the result of one line of a political speech. In contrast, the exploration and extraction of uranium is a multi-year project, with little certainty over actual resource levels until mining begins.
Whether traders are looking to buy or sell Cameco stock, the use of technical indicators can help identify optimal trade entry points.
Short-Term Technicals
The recent surge in the Cameco stock price offers two propositions. The first is that it is a bubble waiting to burst. The second is that this is a rare opportunity to buy into the next big thing. The RSI on the weekly charts sits above 70. There have been previous instances (2005) of this being the case, but price continued to rally for years to come. Another bullish indicator is the upwards intersection of the 20 and 50 SMAs, which occurred in August 2021.
Cameco (CCJ) Share Price 2005-2021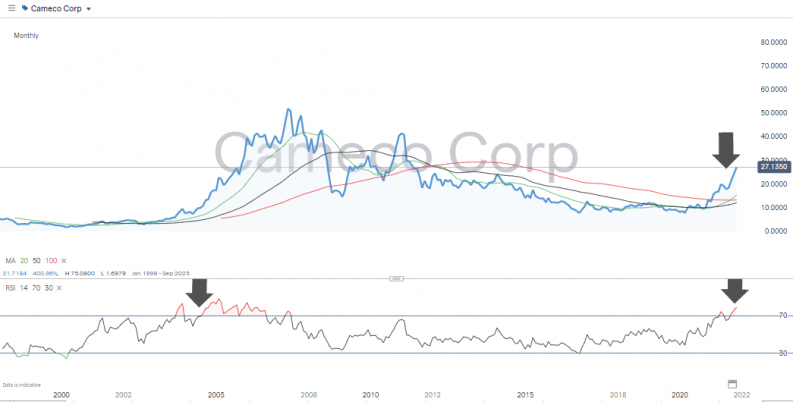 Source: IG
The easy-to-chart trend line support of the recent bull run will be another indicator that comes under extensive scrutiny. When price action next touches that line, many will see it as a dip to buy CCJ stock and finally resolve their FOMO. A break of the line to the downside would, on the other hand, signal that the Cameco share price potentially shot up too hard and too fast and could be heading for consolidation at lower levels.
Cameco (CCJ) Share Price 2020-2021 – Trendline Support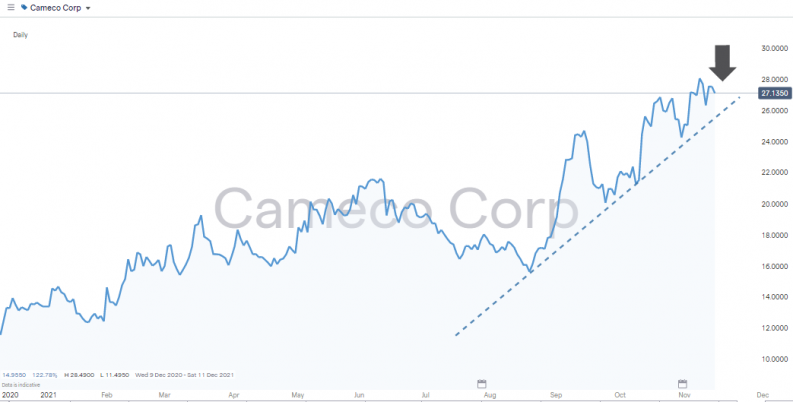 Source: IG
Short-Term Fundamentals
To establish the short-term prospects for CCJ, it is important to look at what could influence the price of uranium.
Global economic growth and the price of other energy stocks come into play. Geopolitical risk events, such as threats from Russia that it will cut off the supply of gas to Western Europe, cement the position of nuclear power as a reliable and secure form of power. Any pickup in economic activity is also good for the Cameco share price, as this is associated with increased demand for electricity.
Economic production levels can be influenced by fiscal policy measures such as US President Joe Biden's $1tn infrastructure package, which was finally signed off on 15th November. Monetary policy announcements also need to be considered. The US Federal Reserve in its November FOMC meeting signalled that interest rate rises may not be as hard or fast as some had predicted. This trickles down as more good news for manufacturers looking to take advantage of low rates to scale up new business lines.
The US Federal Reserve's FOMC is due to meet and decide rates policy on 14th-15th December and 25th-26th January 2022. Interim 'guidance' in the form of comments to the press can also be expected.
Where Will Cameco's Stock Price Be in 1 Year?
Cameco stock predictions for the next 12 months can incorporate more factors relating directly to the firm's own actions.
The firm released its Q3 earnings results on Thursday 28th October. The company reported $0.14 earnings per share for the quarter, and earnings of $361m during the quarter were lower than the consensus of analyst estimates, which were $422.49m. Cameco's revenue for the quarter was down 4.7% year-on-year. During the same quarter in the prior year, the company earned $0.15 earnings per share.
The company also updated its FY 2021 revenue guidance on 5th November, offering a range of $1.10-$1.22bn, which is in line with the analyst consensus revenue estimate of $1.18bn. There appear to be few surprises in store in terms of the full-year accounts, which are due to be announced on 9th February 2022.
Cameco Broker Ratings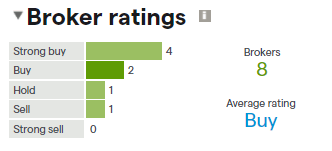 Source: IG
Given that Cameco is a relatively big player in a hot sector, it is well covered by market analysts. Four out of eight analysts following the stock rate it a 'strong buy', with only one marking it a 'sell'.
Data from CNN reports that CCJ stock forecasts by industry experts for the next 12 months have a median share price target of $29.96. This is above current price levels, and the high end of the range of one-year forecasts is a target price of $32.27, with the low estimate coming in at $22.27.
Even the most optimistic 12-month price forecast predicts CCJ stock's recent surge tapering off and price moving into a consolidatory pattern in the near future. This might not be too surprising given the rapid ascent that the stock has recently made, and does open up the door to those who are positive about Cameco's long-term prospects and would welcome a chance to buy the dips in a popular and well-run uranium mining stock.
One technical barrier to the stock running away is the $44.15 high-water mark from January 2011.
Cameco (CCJ) Share Price 2020-2021 – Price High Resistance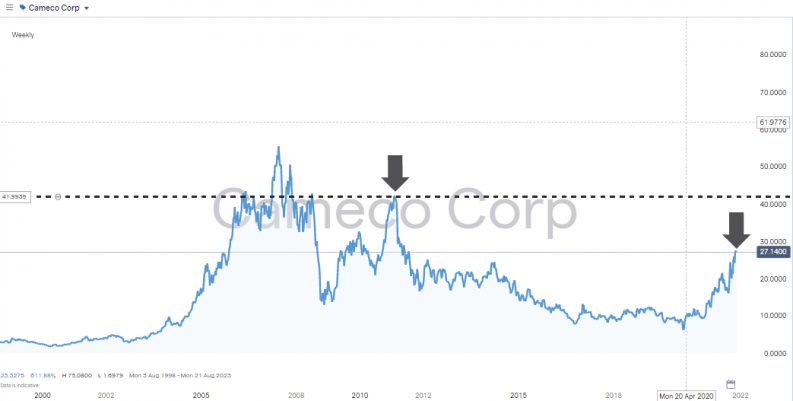 Source: IG
Where Will Cameco's Stock Price Be in 5 Years?
Any Cameco stock forecast running as far as 2025 needs to be based around the price of uranium.  The firm's Q3 investor report noted that the uranium spot price had increased by approximately 46% since the end of June. However, there is a neat accounting process, which means that a move in the metal can be followed by an exponential move in the price of mining company shares.
Like most mining firms, Cameco's cost base involves a large percentage of fixed rather than variable costs. Capital investment on exploration projects and the setting up of the infrastructure required to extract minerals is largely front-loaded. Once a new mine is opened, the ongoing running costs need to be managed, but can be small in comparison to the cost of getting the operation set up. This means that a small increase in the price of uranium on the open market can lead to a larger percentage increase in Cameco profit margins and a resulting proportionately larger rise in the price of CCJ shares.
Macro Trends
The direction of travel in terms of demand for non-carbon electricity is clear to see and was confirmed by Cop26 pledging to 'phase out' the use of coal. Cameco is pitching its products as the answer to the problem that at the same time, global demand for power is increasing. The firm stated that it is ready to supply "safe, reliable, carbon-free nuclear reactors. Together, we are meeting the ever-increasing demand for clean baseload electricity while delivering safe, reliable solutions to today's clean-air crisis."
Source: CCJ
The reference to 'reactors' needs to be recognised. Cameco is one of the market leaders in the move towards nuclear reactors being smaller in size. These small modular reactors are a third of the size of traditional plants and make expanding the use of nuclear power more scalable and flexible. On 16th September, Cameco and X-energy announced that they had signed a non-binding and non-exclusive Memorandum of Understanding to explore possible areas of cooperation to support the potential future deployment, fuelling and servicing of Xe-100 small modular reactors (SMRs) in Canada and the US. This is one of several Memorandum of Understanding agreements that Cameco has signed with a range of different global partners, and combined they put CCJ in a strong position in terms of benefiting from the change in approach.
Mining Resources – McArthur River mine and Key Lake processing facility
In 2018, Cameco took the tough decision of mothballing one of its high-profile mines. In response to the price of uranium flat-lining, the McArthur River mine and Key Lake processing facilities were placed into safe and sustainable care and maintenance. In service since 1999 and 1983 respectively, both of these facilities can be started back up if the price of uranium continues to hold at higher levels.
The McArthur River Uranium Mine, in northern Saskatchewan, Canada, is the world's largest high-grade uranium deposit. It's also based in North America, which means that it's a secure supply of the metal and close to the all-important US market.
Tax Windfall
One other potential kicker for the share price relates to a tax dispute that the firm is taking through the courts. Its most recent update to investors states that:
"We have filed a notice of appeal with the Tax Court of Canada (Tax Court). We are asking it to order the reversal of Canada Revenue Agency's (CRA) transfer pricing adjustment and the return of the $777m in cash and letters of credit we have paid or secured for the tax years 2007 through 2013, with costs, and in accordance with the law as determined by the unequivocal decisions received for the 2003, 2005 and 2006 tax years.

"We are challenging the reassessments issued by CRA for those years on the basis that the Tax Court would reject any attempt by CRA to use the same or similar positions and arguments for those subsequent years being disputed. See Tax Dispute in our third quarter MD&A."
Source: CCJ
How long it takes to resolve this issue is anyone's guess, but there is no reason to dismiss the chances of Cameco benefiting from an unexpected windfall in the next five years.
Cameco and Sustainability
Corporate social responsibility (CSR) is a big and increasingly important issue for all mining firms. Cameco might be in the fortunate position of mining a material that could ultimately reduce global CO2 levels, but it still has to consider how it interacts with communities and the environment.
Firms that tick the box in terms of being 'good' for the environment can expect to benefit from interest from large institutional investors that consider CSR when working through their decision-making process.
It's fair to say that safety and waste management issues associated with nuclear power mean that uranium miners face considerable challenges in terms of being adopted as the best 'green' fuel option. With few viable alternatives, it could be that the investment community are left with little option but to look to buy into uranium mining firms that make the best of the situation.
Cameco's CSR ranking at CSR Hub is 73%, based on comparisons with 26,623 other companies. It was an early adopter of environmental, social and governance (ESG) reporting and has been producing annual ESG reports for 16 years.
Who Owns CCJ stock?
Cameco's stock is owned by a number of high-profile institutional investors. The list of significant shareholders includes Lord, Abbett & Co. LLC; Connor, Clark & Lunn Investment Management Ltd.; Exchange Traded Concepts LLC; Yost Capital Management LP; and Renaissance Technologies LLC.
These firms carry out extensive due diligence on companies they are considering investing in, so this offers some comfort to retail investors who follow their lead. Fund managers do have long-term investment horizons, and the presence of hedge funds such as Marshall Wace LLP and Guggenheim Capital LLC in the top 10 of shareholdings suggests that a buy-and-hold approach could be required to maximise gains in any CCJ position.
Is Cameco a Good Buy?
With markets in uranium hard to access, buying or selling uranium mining stocks offers investors an indirect way to take a view on the prospects of the nuclear industry. Short-term price drivers tend to be demand based, and there is a wildcard feel to the stock. A change in political appetite could send the stock tumbling, and another Fukushima-style accident could drive the stock price towards zero.
The recent price surge reflects there being few viable, reliable and predictable alternatives to carbon-based fuels on the market. There are, however, alternative uranium mining stocks to add to the shortlist of candidates. That being said, the positive forecasts from analysts, the ability to resurrect the McArthur River mine, and the potential tax windfall could all come into play over the next five years.
Cameco wouldn't be a stock to go 'all in' on, but it shouldn't be dismissed as an investment opportunity either. After the recent eye-watering price rise, near-term forecasts point to price consolidating, and short-term volatility could throw up buying opportunities for those looking to get into a position and ride it out for long-term gains.