Investing in organic food stocks is becoming increasingly popular. The trend looks like it could become a significant and long-term one, which means that investors in organic stocks can help change the way that business is done, and also make returns on their capital.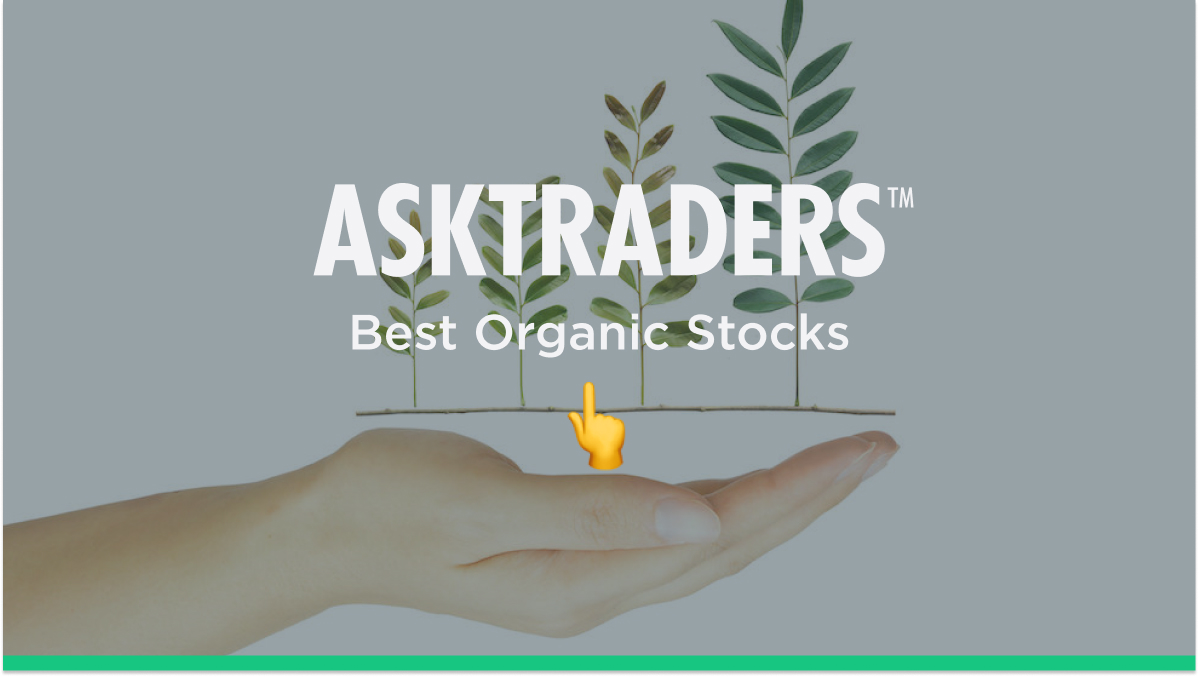 Trading with the trend is one of the basic rules of successful investing. If you're of the view that organic food products will continue to take increased market share, then the capital you invest in organic food producers will help make a difference to the firm, and your wealth.
Bank of America predicts that the food solutions market across the world will reach a valuation of over $300bn by the year 2025. There's all to play for, so we've compiled a guide to the best organic food stocks to help you invest for all the right reasons.
What Are Organic Food Stocks?
The classic definition of organic food producers includes those who grow and produce food without using synthetic chemicals such as pesticides and artificial fertilisers.
From an investment perspective, the definition has been extended to include farmers and producers who also do not use genetically modified (GM) components or expose food to irradiation. Animal welfare, environmental sustainability, and other elements of ESG work practices are also important issues for organic farmers.
When considering whether a firm is an organic producer, or to what extent it adopts organic practices, there are some blurred lines. This can make it harder for investors to identify a firm that is a best fit for their core values.
Is it better to invest in a small firm that stringently adheres to organic principles but has a limited chance of making an impact? Or is it better to invest in a firm that takes a more pragmatic view, but has the potential to change the nature of the food market and is ultimately going to bring about more effective social change?
The Best Organic Food Stocks to Buy Now
The decision about which organic food stock to buy will be influenced by individual preferences. To help you find the stock with the right profile for you, AskTraders has compiled the below list of the best organic food stocks. Each one has a plausible reason to be included in your portfolio.
The Simply Good Foods Company (NASDAQ:SMPL)
Headquartered in Denver, Colorado, and founded in 2017, The Simply Good Foods Company sells healthy snack and meal alternatives. Its stock is listed on the Nasdaq exchange under ticker SMPL, and it has generated positive returns for investors since it first listed.
The firm focuses on the snacks and meal replacement area of the market. There is significant potential for the firm to gain market share from incumbent firms that don't have the ethical edge of Simply Good Foods.
The business operations of the firm have also been set up in an impressive way. As the firm states, its distribution of products is via "major retail channels, including grocery, club and mass merchandise, as well as through e-commerce and convenience". This strong network allows the company to "introduce new products, expand distribution, and appeal to current and potential consumers". (Sources: Simply Good Foods)
From a technical analysis perspective, SMPL is trading in an upward price trend, and while that price pattern holds, the times when price moves towards the supporting trendline can be viewed as opportunities to buy.
Applying some patience and optimising the trade entry point appears the best option given that SMPL's current P/E ratio is 54.06, which is close to twice the market average.
Sprouts Farmers Market, Inc. (NYSE:SFM)
Sprouts Farmers Market started trading in 1943 and is now one of the fastest-growing retailers in the US. The farm shop vibe continues to be part of the shopping experience – it's just being made available to a wider market. It currently operates over 380 stores in 23 states, so there is plenty of room for growth in the domestic market even before international markets are considered.
Approximately 60% of Sprouts' sales are organic, and the green credentials are backed up by its preference for stocking local products, its suppliers having to comply with a strict code of conduct and animal welfare standards that exceed industry best practice.
The SFM stock price is also registering a bullish price pattern. The stock currently has an attractive P/E ratio of 14.84, which is more in line with the average of the broader US stock market (S&P 500 average P/E ratio: 28.3).
General Mills, Inc. (NYSE:GIS)
A potentially surprising inclusion in the sector, General Mills has been producing mass-market traditional foodstuffs since 1928, but is rapidly developing its organic food offering.
Sales in the company's organic food section experienced growth of 7% during the COVID-19 pandemic. The non-organic division also saw strong growth, with the company as a whole predicting its 2022 year-on-year revenue growth to be 3.81%.
General Mills' ability to squeeze higher growth out of its organic ranges suggests that the company is looking to expand that offering. At the same time, it has the critical mass that some smaller organic companies don't, and investment in new markets requires the kind of resources that General Mills has spent years developing.
General Mills now looks well-positioned to offer consumers and investors a hybrid model of organic and standard food products that are affordable for most consumers.
Its stock posted a 29.9% price rise between January and December 2022, and could have more potential upside. Capital gains are also supported by dividend returns. GIS stock currently pays a dividend yield of 2.47%. This compares well to the Food-Miscellaneous sector's average yield of 0.11% and the average of the S&P 500, which is 1.67%.
Beyond Meat, Inc. (NASDAQ:BYND)
Beyond Meat shares were first traded on the stock market in 2019. A price surge soon followed, and some first-phase investors made returns greater than 200% on their positions. Since then, the price of BYND has fallen back to the region where it was when it IPOed.
The price slide in Beyond Meat stock reflects unrealistic euphoria draining out of the market, rather than the firm facing any existential challenges. In fact, it has led to the firm's senior management considering a more realistic growth plan.
In a note to investors, CEO Ethan Brown said: "Beyond Meat is executing a full force pivot to a sustainable growth model, emphasizing the achievement of cash flow positive operations" (Source: The Motley Fool). To put it another way, Beyond Meat is focusing on being a well-run business rather than a standard-bearer for organic foods. This could end up being good news for investors.
Investing in Beyond Meat is a riskier proposition than buying into a Blue Chip stock such as General Mills. The question is whether the pivot by Beyond Meat's management can stem the losses it is making and buy enough time for the firm to leverage off its market-leading brand name.
Why Invest in Organic Food Stocks Right Now?
The organic food market is not only growing in terms of total size, but the demographic of its main players also makes it appealing to investors.
Young consumers dominate the market, with Statista reporting that 36% of 18-29-year-olds prefer to eat organic compared to only 12% of 50-64-year-olds. Given the obvious differences in life expectancy of the two groups, there is clearly an argument for buying organic food stocks as a long-term investment.
Buyers of organic food products are not only young but are also more likely to come from groups earning higher incomes. Any premium product faces a risk that discretionary expenditure on high-value items could be impacted by an economic downturn.
The risk that organic food might appear 'overpriced' can be counterbalanced by the fact that stocks of food companies and producers of other staple goods tend to hold up well during an economic downturn. Consumer discretionary products such as mobile phone handsets are seen as being far less recession-proof.
What to Know About Investing in Organic Food Stocks
The COVID-19 pandemic may have acted as a catalyst for sustainable food companies, but it now looks like the change in consumer habits is hard-coded. While the sector looks set to grab more market share, this doesn't necessarily mean that all the stocks will benefit to the same extent.
Major multinationals are already adapting their approach to cater to consumers who want organic foods, and their critical mass and deep pockets will make them challenging competitors to smaller firms.
The fluid nature of the sector reflects the appetite for change, but investors need to be careful about which stock to pick.
Final Thoughts
Organic stocks prove that investing in something that you believe in no longer involves sacrificing financial returns. Long-term buy-and-hold investors are ideally positioned to reap the rewards associated with such a long underlying trend playing out.
Whether you are fully on board with the push towards going organic, or more interested in making a profit, the above stocks appear capable of fulfilling both needs. If you're new to investing, and your decision to buy organic stocks is your first foray into the stock markets, then following the step-by-step guide will help you get to grips with the mechanics of the process.
You can even try out trading using a demo account, which supports test trading using virtual funds. This trusted brokers in this list all offer demo accounts. They are well-regulated and offer investors the tools needed to make the best possible entrance into the market.
People Who Read This Also Viewed: