The surging price of copper has resulted in many investors taking up positions in copper mining stocks to capture any more possible bonanza-style price moves. One prime target has been Freeport-McMoran (FCX), the Phoenix, Arizona based mining giant, which between March 2020 and May 2021, saw its share price surge by more than 740%.
Freeport-McMoRan (FCX) Share Price 2015 -2021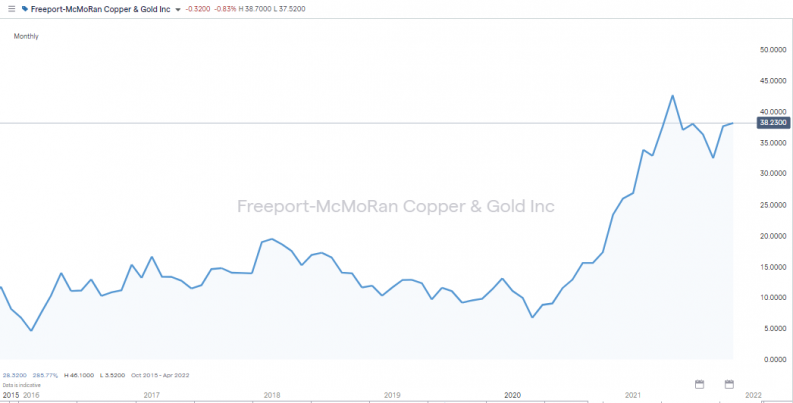 Source: IG
It's a relatively high-risk proposition and this Freeport-McMoRan stock forecast will outline the short- and long-term prospects for the firm. Nothing is ever guaranteed in the markets, but by using a combination of technical and fundamental analysis tools, this analysis will try to answer the question, is Freeport-McMoRan a good stock to buy?
Who are Freeport-McMoRan (NYSE: FCX)?
Freeport-McMoRan Copper & Gold Inc is a New York Stock Exchange-listed stock, which operates under the ticker FCX and has a market capitalisation of approximately $50bn.

Source: IG
It's one of the larger firms in the copper sector and has the additional advantage of a considerable proportion of its reserves being US-based. Geopolitical risk always casts a shadow over commodity markets and being US-based means it offers a security of supply to US manufacturers, which some competitors just can't match. It does have operations in Indonesia and South America but is, from an investment perspective, at least still largely seen as a US miner.
Extracting minerals and metals from the ground always leads to a range of by-products also being found. FCX, therefore, does have some operations that produce gold and molybdenum, but in relation to most of its peers, the firm is very much an out and out copper miner.
The firm's value isn't based on clever intellectual property rights relating to the processing of the metals or speculative exploration projects in South America. Instead, the major price drivers of Freeport-McMoran stock predictions are its prospects as a large scale miner with operations in the US that account for 60% of total national copper production. The firm has substantial copper reserves and is so closely related to the fortunes of the metal that the FCX share price closely mirrors moves in the price of copper when it is traded on commodity exchanges.
High-Grade Copper Price Chart 2018 -2021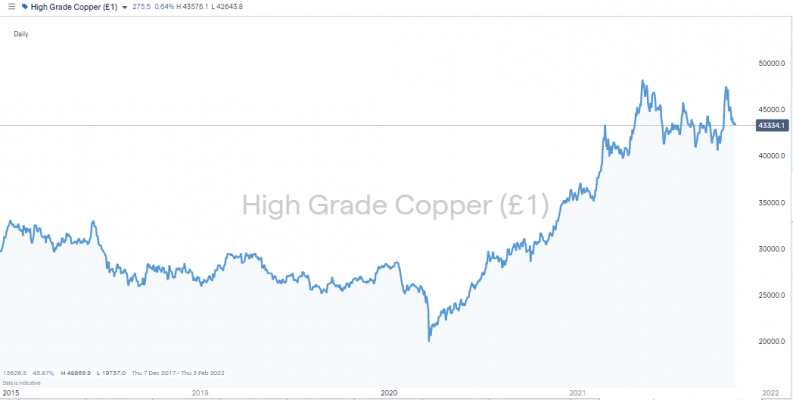 Source: IG
Freeport-McMoRan (FCX) Share Price 2018 -2021
Source: IG
The firm is a large US-based miner, which means it gains a lot of interest from US investors. Unsurprisingly, a large number of institutional brokers follow the stock and, on behalf of their clients, try to establish if Freeport-McMoRan is a buy or sell. Currently, the average rating of 20 different analysts is that the stock is a 'Buy'.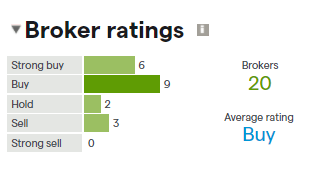 Source: IG
Highlights from the firm's H1 financial results for 2021 include:
Freeport-McMoRan Inc revenues increased 81% to $10.6bn
Net income applicable to common stockholders totalled $1.8bn vs loss of $438m
Revenues reflect Indonesia segment increase from $683m to $3.14bn
Rod & Refining segment increase from $1.11bn to $3bn
Copper avg. price per met. tonne, total increase of 64% to $8,983 per metric tonne
Copper production (metric tonne) – Indonesia increase of 89% to 279k metric tonnes
Source: IG
Where Will Freeport-McMoRan's Stock Price Be in 3 Months?
Short-term price moves in commodity markets are driven by demand rather than supply. It takes so many years for new mineral reserves to be located, analysed and finally brought to market that supply can never adjust as quickly as demand. No matter how dramatic a price move is, there is little capacity for miners to adjust their processes to meet it.
In the near future, the major demand driver is the rate at which global economic activity recovers after the COVID-19 pandemic. Industrial production levels, in turn, are largely subject to the actions taken by governments and central banks to support economic production.
The US Federal Reserve tends to dominate global monetary policy, with other central banks taking a lead from the Fed. In his November statement, US Fed Chair Jerome Powell confirmed that the multi-billion bond purchase plan would begin to be scaled back.
This 'tapering' had been largely expected and priced in by markets, but his guidance to the markets suggested US interest rate rises may be delayed. Dovish monetary policy would be likely to spur economic growth and demand for the metals, which FCX mines and sells. It could also result in inflation. As commodities are seen as something of a hedge against price rises, that could be relatively good news for the Freeport-McMoRan stock price.
Before the Fed met on 3rd November, the market had priced in June 2022 as the month when rates would begin to rise. After that meeting of the FOMC, the CME FedWatch tool is pricing in July as the month when rates begin to move upwards.
Freeport-McMoRan (FCX) Share Price 2019 -2021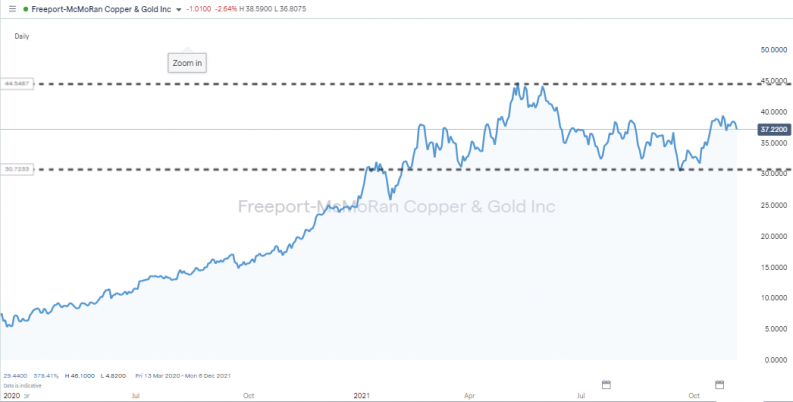 Source: IG
Two key support / resistance price levels of FCX stock are $30.7 and $44.4, which mark the year-to-low and high price levels of a multi-month trading range. A breakout of either of these levels could be an indication that price is building momentum and that a new trend pattern is forming. The FCX stock price is currently sitting in the middle of the range and price volatility is draining out of the market, but that doesn't discount the chances of the stock taking off again in the near future.
Where Will Freeport-McMoRan's Stock Price Be in 1 Year?
Increased interest in copper and copper stocks is, to a large extent, driven by the use of the metal forecast to increase as the world moves away from carbon dependency. More than 65% of the world's copper is used to deliver electricity and with electric vehicles and renewable energy predicted to be growth sectors, there is every likelihood that the price of copper could continue to rise.
Analyst forecasts of FCX earnings per share and total revenues are broadly positive for the next 12 months. The low end of the range of total revenue forecasts up to November 2022 is $29bn and the high end of the range is $42bn with a mean of $36bn.
Between 2021–24 FCX's revenues are forecast to grow faster (7.97% per year) than the US Basic Materials industry average (5.45%). This good news, being somewhat tempered by relative performance to the broader economy, where FCX's revenues are forecast to grow slower (7.97% per year) than the US market average (11.07%).
(Source: Wallstreetzen.com)
All of those forecasts have relatively high tolerance levels. This is because commodity markets and the price of copper remain exposed to external shock factors, which could come into play. But basing analysis on current market conditions, in terms of the FCX share price, the average price forecast made by Wall Street analysts for September 2022 is $36.00.
For now, any good news about the FCX share price looks to be already baked in. The staggering price rise through 2020 was good news for early-doors investors, but chasing the stock at current levels due to FOMO could be a costly experience. Most analysts appear to be factoring in only limited downside risk, so price falls that take FCX close to the $30.7 support level could well be targeted by dip-buyers.
 Freeport-McMoRan (FCX) Share Price 2020 -2021 – Weekly SMAs
Source: IG
Support for the FCX stock price also comes in terms of the firm returning some of its profits to investors. The healthy balance sheet was quoted on 1st November as being the reason the firm felt able to initiate a share buy-back program and bolster future dividend pay-outs.
The board will buy back $3.0bn of common stock in the open market and also:
"approved the addition of a variable cash dividend on common stock for 2022 at an expected annual rate of $0.30 per share. The combined annual rate of the base dividend and the variable dividend is expected to total $0.60 per share. The board intends to declare quarterly dividends for 2022 of $0.15 per share (including the $0.075 variable component)".
(Source: FCX)
The firm is some way off being considered a high-yield, blue-chip stock – the sector it operates in is too inherently risky for it to be treated in the same way as Procter & Gamble and Walmart.
Freeport-McMoRan (FCX) Share Price 2020 -2021 – Weekly SMAs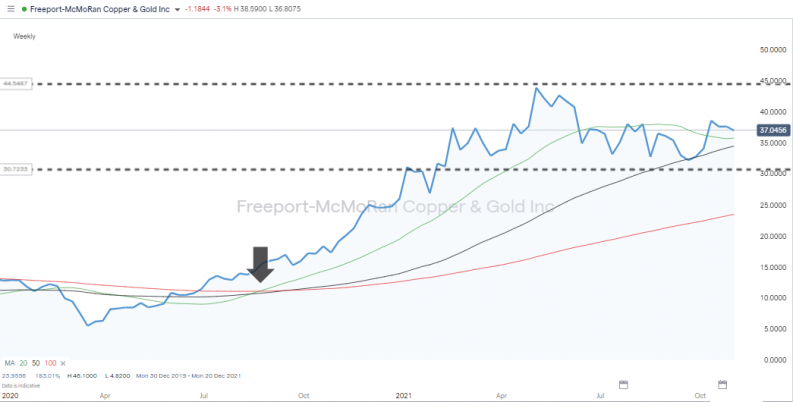 Source: IG
One bearish indicator would be the Weekly 20 SMA intersecting the 50 SMA to the downside. The sideways trading pattern through much of 2021 has increased the chances of that happening as the different SMAs have taken advantage of the drop in momentum to catch up with each other.
The bull run from August 2020 to August 2021 started with the 20 SMA breaking through the 50 SMA to the upside and resulted in the FCX share price rising 241% in the space of 12 months.
Where Will Freeport-McMoRan's Stock Price Be in 5 Years?
The Freeport-McMoRan stock forecast for 2025 and beyond is to a greater degree influenced by the actions of the firm and its plans to develop its reserves.
While the share buyback scheme is good news in terms of short- and medium-term share price returns, it does suggest the firm may be running out of exciting new investment projects, which would otherwise be using that cash to develop long-term mining capacity. The November statement confirmed the firm had reached a net debt target, but the small print includes the text could unnerve some longer-term investors.
"Up to 50 percent of cash flows generated after planned capital spending and distributions to noncontrolling interests can be allocated to shareholder returns and the balance to debt reduction and investments in value enhancing growth projects."
Source: FCX
This points to new mining ventures becoming a lower priority and investors will have to make their own call on whether, or when, a dwindling pipeline of new projects becomes an issue.
Another indicator that FCX stock forecasts ought to factor in a greater degree of price stability is the way the sector has responded to the COVID-19 pandemic. While sectors such as air travel and online learning have seen a dramatic shift in their demand for copper, FCX mines has not suffered too much fallout from societal changes.
Production levels did drop off in 2020 due to the need for staff to socially distance, but there are no Covid related existential risks to demand levels. Copper's use in manufacturing and construction has ensured demand has held up, for example, in home improvements and higher demand for electronic devices.
Is Freeport-McMoRan a Good Buy?
A lot of the good news for copper stocks is already priced into the FCX share price. Buying stock at these levels could enable investors to take advantage of any future surge in the price of copper, but the current trading range suggests investors would do well to apply a degree of patience and aim to achieve an elegant exit.
It would also be worth applying the fundamentals of risk management. All speculative investments should be made using amounts of money that are small enough that they can afford to be lost, completely. That rule particularly applies to mining companies where stock prices are subject to dramatic price swings in the global commodity markets. When a firm has a share price closely correlated to one asset – copper – then the risks (and returns) are intensified.
Another potential curveball to factor in is investor appetite for the mining sector. While the world's population craves the products the metals make, there is a notable shift towards more ethical and ecologically aware investing.
To its credit:
"FCX is a founding member of the International Council on Mining and Metals (ICMM). Implementation of the ICMM Sustainable Development Framework across the company results in site-level sustainability programs that meet responsible sourcing objectives".
(Source: FCX)
Mining might not be the greenest of businesses, but FCX is making a committed effort to being one of the greenest firms in the sector. Sometimes being the least bad option can pay off, and big institutions with investment mandates to make returns, but also balance out ethical concerns, may not be completely put off investing in FCX stock thanks to the demonstrable efforts the firm is making.