It has operations across the globe, a well-established pipeline of gold reserves, and is listed on the New York Stock Exchange with a market capitalisation close to $45bn. It's a mature, stable, well-run firm, which means those asking, 'Is Newmont Corporation a good stock to buy?' need to lift the lid on what's going on in the gold market to find an answer.

Newmont Corporation (NEM) Share Price 2015-2021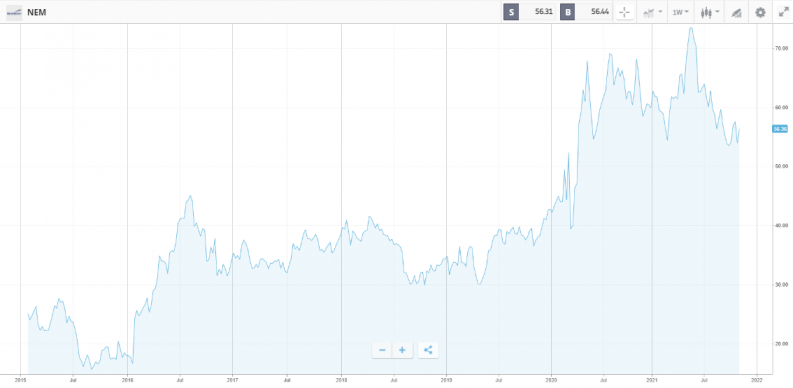 Source: eToro
All mining stocks are a relatively high-risk proposition, but Newmont could offer a route into the sector with relatively lower price volatility. This Newmont Corporation stock forecast will use technical and fundamental analysis to outline the short and long-term prospects for the firm. Nothing is ever guaranteed in the markets, but if the mining and gold sectors are on your radar, Newmont, the world's biggest gold producer, could be worthy of a place on the shortlist of candidates.
Who are Newmont Corporation (NYSE:NEM)?
Newmont Corporation Copper & Gold Inc is a New York Stock Exchange-listed stock that operates under ticker NEM. Over the last 52 weeks, NEM stock has traded within a price range of $52.98 and $75.22.
Newmont Corporation Fundamentals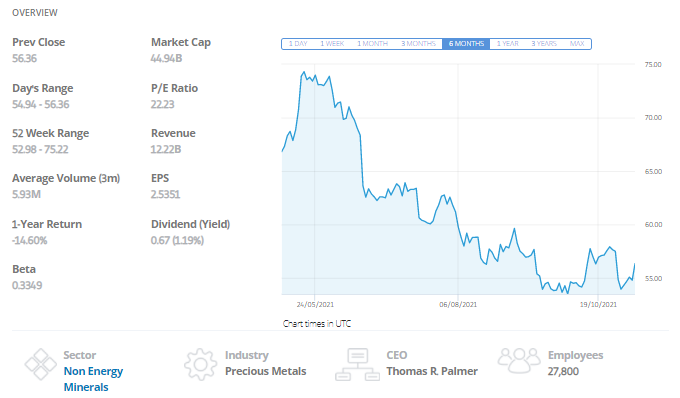 Source: eToro
It's one of the largest precious metals miners, with the firm and its 27,800 employees all focusing on extracting and processing gold. Other metals, such as silver, copper, lead and zinc, form part of the firm's revenue streams but are regarded more as by-products of the firm's primary operations. As a result, any Newmont stock forecast ultimately comes back to the fact that, as the company's website states, "Newmont has the largest gold reserve base in the industry" (source: Newmont). It has active gold mines in countries including Nevada, Australia, Ghana and Peru.
The firm's value is based on its ability to carry out its daily business of extracting and processing gold on a large scale. There are some hit-or-miss style exploration projects in the pipeline, but it has an extensive and diverse portfolio of assets. There are also few signs of any change in corporate strategy. As a proven and reliable gold miner, the NEM share price closely mirrors moves in the price of gold on commodity exchanges.
Gold Price Chart 2015-2021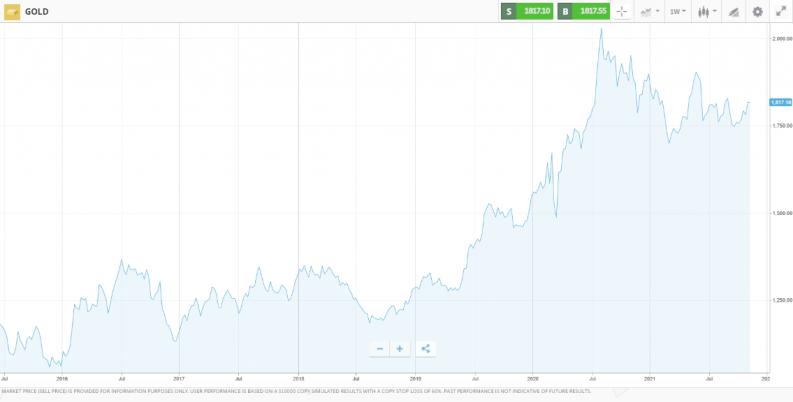 Source: eToro
Newmont Corporation (NEM) Share Price 2015-2021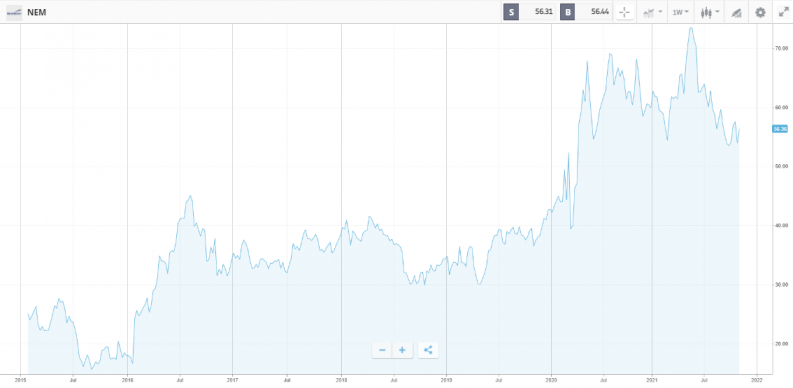 Source: eToro
One way in which Newmont does stand out from the peer group is its approach to sustainability. Investor and public pressure are causing large corporations to move towards more socially and environmentally conscious production methods. The mining sector will never be a natural home for green investors, but NEM has gone some way to insulate itself from some of the potential fallout from the change in investor appetite.
Newmont has adopted forward-thinking policies relating to environmental, social, and governance practices in relation to its peer group. It sees itself as an "industry leader in value creation, supported by robust safety standards, superior execution, and technical proficiency" (source: Newmont).
This is about more than warm fuzzy feelings. Institutional investors such as pension funds are giving a higher priority to such issues. Any large fund with an investment mandate to include mining stocks but an eye on eco and social concerns might find Newmont a good fit. If buying NEM stock with 'real money', then that can also be good news for existing retail shareholders. Newmont is also the only gold producer listed in the S&P 500 Index, which means tracker funds must take a position in the stock if they are trying to replicate the index's performance.
Where Will Newmont Corporation's Stock Price Be in 3 Months?
Short-term price moves in commodity markets are driven by demand more than supply. Newmont and other gold miners require years to bring new reserves to the market. This inelasticity of supply is due to the time it takes to locate, evaluate, and finally get to market new supplies of precious metals. No matter how extreme a change in demand, miners have little capacity to adjust their processes to exploit any price moves.
Gold Price Chart 2018-2021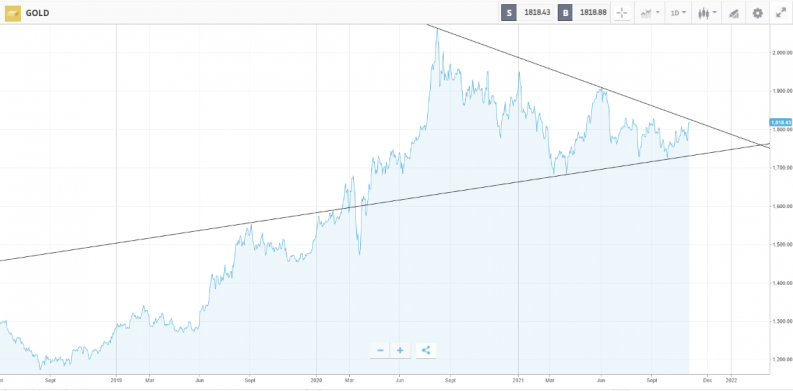 Source: eToro
The price of gold has recently been trading within a relatively tight range. The wedge pattern, which has formed as a result, dates back to the summer of 2020 and from a technical analysis perspective is the chart to watch.
The good news for those thinking of buying Newmont stock is that even a quick scan of online research quickly establishes that 'gold bugs' don't see this tight channel holding much longer. The catalyst for any breakout has not yet been confirmed, but the US Federal Reserve is one likely candidate.
Gold Prices and the US Federal Reserve
Thanks to the dominant position of the US economy, the Federal Reserve is the thought leader of the rest of the world's central banks. At the November meeting of the FOMC, Fed Chair Jerome Powell announced a tapering of the bank's COVID-inspired bond-buying program. It was largely expected to be announced, but his guidance on interest rates caught some by surprise. Powell's comments pointed towards a more dovish approach to future rate hikes, and the first US interest rate rise is now forecast to be in July rather than June 2022.
As gold prices tend to be inversely correlated to interest rate levels, this has provided short-term support for the NEM stock price. Extra returns on cash held in savings accounts often result in those holding precious metals selling some of their position and moving it into cash. The 'cost' of holding gold goes up. Such pointers from the Fed that interest rates could remain at their record low levels for longer than previously expected is good news for the price of gold and NEM stock.
What the market can agree on is that interest rate rises are coming about because of inflationary pressure building in the global economic system. Inflation rates and the price of gold tend to be positively correlated. If inflation does pick up momentum and the Fed holds off on rate hikes, that would be a win-win for Newmont shareholders and could be enough to trigger a breakout of the wedge price pattern to the upside. If that happens, new buyers could come into the market to take positions on the back of a multi-month technical indicator giving off a positive signal.
The US Federal Reserve's FOMC committee is due to meet and decide rates policy on the 14th–15th December and the 26th–27th January 2022. Interim 'guidance' in the form of comments to the press can also be expected.
Gold Prices & Political Risk
Gold has acted as a store of wealth for thousands of years. While it is no longer a legal tender, it continues to play a role as an alternative to fiat currencies and a form of financial insurance against a financial market meltdown.
The political landscape may currently be relatively benign, so the only way is up in terms of geopolitical risk. Any deterioration of the geopolitical environment would also be likely to drive the price of gold higher due to the metal's role as the currency of last resort.
Where Will Newmont Corporation's Stock Price Be in 1 Year?
The COVID-19 pandemic and the policy response to the issues it caused have resulted in disjointed economic activity. The stop-start nature of economic progress means any predictions need to be made with a degree of tolerance, and there is some risk that inflation may spiral out of control. If that happens, there will be an undercurrent of support for the price of gold and NEM shares.
Over the medium time horizon, there is an opportunity for Newmont to have more of a say over its share price.
Newmont Dividends & Buybacks
In its Q3 earnings update, the firm outlined that any windfalls caused by a rise in the price of gold will be shared with investors. The dividend payout will be directly linked to the cost of gold using a sliding scale.
With the price of gold trading in the region of $1,800 throughout 2021, there is some comfort for yield-hunters as NEM has a sustainable base dividend rate of $1 per share as long as the price of gold trades above $1,200.
Company-based support for the share price has also come in the form of share buybacks. NEM announced in its Q3 report that it had completed $248m of share repurchases, but that leaves more room for in-house buying as the capacity on the buyback program is $1bn.
Despite the support for the NEM stock price, from a technical analysis perspective, the stock requires another break of the 100 Day SMA by the 50 Day SMA. When that same move occurred in February 2020, the price of gold started a ten-month bull run, which saw prices rise by more than 30%.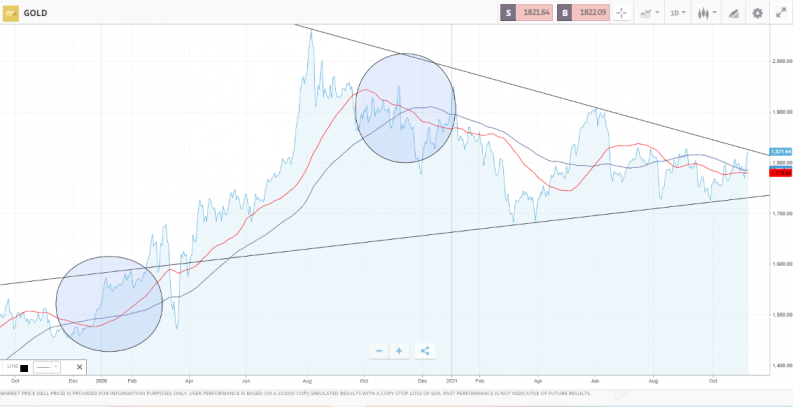 Source: eToro
Given the size of Newmont, the stock price is covered by several market analysts. Data firm Market Rank reports that the firm has a consensus rating of 'buy' and ranks it 22nd out of the 223 firms, which operate in the Basic Materials Sector. This is based on six buy ratings, five hold ratings, and no sell ratings. The average price target of the group of 11 analysts is $71.63.
Where Will Newmont Corporation's Stock Price Be in 5 Years?
Any Newmont Corporation stock forecast for 2025 and beyond will still be heavily reliant on the price of gold. A longer timeframe does allow the firm to make a case for it being a well-run operation deserving of the reputation it has built up over one hundred years.
Maintaining a pipeline of new supplies is one of the main aims of the management team. These take a long time to come to the market, and notes from the Q3 earnings report suggest that box has been ticked.
New mines replaced 80% of the firm's depletion in 2020, and 88% of Newmont's gold reserves are located in the politically stable countries of North America and Australia. Longer-term prospects of new mines are also in the pipeline, with the firm describing itself as being in the "unmatched land position of having 59,000 km2 in top prospective exploration domains" (source: Newmont).
Mining companies benefit from a neat calculating procedure when the price of gold rises, which means their profits can increase exponentially in relation to the price of gold itself. Newmont's profit margin as of the 30th of June 2021 was 23%, and a lot of the cost base is made up of fixed rather than variable costs. If, for example, the price of gold is $1,800 and NEM's profit margin at that level is $600 in cash terms, then a 10% increase in the price of gold to $1,980 would result in profit margins increased by 30%, not 10%.
Who Owns NEM stock?
Those looking for a steer from institutional investors will note reputable investment managers hold substantial positions in the firm. Van ECK Associates Corp owns 4.70% of NEM total stock, Deutsche Bank AG 2.48%, Flossbach Von Storch AG 2.14%, Sumitomo Mitsui Trust Holdings Inc. 0.34% and Capital Wealth Planning LLC 0.34%. These high-quality investment managers will have carried out significant due diligence on Newmont operations before allocating capital.
Those considering the question, Newmont stock, buy or sell, might want to take note of the names of the firms that have reported sizable purchases of NEM stock in the last quarter. These include Flossbach Von Storch AG, Capital Wealth Planning LLC, LGT Capital Partners LTD., Pacer Advisors Inc., DDD Partners LLC, PGGM Investments, Victory Capital Management Inc., and AMF Pensionsforsakring AB
Interest from hedge funds such as LGT and Flossbach Von Storch is a sign that the firm is considered by them to be undervalued, but also that there could be some patience required to achieve the desired returns.
Flossbach Von Storch describes its investment policy as being: "Investors should have patience, trust and a long-term investment horizon. In our view, investors therefore simply have to accept price fluctuations to protect their capital and achieve attractive long-term returns". (source: FVS)
The other recent buyers form a collection of ETF managers, mutual funds, advisors to high-net-worth individuals and pension funds. Some comfort can be taken from the fact that investment firms from all corners of the investment community are building positions.
Institutional investors pulling the trigger on 'buy NEM' trades is a good sign in terms of one of the industry's buzzwords, sustainability. Green investing and Corporate Social Responsibility (CSR) are hot topics that are driving investment decisions. Although the mining sector runs the risk of being on many blacklists, NEM at least appears to be targeting being the least bad option for the big fund managers.
Newmont's investment in promoting its image as a socially conscious miner has helped it gain the title of the top-ranked gold miner in the Dow Jones Sustainability Index for the last six years, and many other industry awards and ESG ratings:
MSCI ESG rating: A. Top-quartile Precious metals and mining
Sustainalytics: 23 – ESG Risk Rating measures exposure and management of material ESG risks
Bloomberg: 2nd – Most transparent company in S&P 500; Bloomberg ESG Disclosure Score
Climate: A – CDP Climate Scores reflective of coordinated action on climate issues
3BL Global Top 100 – 6th – Ranking among the 100 Best Corporate Citizens by 3BL
SAM S&P (DJSI) – Percentile ranking global metals and mining sector
ISS Governance QualityScore – Top-decile for high-quality governance practices and lower governance risk
Potential downside risks to the Newmont share price need to be considered. COVID hasn't completely gone away, and social distancing can seriously impact the ability of NEM staff to work effectively. NEM benefits from 45% of its mining at its Peñasquito mine being of the open-pit variety , but even above-ground operations can be slowed down by regulations, and there is the other 55% of production to consider.
The share buyback and generous dividend policy point to a healthy balance sheet, but also to the firm running out of ideas or new projects to pursue.
Is Newmont Corporation a Good Buy?
The mining sector is a tough one to call as there are a lot of variables in play. Mining firms can do little about global interest rates or the appetite of investors for precious metals. The things they can do something about, namely adjustments to production levels, take years to change.
Given the rollercoaster ride nature of mining investments, Newmont might be of particular interest to those starting in the sector. It's a big, established firm, which has been operating for more than 100 years. The operations have been set up to ensure long-term extraction of gold is carried out from geographically diverse locations. The firm is unlikely to pull any rabbits out of hats, but nor is it likely to go bust if one of its prospective claims turns out to be a dud.
There may be more 'exciting' firms out there, but Newmont may well be one of the best options for those looking for a 'boring' miner. That term is used relatively as the base level volatility of the sector is likely to generate enough emotions for investors to deal with, even if they do opt to invest in NEM.
Basic principles of risk management would still need to be applied. The more speculative an investment, the smaller the amount of capital that should be allocated to it. This rule particularly applies to mining companies where stock prices are subject to dramatic price swings in the global commodity markets. The Newmont share price is closely correlated to one asset, gold, so the risks (and returns) are intensified.
Newmont is a solid enough play on the gold market, and there is currently a consensus that NEM stock is trading at a discount to where it might be in the medium and long-term future. Patience might play a part in terms of trade entry points and waiting for the returns to be posted. An upside break of the wedge pattern in the gold markets would be a sign many would take as a chance to buy and is worth holding out for. From then on, it would be a case of monitoring the critical price drivers falling into place as expected.