Medical tech-stock Omega Diagnostics has, over the last 18 months, experienced share price volatility which can only be described as extreme compared to the broader market. The dramatic price moves have meant it has stood out in a highly volatile sector, and a lot of reasons for the roller-coaster ride come down to the firm's potential to tap into COVID-19 related business growth.
There is a lot of uncertainty about to what extent the firm can monetise its potential. That explains the incredible price volatility, such as the eye-watering 300% stock growth during 2020 and the 42% price slump between September and November.
Using a combination of technical and fundamental analysis, it is possible to get a steer on where the stock might go next. There are no guarantees the price will head north, and many are asking the question, Omega Diagnostics, buy or sell?

Omega Diagnostics Share Price Chart – 2019 – 2021
Source: IG
Who are Omega Diagnostics?
Operating out of Alva, Scotland, Omega Diagnostics Group Plc can trace its history back to 1987. It is listed on the London Stock Exchange under ticker ODX. The stock currently has a market capitalisation of £81m. There has recently been a reshuffle among senior management with Kieron Harbinson stepping down as Group Finance Director after 19 years of service, but this appears to be a case of natural renewal with Colin King, CEO since 2017, announcing:
"I would also like to welcome [new CFO] Chris Lea to Omega next month and look forward to working with him on the next phase of Omega's exciting future."
Source: Omega Diagnostics
Not all of the firm's business lines are COVID related. However, the reputation it has built as a developer and manufacturer of medical testing equipment led to investors piling into the shares in March 2020. The other services it provides cover food intolerance, allergies and HIV testing, and the group's performance as a whole has been impacted by COVID. Some of the 'traditional' business lines have suffered due to the pandemic.
Even before Wuhan became a household name and made Omega's testing products much sought after, the firm saw impressive share price growth; for example, in February 2014, Omega stock rallied by more than 80% in the space of one month.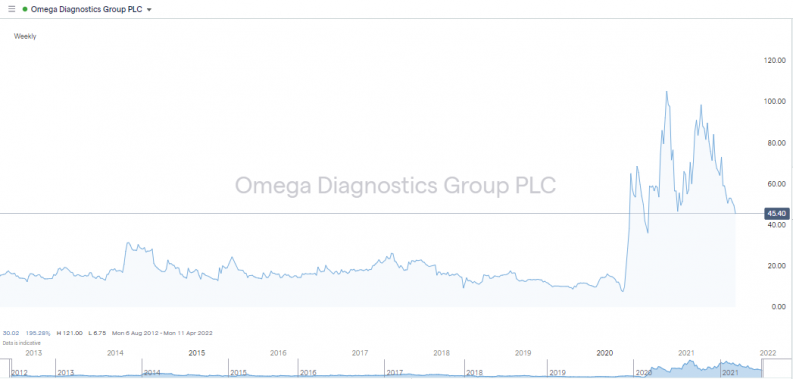 Source: IG
As things currently stand, investors who bought into the stock in April 2020 are now sitting on gains of 361%, and many who missed the first price spike are wondering if lightning will strike twice.

Source: IG
Where Will the Omega Diagnostics Stock Price Be in Three Months?
First things first, the firm does not make a profit. It's not the only loss-making tech stock with a sky-high share price valuation, but it's essential to approach any Omega Diagnostic stock predictions from that starting position.
Omega Diagnostics Weekly Share Price Chart – 2020 – Aug 2021 – with RSI and Trading Volumes
Source: IG
The harsh financial realities go some way to explain why some of the excitement about the stock has waned. Throughout 2021 trading volumes have fallen away, and those considering buying Omega might well be looking for that particular metric to pick up before pulling the trigger. The bearish price action since May 2021 needs some kind of a catalyst to be applied if it is to be reversed. There have to date been few signs of bears capitulating; instead, the Omega share price appears to be undergoing death by a thousand cuts.
Omega Diagnostics Daily Share Price Chart – 2020 – Aug 2021 – with RSI
Source: IG
The Daily RSI could be such a trigger. On the four previous occasions since May that the Daily RSI has visited the region of 30, the share price has subsequently rallied on the back of the stock being oversold. Those long positions do appear to have been trading the retracement, but they at least offered entry points for bottom fishers. Setting stop-losses at the entry-level allowed traders to get out of the trade at no loss and wait for the next opportunity.
Omega Diagnostics Daily Share Price Chart – Feb 2021 – Aug 2021 – with RSI Entry Points
Source: IG
Those with the view that the downward price move has no genuine reason to subside will note the 12-month low of 45p printed in November 2020 has only recently been breached. This opens the door to further price falls, with the 32.30p low of July 2020 marking the next support level.
Omega Diagnostics Daily Share Price Chart – 2020 – Aug 2021 – with Support Levels
Source: IG
Where Will the Omega Diagnostics Stock Price Be in One Year?
With the 20, 50 and 100 daily moving averages providing resistance to upward price moves, at 50.9p, 54.7p and 65.6p, respectively, there's a lot of work for the bulls to do if they're going to start a rally. Also, factor in that some of the 2020 buyers sitting on unrealised profits may decide to crystalise those gains and get out while they can. There are, after all, a lot of other investment opportunities in the market to consider.
Omega Diagnostics Daily Share Price Chart – 2012 – Aug 2021 – with SMAs
At the same time, there is significant FOMO from those who missed the first run, and several events could trigger a second rush on the stock.
Government Contracts
Omega Diagnostics has agreed to produce rapid COVID-19 tests for the UK government and is applying for its antigen products to become CE licensed and eligible for the European Union retail market. The UK government paid £2.5m upfront for the product, and signs are that that cash is being used to support other projects, not just COVID production. That is good news for investors as diversification of revenue sources would provide some protection from the vagaries of COVID ordering.
Regarding the COVID tests, some red tape is still to be navigated and the process is taking longer than initially expected. Having their flagship product held up goes a long way to explain the omega share price slide. While the scaling up of production may be imminent, there is a sense that the landscape is changing faster than the Omega production lines can pack and dispatch their product.
On the 11th of August, Oxford Vaccine Group director Prof Sir Andrew Pollard warned that herd immunity is "not a possibility". His studies suggest that vaccines, while minimising hospitalisation rates, won't stop the spread of the Delta virus, making testing unnecessary as the entire population should at some point be expected to contract the disease.
Until one of the possible news events breaks in the way that Omega shareholders want it to, there is little reason to step into the market. The firm's Price to Book Ratio is in line with other firms in the sector, suggesting there's little reason to consider it undervalued. A range of indicators suggests there will be opportunities to buy into the Omega Diagnostics story at levels lower than seen now. The big question is whether the fundamental factors coming into play support that decision or not.
Where Will the Omega Diagnostics Stock Price Be in Five Years?
The five-year table of shareholder returns highlights the topsy-turvy experience of Omega Diagnostics shareholders. Four of the six metrics record negative returns, while the longer-term 3yr and 5yr measures of +236% and +163%, respectively, highlight the potential for gains.
To establish if Omega Diagnostics is a stock to buy-and-hold requires digging into the company's balance sheet and building an Omega stock forecast for 2025 and beyond. The Financial Highlights from the year-end accounts up to March 2021 make for mixed reading.
Revenue decreased by 11% to £8.73m (2020: £9.82m)
EBITDA loss of £2.20m (2020: £0.89m profit)
Statutory loss for the year of £2.10m (2020: loss of £6.83m)
Adjusted loss before tax of £3.15m (2020: loss of £0.40m)
Adjusted EPS (1.0p) (2020: (0.2p))
Statutory EPS (1.2p) (2020: (4.9p))
Cash balances of £5.8m (2020: overdraft of £0.6m)
Source: Shares
The headline figures don't make for great reading, with losses before tax leaving many questioning if holding Omega shares is a good idea. The main plus point is that the cash flow situation has been rectified. That allows the firm time to establish its best approach and position itself for any third, fourth or fifth waves of the pandemic.
Two niggling thoughts remain. The first is that not all Omega products had a good pandemic; sales of food sensitivity products declined from £9.2m to £6.8m. The second is that some of the next developments appear to be down to political whim. As Simon Douglas, Non-executive Chairman said in the firm's year-end report:
"There remains considerable uncertainty around the world as countries ease or increase restrictions to manage the global COVID-19 pandemic."
Source: Shares
Is Omega Diagnostics a Good Buy?
Omega Diagnostics is more than a COVID stock. Its long track record of returning value to shareholders can't be discounted, and its management team is stable. The problem for anyone looking to buy at current levels is that potential demand for COVID related products inflated the share price to such an extent that there will be more downside until the price bottoms out.
The uncertainty surrounding the wide range of variables in play means plenty of potential new investors can find at least one reason to steer clear. At the same time, anyone in an existing long position may be looking for the door, to take what gains are left, or to cut their losses.
Omega demonstrates that being closely linked to COVID silver bullets can be both a curse and a blessing for some firms. It's a complicated situation and one which the firm has little control over. Those who consider Omega Diagnostics a good stock to buy at current price levels may well make a return on their investment. However, there appears every chance that even the most ardent fans of the stock would do well to apply at least a little patience to their decision-making process.
The Best Brokers to Trade Omega Diagnostics Stocks:
eToro:
68% of retail CFD accounts lose money
Take a look
If you are ready to add some Omega Diagnostics stocks to your portfolio you'll need a broker that is regulated, has low fees and a user-friendly platform. Finding one can be a daunting task, which is why we've selected some of our favourites that tick all of these boxes to help you get started.