For a long time, buying mining stocks has been a way for equity investors to make a play on the commodity markets. The prices of the metals and minerals they extract are driven by macro-economic trends, which can sometimes run for years, and which can result in significant returns on equity investments. There are also risks to consider, and specific characteristics of the market need to be factored in.
Then there is the task of selecting which mining stock to buy into. With an extensive range of firms on offer, finding the best fit for your portfolio can require some research. Southern Copper Corporation (NYSE: SCCO; BVL: SCCO) is one contender for any mining short list. Is Southern Copper a good stock to buy though? To answer the question, this stock forecast will apply technical analysis and fundamental analysis to outline the short-term and long-term prospects for the firm. Southern Copper offers something slightly different from the rest of its peer group, and while its unique characteristics have recently seen it fall out of favour with investors, that dip on the SCCO stock price could turn out to be one to buy.

Southern Copper (SCCO) Share Price 2015-2021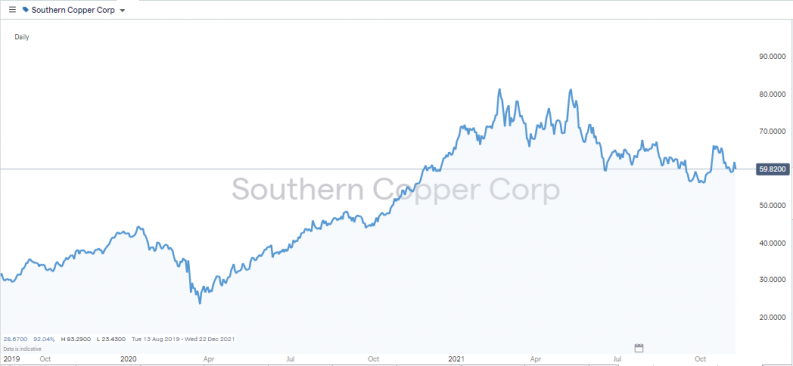 Source: IG
Who are Southern Copper?
The first way that Southern Copper differs from a lot of other mining stocks is the extent of its exposure to mining in South America.
The firm's stock can be traded in the same way as any other shares, but the complex corporate structure shows that the firm is majority owned by Grupo México, which owns 88.9% of Southern Copper stock. The operations of Southern Copper are run out of head offices in Phoenix, Arizona and Lima, Peru, and most of its mining activity is carried out in Mexico and Peru.
There is some debate as to whether having resources located in South or North America is a big deal. Geopolitical uncertainty has historically led many US investors to favour firms that have a stronger foothold in the US or Canada. Attitudes towards political risk are changing though, and Peru in particular is where a lot of the world's copper is situated.
As of April 2021, Southern Copper was ranked fifth among the world's largest copper mining companies. It operates mining, smelting and refining facilities in Mexico and Peru. Its major mining operations include Peru's Toquepala and Cuajone mines and Mexico's Buena Vista del Cobre (formerly known as Cananea) and La Caridad mines. This all adds up to 80% of the firm's revenue being based on copper mining, and in 2020, it produced just over one million tonnes of the metal, a slight increase on the previous year.
Other materials that the firm extracts, refines and processes include molybdenum concentrate, refined silver, gold, and other materials.
The stock is listed on the Bolsa de Valores de Lima and New York Stock Exchange under ticker SCCO. Over the last 52 weeks, SCCO stock has traded within a price range of $53.22 and $83.06.
Southern Copper Fundamentals

Source: IG
In terms of size, the $46bn market capitalisation of Southern Copper puts the firm into the same bracket as some of the bigger global players. Its mining resources may be geographically concentrated, but the amount of copper it has rights to is for many investors particularly appealing. The firm's 2019 filings showed it to have 67.5 million tonnes of copper contained in reserves.
Even a cursory scan of the firm's Net Income and Cash Flow charts illustrates the strength of the balance sheet and explains the firm's ability to pay a higher dividend than many of its peer group.
Southern Copper Balance Sheet

Source: IG
SCCO's proven and probable copper reserves mean that it is well positioned to increase capacity if the price of the metal goes on a bull run.
Highlights from the six-month financial results up to 30th June 2021 include:
Southern Copper Corp revenues increased 55% to $5.43bn
Net income increased from $474.3m to $1.7bn
Revenues reflect Mexican Open Pit segment increase of 58% to $3.11bn
Peruvian Operations segment increase of 56% to $2.1bn, Copper
Average price per metric tonne – total increase of 66% to $8,983 per metric ton
Net income benefited from Mexican Open Pit segment income increase from $756.5m to $1.88bn
Where Will Southern Copper's Stock Price Be in 3 Months?
Recent price moves in SCCO stock give a hint of the risk-return profile of the firm. Between March 2020 and February 2021, the stock surged by 245%. Then, in the next four months, it lost 27% in value. This isn't abnormal for mining stocks, but when making Southern Copper stock predictions, it's important to look at the firm's peer group. Some of SCCO's rivals are outperforming it, with the rises being greater and the slumps not so deep. The P/E ratio of 29.15 points to the stock lagging others in the Base Materials sector.
Short-term price moves in mineral markets are driven largely by demand factors. A change in view on the health of the global economy can lead to a sudden rise or fall in demand for copper, and as new supply takes years to come online, the price of the metal can surge as manufacturers scramble to maintain stock levels. With so much of SCCO's revenue being based on copper demand, it's unsurprising that the price of SCCO stock closely mirrors the price of the metal on global commodity exchanges.
Southern Copper (SCCO) Share Price 2019-2021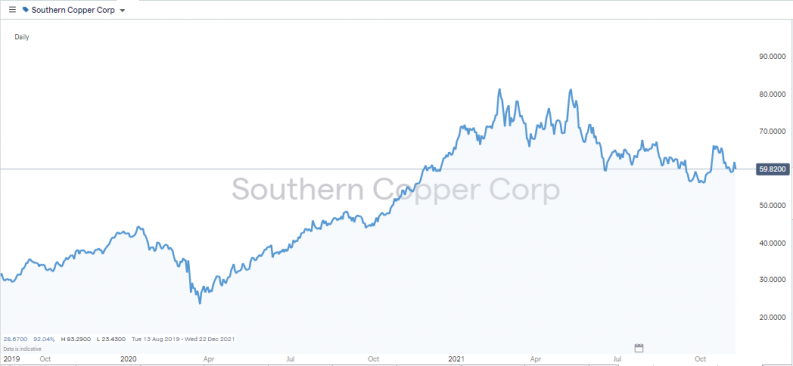 Source: IG
Copper 2019-2021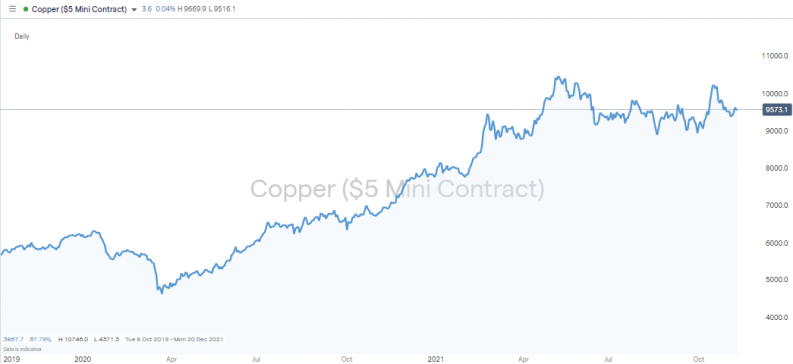 Source: IG
Short-Term Fundamentals
To establish the short-term prospects for SCCO, it is important to look at what could influence the price of copper.
The first factor to consider is global economic growth. Organic growth has picked up since the COVID-19 pandemic, but the announcement of other government-led fiscal measures designed to boost economic activity are just the kind of catalysts that are likely to result in a short-term price move.
US President Joe Biden's $1tn infrastructure spending package, which has been described as a "monumental step forward" and a "once in a generation opportunity", is slowly working its way through the political apparatus of Washington. If it comes out the other end relatively intact, it will form a public works bill on a similar scale to the New Deal. Planned to last eight years, it will focus on upgrading US infrastructure networks, from bridges to modern city transit systems and passenger rail networks.
The electric vehicle sector is also looking to scale up its demand for copper. Policy measures or corporate announcements on how far and fast that makeover of transport networks is proceeding are also something to look out for.
Monetary policy announcements also need to be considered. The US Federal Reserve in its November FOMC meeting signalled that interest rate rises may not be coming into play as soon as some had expected. This forms more good news for manufacturers looking to take advantage of low rates to scale up new business lines.
The US Federal Reserve's FOMC is due to meet and decide rates policy on 14th-15th December and 25th-26th January 2022. Interim 'guidance' in the form of comments to the press can also be expected.
Short-Term Technicals
With so much potential for political and corporate leaders to create short-term 'noise' in the copper market, referring to the price charts can help to establish the key technical levels.
Southern Copper (SCCO) Share Price 2020-2021 – Wedge Pattern
Source: IG
Over the last six months, the SCCO stock price has been forming a downward wedge price pattern. More worrying for bulls is that the share price has shown little sign of testing – let alone breaking – the downward resistance line. A breakout to the upside can't be discounted, but if that does happen, then there is further resistance in the form of the double-top highs of $83.15 in February and $81.75 in May 2021.
Southern Copper (SCCO) Share Price 2020-2021 – Double Top
Source: IG
Technical support levels in the short term come in the form of the 38.2% Fib Retracement from the March 2020-Feb 2021 bull run and the previous all-time high of 58.09 recorded in April 2018.
Southern Copper (SCCO) Share Price 2020-2021 – Fib Levels
Source: IG
If price were to break the $83.00 barrier, this would then convert the double-top resistance level into a price support level and leave the path of least resistance to the upside. For that to happen though, SCCO investors will be relying on other catalysts to come into play and will also likely need to show a degree of patience.
Where Will Southern Copper's Stock Price Be in 1 Year?
Over a 12-month time horizon, there is more opportunity for mining companies to adjust their supply capacity to steer a course through ever-changing commodity price levels.
The mining network operated by Southern Copper is concentrated in certain areas and in existing mines. This means that scaling up production levels is about building on expanding infrastructure and is a business model that can take advantage of spikes in copper prices faster than one that is based on expanding supply in new or virgin mines.
A lot will still depend on the cocktail of demand factors. If central bank policies do shift towards a more hawkish stance, then the +6% dividend yield offered by SCCO would become relatively less attractive in relation to bank savings account rates.
The Chair of the US Federal Reserve, Jerome Powell, is up for reappointment in 2022, and rumours are building that President Biden may opt to appoint a more dovish banker in his place. This would help the price of SCCO stock by keeping interest rates at the lower end of expectations. It would also open the door to inflationary pressures taking hold, and as commodity assets are traditionally seen as a hedge against inflation, it would also be good for the Southern Copper share price.
Southern Copper and Short Selling
Southern Copper has lagged some of its rivals over the last 12 months, and while this could well continue to happen, factoring in the role of hedge funds can offer bulls of the stock a glimmer of hope.
Hedge funds trying to neutralise market risk can run long-short equity strategies by buying one copper stock and selling another. SCCO stock may be a promising target, but if a hedge fund considers a rival firm to be a superior candidate, it is SCCO that will be shorted. This consistent short selling can help the hedge fund produce market-neutral returns, but means that Southern Copper stock is subject to continued selling pressure.
A report in October established that SCCO was in 23 hedge fund portfolios at the end of June 2021. This number had dropped from an all-time high of 27. Southern Copper is also a long way off being included in this list of top 30 positions held by hedge funds.
While there appears to be little chance of a GameStop-style short squeeze in SCCO stock, any relative strength in the stock could lead to hedge funds closing out their shorts. That buying pressure drives price higher, which triggers more funds to close out positions, and for SCCO investors, at least, starts a virtuous circle of buying activity.
The size of Southern Copper's reserves means that it has a high profile in the mining stock sector. Specialist teams at institutional investors have been busy weighing up whether Southern Copper is a good stock to buy, and the conclusions aren't great.
Southern Copper Broker Ratings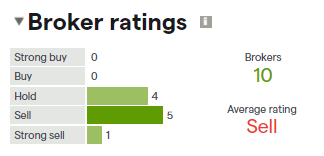 Source: IG
The 10 broker ratings reported by IG range from Hold to Strong Sell, with the average rating coming in as 'Sell'.
Data from CNN shows that SCCO stock forecasts by industry analysts for the next 12 months have a median share price target of $60.50. This isn't a long way above current price levels, and the high end of the range of one-year forecasts is a target price of $72, with the low estimate coming in at $41.00.
These aren't great metrics, and the fact that expert analysts don't see the price breaking above the high of the last 12 months is a cautionary note for anyone looking to buy Southern Copper. Those looking to tough out short-term price weakness and build positions for the long term would do well to monitor analyst ratings and wait for a shift in sentiment at the big institutions that allocate 'real' money.
Where Will Southern Copper's Stock Price Be in 5 Years?
Any Southern Copper stock forecast for 2025 and beyond will still be heavily reliant on the state of the global economy. The copper sector is currently one of the hot global markets. The construction and electronics sectors are long-term buyers of the metal, but they now have to compete with makers of electric vehicles, battery manufacturers and renewable energy companies. These last three areas of the economy are all growth sectors.
What a Rise in the Price of Copper Would Mean for SCCO
Strength in commodity prices, and in Southern Copper's case the price of copper, can bring about exponential gains in mining company shares. Like the rest of its peer group, a lot of SCCO's cost base is made up of fixed rather than variable costs. Investment expenditure on exploration projects and the setting up of the infrastructure required to extract minerals is largely front loaded. Once a mine is opened, a small increase in the price of the material being extracted can lead to a larger increase in the price of the company's share price.
Southern Copper's net profit margin as of 30th September 2021 was 30.15%. This relates to all of the firm's operations, but if for hypothetical purposes the firm's breakeven price for mining copper is taken as being $7,000, then when copper is trading at $9,100, SCCO's profit margin is $2,100 = 30%.
If the copper price rises by 10% to $10,100, then Southern Copper's profit margin will rise by more than just 10 percentage points and instead move to 47%. [(10,100 – 7,000) / (9,100 – 7,000)].
Long-Term Dividend Yields
SCCO currently records a dividend yield higher than 75% of all dividend-paying stocks. This makes it a leading dividend payer, and the dividend has increased in the last two years. If this trend continues, increased buying pressure from institutional funds can be expected. Many will be waiting to see if the payouts over the last two years are a flash in the pan, or a sign of a longer-term trend. If the latter option is confirmed, then buy-and-hold interest from big funds could be expected to support the SCCO share price.
Southern Copper – Buy or Sell?
The difficulty with answering this question is well illustrated by the earnings announcement that the firm released on 31st October. The company reported $1.12 EPS for the quarter, which was exactly in line with the Zacks consensus estimate of $1.12. Its revenue was $2.68bn for the quarter, which was again in line with analyst forecasts of $2.67bn. Earnings predictability can be an advantage and attract investors in some sectors such as insurance and banking. With the mining sector being more speculative in nature, a lot of investors are looking for a bit more in terms of surprises and explains why SCCO continues to fly under the radar of a lot of potential buyers.
Southern Copper and Sustainability
Corporate social responsibility (CSR) is a big and increasingly important issue for mining firms. They're never going to rank highly among green investors, but those firms that are most adept at damage limitation open up the door to increased interest from big institutional investors. In terms of Southern Copper, CSR issues could go some way to explaining the firm's relative underperformance, but at the same time could be a catalyst for improved future returns.
Southern Copper's CSR ranking at CSR Hub is 53%, which is some way below that of its peers. This means that big funds that are obliged to invest in basic materials but also keep an eye on ethical issues will be drawn to firms such as Newmont Corporation, which has a rating of 85%.
If SCCO is going to be able to tick both boxes and attract large-scale investment, then it needs to raise its game, and the rating provided by CSR Hub suggests that this could be happening already. Over the last two years, Southern Copper has seen its rating climb from below 20% to above 50%. It has also closed the gap between its rating and the mining sector as a whole.
Who Owns SCCO stock?
Southern Copper's stock is owned by a number of institutional and retail investors. Top institutional investors include the largest investment management company in the world, BlackRock, Inc., which owns 0.80%. Fisher Asset Management LLC has a 0.47% holding, and Marathon Asset Management Ltd owns 0.23%.
What Are the Long-Term Risks Facing Southern Copper Shareholders?
Demand for commodities can change rapidly, and COVID-19 still needs to be included as a risk factor. Not only do lockdowns reduce the amount of economic activity taking place, but social distancing also makes mining copper harder and more expensive to do.
Even without the risk of pandemics factored in, the mining sector can be hazardous enough. Finding new ore reserves to replace depleted ones is increasingly hard to do. Exploration costs, the availability of skilled resources, infrastructure constraints, and political risk all threaten the future pipeline of production and bump up near-term costs.
Is Southern Copper a Good Buy?
Southern Copper offers something different from some of the other names in the sector. Its strong Latin American presence is a negative in terms of political risk and distance from the North American market. Against this is the fact that the areas where Southern Copper are based appear more promising than US ones in terms of future supplies coming into the pipeline.
The copper market bull run could be a long-term trend, and if a commodity super-cycle is about to form, then any copper firm would be a good proposition. Currently, Southern Copper appears to be second or third choice for a lot of investors, and this has been shown in the SCCO share price. Market analysts aren't convinced, and SCCO's broker rating currently falls behind other firms in its peer group.
The question appears to be whether to chase one of the current 'winners' or buy the dip in a firm that makes 80% of its revenue out of copper and is a pretty pure play on the copper market. The firm is out of favour, in relative terms at least, and the stock price could slide further. There are, though, technical support levels and possible catalysts that could come into play in the near future.
Those wanting to take a slightly left-field view and buy Southern Copper stock could be getting in at a low level, but even so, risk management would be a key consideration, and mining stocks aren't names to go 'all in' on. Southern Copper could be seen as an undervalued and out-of-favour stock in a growth sector that has the potential to raise its game and generate multi-year gains based on a solid resource base.