Shares of Acorda Therapeutics (NASDAQ: ACOR) are over 40% higher on Wednesday after the company said it has agreed to sell its INBRIJA manufacturing operations in Chelsea, Massachusetts to Catalent for $80 million.
The deal will also see Acorda and Catalent enter into a long-term global supply agreement under which Catalent will manufacture and package INBRIJA for Acorda.
Acorda's stock price is up 39.19% at $5.91.
Catalent has agreed to take on all of Acorda's employees at the Chelsea facility and some of Acorda's employees at the company's Waltham, Massachusetts facility.
Acorda's net proceeds from the sale are expected to be approximately $70 million, while it estimates it will save $10 million in annual operating expenses.
Alongside the deal, Acorda also announced a corporate restructuring to reduce costs and focuses its resources on INBRIJA, reducing its workforce in Ardsley and Waltham by 16%.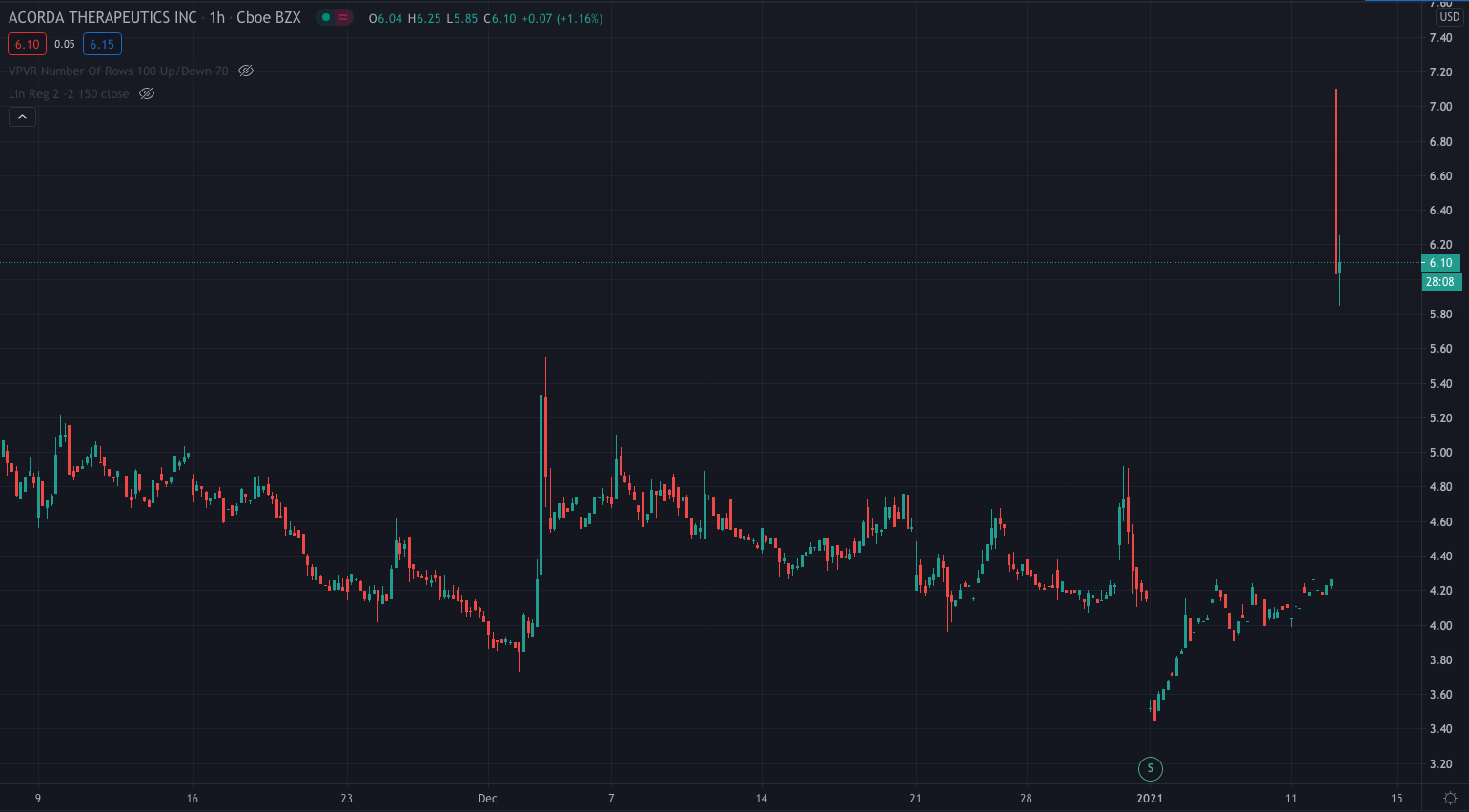 "Today's announcements represent important steps in our ongoing efforts to strengthen our capital structure, enhance our operating efficiency and position Acorda to drive long-term value for our shareholders," said Ron Cohen, Acorda's President and Chief Executive Officer.
"Through the sale of the Chelsea operations we are monetizing our excess manufacturing capacity and significantly reducing expenses. This will ensure that our patients have uninterrupted access to INBRIJA, while meaningfully improving both our balance sheet and P&L."
Elsewhere the company released its expected Q4 and 2020 financial performance, stating Q4 2020 net revenue will be approximately $9 million while full-year 2020 net income is roughly $24 million.
The combined savings from the sale, restructuring and other operating cost reductions will reduce annual operating expenses by approximately $40 million.
Acorda also provided new operating expense guidance of $130 to $140 million for the full year 2021.