Shares of Airbnb (NASDAQ: ABNB) are sliding on Monday despite the recent positivity from analysts regarding the stock.
Airbnb's stock price is currently down 7.44% at $130.72 following Friday's close at $141.20.
While some price targets have been lowered, several analysts have provided bullish analysis on the stock…

On Friday, Wells Fargo analyst Brian Fitzgerald upgraded the stock to Overweight from Equal Weight, setting a $200 price target. Fitzgerald told investors that Airbnb's Q1 results demonstrated its positive momentum exiting the pandemic, with the company set to benefit from secular demand shifts, increasing category familiarity/favourability, and shifts in workplace flexibility, which represent long-term tailwinds.
Here's Why Our Analyst Believes Airbnb is One Of The Best Travel Stocks To Buy Right Now
Meanwhile, Jefferies analyst Brent Thill said Airbnb "delivered another solid print," beating expectations in several categories. He lowered his price target to $190 from $210 but kept a buy rating on the stock, saying it is "the best asset in travel".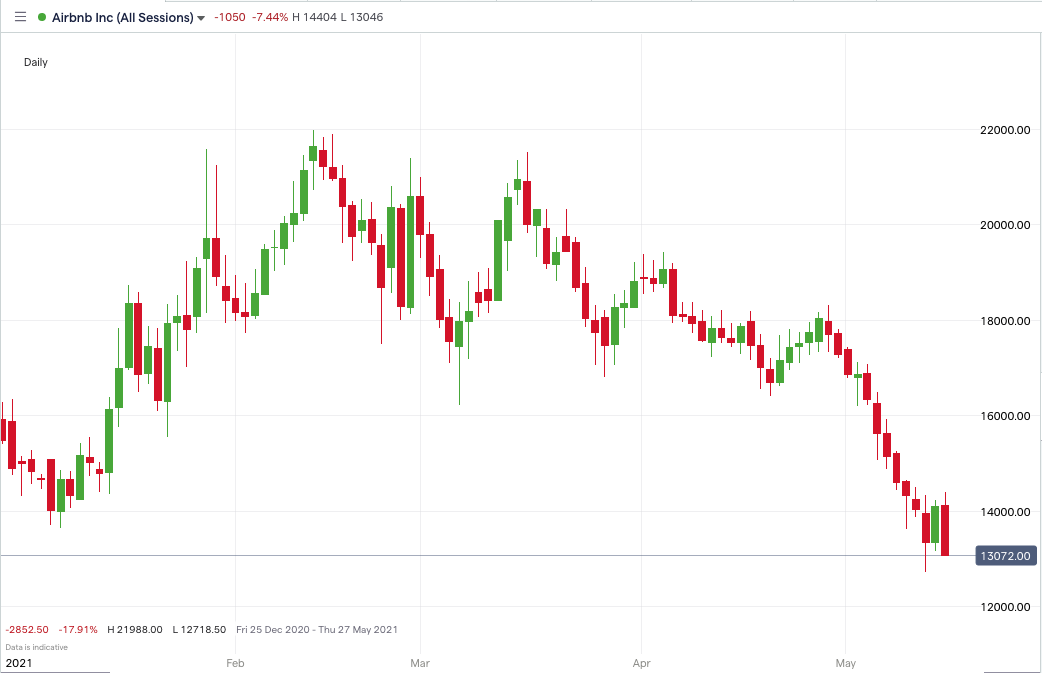 Brian Nowak at Morgan Stanley said the company is "gaining share at an accelerating pace," stating that the company is growing considerably faster than its online travel agency competitors. Nowak also pointed to Airbnb's app redesign, new user retention trends, potential signals of customers blurring the lines between travel and remote working, and management's positive tone about long-term monetisation upside as reasons to be bullish.
Finally, Bank of America analyst Justin Post lowered Airbnb's price target to $180 from $190. However, he stated that it is "growing into its valuation," but did note that he is cautious on high price to sales and that the current share price remains well above Airbnb's IPO price.
While many analysts have provided positive commentary on the stock, price targets have been lowered by several firms following its Q1 earnings report, with most noting either its current valuation or lockup expiration as a factor.
Should you invest in Airbnb shares?
Tech stocks offer some of the best growth potential, but time and time again, traders and investors ask us "what are the best tech stocks to buy?" You've probably seen shares of companies such as Amazon and Netflix achieve monumental rises in the past few years, but there are still several tech stocks with room for significant gains. Here is our analysts view on the best tech stocks to buy right now