Key points:
Akerna stock rose 25.1% on President Joe Biden's marijuana decision.
Manya re hopeful that marijuana will finally be legalized in the USA.
However, we as still far from the drug's nationwide legalization.
The Akerna Corp (NASDAQ: KERN) stock price rose 25.13%, boosted by President Joe Biden's marijuana pardons, which stoked hope for the cannabis industry. Other cannabis stocks, such as Hexo Corp, also rallied higher.

The last significant announcement from the company was on Monday this week when it raised $5 million via a series A and B convertible redeemable preferred stock securities purchase agreement with specific institutional investors.
Also read: The Best Undervalued Stocks To Watch In 2022.
The decision to raise funds comes even as Akerna plans a reverse stock split to bring its stock price into compliance with the Nasdq listing rules that require stocks to trade above the crucial $1.00 mark.
The cannabis technology firm that sells technology to power the operations of cannabis companies' stock price has been trading below $1.00 since April 2022. The Series A and B convertible preferred shares were sold at $9.50 each, representing a 5% discount to the actual value of the shares, which is $10.00.
Akerna investors can convert the preferred stock into common shares at $0.25 per common share, which means one preferred stock will be converted into 40 common shares based on the above prices.
The lack of announcements from Akerna indicates that investors reacted positively to President Joe Biden's decision to pardon federal offenders charged with marijuana possession. Biden also encouraged state governors to follow his example and pardon similar offenders under their jurisdiction.
Joe Biden's move was supported by House Speaker Nancy Pelosi, who said House Democrats would push to have marijuana reclassified from a Schedule I drug on a Federal level. Investors cheered the news, but I'm a bit sceptical given that this is not the first time many have rooted for the federal legalization of marijuana, only to be disappointed.
Only time will tell whether things will be different this time, which could lead to the reclassification of marijuana on a Federal level allowing its free use as a recreational drug. Meanwhile, Akerna shareholders can look forward to higher prices after a vote on a reverse stock split to be proposed soon as the Nasdaq six-month deadline looms.
*This is not investment advice.
Akerna stock price.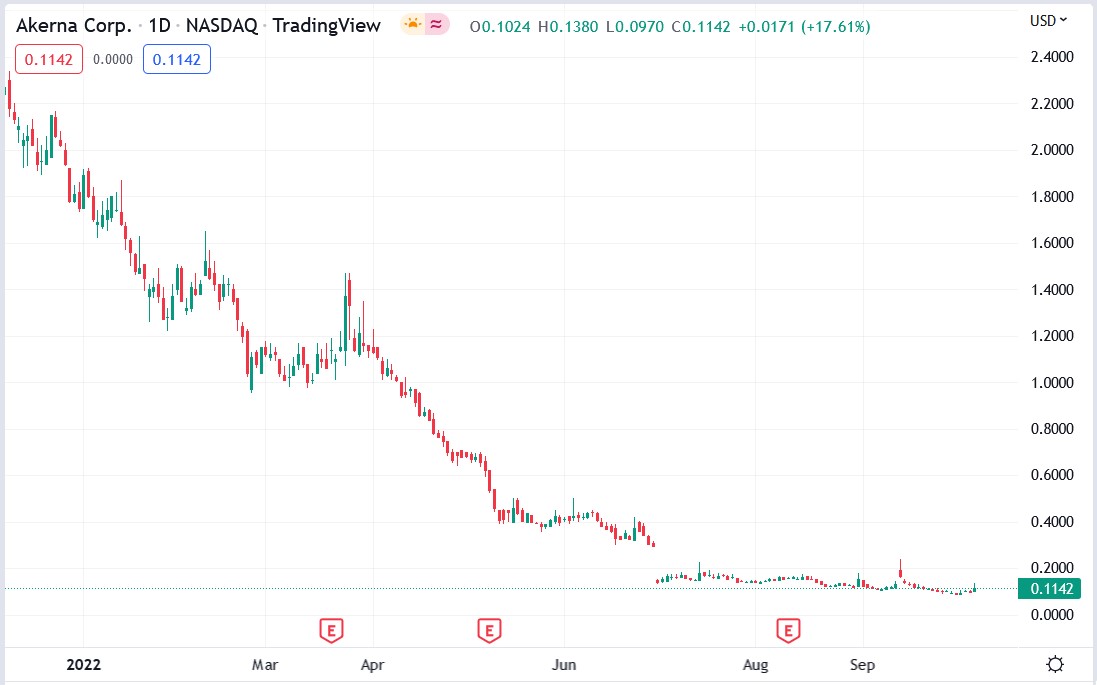 The Akerna stock price rose 25.15% to trade at $0.14, rising from Thursday's closing price of $0.11.