Key points:
Hexo stock price soared 62.9% on President Biden's marijuana move.
The President pardoned federal offenders charged with possession.
He also urged House Democrats to pursue Marijuana's reclassification.
The Hexo Corp (NASDQ: HEXO) stock price soared 62.93% despite the lack of news from the cannabis company. The rally was driven by President Joe Biden's decision to pardon federal inmates who were arrested and charged with simple marijuana possession.

In a statement issued by house speaker Nancy Pelosi, the Democrats are exploring ways for the reclassification of Marijuana from a Schedule I drug on President Biden's instructions. The President also urged state Governors to consider pardoning offenders charged with simply possessing Marijuana.
Also read: The 5 Best Growth Stocks To Watch In 2022.
Investors cheered the move by the President and the House Democrats as a crucial step in decriminalizing Marijuana that is bound to increase the addressable marijuana market in the United States.
Unfortunately, this is not the first time that the US government has pushed for the reclassification of Marijuana's status as a drug on a Federal level. Still, there is a distinct lack of goodwill from both parties in legalizing Marijuana on a national level.
President Donald Trump had also promised to legalize Marijuana on a Federal level, but the same did not materialize, fueling the current downtrend in cannabis stocks. Multiple hurdles still stand in the way of the federal reclassification of Marijuana.
Hexo is one of the largest licensed cannabis companies in Canada and serves the recreational cannabis market in Canada. Its brands include HEXO, UP Cannabis, Redecan,  Namaste, 48North, Original Stash, Trail Mix, RE-UP, Bake Sale and Latitude.
The company also produces medical cannabis products under the HEXO medical cannabis brand. Some of the latest announcements from HEXO include its partnership with TYSON 2.0, the cannabis company formed by former boxer turned entrepreneur Mike Tyson.
The deal with TYSON 2.0 will see HEXO exclusively produce the cannabis products marketed by TYSON 2.0 within the United States, which explains today's rally. The partnership effectively exposes HEXO Corp to the US cannabis market.
*This is not investment advice.
Hexo stock price.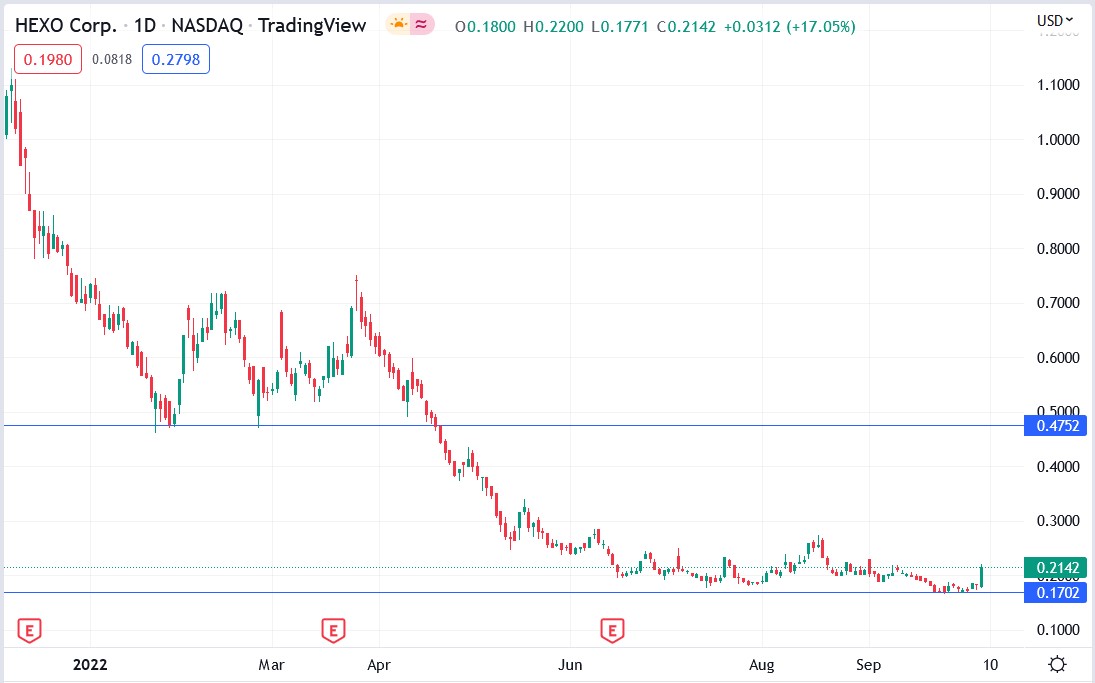 The Hexo stock price soared 62.93% to trade at $0.35, rising from Thursday's closing price of $0.21.