Key points:
Alcoa stock has rallied 47.2% in 2022, So investors wonder if the rally will continue?
The rally has been driven by demand for alumina, bauxite and aluminium products.
The demand is expected to continue for the foreseeable future, making Alcoa an attractive investment for commodity investors.
The Alcoa Corp (NYSE: AA) stock price has rallied by 47.2% in 2022; hence, many investors would like to know if there could be further gains.

The good news is that Alcoa's future is pretty promising as a mining company that produces and sells alumina, bauxite and aluminium products.
The demand for commodities such as aluminium has been on the rise. In addition, more car manufacturers are using lightweight materials in their vehicles to lower the gross weight of today's cars and increase overall structural rigidity.
Therefore, the demand for Alcoa's alumina and aluminium products is expected to remain high over the coming years. The metal remains a favourite pick among car manufacturers and other industries such as ship and airplane building.
The Alcoa daily stock price chart shows that it has been trending higher since the March 2020 crash as demand for its products remained high. AA stock has generally stayed above the 20-day moving average, with any move below it leading to a quick rebound that took back above the MA line.
However, the 50-day moving average is most significant since Alcoa stock rarely falls below the much longer MA line, with most touches of the 50-Ma leading to a bounce higher, as shown in the daily chart below.
Alcoa stock is currently trading above the 20-day and 50-day moving average lines, which shows that the bullish trend is still alive. However, a break below the 20-day MA line would cause concern, but a break below the 50-day MA would be a dealbreaker if the price kept trading below it for multiple days.
Meanwhile, Alcoa's long term prospects are extremely promising given the expected surge in demand as manufacturers increase production due to the availability of microchips, which had negatively affected production in the automotive sector.
The recovery in the airline sector also means that demand for new aircraft will surge, leading to higher demand for aluminium, which is the most used metal in modern planes due to its lightweight nature and structural rigidity.
Therefore, there is likely more upside ahead for Alcoa investors if the price remains above the 50-MA. I would buy on a pullback and bounce off the 50-MA for maximum gains.
*This is not investment advice. Always do your due diligence before making investment decisions.
Alcoa stock price.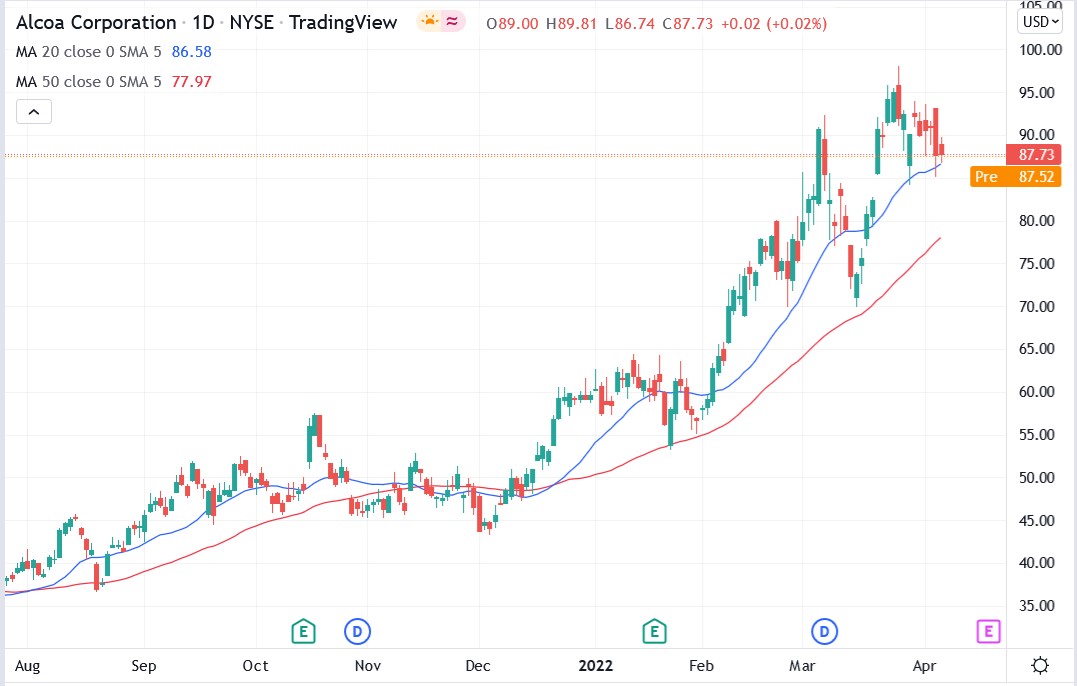 The Alcoa stock price has risen by 47.2% in 2022, leaving investors wondering whether there could be more gains in future.