Key points:
GameStop's stock price rallied 8.78% on a new partnership with FTX.
However, investors ignored the company's poor results in Q2 2022.
So, should you buy GME stock? Read on to find out.
The GameStop Corp. (NYSE: GME) stock price rallied 8.78% after inking a new partnership with leading crypto exchange FTX to introduce its customers to FTX's services and community.

Some Gamestop stores will stock FTX gift cards as part of the partnership, while GameStop's NTFs will be listed on FTX's platform. Investors cheered the announcement that masked the higher losses the video game retailer incurred during the second fiscal quarter.
Also read: Five Best Shares For Beginners To Watch In 2022.
The video game store chain generated $1.14 billion in sales during the second quarter, a slight drop from the $1.18 billion recorded in a similar period last year. As a result, the company's losses increased to $108.7 million, compared to the $61.6 million loss recorded in Q2 2021.
Investors cheered Gamestop's partnership with FT, but the company, which became a meme stock last year and raised significant cash reserves from its popularity among retail investors, is facing a steep challenge.
Gamestop has been working to diversify its business away from the dying video game retail space as most video games are now sold online as software, eliminating the need for players to go to physical stores to purchase specific games.
Furthermore, gamers can buy gaming devices such as Microsoft's Xbox online; hence they do not need to go to a physical store to make such a purchase. The rising popularity of mobile phone games has also driven a significant reduction in the market size for physical video game consoles.
Gamestop has seen some success selling collectibles whose sales rose to $223.3 million in Q2 2022, rising from the $177.2 million sales recorded in Q2 2021. However, the company urged investors to be patient with it as it works to regain profitability and diversify its revenue streams.
The video game retailer has also been cutting costs across its business functions, achieving a 14% reduction in operating costs during the current quarter. However, the company will have to do more to become profitable.
So, should you buy GameStop shares? The short answer is it depends on your investment objectives. Many short-term traders love to play the swings in GME stock price. However, long-term investors may find themselves at a disadvantage holding GME stock.
*This is not investment advice.
GameStop (GME) stock price.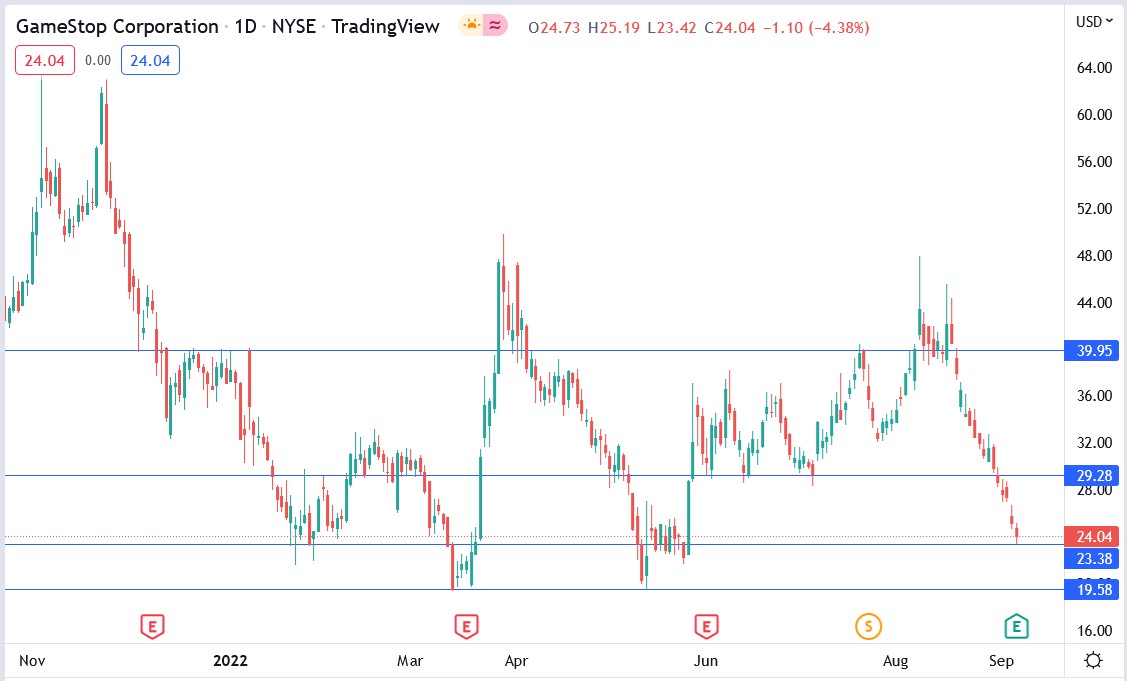 The Gamestop (GME) stock price rallied 8.78% to trade at $26.15, rising from Wednesday's closing price of $24.04.