Key points:
Athersys stock is down 78% in 2022 and is headed towards liquidation.
The firm is set to hold its AGM today, with many hoping for a way out.
Can the company avoid liquidation? Read on to find out.
The Athersys Inc (NASDAQ: ATHX) stock price is down 78% in 2022 and is now teetering on bankruptcy and liquidation. Here's why you should avoid the company.
Earlier this month, the company announced that Aspire Capital had terminated its equity purchase agreement with the company on July 6, 2022, with immediate effect. A clause in the agreement required Athersys stock to trade above $0.50 for the agreement to remain in place.
Also read: The Best Biotech Penny Stocks Under $5 To Buy Right Now.
Athersys stock had been trading below $0.50 since May 20, 2022, which gave Aspire Capital ground to terminate the share purchase agreement. However, this was not all. The company also revealed that Ivor Macleod, its Chief Financial Officer (CFO), had resigned on June 30, 2022.
It is never a good sign when such a high-ranking executive leaves a company when their services are most needed. Macleod would have been the right person to figure out a new financing plan for the company after the termination of the Aspire Capital deal.
Not only does Athersys have cash problems, but it has also been unable to run a successful clinical trial after its 2011 MASTERS ischemic stroke trial missed its primary endpoint. The company has been recruiting patients for its MASTERS-2 clinical trial since 2018.
Athersys CEO Daniel Carmado took over the CFO role but did not receive any additional compensation despite replacing an executive who was being paid for the same position. The decision not to pay Carmado for his additional duties as CFO shows how much financial trouble the company is facing.
Since then, we have not heard of any significant developments from Athersys, which was expected to hold its annual general meeting today at 8:30 AM ET. However, there has been significant interest in Athersys shares during premarket trading as over 17.97 million shares had changed hands at writing.
I would sell if the company does not unveil new proposals to remain afloat. I would not buy Athersys shares any time soon, given the significant risks associated with the company.
*This is not investment advice. Always do your due diligence before making investment decisions.
Athersys stock price.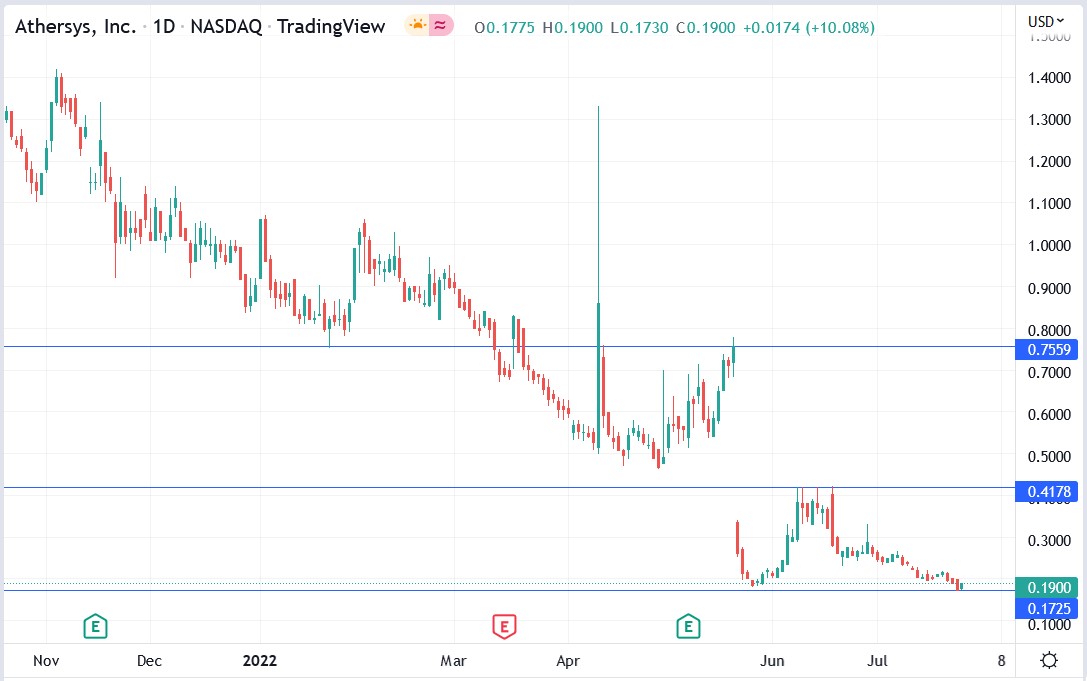 The Athersys stock price has fallen 78% in 2022 and is now in danger of liquidation. Here's why.