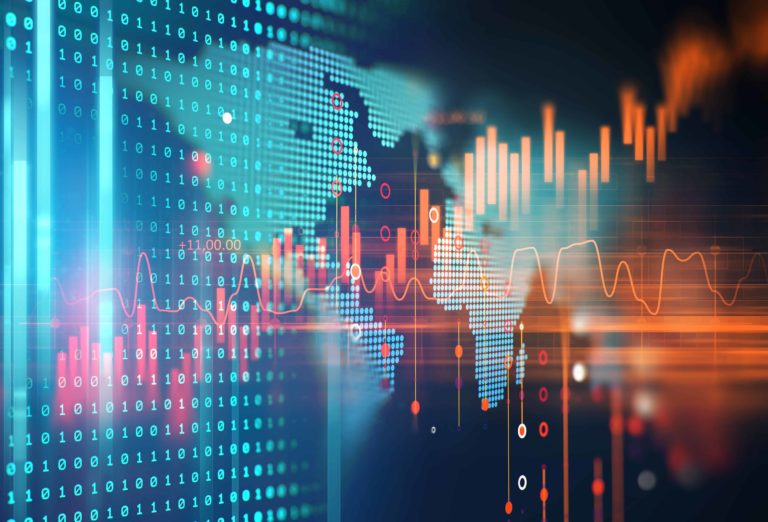 Trading breakout stocks is one of the most popular methods used by stock traders. It is excellent and easy to understand for new traders; you identify a precise level and capitalise on a break of that area. 

If the price falls below the level, it may be a good time to offload or short the stock, but it could provide an excellent opportunity to get long and benefit from some upward momentum if it breaks above. 
Here we will take you through what breakout trading is and take you through the five best breakout stocks to watch. 
What is breakout trading? 
Breakout trading is trading a stock that trades outside of a defined support/resistance or range. If a stock breaks a defined level, it usually indicates that the price will continue in the direction of the break. 
Breakouts that occur on high volume provide more significant momentum and indicate that price is more likely going to trend in that direction. 
One thing to be aware of is that not all traders will use the same support and resistance levels, and so a breakout on low momentum can indicate that the move has less chance of success. 
Top 4 Breakout Stocks
Breakout Stock 1 – American Airlines (AAL)
American Airlines is a major American airline (the name is a giveaway) headquartered in Texas. Its stock price saw a considerable drop in February 2020, in the wake of the Covid-19 pandemic, but it began its recovery as of October. 
Its share price has twice climbed just above the $26 level before falling, but with US air travel on the rise and European countries slowly opening up to vaccinated Americans, we could see it finally break higher.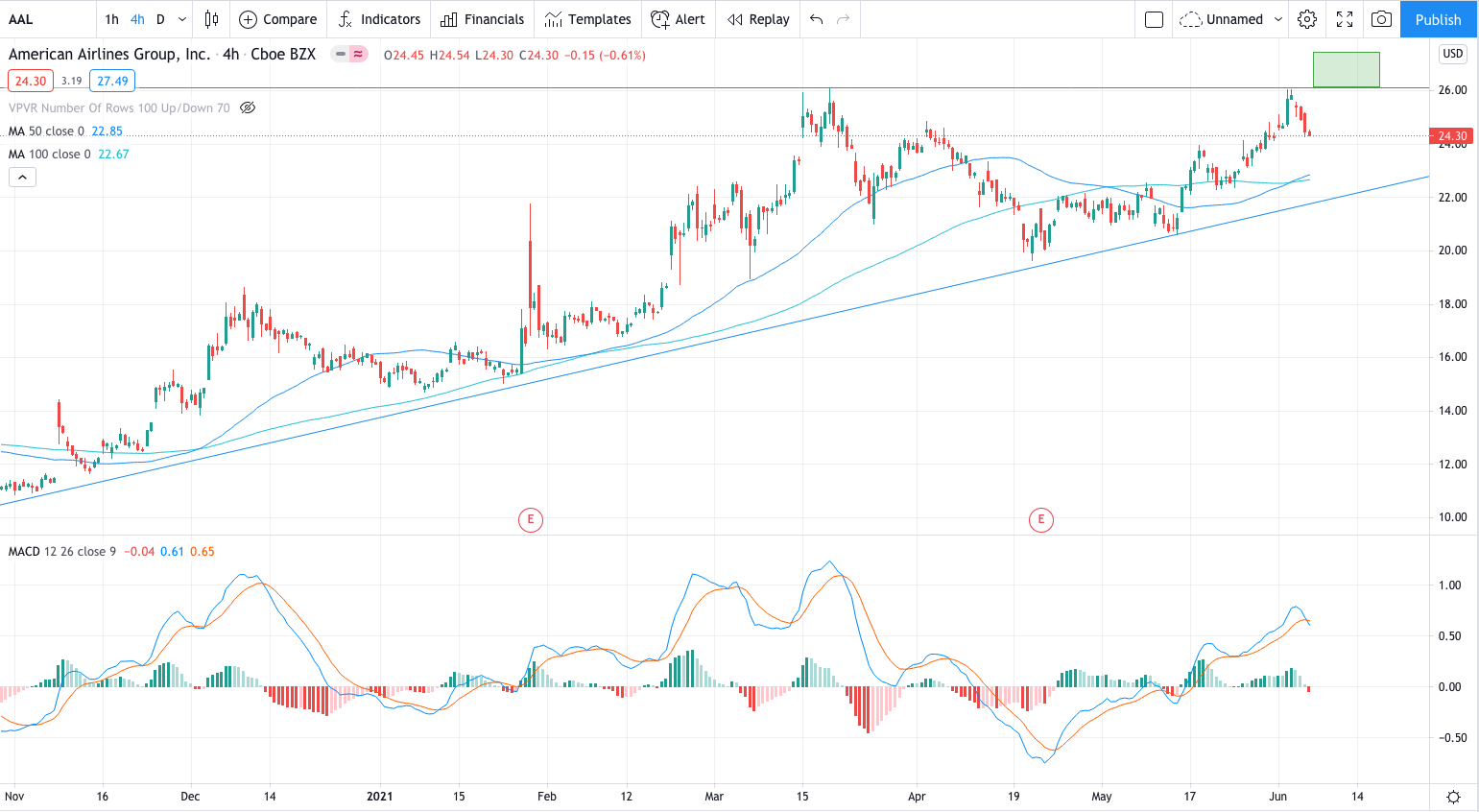 Price has approached and failed to close above the $26 level three times since mid-March

Despite its rejection last week, I believe we will see another run into that level after an initial fall

Price is trading above its 50 and 100 day moving averages

Price may first fall to a key pivot level at $21.80 before retesting $26

Entry $26.11

Target $27.43
Breakout Stock 2 – Cisco Systems (CSCO)
Cisco Systems is a technology firm listed on the Nasdaq and based in California. It develops, manufactures and sells networking hardware, software and telecommunications equipment. The company recently posted better than expected results in its latest earnings release, but shares fell due to concerns about its guidance and rising expenses. 
Nevertheless, it has since regained those losses and is sitting at a critical level around the $54 mark. Moreover, indicators are mainly positive on the stock, showing a positive sentiment.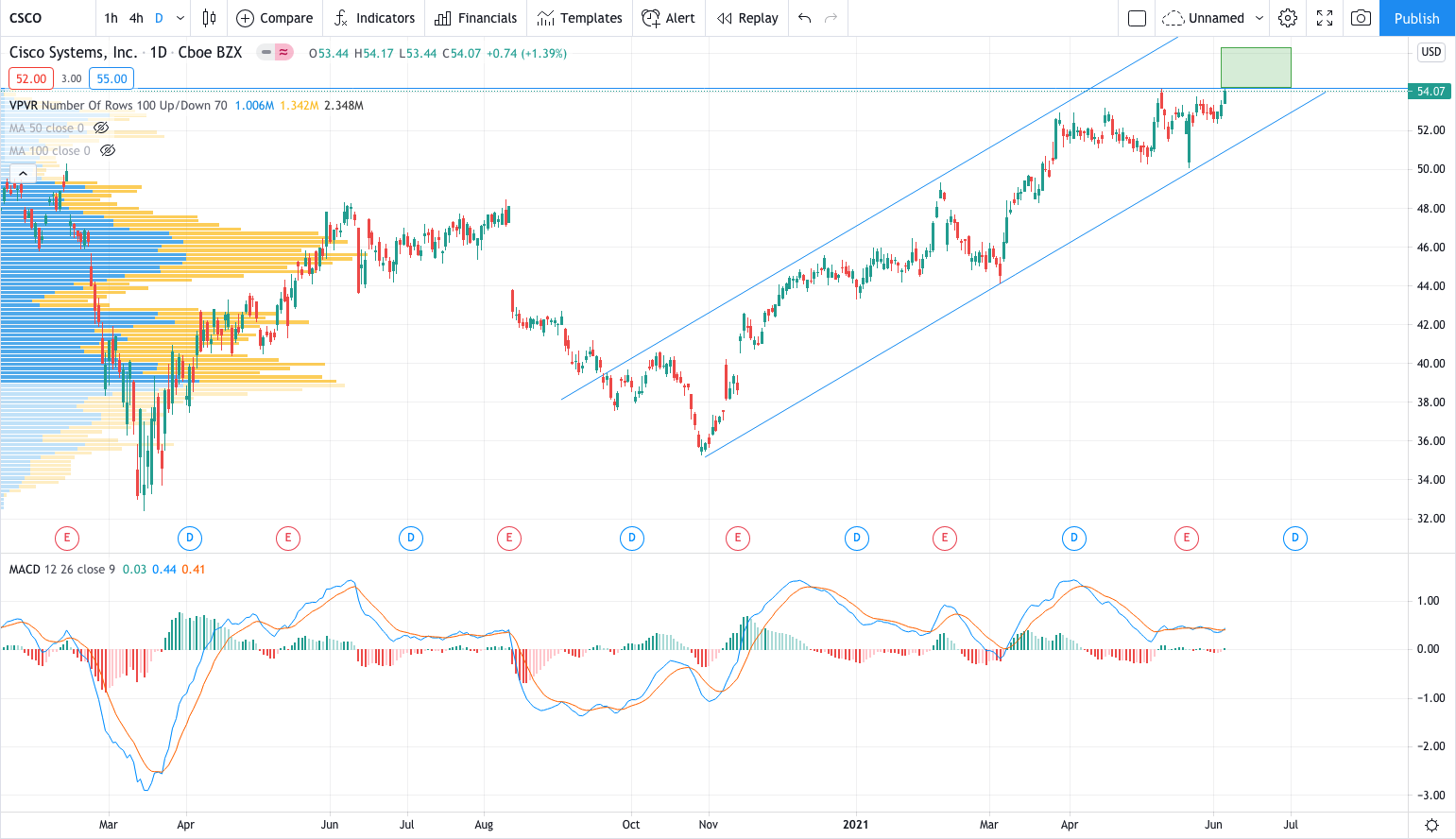 Tested the lower bound of its channel before bouncing

The company looks set to succeed in transitioning to a subscription-based software business

Cisco has a solid balance sheet

Entry $54.20

Target $56.79
Breakout Stock 3 – Emergent BioSolutions (EBS)
Emergent BioSolutions offers speciality products for civilian and military populations that address accidental, intentional and naturally occurring public health threats. Its share price is down over 30% in the last three months, but looking at its financials, the stock seems to be undervalued. It is currently sitting at $64.40, approaching our key level at $64.96.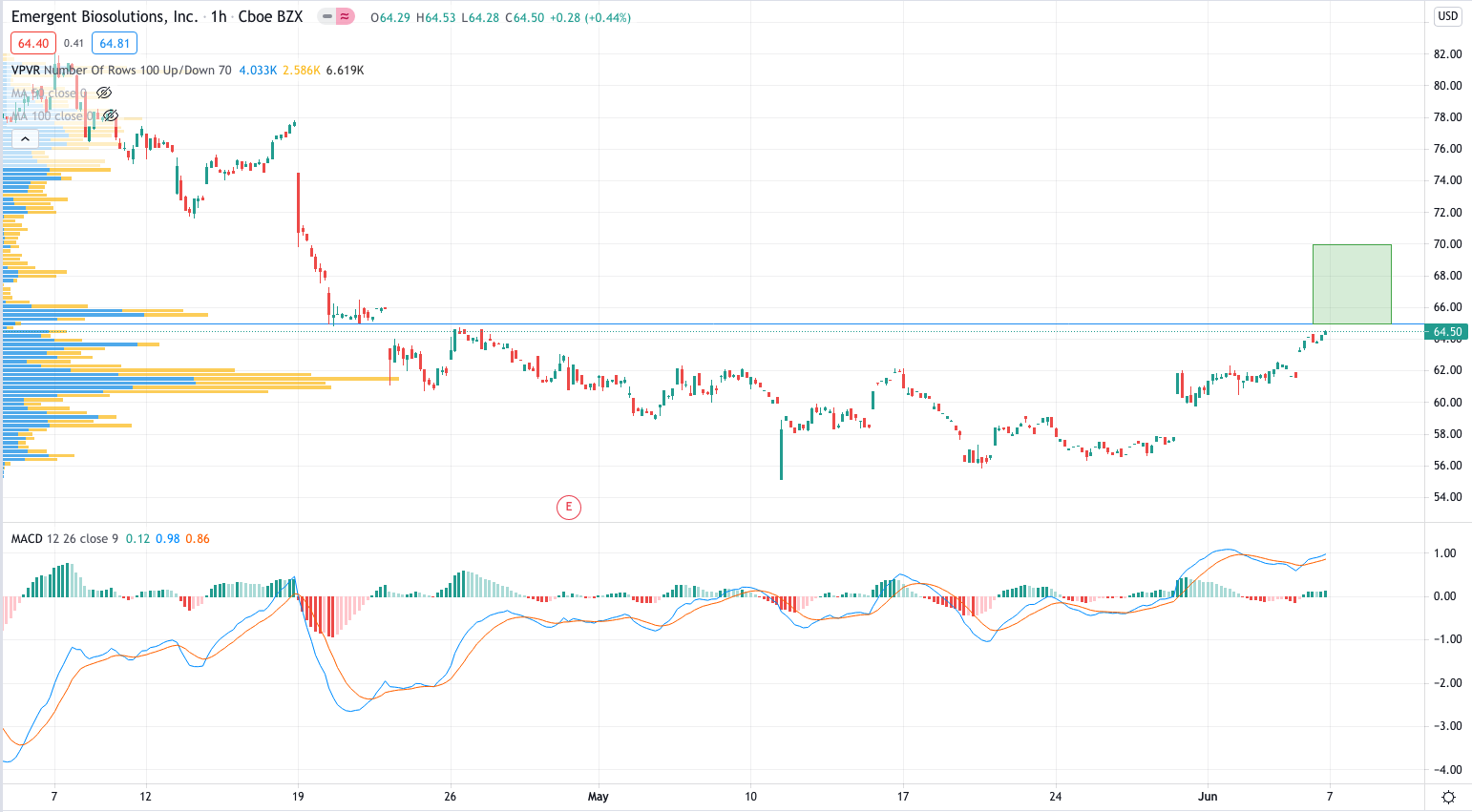 The MACD is suggesting upward momentum

Previous breaks of the level have seen the price spike in the short term

The RSI is above 50 and climbing

Entry $64.98

Target $70
Breakout Stock 4 – Celanese Corporation (CE)
Celanese Corporation is a company that engages in the provision of technology and speciality materials businesses. While the stocks above have been breakouts (I.e. breaking higher), Celanese looks like a stock that could breakdown. The stock has gained 70% in the past year but is trading in a range and is continuously testing the lower level. In addition, there is the added pressure that analysts expect its earnings to shrink in future.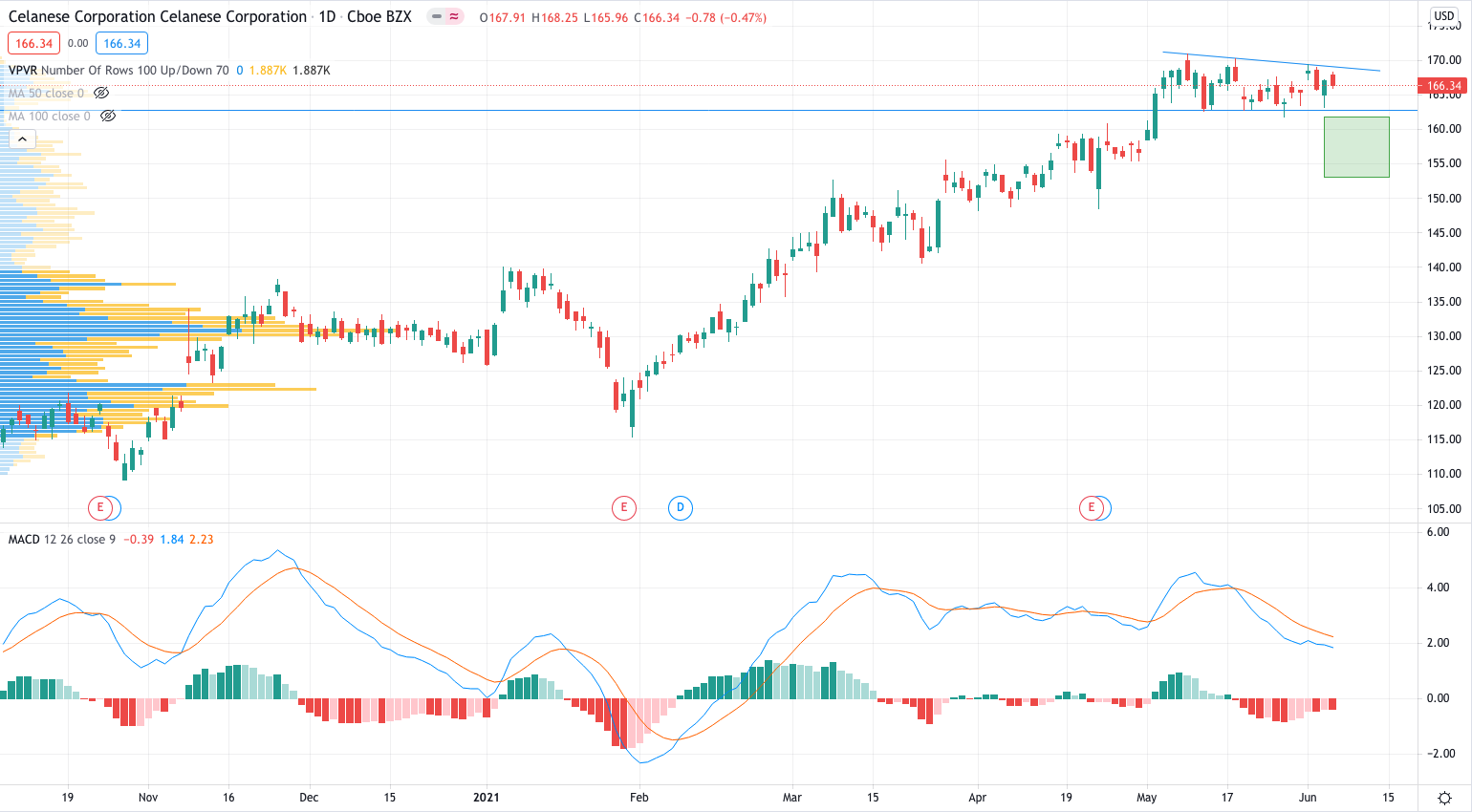 Price is continuing to test the lower level of its range

Slowing momentum

Declining volume

The MACD is trending to the downside

Entry (short) $161.84

Target $153