Key points:
Biffa shares soared 30% on a potential takeover offer from ECP.
However, ECP is yet to make a firm offer for the waste company.
Biffa's landfill tax liability is being reviewed by HMRC.
The Biffa PLC (LON: BIFF) share price soared 30% on news of a potential takeover offer from Energy Capital Partners, LLC (ECP), valuing each of its outstanding shares at 445p. The waste management company said that ECP had shown interest in acquiring it and was currently doing its due diligence on the company before making a firm offer.

Investors cheered the move that could make Biffa a private company and save existing shareholders from the potential liability arising from an investigation by Her Majesty's Revenue & Customs regarding a landfill tax enquiry.
Biffa revealed that HMRC had issued protective assessments worth up to £153 million from March 2016 to March 2020. However, the company does not expect liability to be as high as HMRC's current assessment.
The waste management company said it believes its tax liability from the ongoing HMRC inquiry could reach a maximum of £170,000, which is the liability it has declared to the UK government based on an extensive review by Ernst & Young.
However, investors would be relieved to see the company being acquired before HMRC can complete its inquiry, thereby saving current shareholders from the potential fallout that could follow a claim worth millions from HMRC.
Energy Capital Partners, LLC has up to 5 July 2022 to make a firm offer for Biffa or walk away from the deal. At the moment, Biffa's board has confirmed it would recommend that shareholders accept a firm offer if ECP does not drastically change the terms.
Biffa told investors that the protective assessments issued by HMRC were to prevent its claims from being time-barred and do not reflect the company's actual liability. However, the company further added that there are no guarantees that HMRC will issue a claim against it after concluding its inquiry.
Therefore, while investors cheered today's announcement, it is too early to tell if an actual offer will materialise. Biffa shares could fall if ECP decides to walk away from the deal.
I wouldn't buy Biffa shares right now since the biggest gains might be over. There is also a significant risk that the Biffa share price could fall if the deal fails to go through.
*This is not investment advice. Always do your due diligence before making investment decisions.
Biffa share price.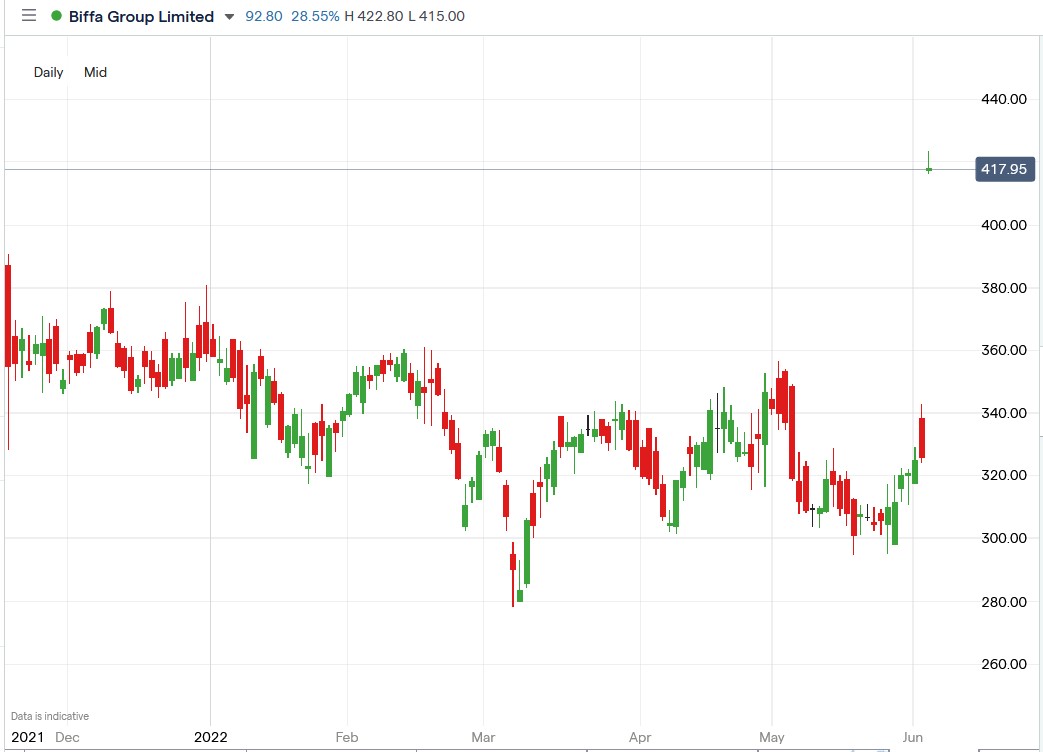 Biffa shares soared 29.99% to trade at 423.65p, rising from Monday's closing price of 325.90p.