Key points:
Biodesix stock soared 85.5% in a delayed response to recent events.
The company recently raised $11.7 million to fund its future growth.
Investors are buying Biodex shares in light of its recent milestones.
The Biodesix Inc (NASDAQ: BDSX) stock price soared 85.5% as investors reacted to the company's capital raise of $11.7 million announced on April 7, 2022, via a private placement.

The company sold 6.5 million shares to private investors and entered into a Third Amendment to its 2021 Term Loan ("Third Amendment") on the same day.
Biodesix also agreed to repay the $3 million in outstanding principal in April 2022 and pay an additional $2 million by May 15, 2022, with the repayment date being extendable to September 30, 2022.
However, the company will have to raise $15 million in funding to extend the loan repayment date, with the $11.7 million raised via the private placement counting towards the final amount.
Interestingly, these announcements were made yesterday, yet Biodex shares rally today, indicating a delayed response to the news.
Biodesix's shares have fallen 69.94% in 2022 despite the company making significant progress towards its goal of transforming the lung diagnostic testing industry.
The company recently published new data in a peer-reviewed journal validating the use of liquid biopsies and NGS techniques to provide clinical information for patients with cancer.
Scott Hutton, Biodesix's CEO, said: "This transaction marks another important milestone in the Company's effort to build an enduring business that will fundamentally change the lung diagnostic testing industry. This transaction strengthens our ability to achieve our vision, and we could not be more excited about what the future holds for Biodesix,"
Adding:
"We believe the continued confidence and commitment demonstrated by some of our largest shareholders is a testament to our business model, the strength of our team and the huge market opportunity in front of us."
Biodesix's executives have also been acquiring shares in the company, as evidenced by Matthew Strobeck's, one of the company's directors' acquisition of 558,659 BDSX shares at $1.79 per share on April 7, 2022. Of course, it's always good to see company insiders buying shares.
Investors did not react significantly to the latest releases from Biodesix despite the significant progress made by the company. However, today's rally might signify that the worst is over for the biotech firm. Hopefully, the rally translates into a sustained uptrend.
*This is not investment advice. Always do your due diligence before making investment decisions.
Biodesix stock price.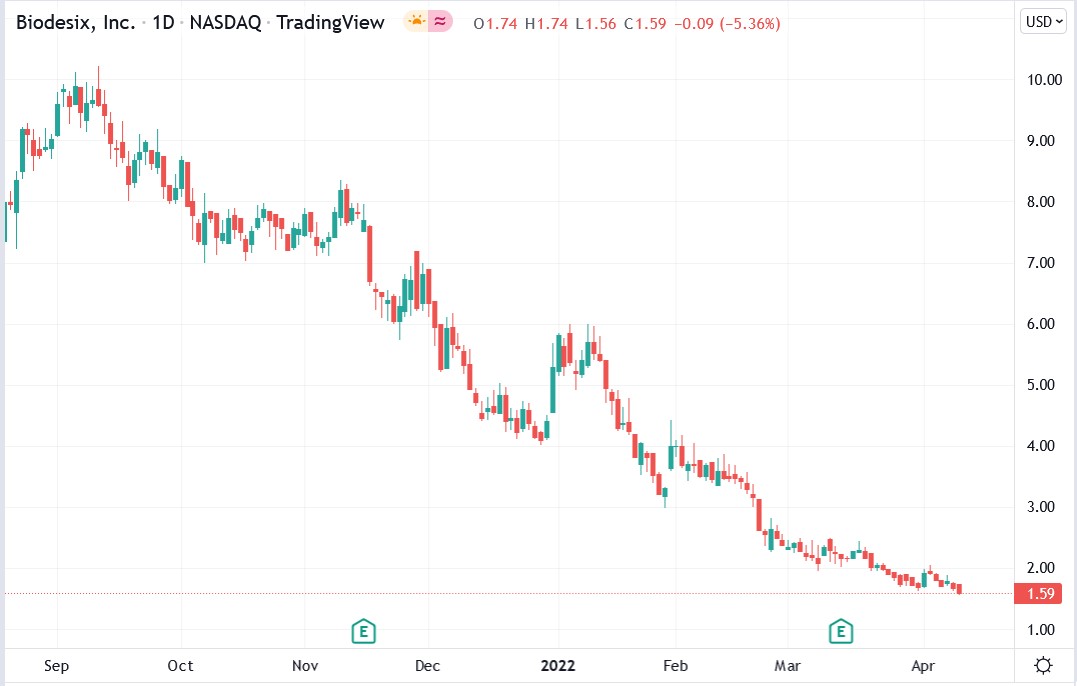 Biodesix stock price was up 85.53% to trade at $2.95, rising from Monday's closing price of $1.59.